Build Courses
Streamline your online course creation with Courses for MemberMouse - no additional plugins required!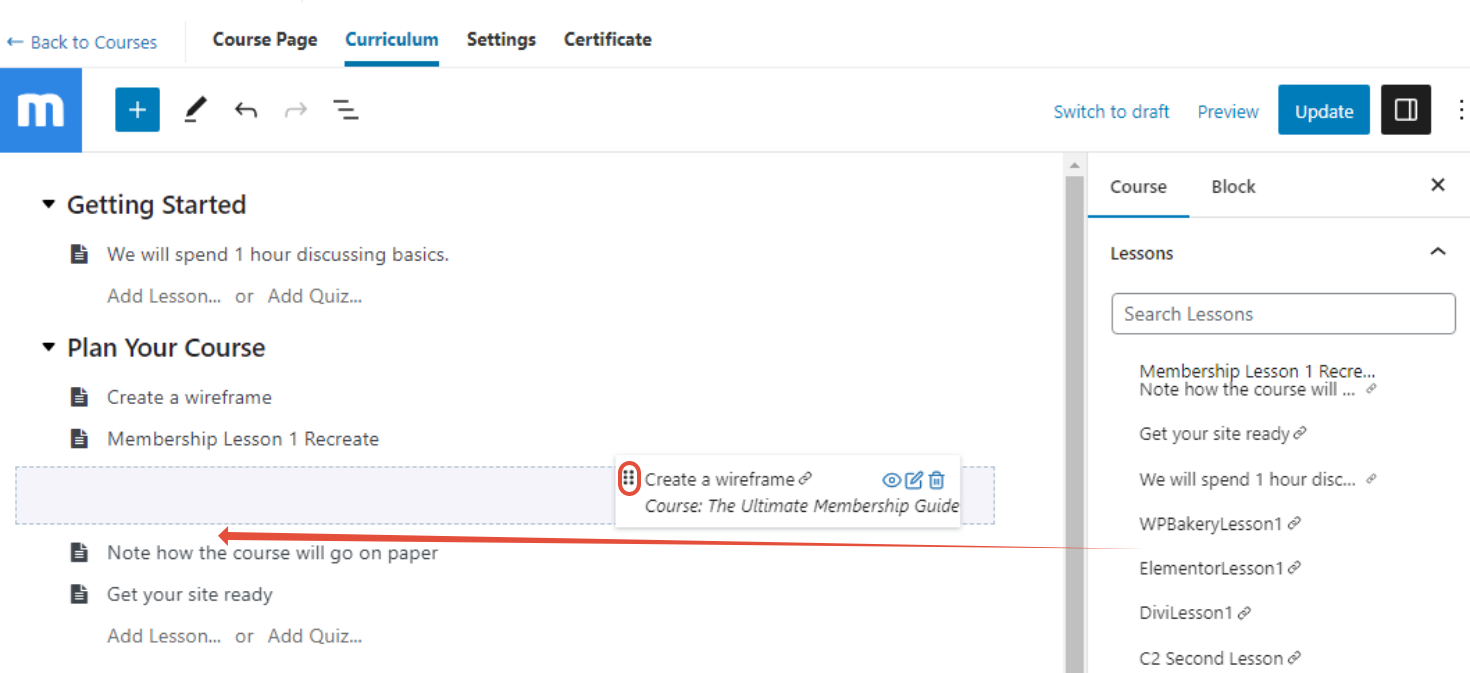 Effortlessly build your dream course with our intuitive drag-and-drop tool
Simply type in the lesson title and start editing with the same ease as creating a blog post. You can add videos, text, images, and downloadable materials using drag-and-drop lesson blocks. All lessons are managed from one simple interface. And with the ability to copy lessons and quizzes from other courses, you can save time and avoid the hassle of managing pages or post types.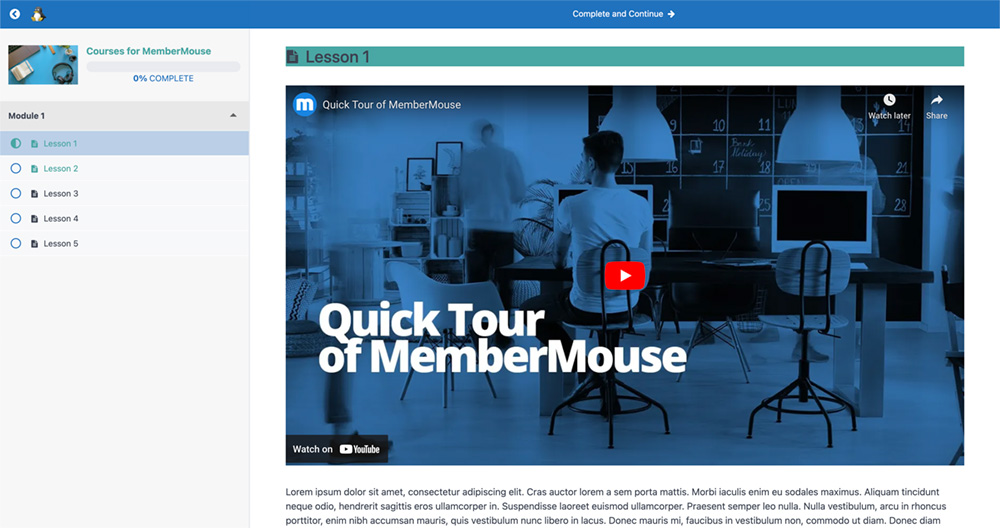 Streamline your course delivery with Classroom Mode
Classroom Mode provides a simple and attractive template for presentation of courses and lessons. You get hassle-free customization of your delivery pages with brand colors, logo and images. Keep your courses organized and engaging with prompts to navigate between lessons. Use the progress tracking bar to motivate!
Protect your course content in just two clicks!
With MemberMouse's flexible content protection, you can easily restrict access to all lessons at once with a membership, a bundle or multiple sales packages. Plus, take advantage of our Drip Content scheduler to time-release content, guiding students through your lessons at the perfect pace.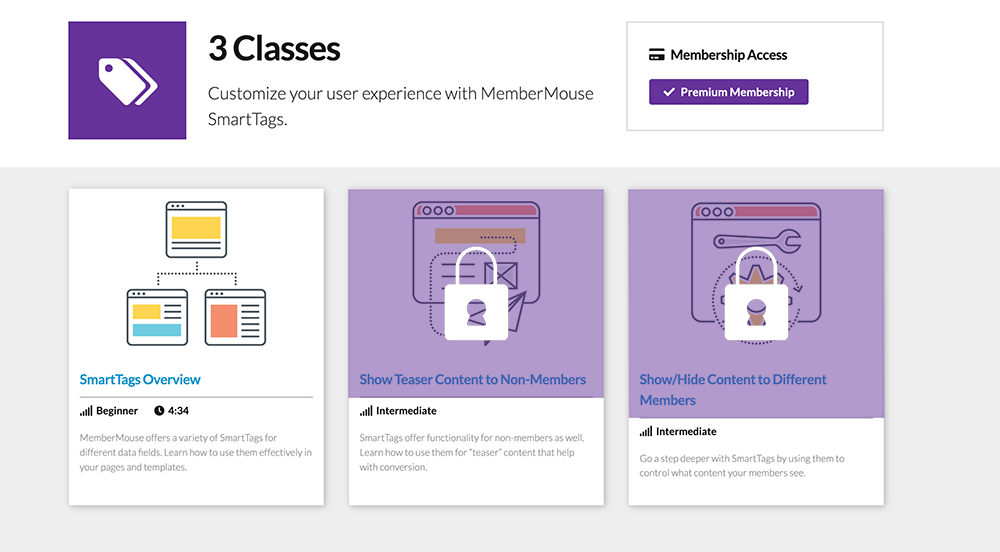 Promote your courses and boost your sales with our cross-sell features
Simply tease locked courses to members who don't yet have access, and provide a landing page, sales page, or checkout page for when they click on it. Employ MemberMouse SmartTags™ to tease content on these pages, you can pique their interest and drive more sign-ups, making your courses more accessible to a wider audience.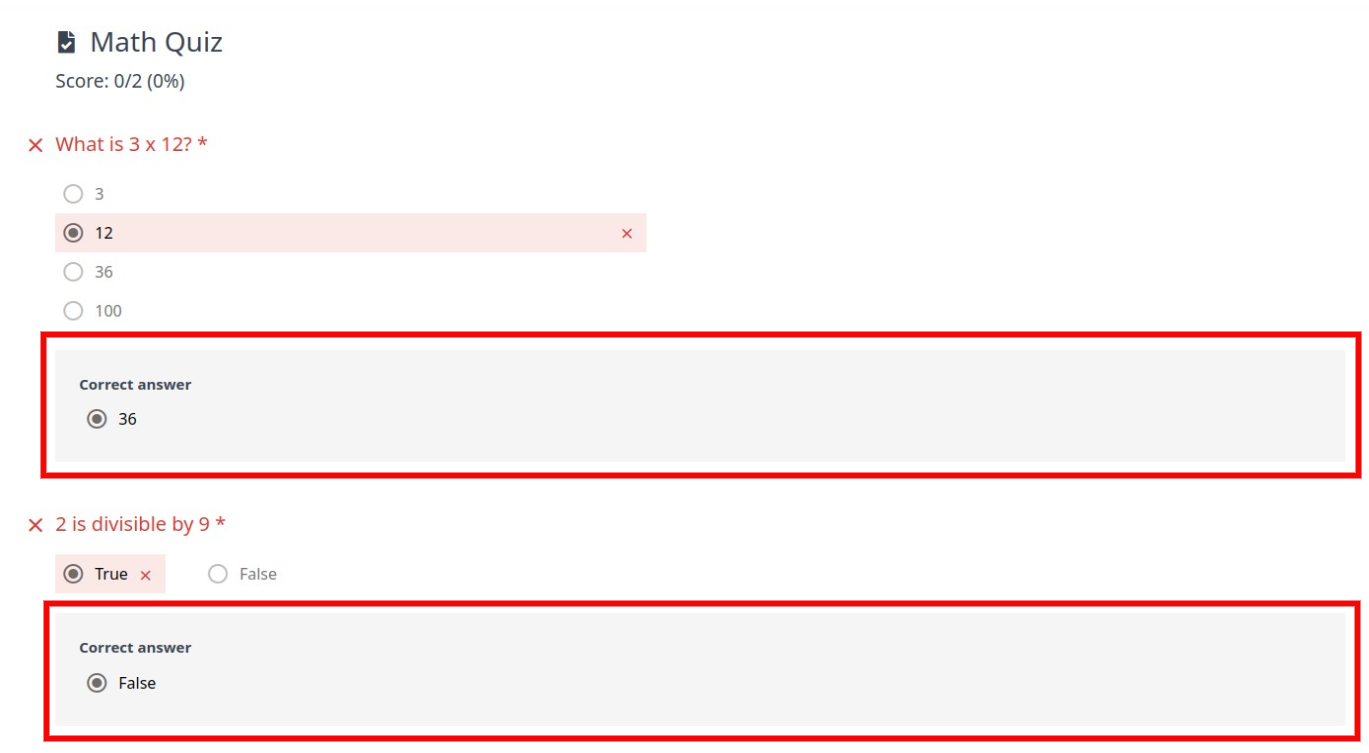 Quizzes that make you go "Aha!"
Add quizzes to your courses with true/false, multiple choice, multiple selection, short answer, or long essay questions. You can even assign points to each question and make quiz completion mandatory before moving on to the next lesson. Plus, wrong answer corrections ensure your members are really learning.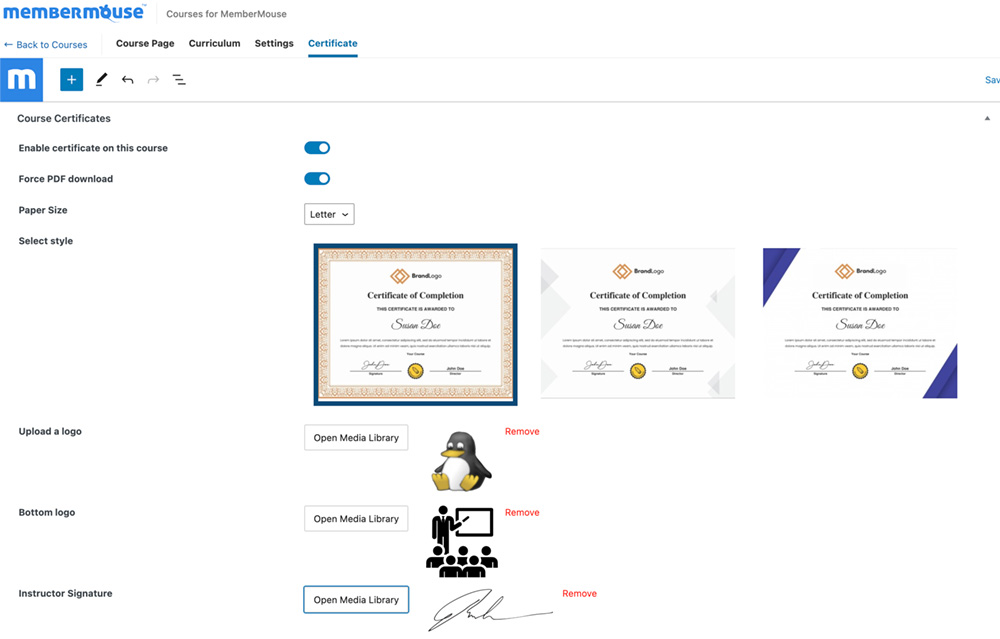 Show off their smarts with custom certificates
Offer your students a sense of accomplishment with custom certificates of completion. Choose the style, add logos, give it a title and footer message, and even add the instructor's name, title, and signature. All earned certificates can be downloaded for safe-keeping and bragging rights 🙂
Maximize your course's success with our comprehensive solution
Our platform provides the foundation to create a stunning course, from an easy-to-use builder and customizable display templates to quizzes and certificates. With Courses for MemberMouse, you can focus on what you do best - sharing your expertise - while we take care of the rest.
Simple lesson and course management
Drag-and-drop visual builder
Customizable course display
Flexible content protection
Lesson navigation built-in
Cross-sell and upsell functionality
Offer time-released lessons
Account page course display for students
Create certification options
Get Started Today
Start building your membership site with MemberMouse!
Please enter a valid email and try again
Easy setup • 14 day money back guarantee • Cancel at any time