10 Niche Membership Sites That Will Inspire You
Have you ever heard someone say, "the riches are in the niches?"
It's a sort of online marketing catchphrase that you've probably seen plastered across blogs, YouTube videos, and social media accounts. In fact, this idea is so prevalent that it's easy for it to sound like white noise.
But here's the thing: there's truth in that expression. A lot of it.
Nowadays, we're seeing more and more that specialization leads to success. How else can you explain the rise of gluten-free bakeries, non-alcoholic craft beer, and power yoga studios?
Plus, it seems like more and more "general" and "we do everything" businesses are struggling, pivoting, or closing their doors for good. Think about what happened to big companies like Sears, Borders, and Macys.
Here's the takeaway:
The same marketing principles that impact these businesses apply to online businesses like membership sites, private communities, and online courses.
The riches really are in the niches.
That's why in this article, we'll look at 10 very successful membership sites in some very specific niches. As you'll discover, it's almost impossible to get too specific when it comes to carving out your own corner of the internet.
But first, let's start with the basics:
What Is A Membership Site?
We live and breathe membership sites here at MemberMouse. We're not going to assume you're as obsessed with them as we are. That's why it'll be really helpful to take a second to review the basics and define the terms we're working with. If you're brand new to this of a membership site or just need a refresher, here's the definition of a membership site that we'll work with in this article:
A membership site is simply a website where access to specific content is protected and placed behind a member login page. In order for people to view the content on these protected pages, they need to have an active member account on your site. If they do, they can login to the members' area on your site and view the content you've placed behind the login page.
Now, let's go one step deeper:
A membership site can have both free and paid members. It can also have different levels of members, all with unique access rights assigned to their membership levels. The power of a membership site is that you can charge people on a recurring (monthly, semi-annual, yearly, etc.) basis for access to this protected content.
So, if you have a paid membership site, members will need to pay to keep their account active and thus access your protected content. Otherwise they lose access to any page that protected in a member's only area.
"Membership sites work best when someone has what I call a 'forever challenge.' Something that's going to go on for an extended period of time and where the business can provide a 'forever promise' to justify a long-term relationship."
The Beauty Of The Membership Site Model
The beauty of a membership site is that you can put anything behind a login page (or "paywall" as it's often called). Whatever can exist on a website on a website can be protected. That means your membership site can be made up of restricted pages with exclusive articles, members' only podcast interviews, online course videos, and even community forums.
The ways you can implement the membership site model are really unlimited. There are hundreds — if not thousands — of ways to build a membership site. But, in essence, it call comes down to this: the control of content access by you, the creator.
In this article, we'll now look at 10 unique and inspiring examples of membership sites. Each one of the sites we'll cover today is in a very well-defined niche market. Picking a niche is one of the most critical components of success for any online business. We've seen time and time again that the more specific and targeted you can be with the niche your businesses exists in, the more successful you can be.
In case you need a quick reminder, let's do a brief overview of niche markets.
Remind Me: What Exactly Is A Niche?
Ok, so what exactly is a niche?
For starters, when people say niche in the context of an online business, they typically mean niche market. Obviously, a market is a specific commercial sector, like:
Health & Fitness
Business & Investing
or Arts & Entertainment
These are all huge markets with an abundance of segments and niches.
So, if these are markets, a niche market is simply a subset of a broader market category.
Let's take a market we're all familiar with and "niche it down" to the most granular level. This will help set the stage for our upcoming tour of niche membership sites.
Ok, so we've all been to a grocery store, right? Grocery stores represent a broad market category. Here are some examples of niche grocery stores:
Costco – A Wholesale Grocery Store
Aldi – A Budget Grocery Store
Whole Foods – A Health Conscious Grocery Store 
Food Fight – A Vegan Grocery Store 
As you can see, all of these grocery stores have uniquely positioned themselves in the marketplace by carving out a niche. Need a lot of groceries? Go to Costco. Are you vegan? Go to Food Fight.
The effect of targeting a specific niche is that you're able to attract people who share a set of values and concerns. This what makes niching down so effective. It's a way to stand out and earn the business of your ideal customers.
Identifying (or ideally, creating) your niche is vitally important when it comes to positioning your business. Doing so helps you stand out and earn the attention of your prospects in the increasingly noisy online world.
Now that you know exactly what a membership site is and are 100% up to speed on niches, let's take a look at 10 incredible examples of membership sites who have successfully identified and carved out their own niches.

10 Inspiring Examples Of Niche Membership Sites
1.

International Gem Society

– Online Education & Community for Gemstone Enthusiasts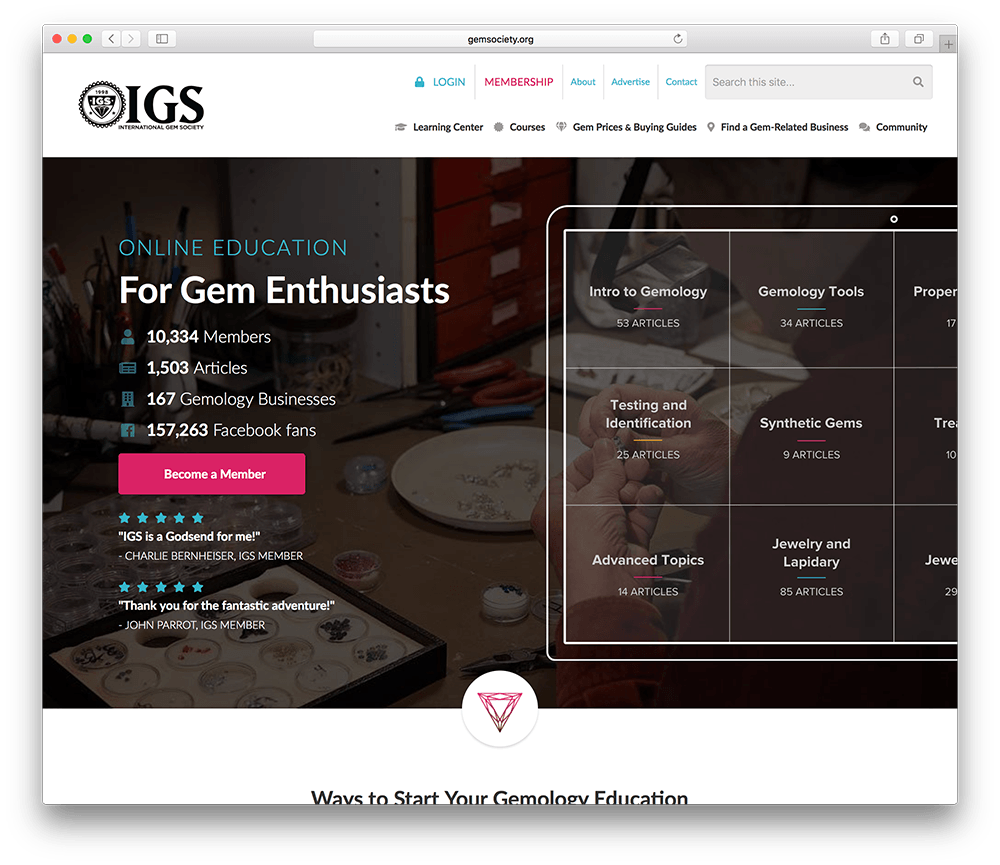 Are you attracted to agate?
Do you swoon for sugilite?
Are you obsessed with obsidian?
If you're not a gemstone enthusiast, we probably just lost you there.
But if you're a die-hard lover of precious stones, we're guessing we have your undivided attention.
The International Gem Society is an online membership site that connects it's thriving community with world-class gemology education, pricing & buying guides, and certification courses. They serve everyone from season gemstone professionals to the curious hobbyist and is a classic example of a membership site that serves a laser focused niche.
The IGS has successfully made gemstone education – something that in the past was expensive, difficult, and inconvenient – easy, accessible, and affordable to anyone. It's the ultimate online destination for people who are serious about gemstones.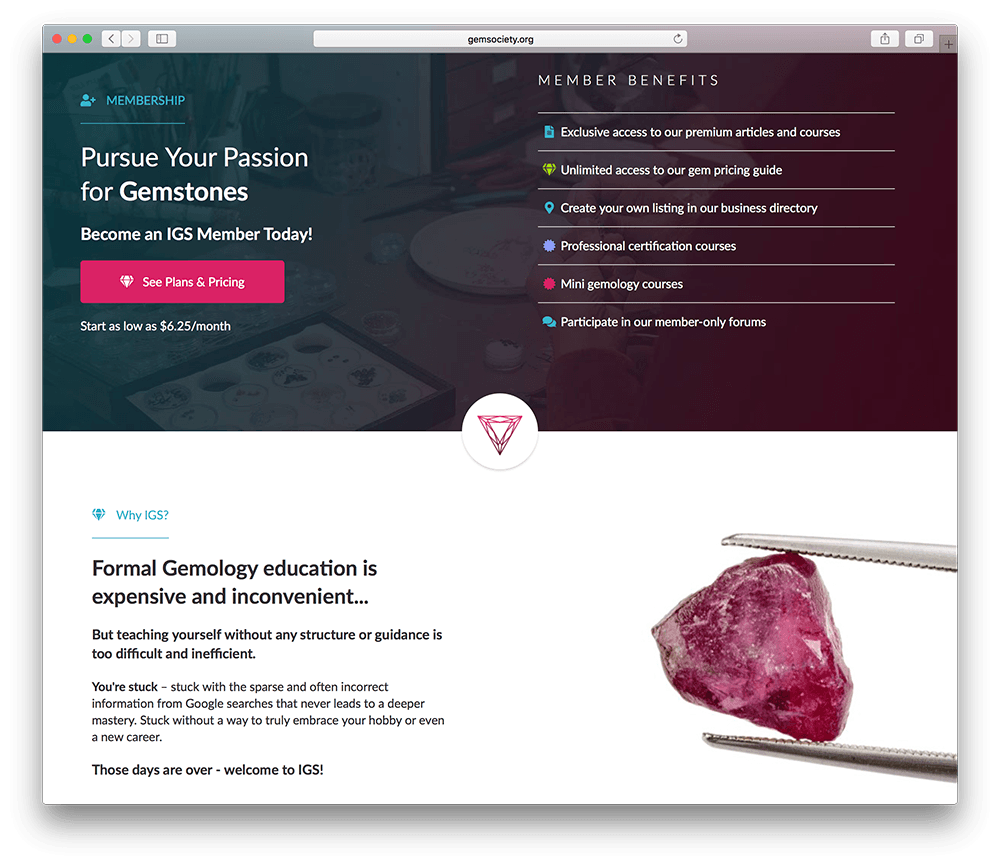 The IGS is a robust and well-designed membership site. Members pay for access to thousands of articles, professional certification courses, and access to its community forum. Members also get unlimited access to their popular gem pricing and buying guides.
We even recorded a podcast episode with Seth Rosen, the owner and brains behind IGS. You can listen to him describe the journey of transforming IGS from an underperforming website into a thriving business in this engaging conversation.

2.

Rental Rookie

– Training for First Time Rental Property Investors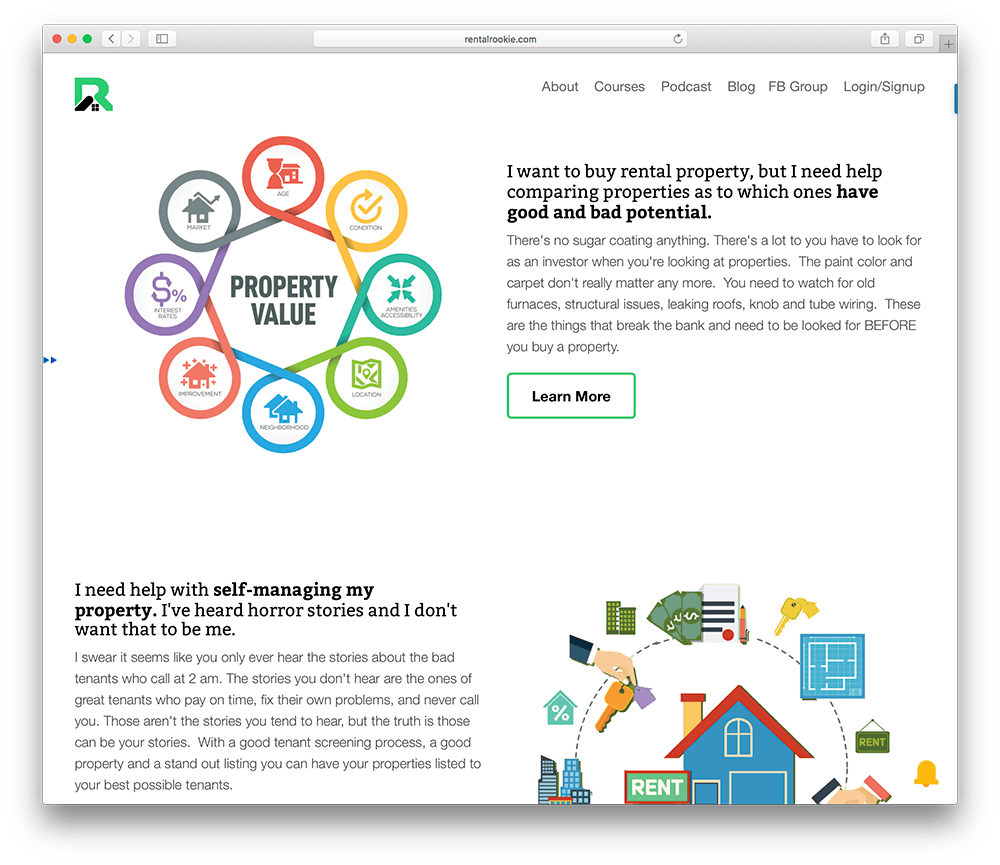 "Should I buy a duplex or just invest in a REIT?"
"Is a HELOC or refinance my best next move?"
"Will a 1031 exchange help me save on taxes?"
Did all that sound like a bunch of mumbo-jumbo? Or are we speaking your language?
If you're keeping up, chances are you're similar to the ideal customer of our next membership site: Rental Rookie.
Rental Rookie is the brainchild of Emily DuPlessis. She's a former English teacher turned real-estate investor who helps newer investors buy their first rental property. Members of Rental Rookie get access to training and educational courses with everything they need to know to buy rental properties and generate cash flow in their lives.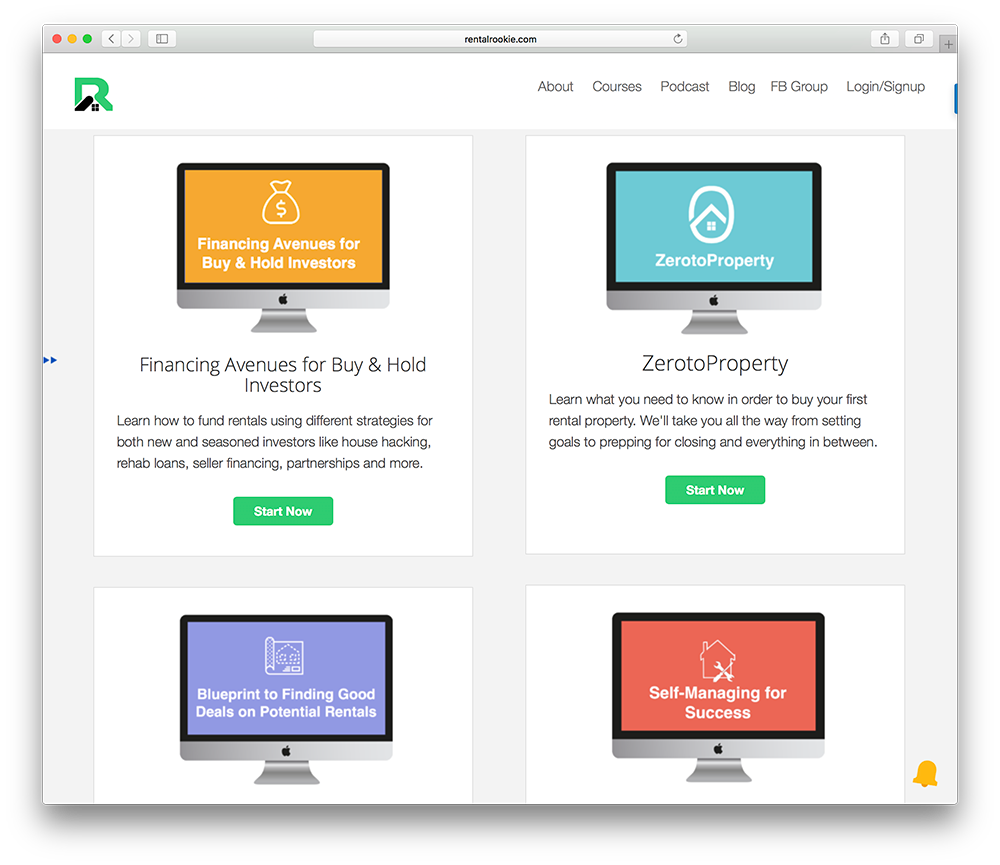 Members also get access to a library of helpful and time-saving checklists, spreadsheets, and workbooks. The Rental Rookie team also conduct monthly life Q&A calls, where their members can ask their most pressing questions, and publishes exclusive interviews with industry experts.
You'll notice that this membership site doesn't focus on being the "definitive" rental property resource for all levels of investors. Instead, they've chosen to focus on the beginner. All of the copy on the website speaks to this person. It is so much more captivating for your website visitors when you're able to speak to them, in their language.

3.

TrainingBeta

– In-Depth Education For Rock Climbers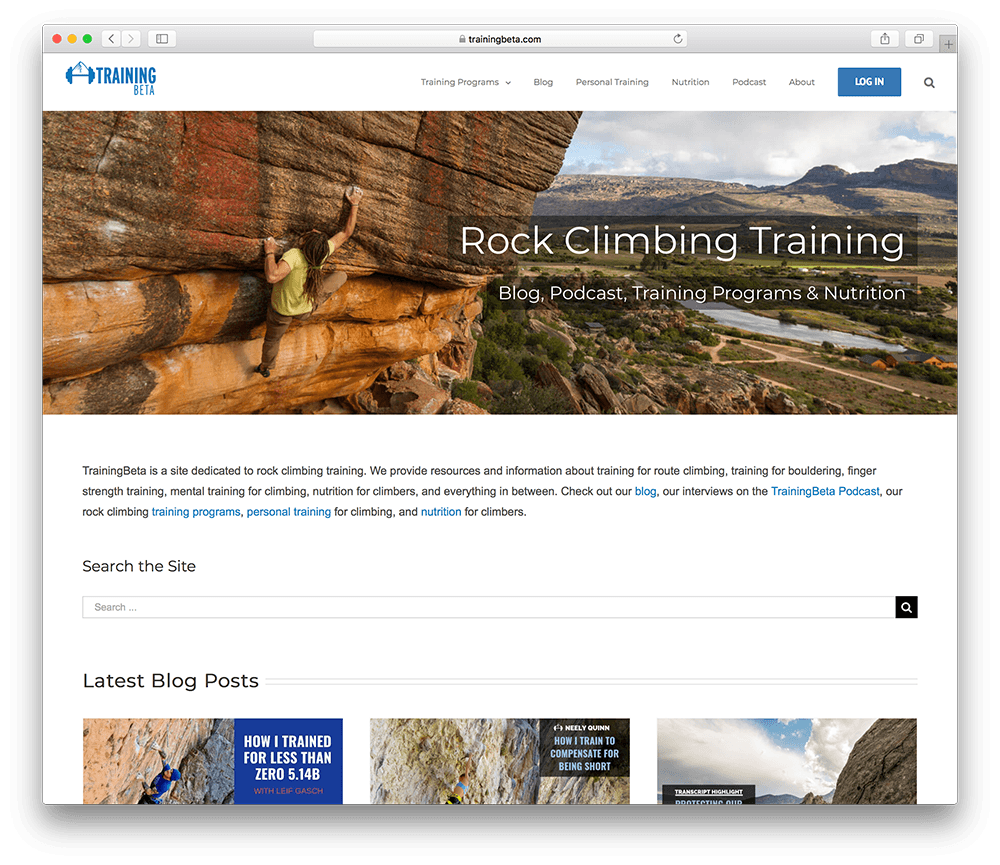 By now you're probably coming to understand the power and importance of picking a targeted enough niche for your membership site. When you do so, you're able to speak in the language of your customers, to help them feel understood and encourage them to engage with your content.
Just take one look at the blog post titles for this membership site in a perfectly narrow niche:
How I Trained for Less Than Zero 5.14b
Quantifying Isometrics Part 2: Program Auto-Regulation and Its Implications on Finger Training
How John Kettle Went from V7 to V11 and 5.11d to 5.13b in 18 Months
Unless you're an avid rock climber (or you've just finished watching Free Solo or The Dawn Wall on Netflix), chances are these titles make very little sense to you.
But if you are a climbing enthusiast, going from a 'V7 to V11' or '5.11d to 5.13b' in 18 months might be enough to make your jaw drop in disbelief.
These posts come from an amazing membership site called TrainingBeta, the work of entrepreneur Neely Quinn. They're 100% dedicated to providing their members with the best rock-climbing training, information, and education through online courses.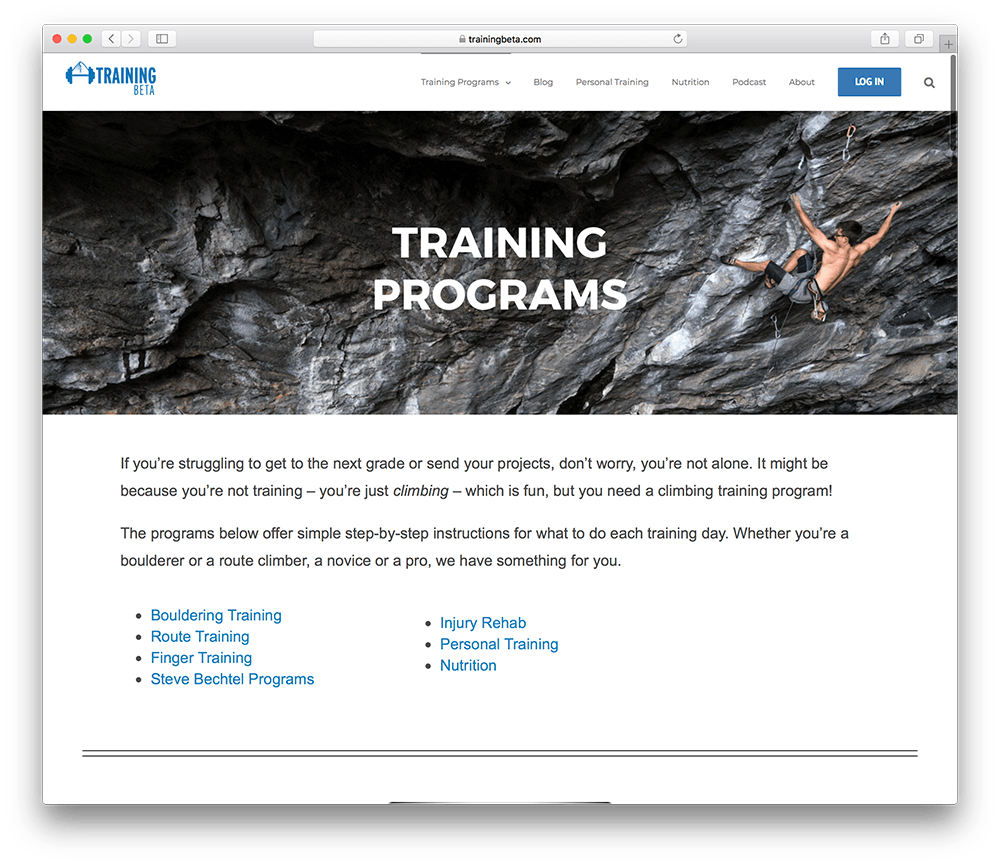 Their membership site is unique because access is divided up by topic: bouldering training, route training, finger training, injury rehab, and more. Their members pick the course they want and pay for access to that information. People can pay by a monthly, 6-month, or annual options. Plus, each course has a free two-week trial.
TrainingBeta is a great example of a site that bundles up its courses into membership and subscription products.
One of our favorite things about TrainingBeta is something you wouldn't see on the surface. In fact, we learned about this when Neely came on to our podcast to talk about Training Beta. You see, Neely has a podcast that serves as one of her primary marketing channels for the site. She used to take sponsors for the podcast but stopped once she realized she could use that time slot to promote her own membership site instead. That's really smart if you ask us!
We love that Training Beta really sticks to the rock-climbing niche, resisting the temptation to branch out into connected worlds like general fitness or yoga. Nice work!

4.

Neiru

– A Japanese Nail Art School & Community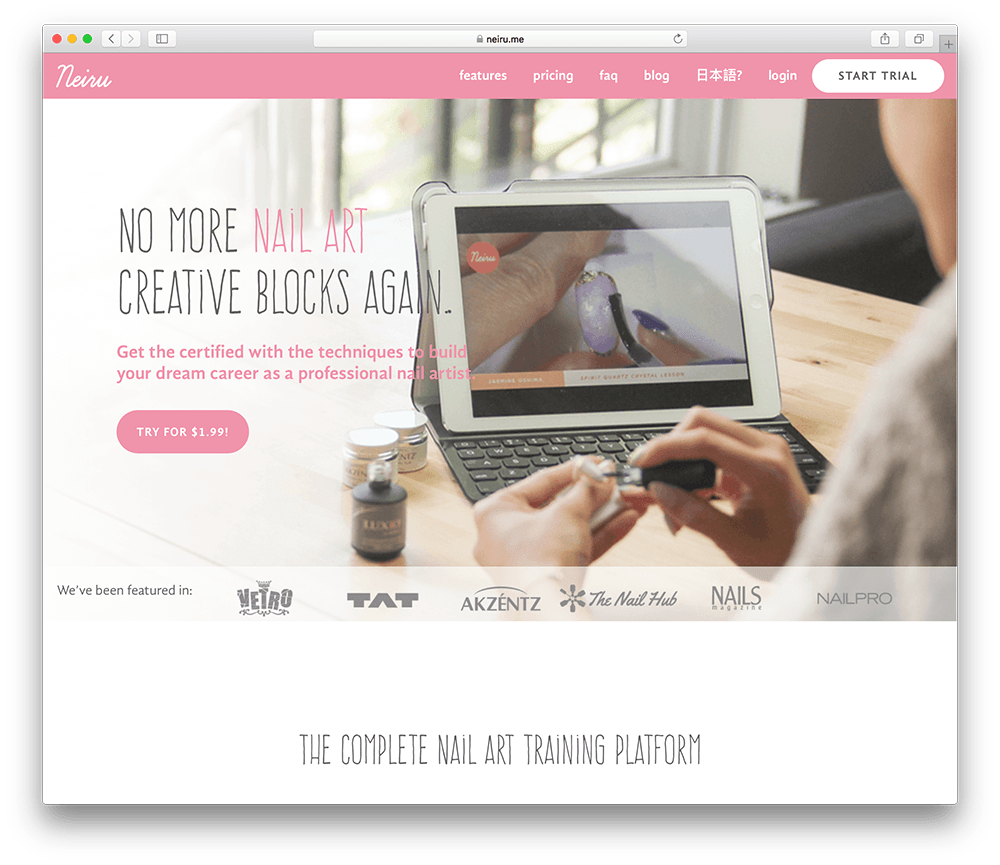 What would you say if someone approached you with an idea to start this business:
"It's an online training and education website that helps estheticians and nail artists learn cutting-edge nail art techniques from Japan…"
Well, it turns out that this ultra-niche idea is a fantastic idea for a membership business, as evidenced by this inspiring membership site: Neiru.
Neiru connects nail artists from around the world with best-in-class nail art education directly from Japan. Their students learn how to create stunning nail art pieces, like these: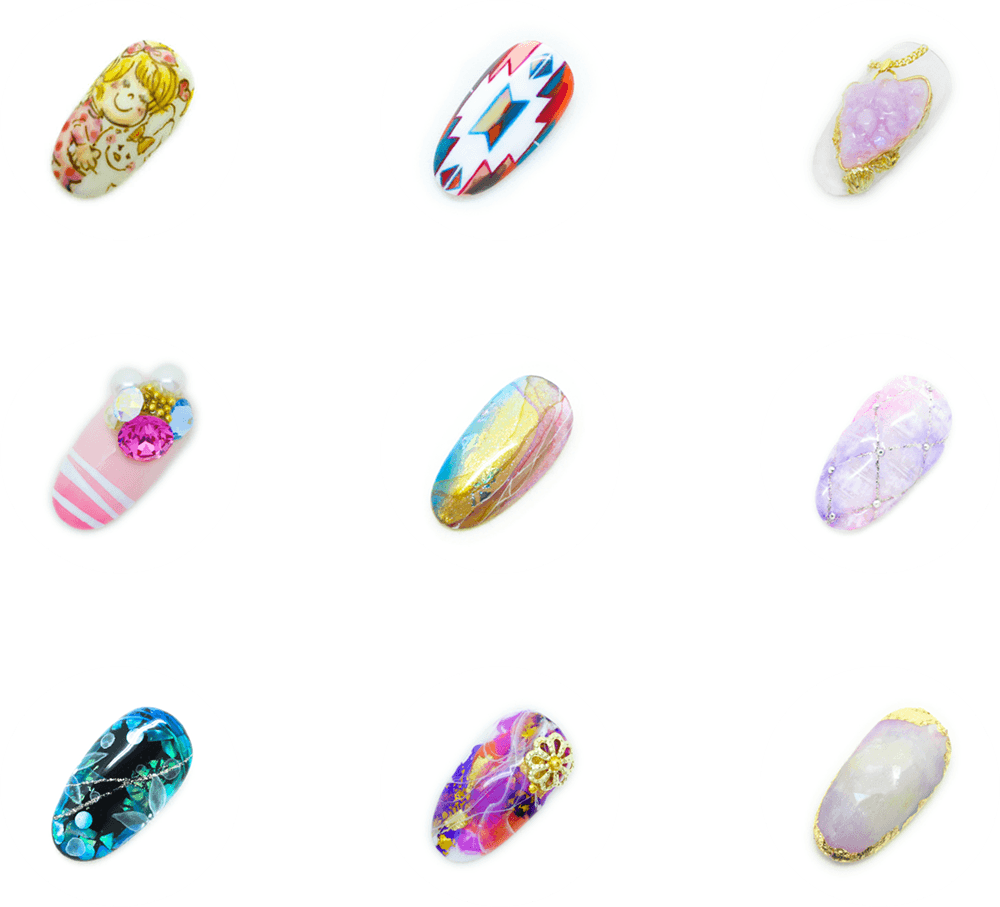 Members get access to new lessons each week, the complete lessons library, challenges (with prizes), a private community, and the opportunity to learn from pioneering nail artists from Japan. Members can also work towards a Japanese nail art certificate.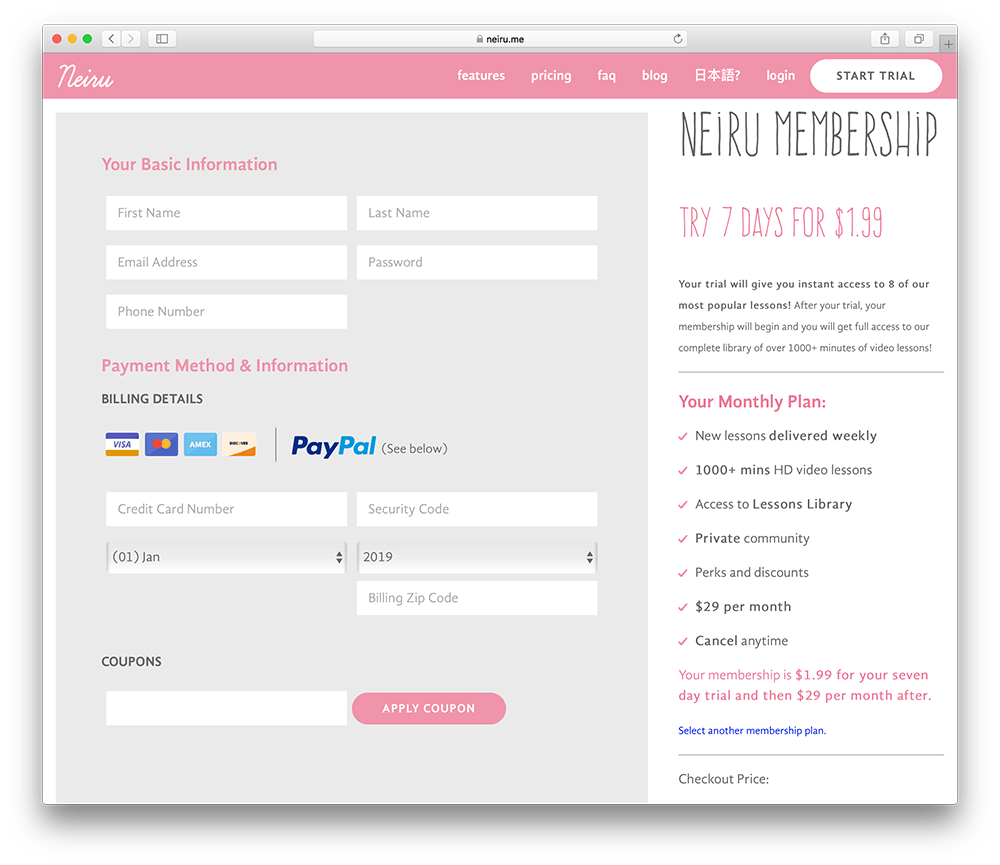 The success of Neiru is really evidence that the riches truly are in the niches. We're not sure it gets anymore niche than this (although I'm sure we could come up with a few ideas…). What's even more amazing is that they're able to connect so many people who all share this highly-specialized interest.
In the past, you may have only been one of a handful of people in your town, county, or state who even knew about this amazing Japanese nail art. Now, you can talk with your peers from around the world and share your knowledge and experience with each other.
We think that's pretty cool.

5.

Aviator Training

– Online Training for Private Pilots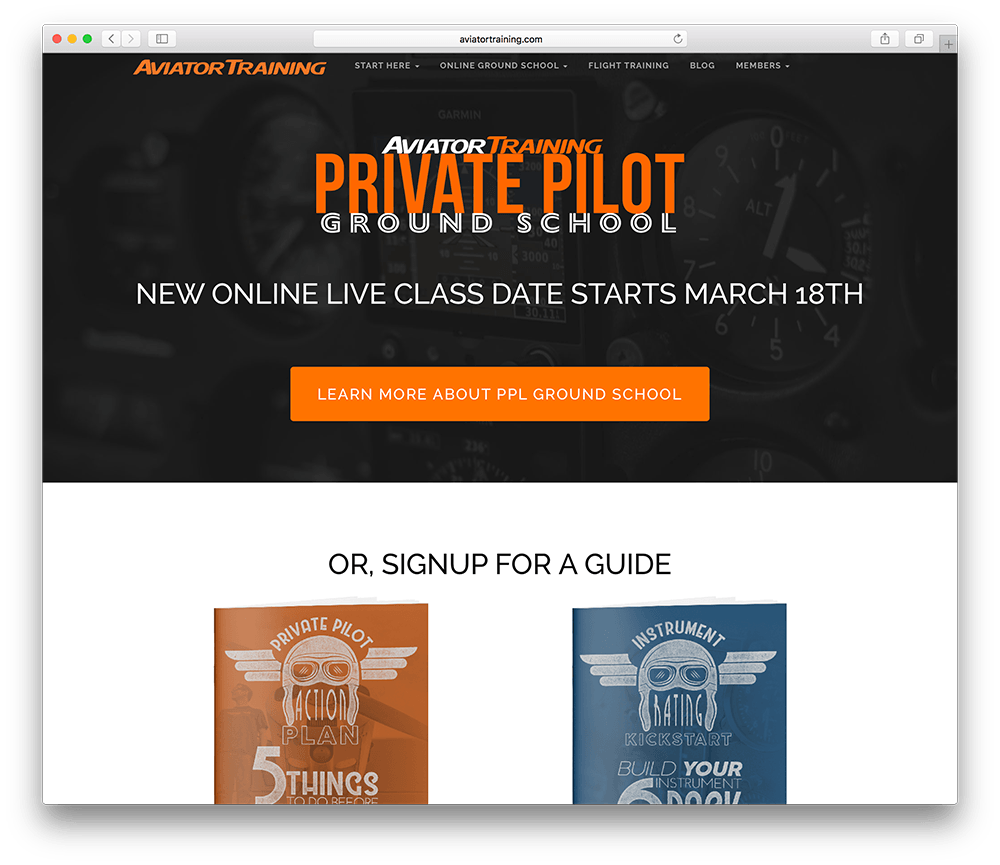 Do you dream of flying?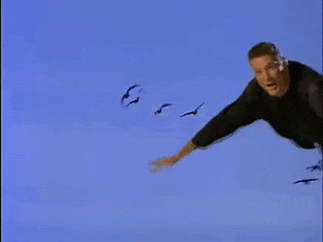 No, not like that. In an airplane. In your own airplane, with you as the pilot!
We don't know about you, but this is something we'd much rather leave to the professionals.
But, if piloting your own plane and exploring the open skies is something you've dreamt about since you were a kid, this membership site would probably capture your attention in a heartbeat.
AviatorTraining is an online, private pilot ground school that's based in Homer, Alaska. Its founder, Chris Palmer, helps aspiring pilots learn all the knowledge they'll need to pass the FAA's written test and fly in the real-world. AviatorTraining covers everything from aircraft controls and systems to airports and flight planning. Chris delivers live classes to his students and gives his members access to a robust library of archived classes.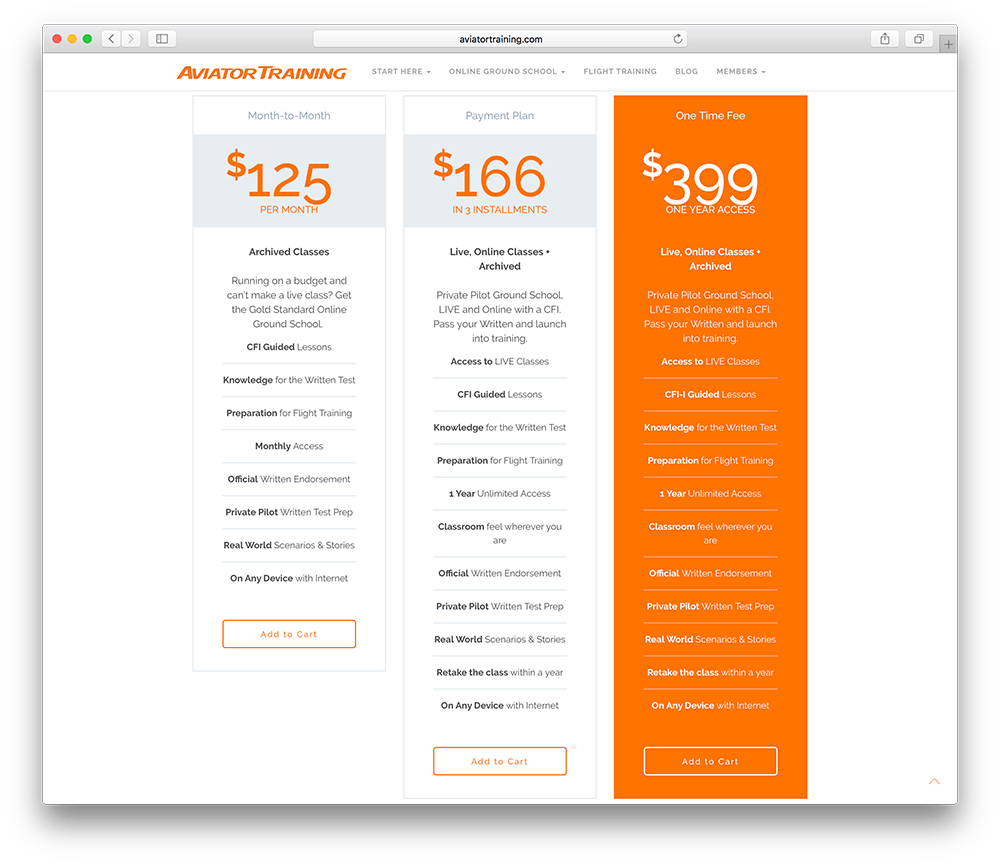 What's amazing about this membership site is that Chris actually delivers his content live to his members. Since aviation is such a complex and nuanced field of study, these live classes give members an opportunity to interact with their instructors and ask questions in real-time. It also helps instructors slow down when necessary and ensure the students are understanding and absorbing the material.
Chris is really an amazing entrepreneur and we were lucky to have him appear on our podcast. Listen to this episode featuring him, and you can hear the process he went through to create the AviatorTraining membership site. If you're thinking about delivering live content to your members, you won't want to miss this opportunity to learn from Chris.

Did you know that some of the world's most innovative companies like Netflix, MasterClass, and Peloton use the membership site model?

6.

KetoConnect

– A Hub For All Things Keto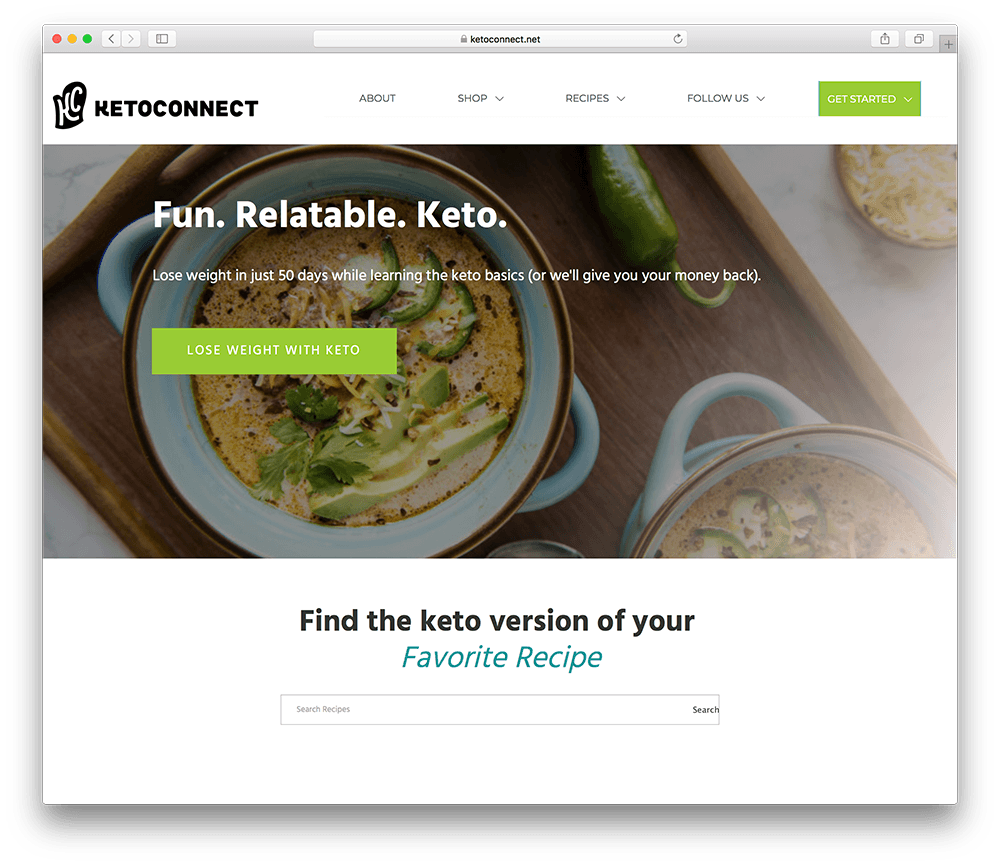 Oh… Keto.
Chances are you've probably heard of this new diet / eating philosophy / lifestyle. And if anyone in your life has adopted this new way of eating, chances are you've heard a lot about it. It's the perfect example of how a narrowly focused niche can awaken the passion, intensity, and fanaticism of its followers.
The ketogenic diet has exploded in popularity over the past few years. Just take a look at this graph from Google Trends (and notice the spike on January 1st…).

And this is where our next amazing membership site comes in: KetoConnect.
KetoConnect has become a go-to resource for people who are looking to lose weight and get started with the keto lifestyle. Their site is a hub for all things keto: beginner's guides, shopping lists, macro calculators, meal prep resources, and tasty recipes.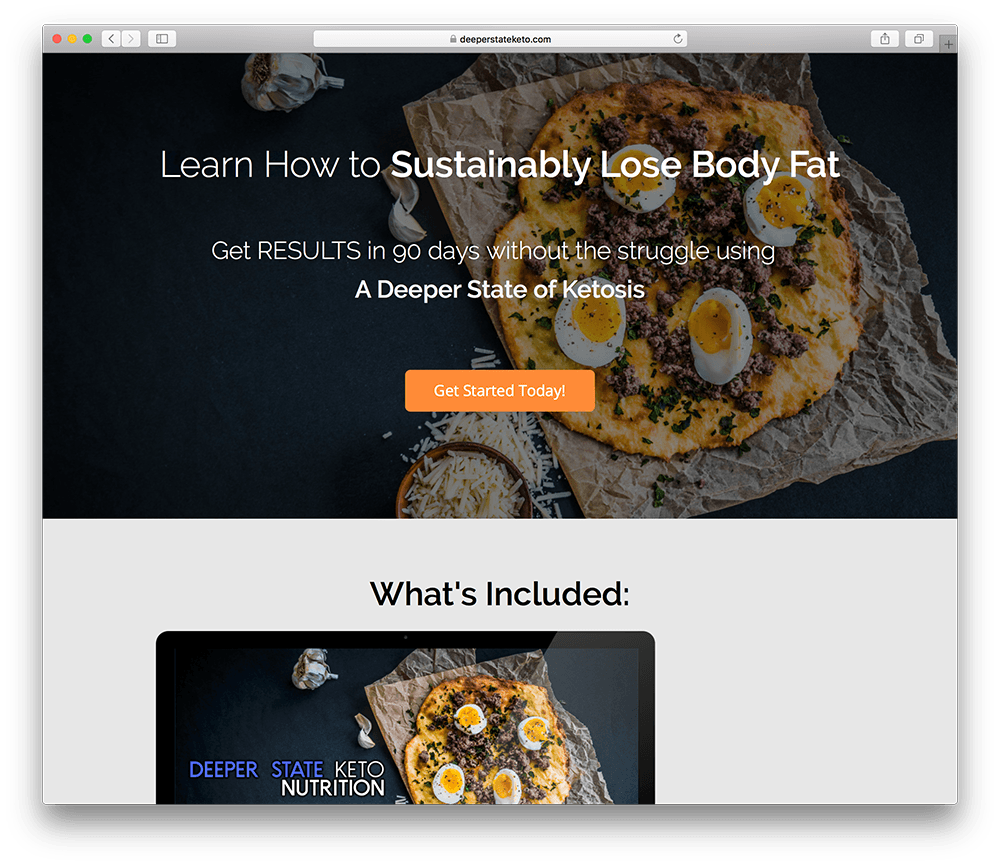 We love the KetoConnect membership site because it demonstrates how much is possible with this model. They don't confine themselves to simply selling memberships and access to content in the traditional way. KetoConnect is a full-fledged business epicenter, selling:
Books & eBooks
Online Courses
Physical Products
And more
As with most niche markets, and especially lifestyle niches like this one, there are so many opportunities to connect your members and customers with more than just content. Maybe when you first get into something like keto you think you'll only need a recipe book or video cooking course, but pretty soon you'll likely realize you need new cookware, specialty ingredients, health supplements, and more. And when you do lose those pesky extra pounds, you'll probably need a new wardrobe as well.

7.

Kyle Weiger

– Handstand Training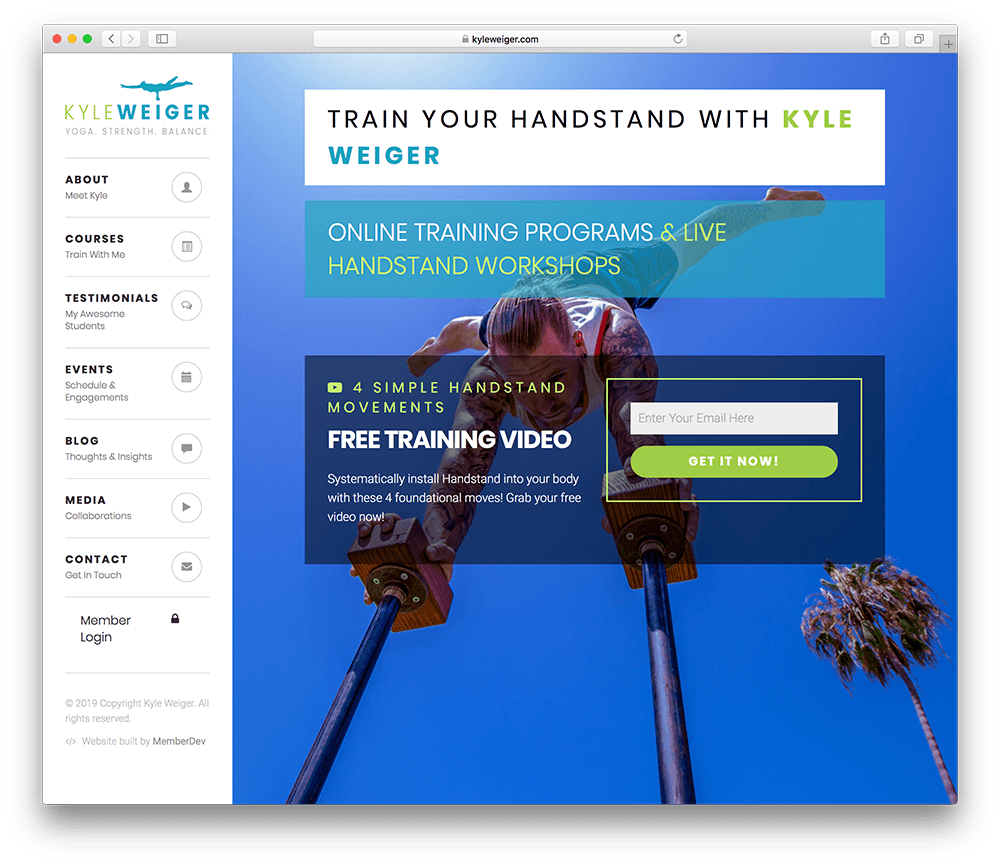 So… we have a confession to make. This membership site is one of our favorite examples of the power of a narrow niche. And, the entrepreneur behind this site is one of our favorite people. He's featured in one of our Customer Success stories and even joined us on our podcast to discuss his approach to building niche membership sites. You can listen to that episode here.
Before we dive in, let's take a moment and zoom out a bit.
A niche is a specialized section of a market, right?
In the case of Kyle's membership site, the market he falls into would be considered "Health & Fitness". That's a pretty broad market. So, what would a niche look like in that world? Well, let's take yoga as an example.
Back in 2012, Kyle built a niche membership site within the yoga world: yoga for beginners.
After he found success with that site, he took it one step further and niched down even more, creating the membership site we're talking about today.
And what niche is that? Handstand training.
Yep, KyleWeiger.com is dedicated to teaching people one thing and one thing only: how to do a handstand. If you weren't already a believer in the power of choosing a narrow niche, you will be now. We haven't kept up with Kyle's numbers, but after he launched his handstand training site, he generated over $200,000 in sales in under a year's time. You can listen to him tell the whole story here in this episode of our podcast.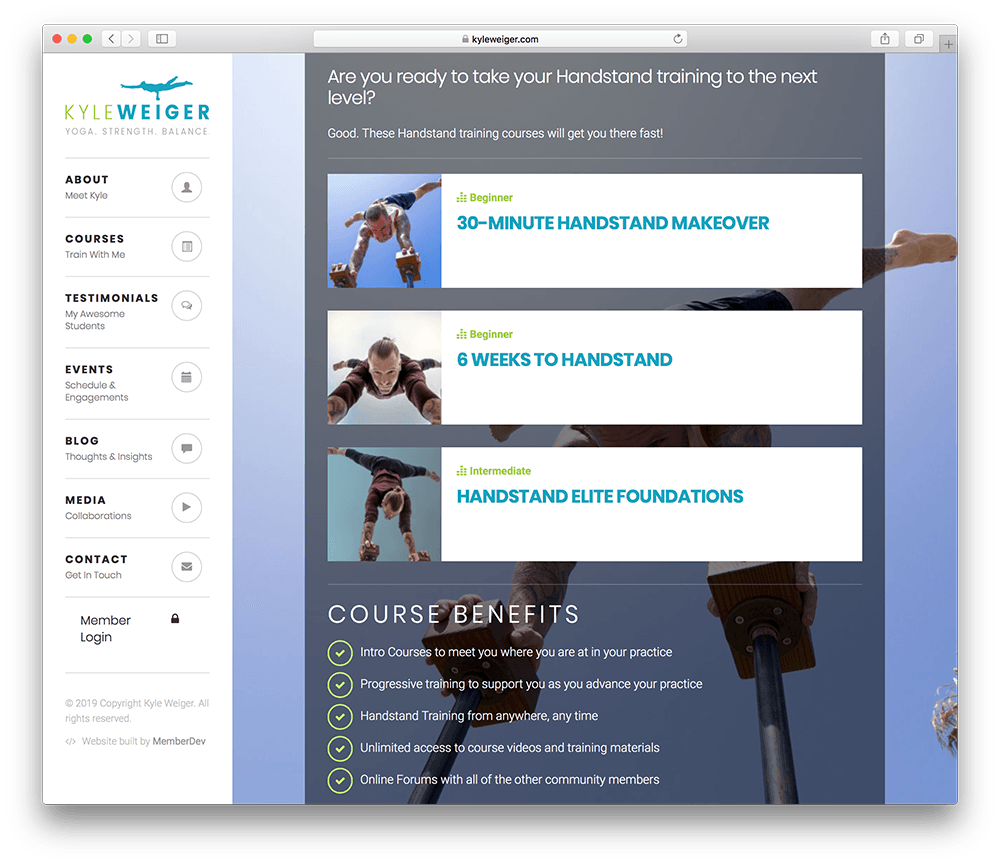 And the best part? Kyle's site has a simple and straightforward setup with just a few pages:
Online courses
In-person event
Testimonials
Blog
Kyle's site is the perfect example of a "niche within a niche" and its success demonstrates the power of granular specificity.

8.

The Point Magazine

– A Thoughtful Print & Digital Literary Publication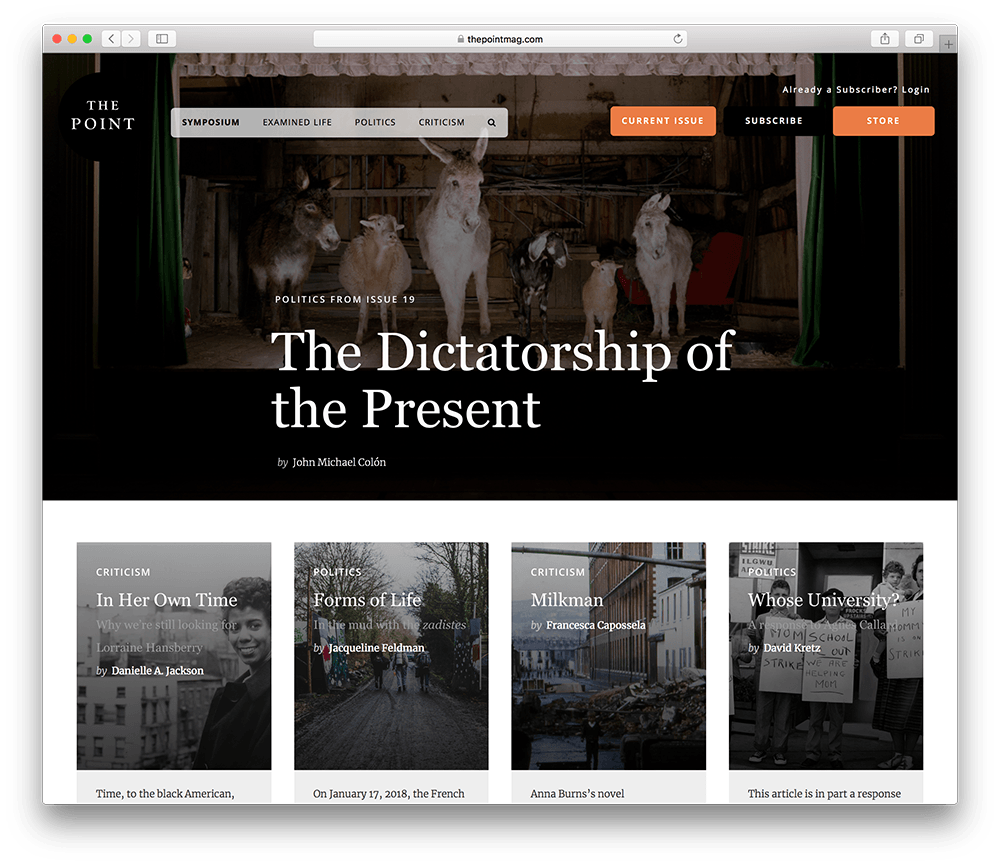 In our journey though the inspiring world of niche membership sites, we've covered a lot of sites that provide their members with education and training.
But what about something different? What about a successful niche membership or subscription site that's taken a completely different approach than the sites we've reviewed?
For this, we turn our attention to The Point Magazine.
The Point is a print and digital literary magazine that delivers thoughtful and philosophical essays on subjects such as literature, culture, politics, and the arts to its loyal subscriber base. They're committed to furthering deep and focused thought in the "internet age."
If you notice, The Point is a perfect example of a group that's adapted the traditional subscription model to the digital world. Newspapers and magazines have been sold by subscriptions for the better part of the 20th & 21st centuries. Now, independent magazines like The Point have the ability to connect their readers to their content by their preferred channel of consumption: print or digital.
The Point gives its community of subscribers three different options for access to their content: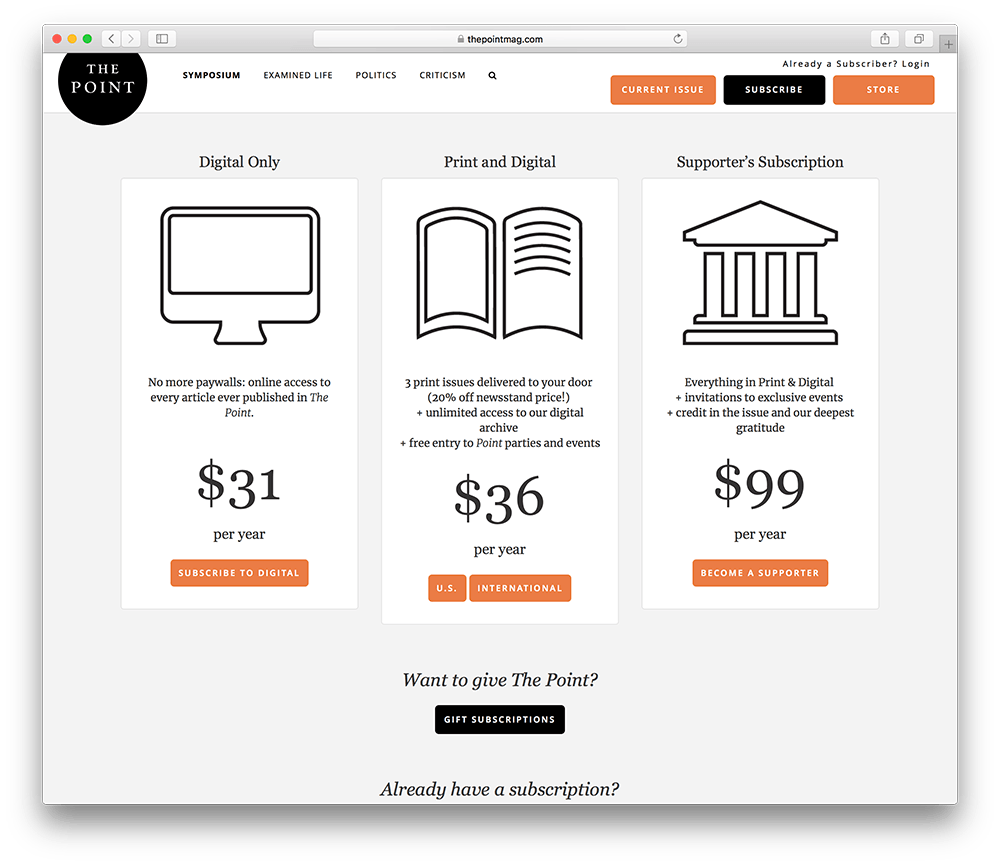 Subscribers are billed on an annual basis and get access to three new issues of The Point each year and all past articles. Their top two subscriber tiers also special perks like free access to Point parties and events. This is a great way to connect in-person with the people who support your work online.

9.

Pianu

– Browser Based, Gamified Piano Education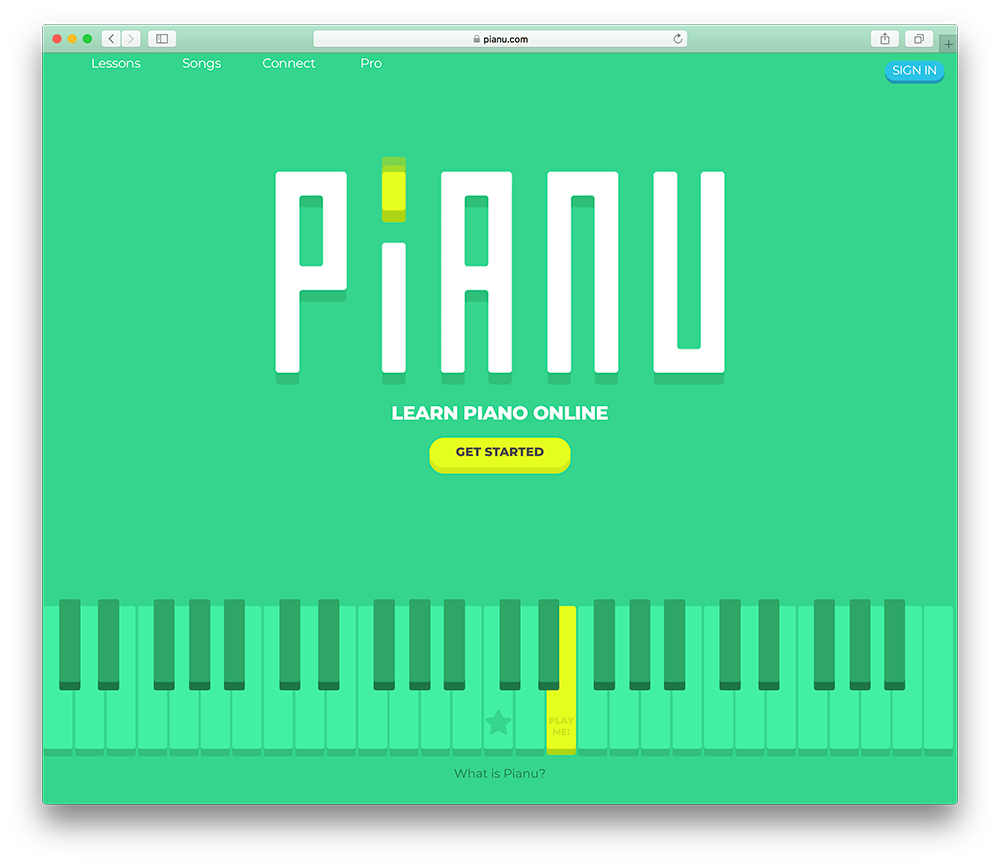 Our next niche membership site almost has to be seen to be believed: gamified, browser-based piano education.
You heard us right.
Imagine being able to learn how to play the piano, and learn any song from Ode To Joy to Let It Be, in the same way you'd play a video game like Guitar Hero.
That's the foundation of this fun and inspirational membership site: Pianu.
Created by an entrepreneur named Matt Curney, Pianu's mission is to make learning how to play the piano fun, interactive, and accessible to anyone. Even if you don't have a MIDI keyboard, you can start tapping out Twinkle, Twinkle Little Star from the comfort of your home computer or laptop keyboard.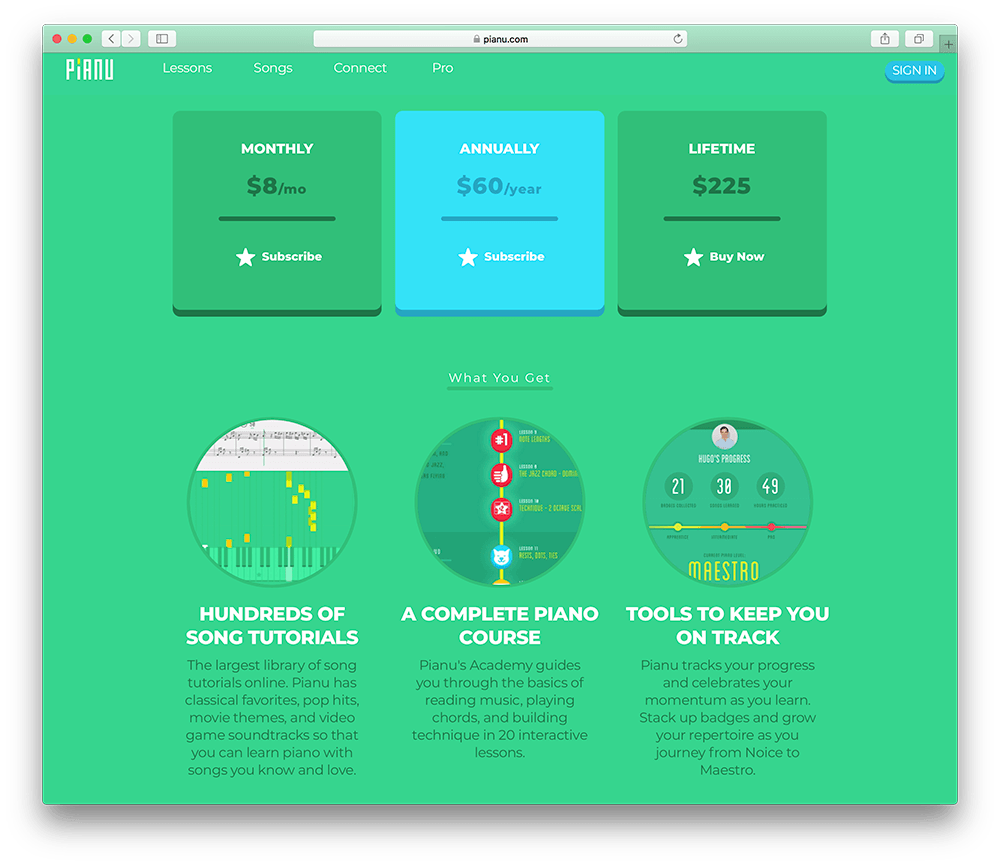 Pianu utilizes a brilliant "free-to-paid" member acquisition strategy. Visitors can land on the homepage, sign up for a free membership level, and be playing their first song in a matter of seconds. They give their members free access to a certain level of training, rewarding the progress of their users with badges, achievements, and new songs. Once they've mastered the basics, these newly minted piano enthusiasts are ready to sign up for a paid membership that unlocks the entire lesson library and hundreds of song tutorials.
Pianu is a huge hit. In its first year of operation, Matt Curney was able to take the site from zero to 50,000 members!
We love this membership site because it essentially created it's own niche: browser based piano education. To the best of our knowledge (and Matt's), Pianu is the first site of it's kind. And when it comes to niches, being first in a category is the dream and aspiration of all marketers. We'll echo the wise words of Al Ries & Jack Trout from their book, The 22 Immutable Laws Of Marketing:
"The basic issue in marketing is creating a category you can be first in. It's the law of leadership: It's better to be first than it is to be better. It's much easier to get into the mind first than to try to convince someone you have a better product than the one that did get there first."
Our hats are off to Matt and his team over at Pianu!

10.

Tilly And The Buttons

– Sewing Workshops and Resources for DIY Dressmakers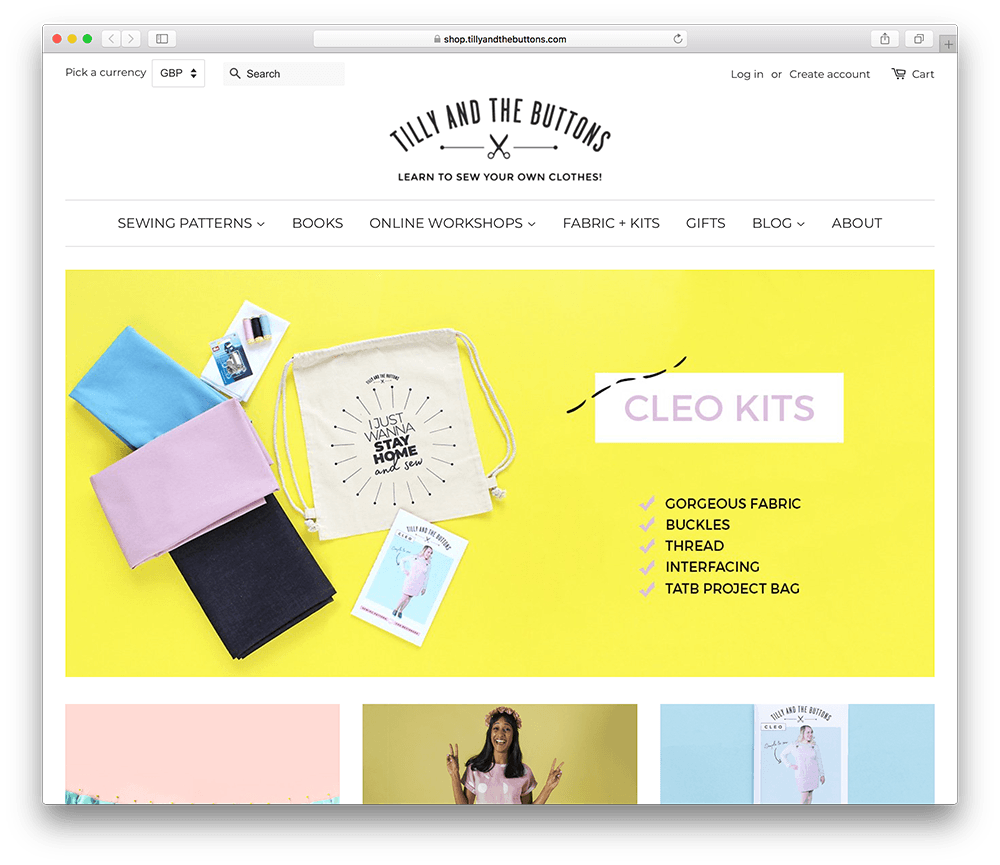 And last but certainly not least in our tour of 10 inspiring niche membership sites are our friends from across the pond: Tilly And The Buttons.
This blog and membership site is the creation of Tilly Walnes. As you can see on their site, they provide gorgeous, easy-to-use sewing patterns, books, and online workshops for the new wave of DIY dressmakers.
How's that for a well-defined niche?
Imagine that you're not that into designing and creating your own clothes. If you stumbled upon Tilly's site, you might just gloss over it and move on.
But if DIY dressmaking is what gets you up in the morning and fuels your weekend projects, finding Tilly and the Buttons might feel like a godsend, like you've finally found your people!
If you normally use terms and phrases like, "lengthening the bodice," "an overlocker that's easy to thread," or "how to make your own bias binding," seeing them all over Tilly's website will feel amazing. It'll feel like your seen and that this person gets you.
We love that Tilly's website is so targeted for her audience. It's a mark of good marketing copy when you're not afraid to alienate everyone who's not your ideal customer. Once glance at Tilly's site will show you she knows exactly who she's talking to!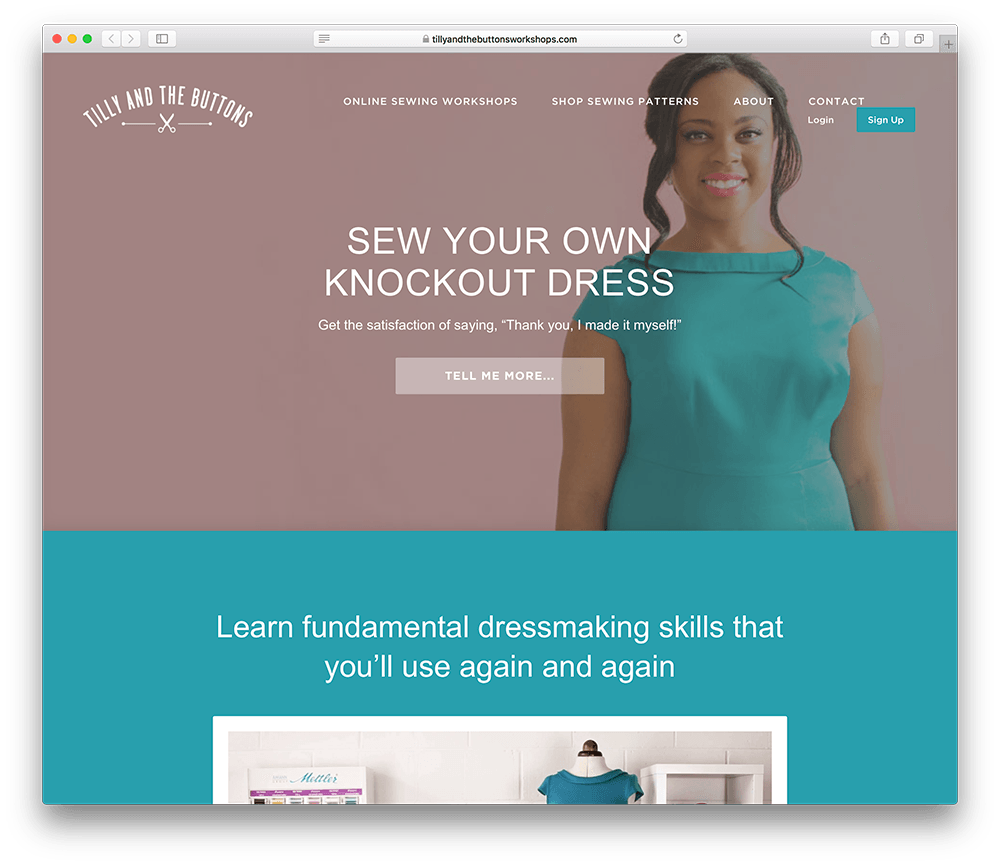 In terms of the structure of her membership site, there's a little bit of everything. Tilly and the Buttons sells:
Access to online workshops
Sewing patterns
Books
Fabric & Kits
And More
It's a really engaging site and just drives the point home that you really can't go wrong with a laser-focused niche.
"My life's purpose is to give people the resources and information they need to live a better life. I feel I have found a perfect outlet for that with my membership site."
Final Thoughts On Membership Sites
So there you have it! 10 inspiring examples of the best membership sites.
We hope you've found this post to be informative, inspiring, and even a bit fun!
If you couldn't tell from this post, we absolutely adore the membership site model. It's one of the most flexible, scalable, and engaging models you can use to build your online business. Plus, it's exploded in popularity over the past few years. There's a good reason so many companies are adding membership and subscription options to their businesses.
We know that building your own membership site can feel overwhelming at times. There's a lot to wrap your head around and a lot of moving pieces. That's why we've made it our mission to make starting a membership site easy and accessible to everyone. We have a ton of great resources here on our blog, podcast, and support center.
If you have any burning questions about your idea for a membership site, leave us a comment below. We'd love to hear from you and would be thrilled to help you in any way we can.
---
Matt Brown
Matt is our enthusiastic Content Manager here at MemberMouse. Originally from Chicago, Matt now resides in the Pacific Northwest with his wife and cat. He loves reading, writing and getting outdoors.
Related content
---