How To Find The Best Host For Your WordPress Membership Site In 2023
Choosing the right host for your WordPress membership site in 2023 is no easy task.
In some ways, it can be compared to finding your dream home. A place that meets your needs now, but also gives you room to grow and evolve in the future.
But the challenges of finding the right host for your membership site are compounded by the fact that there are over 330,000 hosting providers worldwide vying for your business. The market is incredibly saturated, noisy, and competitive. Because of this, it can be difficult to discover the best options — let alone ensure a host checks all the boxes for you.
When looking for your dream home, it can be pretty straightforward:
Right neighborhood? Check.
3 bedrooms, 2 baths? Check.
Backyard with space for a hot tub? Check.
But when you start to look at web hosts, things can get a bit confusing:
Do I want SSD or HDD hosting?
Should I go with a Linux or Windows server?
And what the heck does lightning-fast isolated hybrid cloud VPS hosting with root access even mean?
It's enough to make your head spin.
That's why in this article, we'll share as much information with you as we can to help you find the best host for your WordPress membership site. We'll even recommend five hosting providers that could be a good fit for your next project.
Why Membership Sites Need a Specific Type of Hosting
Picking a host for your WordPress membership site is much different than picking one for a simple website or blog. The reason for this is that membership sites require more processing power and memory than a traditional website.
Most websites are made up of a standard set of public facing pages: Home page, About Page, Landing Pages, Sales Pages, Blog Content, etc. Even if your site has hundreds of pages, they can be cached and served up to your visitors in the most efficient manner possible.
This isn't the case for membership sites. The pages and content included in a membership site cannot be cached. On top of that, your members could be spending hours – rather than seconds or minutes – on your site watching your training videos, posting on your forum, etc. Providing this type of user experience your members requires significantly more server resources than a standard website or blog.

The Minimum Requirements Your Host Needs In 2023
As you evaluate the hosting options for your membership site, you'll want to make sure a host meets the following standards in order to run a WordPress membership plugin like MemberMouse. Most reputable hosts will meet the following requirements. But it never hurts to double check.
WordPress 5.0 or above
PHP 7.4 or greater
MySQL 5.6 or greater OR MariaDB 10.1 or greater
Nginx or Apache with mod_rewrite module
HTTPS support
PHP Shortcodes must be enabled
cURL must be enabled
cURL, JSON, and Multibyte String PHP extensions installed
Support for TLS 1.2 encryption protocol
Support for the SHA-256 encryption algorithm and the hash_hmac function
Memory limit set up at least 256MB
No firewalls blocking access from our licensing server (this is used to validate your license)
If the server has a caching mechanism, you need the ability to control any server caching to omit pages and functions
Please check you also have permissions to write to the WordPress plugins folder (/wp-content/plugins/)
Don't worry if this seems a tad bit technical. We're not asking you to memorize this list and we promise there won't be a pop quiz at the end of this article. All of the hosts we'll recommend to you here will meet the above requirements. However, if you do choose to go with a host that's not included here, we want to make sure you have everything you need to pick the best host for your project.
7 Guidelines to Follow When Searching for a Host
At the end of the day, the host you choose for your membership site should be the one that matches the vision you have for your business. There's no "one size fits all" host out there that's perfect for everyone. Instead, we encourage you to look for the "you size fits you" host with the features and functionalities you need to build, grow, and scale your site.
That being said, here are some general guidelines you can follow when evaluating the different options available on the market. For context, we're sharing these with you from our perspective of helping nearly 20,000 people build WordPress membership sites over the past decade.
1. Cheap hosting is typically not a good option
You've probably heard this a thousand times, but it bears repeating: you get what you pay for. Cheap hosting will almost never be the right foundation for your membership site. But there is a distinction between cheap and affordable. When we say "cheap" we're mostly referring to shared hosting plans that are under $5 per month.
If you've spent any time in the WordPress space, you can probably guess who we're referring to here. These types of hosts give you minimal resources and very little support. As your site grows, you'll likely max out your server resources. This can cause errors and problems for your visitors and force you to upgrade your account to a higher tier plan.
2. Avoid shared hosting – unless absolutely necessary
Shared hosting isn't ideal for membership sites for many different reasons. First, when you share a server with other websites, you are literally sharing server resources with dozens – if not hundreds – of other websites. If your site experiences a spike in traffic or visitor engagement, your server might not have the resources available to ensure fast load times and smooth visitor experiences. Second, shared hosting can open your site up to more security issues and IP blacklisting. We won't go into all the details here, but suffice it to say you want to avoid these issues at all costs.
3. Be wary of "Managed WordPress" plans
The problem with managed WordPress hosting plans is that you have little to no control over the core files on your server, when updates occur, or the caching mechanisms that impact your site. We'll spare you the gory details, but when you don't have control over how caching occurs on your site, you can wind up with migraine-level site errors. Plus, some "Managed WordPress" plans are simply shared hosting in disguise. You already know why you should avoid these types of plans.
4. Avoid Windows hosting & servers. Choose Linux options instead.
The reason for choosing a Linux-based server over a Windows-based server has to do with how their environments are configured. These two types of servers don't perform identically. The vast majority of the WordPress community uses and develops for Linux-based servers. Going this route will ensure your website performs at its best. If you do choose to go the Windows route, know that you may encounter some compatibility issues between third-party plugins.
5. Expect quality hosting to start at $30 – $100 per month
As you move away from "shared" and "managed" hosting options, you'll enter the world of VPS, Dedicated, and Cloud hosting. For these types of plans, you can expect a good host to cost between $30 – $100 per month – as a starting point. These costs are very reasonable when you consider everything you get with these types of plans: reliable backups, staging, CDNs, dedicated IPs, SSLs, caching, and email.
6. You will need a dedicated IP & SSL to secure checkout and your logins
A quality hosting package will typically include these things. That being said, you will want to ensure you have them if you plan to collect payments on your membership site. The ability to provide a secure environment to your customers for financial transactions is non-negotiable.
7. Watch out for aggressive caching
For membership sites, it's very important to understand the way you host handles caching. Certain server-level caching methods can create problems on your site. As you look for the right host, make sure you have the ability to turn off caching or to bypass the URLs that are associated with your membership site. Caching as it relates to membership sites is an issue unto itself. To learn more about it, check out this helpful article from our support center.

The 4 Main Hosting Options Available to You
Throughout this article, we've referenced some of the different types of hosting options available for you to choose from. In this section, we'll go into detail about the four main types of hosting. Before we do, it's important to note that not all hosts fall neatly into one of these categories. We're seeing more and more hosts create unique packages and offerings to meet the ever-changing needs of the marketplace.
However, in general, you'll typically find four main options available:
1. Shared Hosting & Managed WordPress Hosting
These plans should generally be avoided if you plan to build a resource intensive membership site. This type of hosting is best suited for simple websites. Shared hosting plans often have hundreds of clients and thousands of websites on one server that must share the system resources. If one site is particularly resource intensive, it affects everyone. Some additional downsides of using shared hosting are:
They tend to have higher chances of bot attacks
Email sending is limited and system emails may not go out during high user activity
If you overuse your allotted resources, you can get your resources limited which severely slows your site's functionality
That being said, you can run a smaller and simpler membership site on a shared hosting plan. Just keep in mind that as your site grows in content and complexity, you will most likely have to upgrade your hosting package.
2. Virtual Private Server (VPS)
A VPS hosting plan is the minimum we recommend for a WordPress membership site built with MemberMouse (other plugins may have different requirements). This option is the happy medium between shared hosting and a dedicated server.
VPS servers are still technically shared. However, they contain far fewer accounts. Plus, instead of pooled resources, each account is allotted a percentage of the CPU and memory exclusively for its use. That means regardless of what the other accounts do, it won't affect your available resources. It's a win-win.
3. Dedicated Server Hosting
For larger membership sites, a dedicated server is required to ensure you're delivering the best possible experience to your visitors. Yes, this is a higher tier option. However, if you're considering this option, your business is likely already at a healthy stage. When you have hundreds or thousands of members paying you a monthly subscription, the cost of a dedicated server is certainly worth it.
4. Cloud Hosting
Depending on the size of your membership site, the amount of content you have, and your plans for growth in the future, you may want consider cloud hosting. Cloud hosting is a type of web hosting which uses multiple servers to balance the load and maximize uptime. It's a very effective advanced hosting option. Though, with it typically come higher costs and management requirements.
With cloud hosting, instead of using a single server, your website can tap into a "cluster" that pulls resources from a centralized pool. This means that even if one server fails, another kicks in to keep everything running smoothly. These servers can be extremely flexible in size and configuration. This results in incredibly fast websites. However, they do require specialized skills and knowledge to properly manage.
5 of the Best Hosts for Membership Sites in 2023
Now that we're on the same page about the different hosting options available, let's take a look at some of the best options out there for you to choose from. These recommendations are based on what we've seen work best for our customers over the past decade.
If you don't see a host you're considering on this list, it doesn't mean that it can't work for your project. We'd encourage you to take everything you've learned here so far and investigate that hosting provider yourself. Most hosting companies have good support and sales teams. You can go to them with any questions you have about the requirements for your specific project.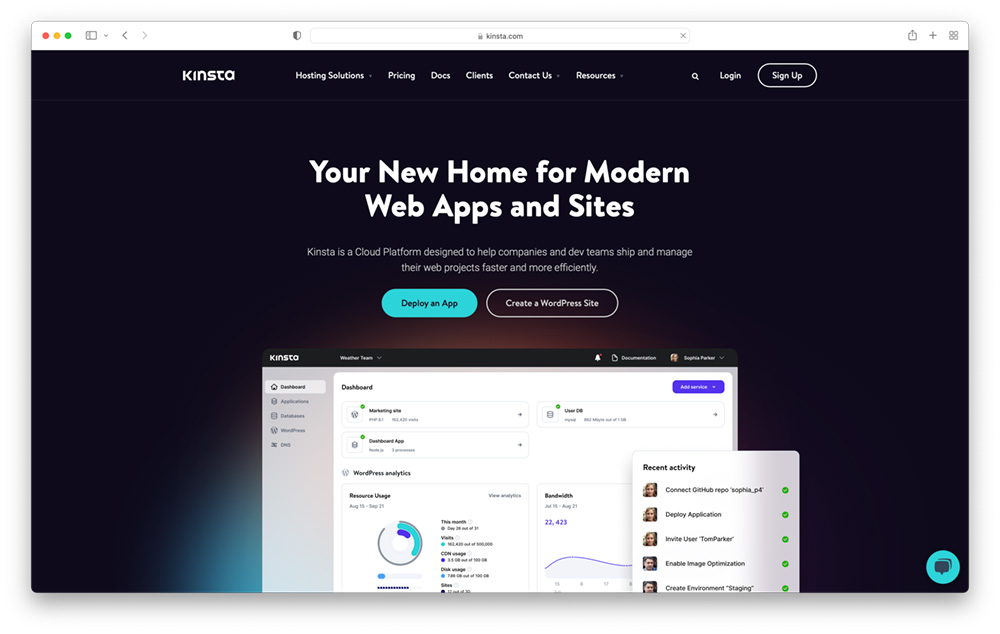 Overview:
The first hosting provider we'll recommend to you is Kinsta. We recommend them for a few different reasons. One, because they provide fast, secure, and reliable hosting. Two, they understand the unique hosting requirements membership sites need. And three, many of our most successful customers use them without running into serious issues.
You may be wondering what type of hosting Kinsta provides. Are they shared, VPS, dedicated, or cloud? Like we mentioned earlier in this post, not all hosts fall neatly into these categories. To make things simple, we'll call Kinsta a "hybrid cloud container" host.
If you want the nitty gritty details, here's what Kinsta's support had to say about their hosting:
"Each of our plans, from Starter through Enterprise (and Custom) use the same infrastructure which is built on Google Cloud and is very different from traditional shared, VPS, or dedicated infrastructure.

Every site on our platform runs in an isolated software container that contains all of the software resources required to run the site (Linux, NGINX, PHP, MySQL). This means that the software that runs each site is 100% private and is not shared even between your own sites. Each site container runs on a generously sized virtual machine in one of multiple Google Cloud data centers and secured behind the GCP firewall. Hardware resources (RAM/CPU) are allocated to each site container automatically by our virtual machines on an as-needed basis (a neat feature we refer to as auto-scaling).

The result is a hosting configuration that is secure and private by design while simultaneously allowing server resources to scale up or down as needed based on the demands of the site. This also means that as you grow and upgrade, the plan change is painless – only taking a few minutes, and does not require any migration or DNS changes."
On top of that, Kinsta is known for their top-tier support. If you're wondering whether Kinsta will be a good fit for your membership site, we'd recommend reaching out to their support team. They often have live chat available on their site. You can talk with them about your plans for your site and determine which package will work best for you. Although they don't offer a free trial, they do have a 30-day money back guarantee.
Key Features:
Powered by Google Cloud platform
26 global data center locations for you to choose from
24/7 support
Price:
Plans start at $35 per month
Plans for bigger membership sites start at $115 per month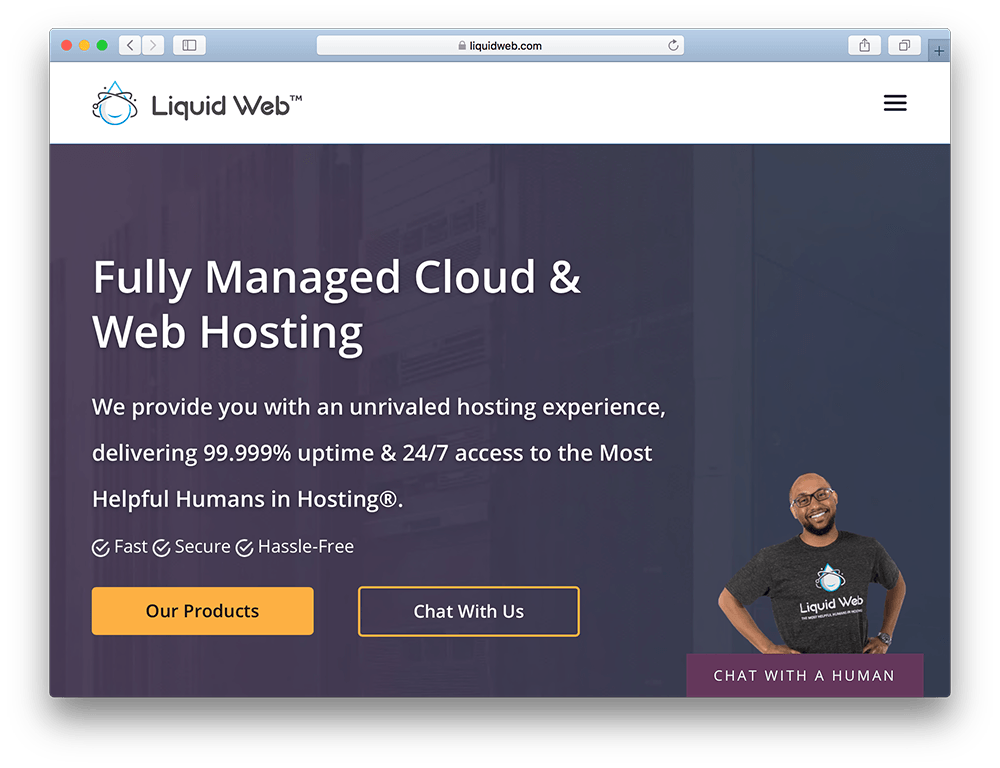 Overview:
Next up in our tour of recommended web hosts for membership sites is Liquid Web. One of the first things you'll notice about Liquid Web is that they own and manage their core data centers. Many web hosts build their packages on top of other hosting services like Google Cloud and AWS.
Liquid Web is also highly regarded for the way they support their customers. What makes them a good option for membership sites owners is that they offer just about every type of hosting you could need for your project. You could start with their affordable VPS hosting and scale up to a dedicated server as your business grows – without having to switch hosting providers.
Like most hosts, Liquid Web does not offer a free trial. But they do have live chat on their website and their support team is very responsive. If you're considering them, we'd recommend reaching out to the directly to discuss the specific needs of your project. They do offer a 30-day money back guarantee as well.
Key Features:
Privately owns data centers with 25,000+ servers across 3 locations (US & EU)
Root Access
24/7 support
Price:
VPS starts at: $59 per month
Dedicated server starts at: $199 per month
Cloud hosting starts at: $149 per month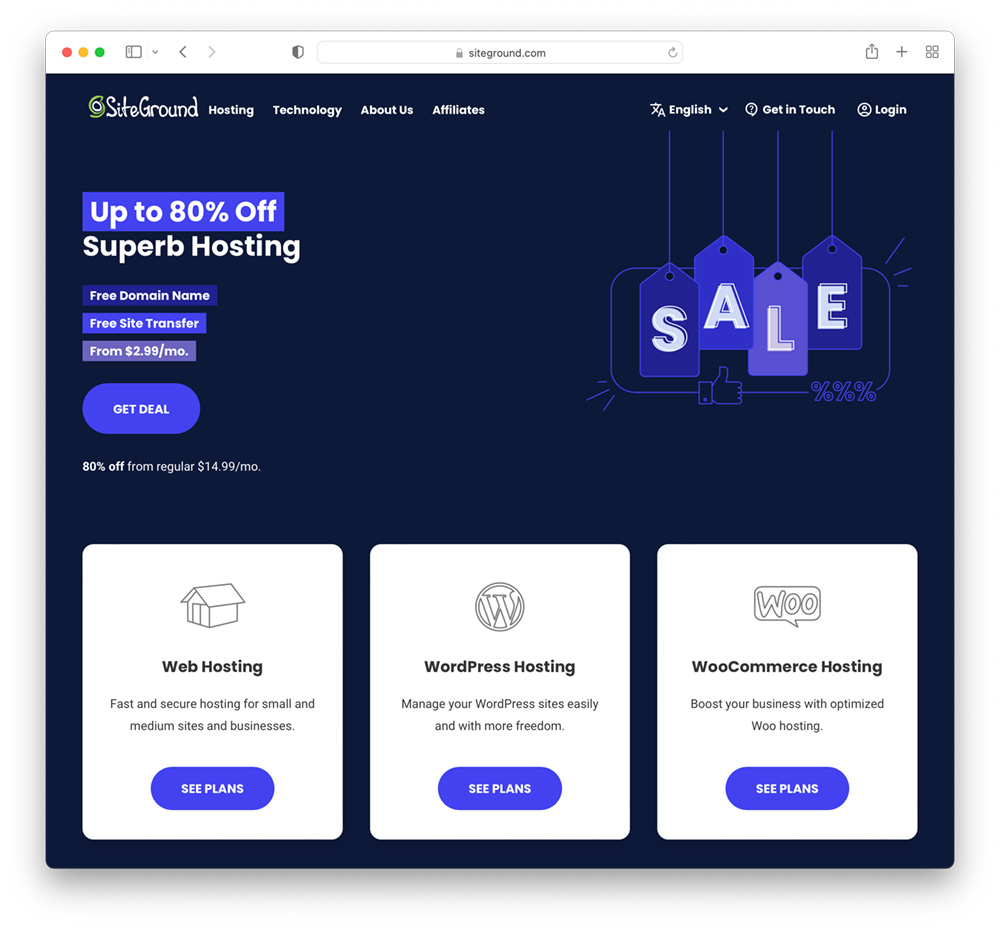 Overview:
Remember how we previously mentioned you should generally avoid shared hosting plans when building a membership site? While this is true, we know that if you're just starting out, you might not have the budget for VPS or dedicated hosting. If out of necessity you need to go with a shared hosting plan to get your business up and running, we'd recommend SiteGround. Specifically, their GoGeek plan.
SiteGround has one of the best reputations in the hosting world and is really the perfect solution for early-stage sites. Their GoGeek plan is very affordable, while also providing you with enough resources to get the job done. You could use this hosting plan for as long as you need to grow your business. Then, if your membership site outgrows that hosting package, you can look into their cloud options or migrate to a different host.
One thing to note about SiteGround is that they do require you to pay for a year in advance in order to lock in their discounted pricing. A year of their GoGeek plan will costs you ~$180. This is incredible affordable considering a dedicated server can run you at least $180 per month. SiteGround also has a good support team. You can contact them to see if their hosting packages will meet the needs of your project.
Key Features:
Known for reliability and good reputation
Affordable
Use for unlimited websites
Price:
GoGeek Plan (minimum recommendation for membership sites) starts at $7.99 per month.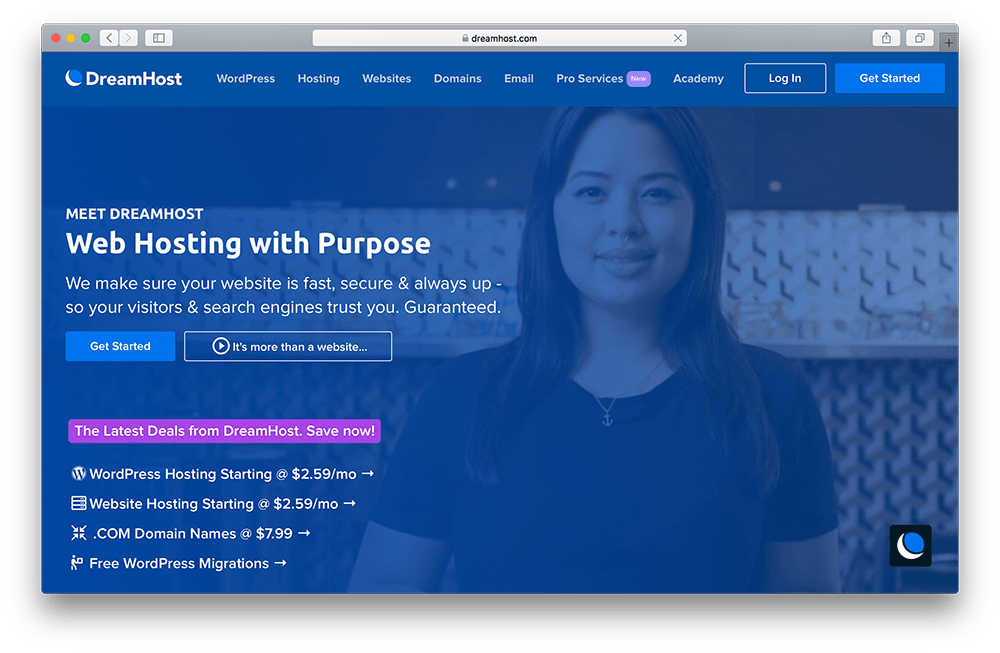 Overview:
Another web host for you to consider in your search for the best solution for your site is DreamHost. They offer very affordable VPS and dedicated hosting packages. Combined with good support, flexible features, and many different hosting packages, they could be a good fit for your membership site.
Key Features:
24/7 Support
Unlimited Website hosting
US Based VPS
Price:
VPS Business starts at $30 per month
Dedicated server starts at $169 per month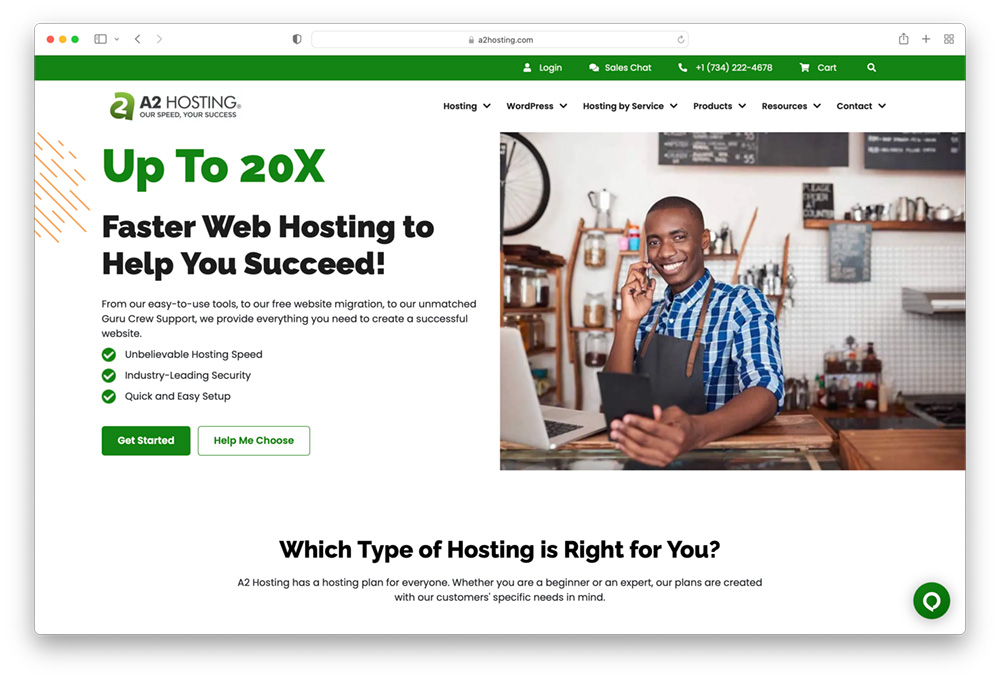 Overview:
Last – but certainly not least – on our list of recommended web hosts is A2 Hosting. A2 is a privately owned and operated host that is extremely affordable and reliable. They are committed to supporting their users and have succeeded in maintaining independence despite some of the questionable things happening in the hosting industry. They offer shared and VPS hosting packages. If you're on an extremely tight budget, we'd recommend researching A2 Hosting.
Key Features:
Privately owned & operated web host
Budget friendly
VPS hosting available
Price:
Turbo Max plan starts at $22.09 per month
VPS hosting starts at $49.99 per month

Final Thoughts on WordPress Membership Site Hosting in 2023
Ready for your pop quiz? Just kidding 😉. Like we promised earlier in the article, we don't expect you to memorize all the nitty-gritty details about web hosting. We do hope however that you are much better equipped to make an informed decision about how to choose the best host for your membership site in 2023 and beyond.
We know we covered a lot of ground in this article. If you have any questions or concerns about the topics we covered here, please drop us a comment down below. We'll do our best to get you an answer (or at least point you in the right direction). Best of luck on your adventures in hostlandia!
---
Matt Brown
Matt is our enthusiastic Content Manager here at MemberMouse. Originally from Chicago, Matt now resides in the Pacific Northwest with his wife and cat. He loves reading, writing and getting outdoors.
Related content
---