How 8 New Businesses Are Using MemberMouse To Make An Impact Online
One of the things we love most about working with online entrepreneurs, web developers, and business owners is seeing the incredible diversity of people who use MemberMouse. We get to witness such a wide variety of businesses grow and evolve and are often surprised by all the different applications of our platform.
We can't tell you how many times we've messaged each other on Slack or sent an email saying, "check out this new customer's site!" or "woah! these people are up to some really cool stuff!". The truth of the matter is that you — our customers — are a never ending source of inspiration. You're the reason we keep building up and enhancing our own software and offerings.
Instead of keeping all of this to ourselves, we've decided to share it with you. We've been so excited over this past year by the relationships we've built with our customers and community members through collaborative blog posts, customer success stories, and podcast episodes. Now, we want to pass on some of that inspiration to you.
This post marks the first in an ongoing series of posts we'll continue throughout the next year where we introduce you to some of our new, standout customers. We want to showcase their terrific ideas and cultivate a deeper relationship with everyone in our space.
So without further ado, please allow us to introduce you to 8 of our new, standout customers who recently signed up for our platform.

Shareable Feast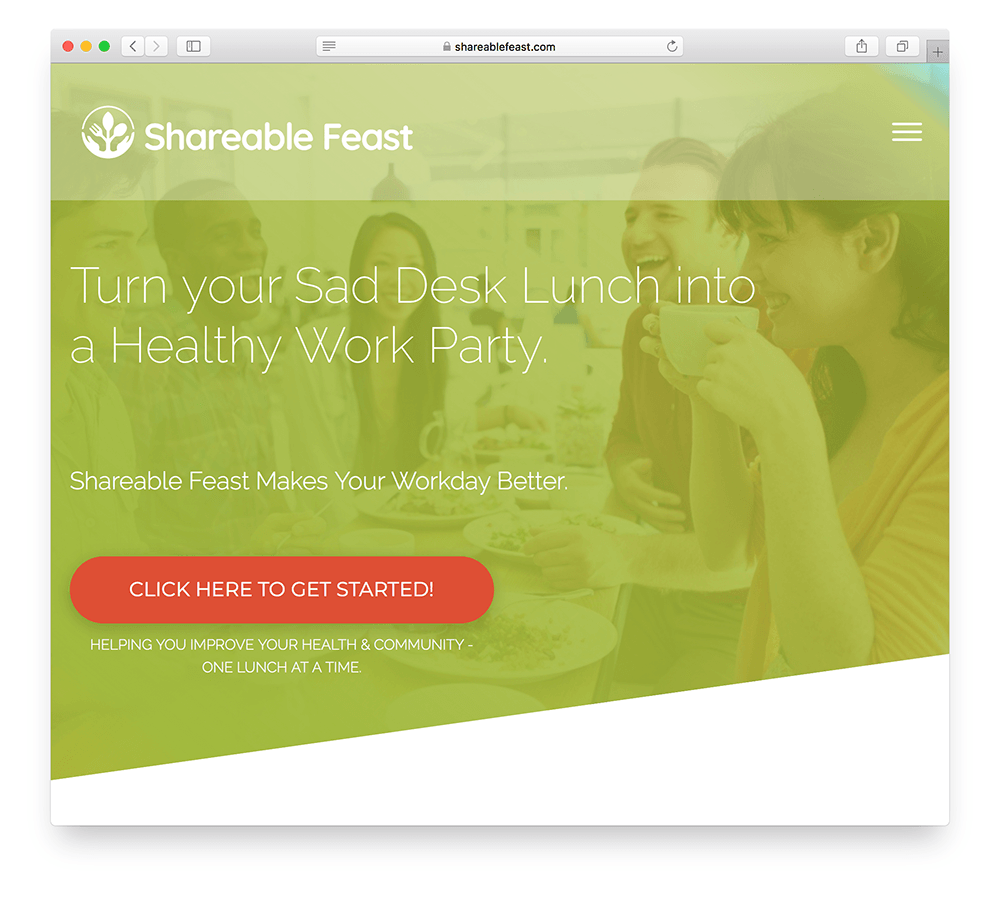 Shareable Feast is an online subscription that aims to help office workers turn their sad desk lunches into healthy work parties. It would be hard to say no to that if you're chowing down on bland sandwiches or lukewarm leftovers during your lunch break. We love that the Shareable Feast team is committed to educating and empowering their members to bring health and community into the workplace.
Lindsay Parks is the driving force and "chief foodie" behind Shareable Feast. She works to provide the members of their community with daily recipes, grocery lists, an engaging community, and more. As you can see below, they currently have monthly and annual membership levels available for purchase.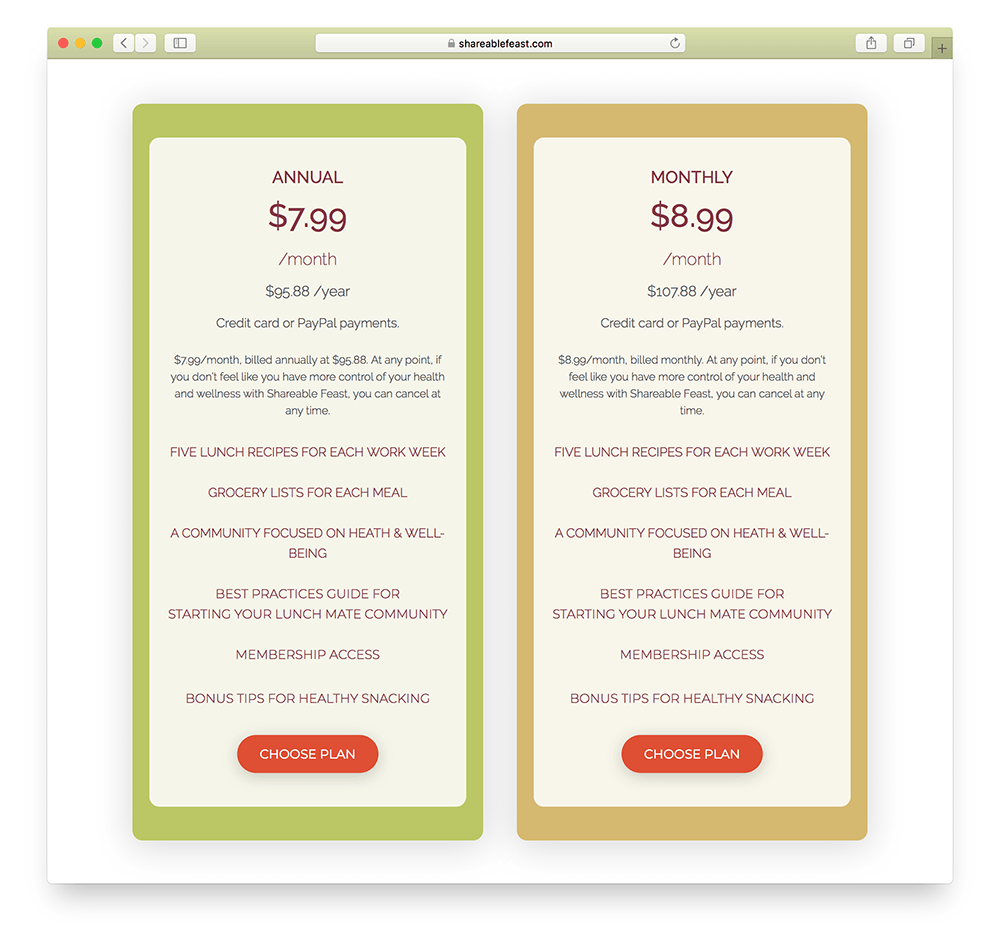 This is what Lindsay has to say about her experience so far with MemberMouse:
"MemberMouse has allowed us to focus on building the site and the business without having to spend time worrying about the more technical aspects of setting up a membership platform. We use MemberMouse to help integrate payment processing and easily manage our memberships." 
Lindsay continues, "These have been some of the best features and were integral to getting the service started. We're also using MemberMouse to help manage access to content that we're developing for different membership levels. It helps simplify our approach to delivering this. And MemberMouse's customer service has been exceptional."

Fearless Fathers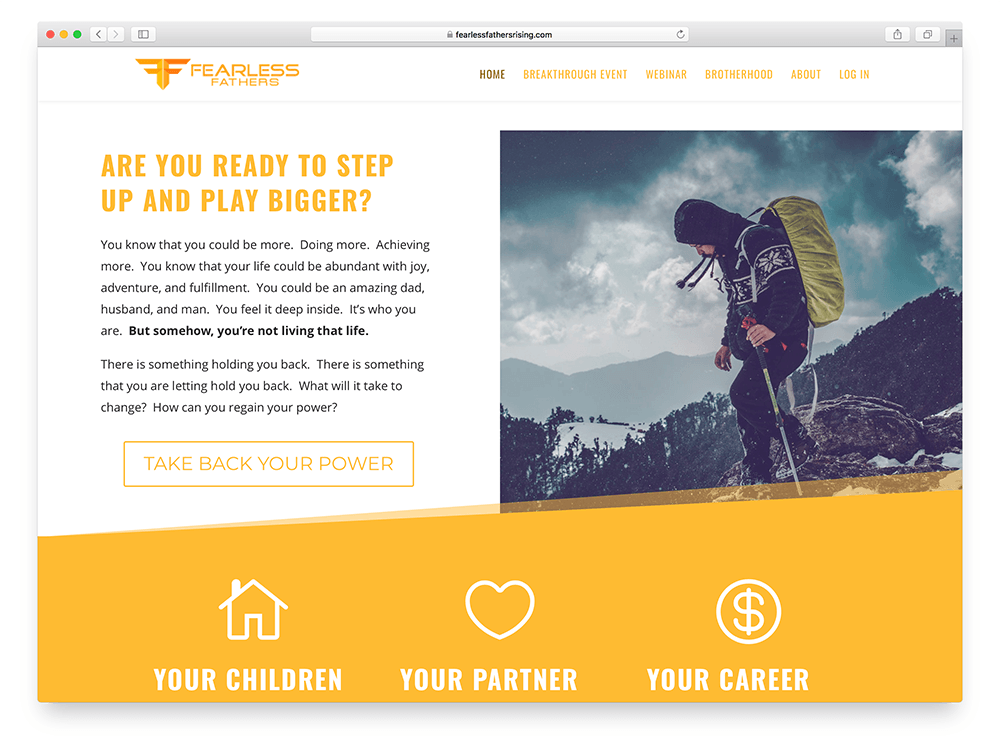 This beautifully designed membership site is called Fearless Fathers. Founded by Rich Gorusch, he's an entrepreneur with a powerful mission: to change the world by helping fathers be their best. The clear messaging and elegant design of this site makes it easy to navigate and understand what they're offering.
The core of their membership centers around an online program called The Brotherhood. It's comprised of an 8-week training program delivered via video, audio, pdf's, and live coaching calls. Members are also invited to a 3-day in-person immersion as part of the program. 
When we asked Rich why he chose to use MemberMouse as the platform for his program, this is what he had to say:
"We chose MemberMouse because it creates such an amazing user experience. Fearless Fathers helps dads around the country to perform at their highest level through training, activity trackers, coaching sessions, and live events. MemberMouse creates a home base for members to seamlessly access all of these resources, and then to add more with just one click whenever they are ready for the next step in their journey."
Rich continues, "Most importantly, the platform just works. Billing happens, members manage their own accounts, and our site runs itself so that our team is freed up to do what we do best – working one on one with dads to help them transform their lives."
When Rich and his team built the Fearless Fathers membership site, they took advantage of our new and free layout pack for the Divi theme. This helped them create a sleek user experience for their members. Here's a peek at their well-designed members' area: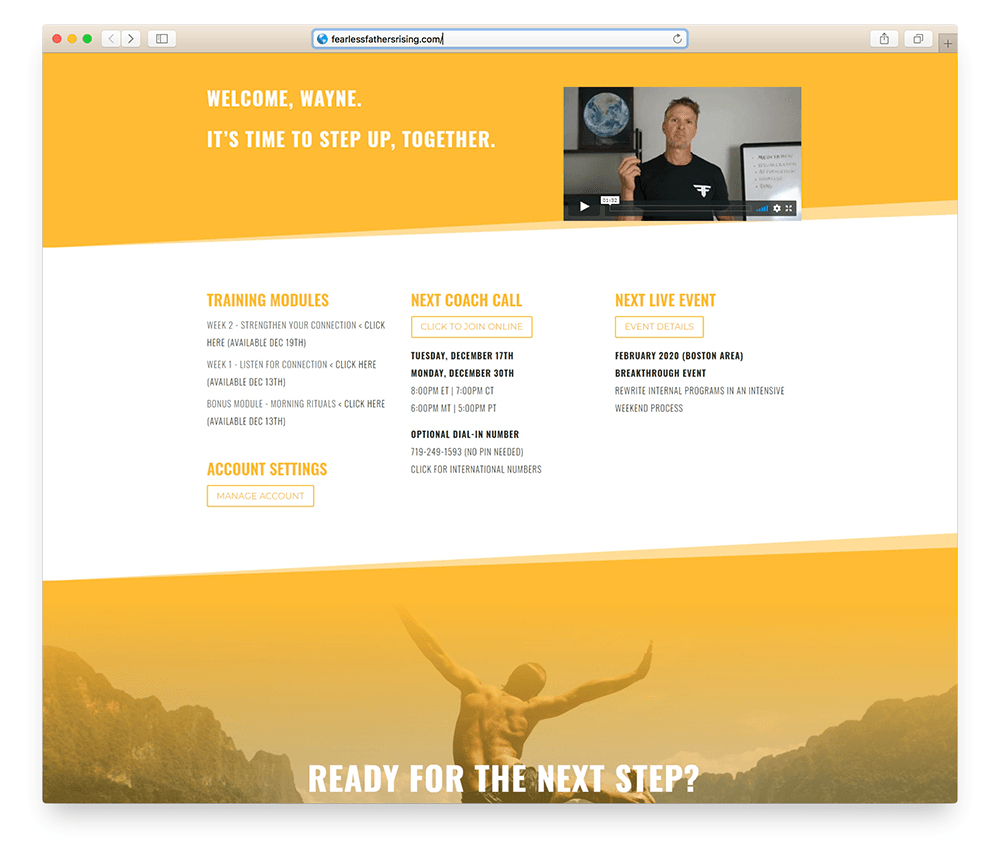 We love seeing this powerful tool put to use in the real world. If you're interested in learning more about building and designing your membership sign with the Divi theme and our layout pack, check out this blog post for all the details. 

Sassy Girl Entrepreneurs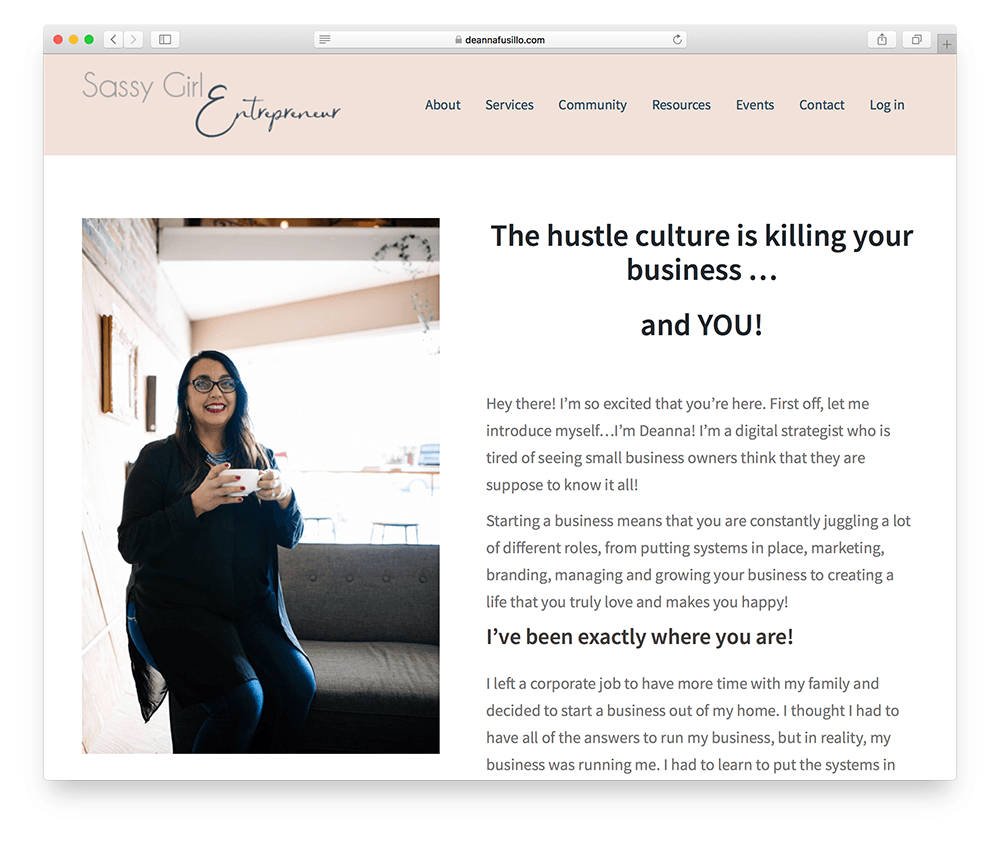 Deanna Fusillo is the brains behind Sassy Girl Entrepreneurs. She's a digital strategist and runs an online membership community called The Entrepreneur Society. She helps her members launch and grow their very own online businesses with an online training library, monthly workshops, live group coaching calls, and more. 
Deanna has worked in digital marketing since 2010 with a strong emphasis on social media, email marketing, and WordPress web design. In her membership, she not only provides inspiration and motivation to other women looking to start their own online businesses, but also gives them the proven systems she used to stop spinning her wheels and finally grow her own business. Now, she's focused on providing an amazing experience for the members of her community.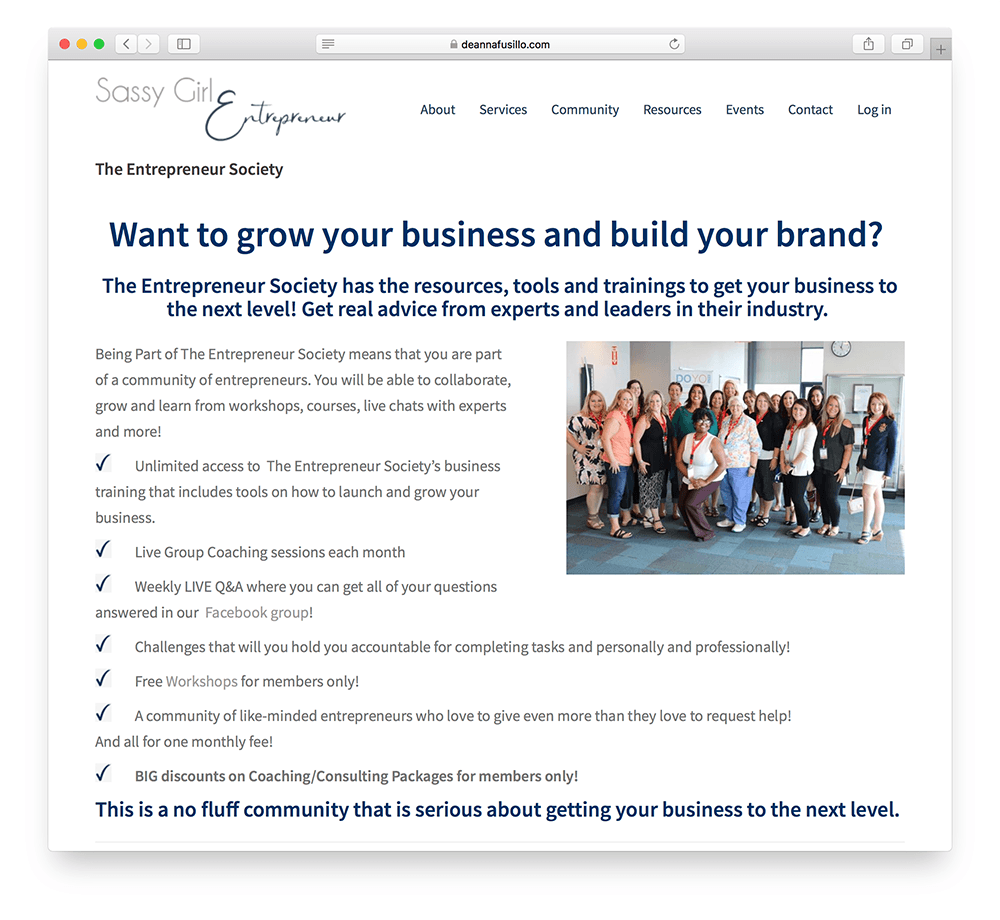 "MemberMouse wasn't the first membership platform that I tried. In fact, I tried two prior to and researched several! MemberMouse offers everything I need for my membership site and more," notes Deanna. 
"I love that I'm able to create products, membership levels, bundles and even create a drip campaign so that new members can gain access to my trainings in the right order so they are able to build their knowledge as they go! Being able to offer monthly membership subscriptions or just one-time access to training, allows me to be flexible so I can provide my audience with what they need. Using this platform has definitely been a game changer for me and my business!"

Visual Revival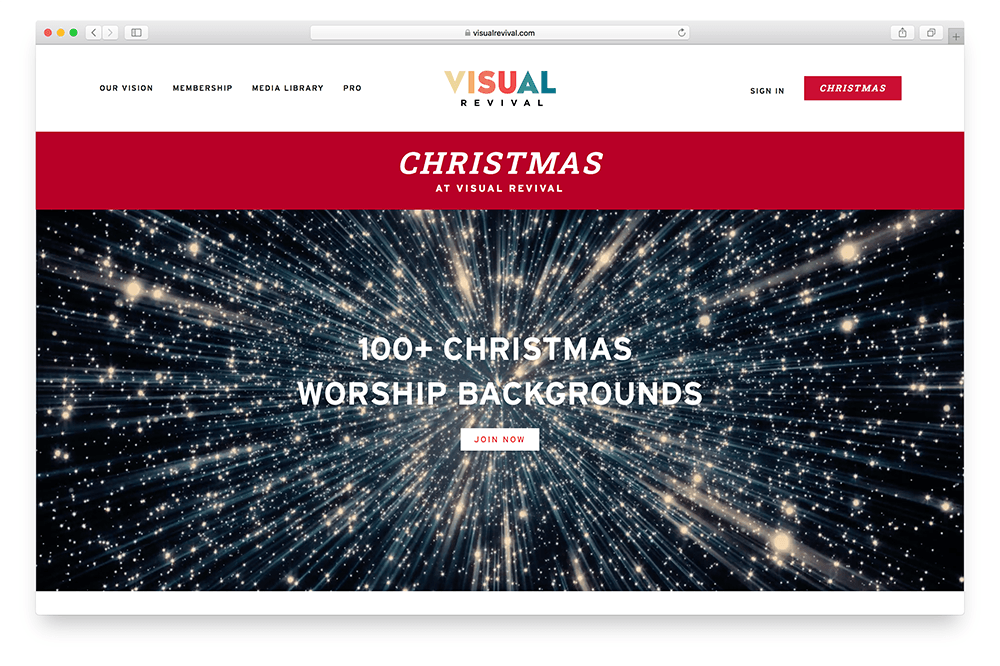 Andrew Carey and John Buchanan are the entrepreneurs hard at work behind the scenes at Visual Revival. This online subscription business immediately caught our attention for a few specific reasons. First of all, their site is built like a membership-based stock video site. We love this application of MemberMouse and see a ton of potential here for photographers, designers, videographers, and others in similar fields, to create their own businesses around digital assets.
The second thing that stands out about Visual Revival is that they serve a highly targeted niche: churches who want to use high definition videos as part of their worship services. Even though the online business landscape is constantly evolving, there seems to be one truth that remains constant: the more specific and targeted of an audience you can identify and serve, the higher your likelihood for success. If you'd like to dive deeper into this topic, check out this post and see real-life examples of successful niche membership sites.
Their site and the videos they offer are both stunning! Just take a look at a few of these offerings: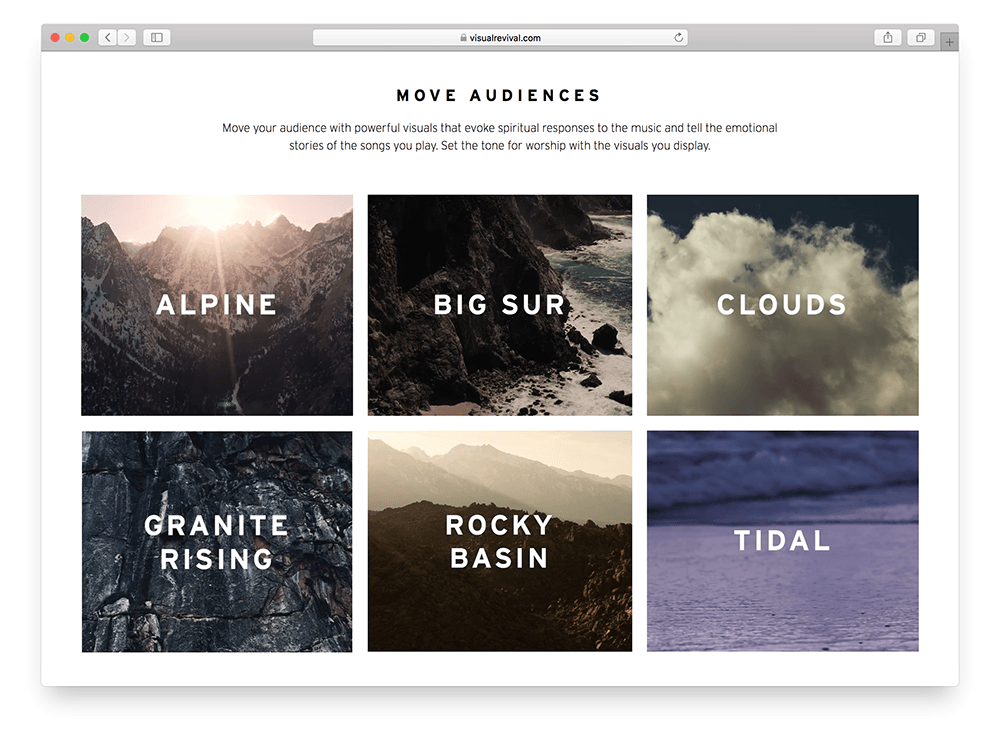 Visual Revival sells both a starter and professional membership on an annual basis. Subscribers get immediate access to their entire media library, as well as a new media pack released on a monthly basis.
"We chose MemberMouse for its logical approach, ease of use, great content protection features and its many integrations." states Andrew. "It's ready out of the box but also easily customizable and configurable. What puts them over the edge is a great knowledge database and top-notch customer support. MemberMouse is the core engine of our business and I couldn't be happier with our decision to go with them."

She Is Still Dope Society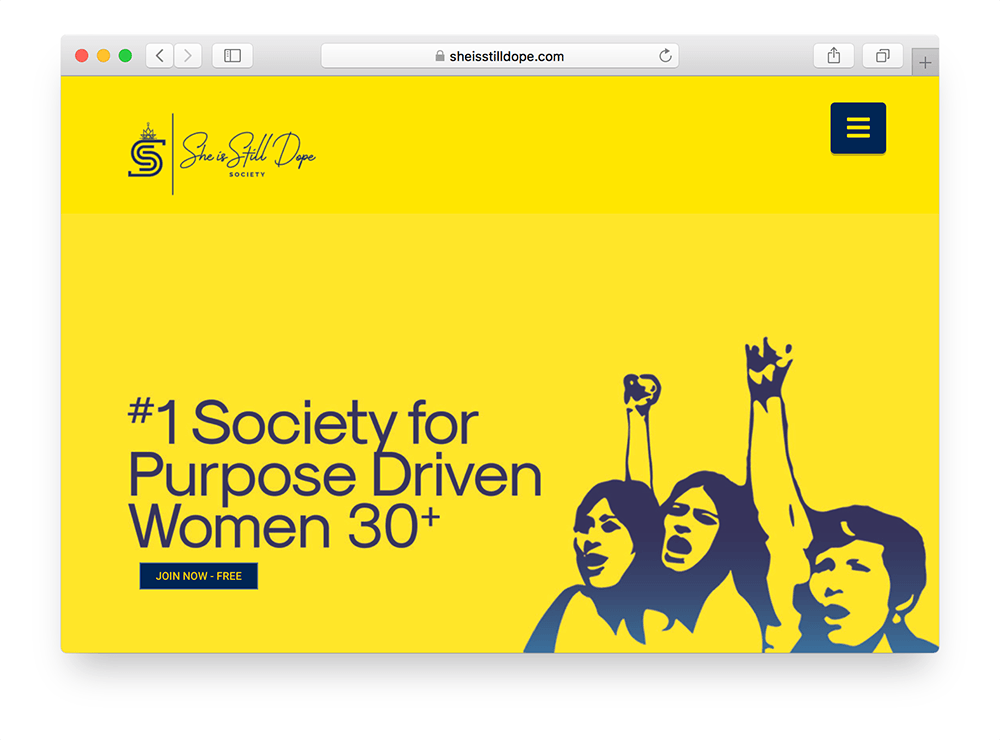 We love the name of this membership site: the She Is Still Dope Society. But even more than the name, we love its mission: helping women over 30 activate their untapped potential, transform their lives, and begin living life on their own terms. This membership site is run by an inspiring online entrepreneur named CS Bailey. She's built this online community around inspirational and educational content, including mentorship, coaching, networking, and live events.
CS had this to say about using MemberMouse to manage her community: 
"We are using MemberMouse to manage our Society Memberships for both free & paid levels. We really love the ability to bundle content for our leaders and members once they are inside the members section for onboarding, etc. We also appreciate that it's a cost-effective solution for startups."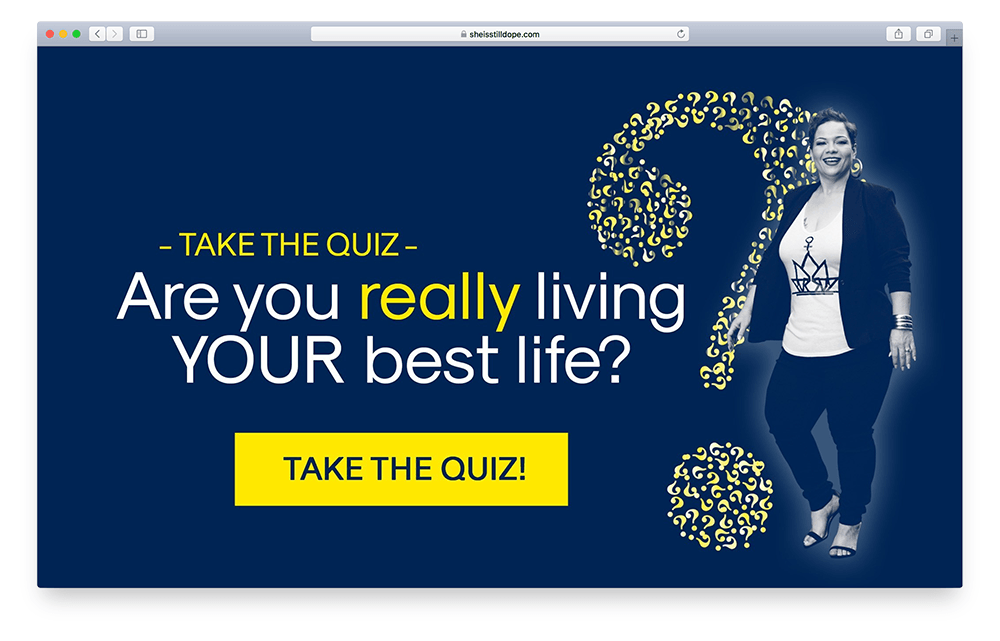 Having both free and paid membership levels is a smart marketing strategy we see many online entrepreneurs implementing in their businesses. Visitors to the She Is Still Dope website are greeted with a free sign up button right away. So, if they saw one of CS's posts on Instagram or heard her on a podcast episode and were inspired to join her membership, they can easily do so as soon as they visit her site.
In fact, this "free to paid" approach is the exact strategy that online entrepreneur Matt Curney used to grow his membership site from zero to 50,000 members in a year! You can read his inspiring story here. 

Commercial Loan Broker's Institute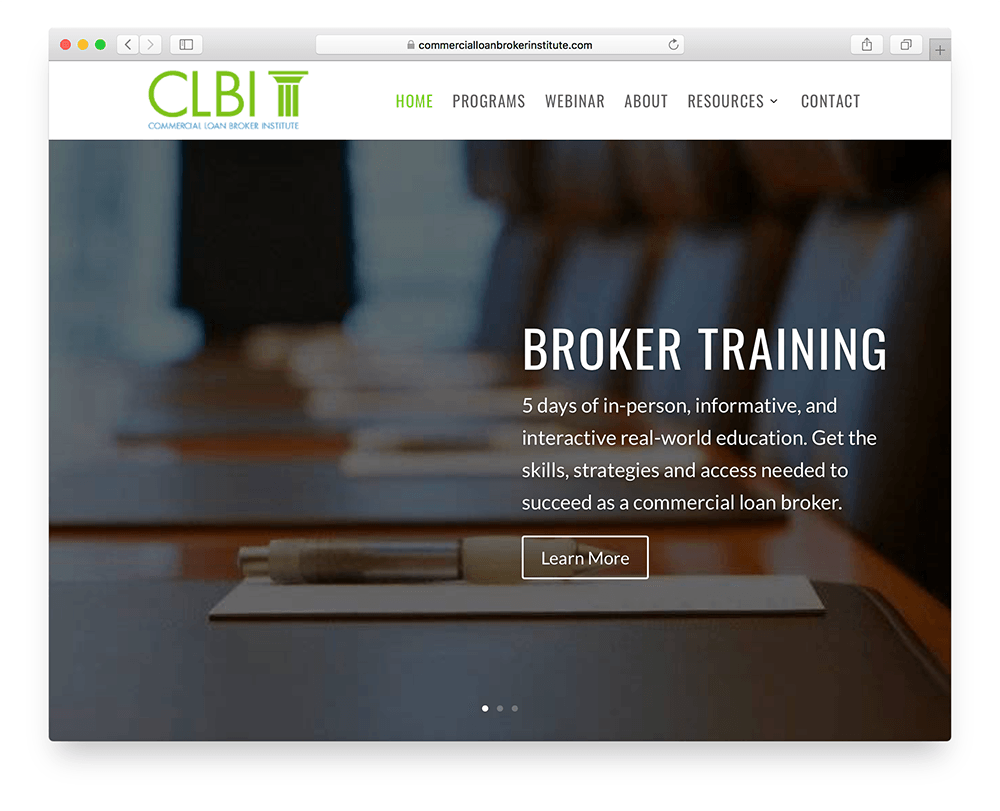 One of the most interesting things about working with the variety of online entrepreneurs that we do here at MemberMouse is seeing all of the different use cases of our platform. Every once in a while we stumble across a customer that makes us scratch our head and wonder exactly how they're using MemberMouse to power their business. The Commercial Loan Broker Institute was one of those sites.
Run by veteran broker Darrick Brown, the Commercial Loan Broker Institute gives fellow loan brokers all of the tools they need to build a successful business. This includes in-depth industry education, boot camps, marketing and branding services, coaching and mentoring, and so much more. And in case you're wondering, they do use MemberMouse to manage all of these different products and services. 
Let's hear what Darrick has to say about building his business with the MemberMouse platform: 
"Above all, we love the flexibility of MemberMouse. The Institute provides a broad variety of services to commercial loan brokers from online training, to in-person events, to ongoing coaching, and even website hosting. And we handle the billing for all of it (yes, even hosting services!) through MemberMouse.  By setting up each service as a different bundle we give our clients one place to login, manage their services, and access everything – from watching their most recent video training to downloading pre-event materials."
The CLBI also used our new Divi layout pack when building their membership site. Here's what their members see when they login to their accounts: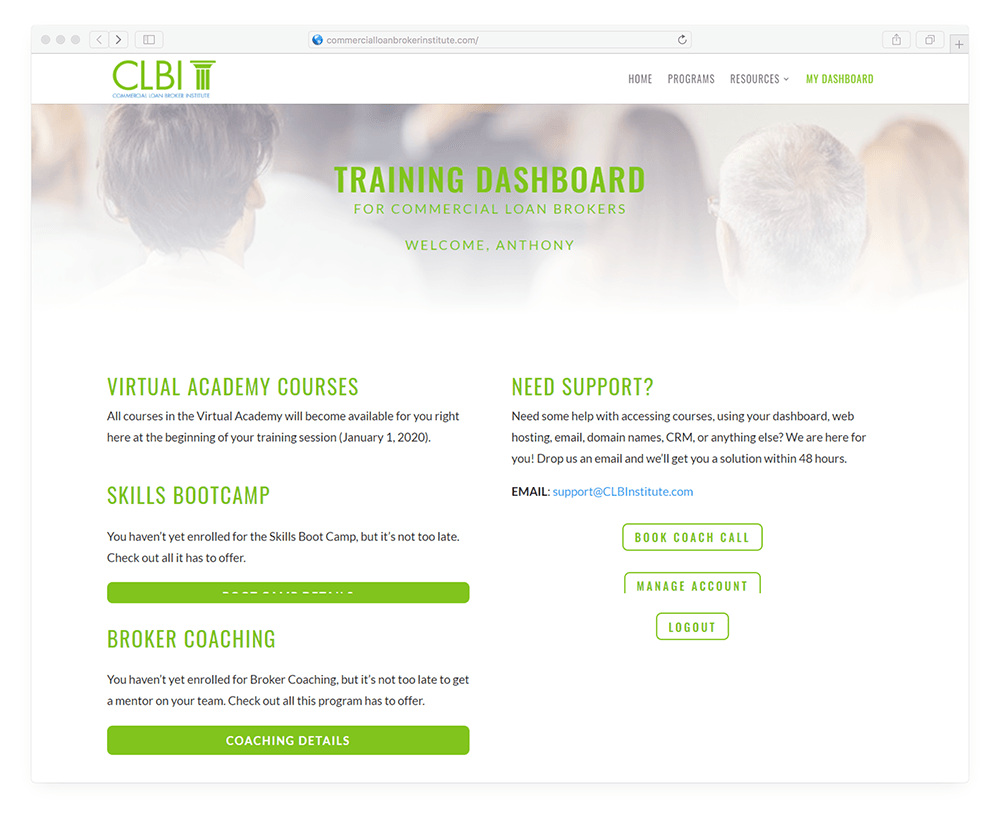 Coffee & Contracts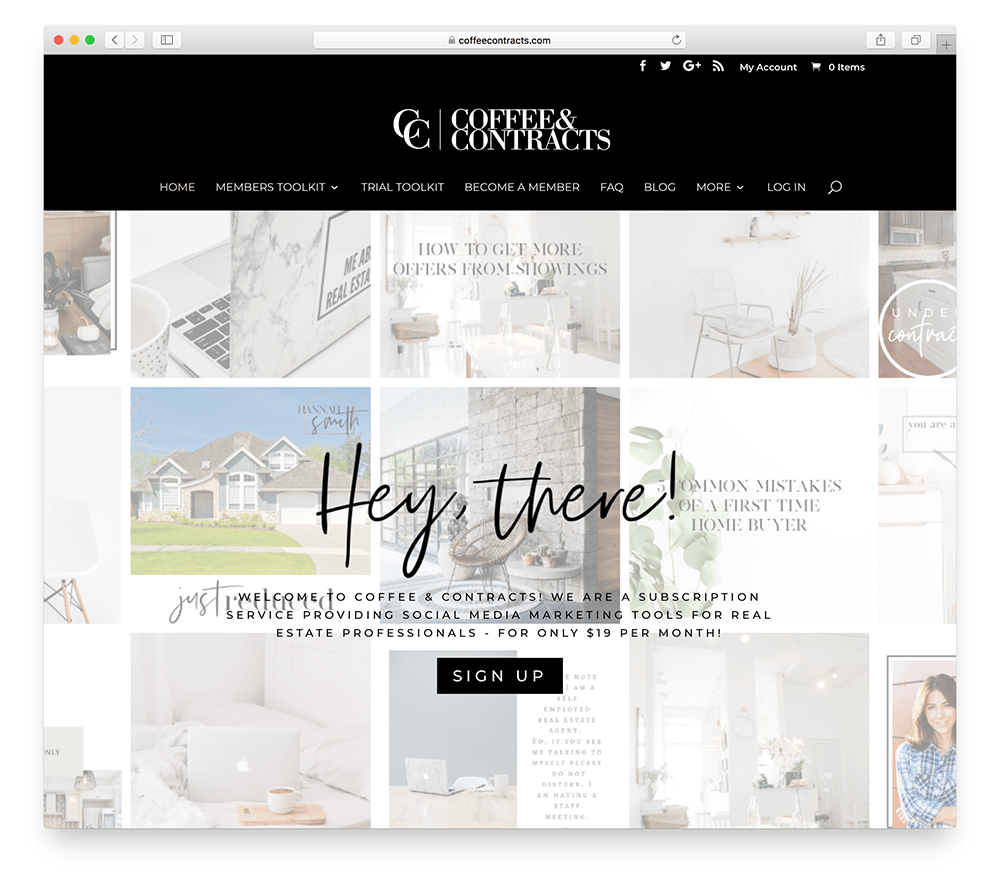 Coffee & Contracts definitely wins the award for the most productive name out of all our new customers. All kidding aside, the Coffee & Contracts team provides an amazing service to its subscribers: social media marketing tools, like content calendars, curated stock images, blog posts, and more, all specifically designed for real estate professionals. 
This online subscription is the brainchild of entrepreneur Haley Ingram and provides a much-needed service to real estate agents who may be stretched a little too thin to handle all of the different moving parts of a digital marketing strategy.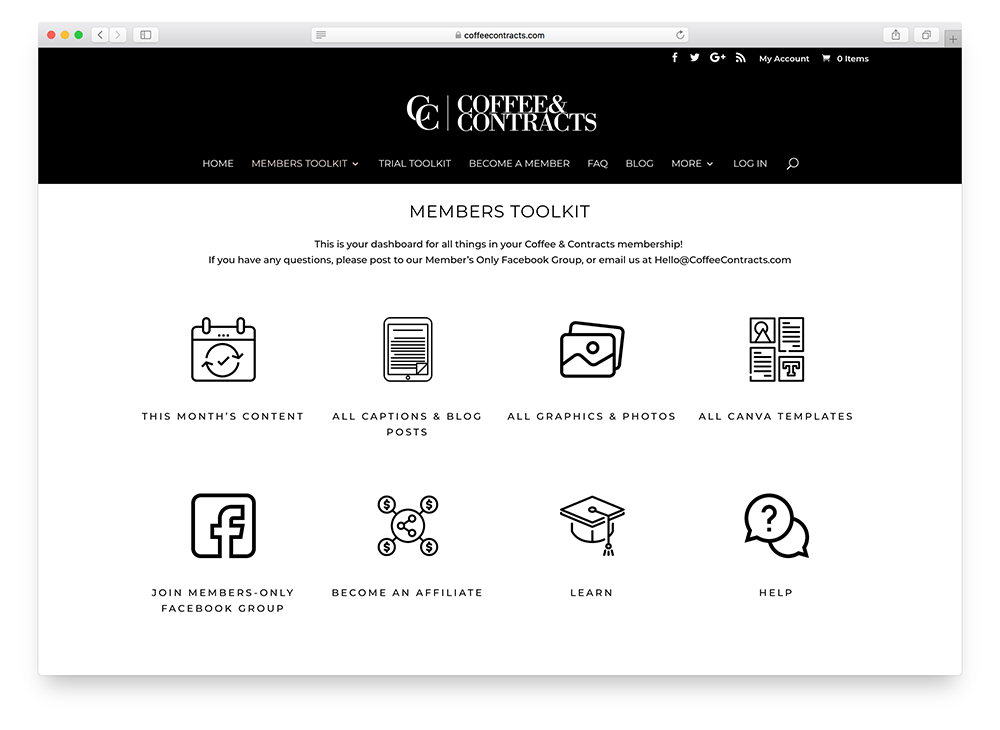 "MemberMouse helped me open a door to an incredible opportunity, and it couldn't have been any easier," emphasizes Haley. "I chose MemberMouse when building my website because of their compatibility with WordPress and overall ease of use. I lean on MemberMouse to handle the "heavy lifting" for my membership site. This frees up my time and energy so I can focus on my members and the content I put out for them."

Spiritually Hungry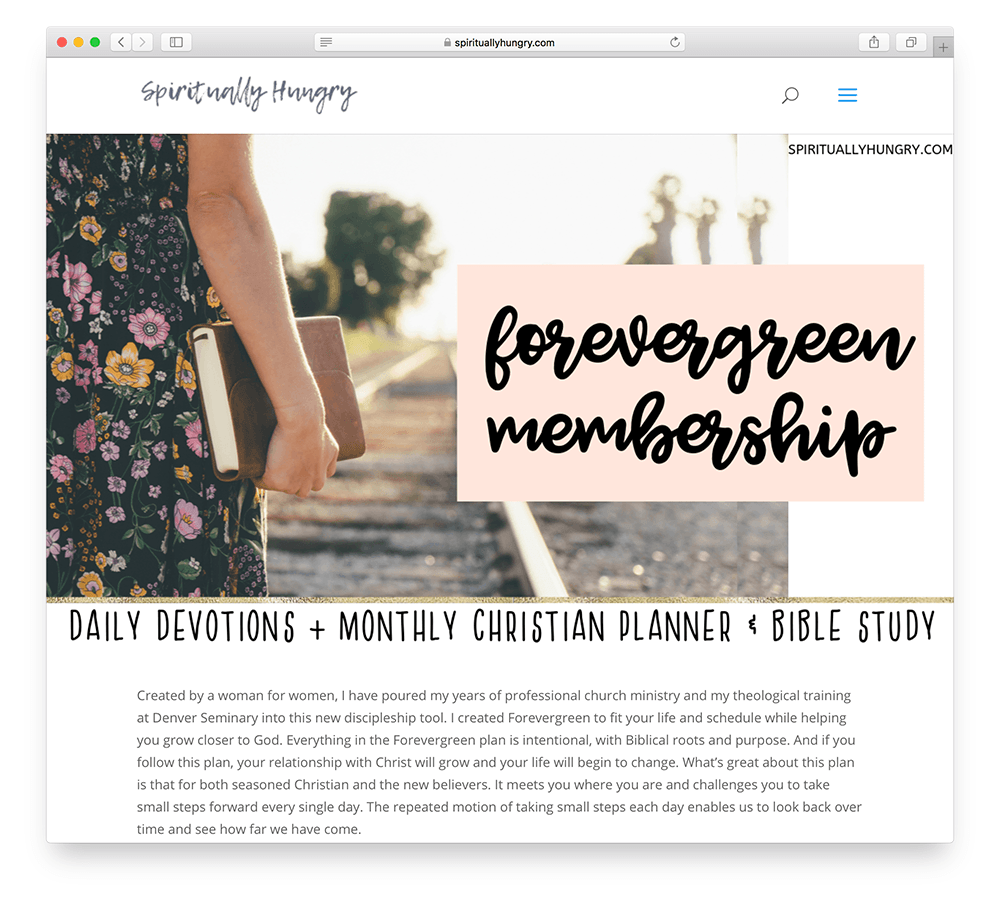 Spiritually Hungry is an online membership site that helps people grow in their faith. Founded by seminary-trained professional ministers Aaron & Alexis Waid, this husband and wife duo ⁠made it their mission to provide original and helpful resources for their online audience.
Before launching their Forevergreen Membership program, they had a following of tens of thousands of people through their website, email list, and social media platforms. When they did launch their membership, 170 people joined right out of the gate! Their members get access to a special daily planner which includes daily devotions, scripture passages, reflective questions, a prayer prompt, and more.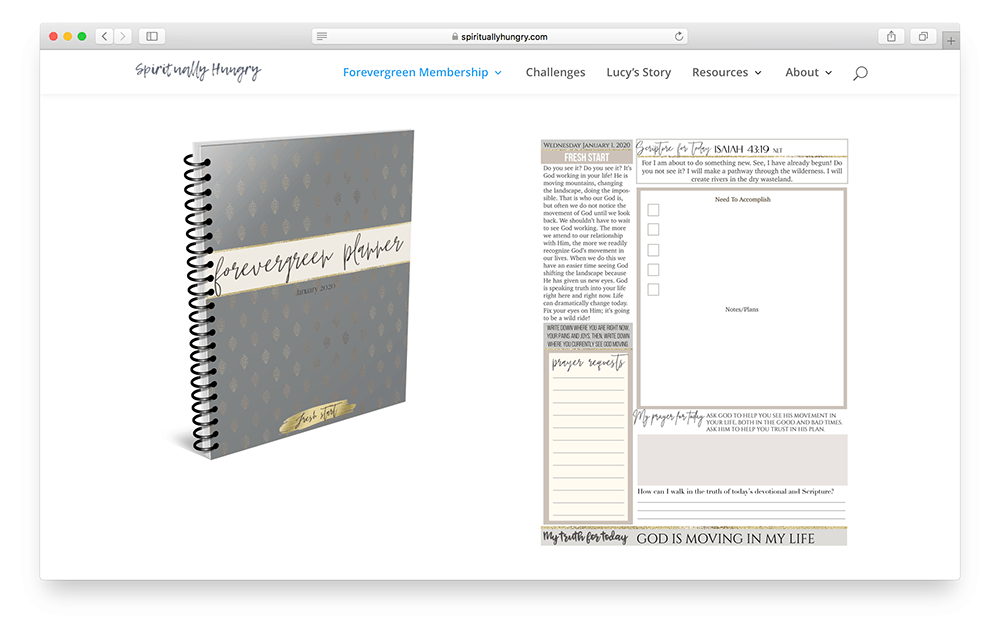 Creating a membership site allowed Aaron & Alexis to invest the time, energy, and effort into creating better resources for their following while also pursuing a realistic monetization strategy. This is what they have to say about building their site with MemberMouse:
"MemberMouse was the solution that we needed to take our web presence to the next level. We wanted to focus on content creation, not building out a website. Our site is 100% built by us, and we have no programming or web backgrounds – we're theologians!"
Aaron continues, "For us, finding a membership plugin that we could successfully set up was super important. 90% of what we needed from MemberMouse was completely set up for us when we activated the plugin, and tweaking it for our needs was easy with all of the tutorials MemberMouse makes available."
Wrapping Up
Can you see why we're often surprised by the exact ways people use MemberMouse to build and grow their online membership and subscription businesses? Each one of these new customers is building something unique and special online. It's just so cool to see the impact entrepreneurs and businesses owners are able to have on the world when their idea becomes a reality.
We hope you've enjoyed getting to know 8 of our new customers. We'd also love to see you featured in our next blog post! If you're building an online membership or subscription business, sign up for a free 14-day trial of MemberMouse and discover whether or not our platform is a good fit for your needs.
If you're already a MemberMouse customer and would like to share your story with us, leave us a comment below or send us an email at [email protected]. We would love to hear from you.
---
Matt Brown
Matt is our enthusiastic Content Manager here at MemberMouse. Originally from Chicago, Matt now resides in the Pacific Northwest with his wife and cat. He loves reading, writing and getting outdoors.