How WDW Magazine Built A Magical Membership Fit For A Fairy Tale
We are back and so delighted to share a new Customer Success Story with you.
In this edition, we are diving into the wonderful world of Disney with MemberMouse customers Stephanie and Danny Shuster of WDW Magazine. They utilize MemberMouse to bring the magic of Walt Disney World to their members around the world!
Stephanie and Danny were kind enough to tell us about what they do, and to share some of the wisdom of their journey with us.
Read on to experience the successful story of a most enchanting membership site niche!
Meet the Founders of WDW Magazine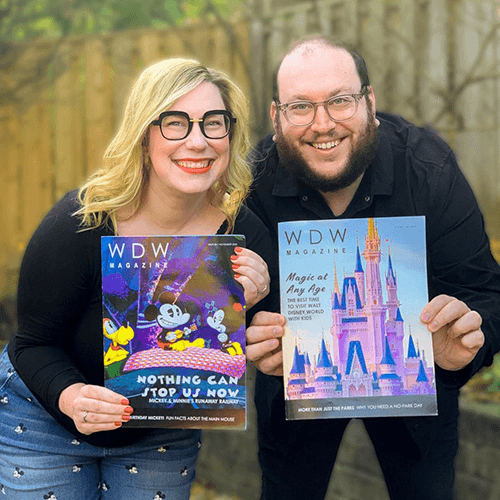 Stephanie & Danny Shuster
Founders of WDW Magazine
We asked Stephanie and Danny to share the basics of what their membership site is all about.
"WDW Magazine started out as a monthly digital magazine centered around helping people virtually escape to the Most Magical Place on Earth – Walt Disney World! We still publish digitally (we're on issue 91, and have been publishing consistently since October 2013), but we've also expanded our membership to a companion print product."
For anyone who has embraced the entrepreneurial path, inevitable obstacles can arise. Stephanie gives a window into what it took to move through such obstacles in the process of creating WDW Magazine:
"By nature, we are pretty risk averse – so when we had been working day jobs but moonlighting as freelancers for WDW Magazine we took a calculated risk that if we were able to commit to the business full-time it could grow exponentially. It was scary, and it took years. Steph left her day job in 2015 to pursue the business full-time and as it grew, it was able to accomodate more team members and in 2020 Danny came on full-time as well. It was a leap of faith, and we still work hard every day to make it pay off."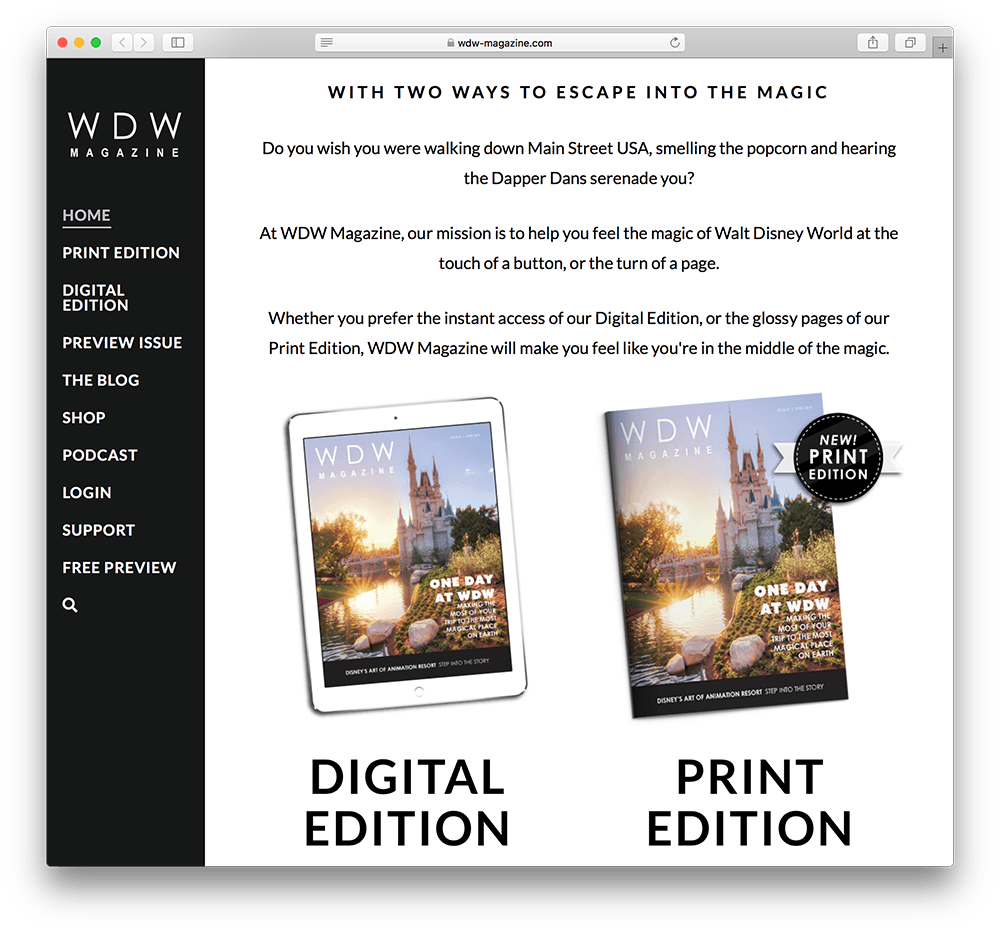 What Success Means for the WDW Magazine Team
We are always interested to hear what success means to our members, as we know that an entrepreneur's definition of success can be like a constantly moving target. Stephanie shares some of what they have learned over time.
"When we started working on WDW Magazine, the goal was really just to make enough money to cover the costs of putting out the digital publication, and the salaries for a couple of people to run the admin/operations/marketing to keep it going. But our success has allowed us to expand our product lines and online platforms, and to hire a number of full time staff and dozens of freelance content creators. Creating jobs for people that allows them to use their unique skills and do what they LOVE (Disney all day every day!) is incredibly rewarding."
Wow, that sounds like such a rewarding experience! We can imagine how much fun their employees have, and how that joy transfers through their digital and print offerings to each and every member!
We keep a running tally of tips and tricks for how entrepreneurs manage time. Stephanie shared some of their time management discoveries with us.
"We usually work 7 days a week, but those aren't 9-5 shifts. When you own and run a business, you're always on call, so we try to find a work-life balance by doing mid-day yoga, running errands during typical work hours when stores are less busy, and taking breaks when we need to so that we have the energy to be up super early to stay up late to get the job done. We also try to cluster meetings together on 2-3 days a week, leaving the rest of the time open for focused work on or in the business without interruption."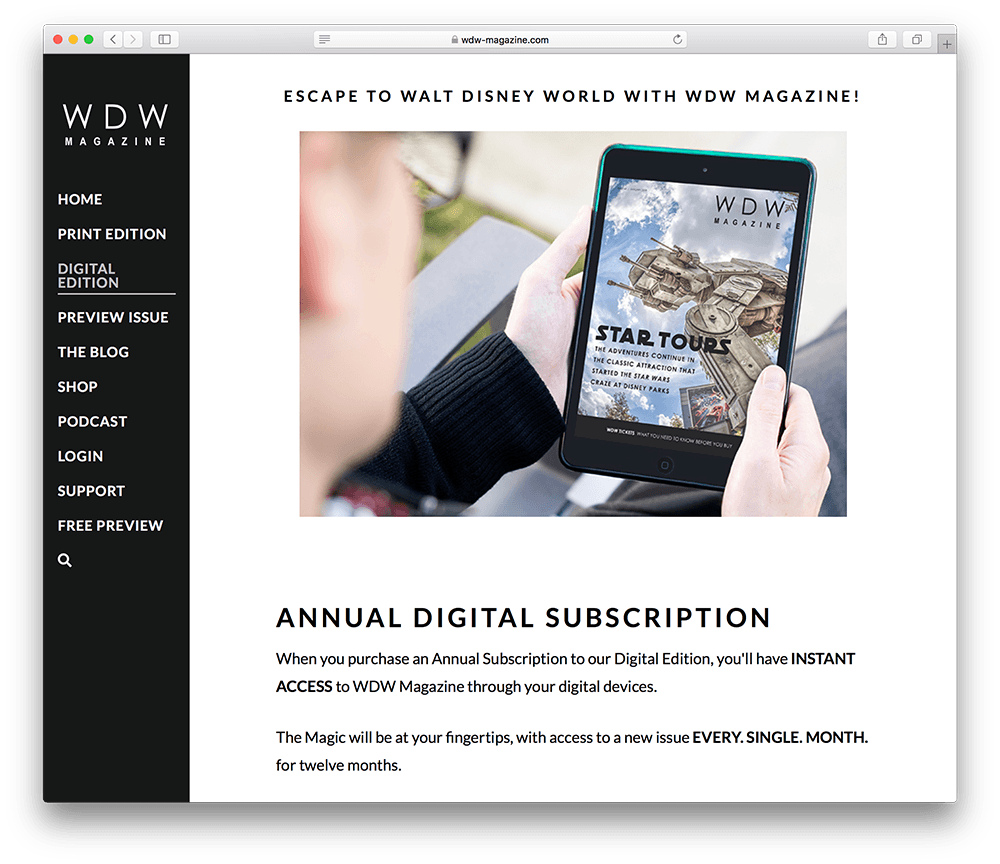 Building an Inclusive Community for Kids At Heart
One of the most important aspects of running a membership site is the community who gathers to be a part of it. With WDW Magazine, it sounds like Stephanie and Danny answered an important call for the Disney community. We asked them to share about what community means for them.
"Not everyone is a huge Disney fan, and that's okay. But for those of us who are, community is everything. Being able to not only take part in various Disney fandom communities, but also build completely new ones, is something we cherish here at WDW Magazine. Many diehard Disney fans often feel alone. That no one truly understands their deep passion for the magic and whimsy of the Disney parks. The team here at WDW Magazine strives to bring these fans together, to create a family of friends who truly "get it." We want them to know they're not alone, and that adults can love Disney too! That's what our community is made of. Thousands of adults, or kids at heart, who embrace the escapism that Disney parks bring them. In building connections between these magic-lovers, we create a network of support where they can feel they truly belong. As we always say, 'Disney friends are the best of friends.'"
We honestly get chills reading that. It's so inspiring to hear how the creation of WDW Magazine is fulfilling a call for connection and collaboration amongst Disney fans all over the world!
In that spirit, it's true that whenever we create something, unexpected fruits grow from the experience. We asked WDW what one of those fruits has been for them.
"Honestly, it's the community we were just talking about. While we had some "Disney people" in our lives, being able to meet more of them who've become our fans, friends, and co-workers is a huge work perk for us!"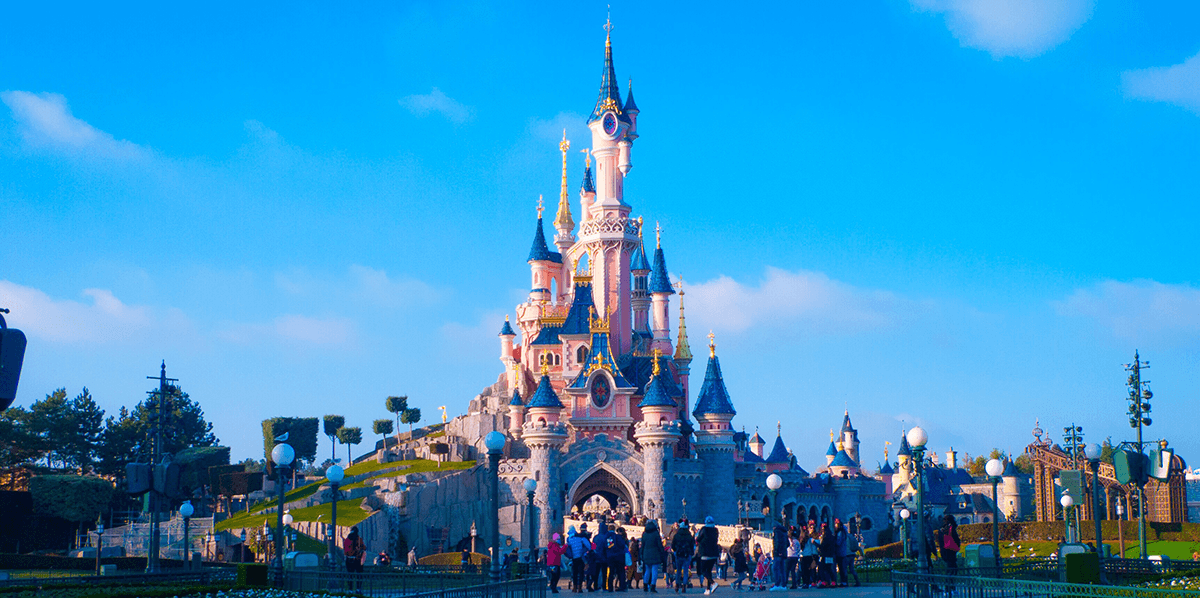 Wrapping Up with a Fairy Tale Ending
Finally, we enjoy asking our customers to tell us their favorite thing about having their own business. Stephanie says,
"It's really about being in control of our own future – if there is something we want to achieve personally or professionally, we have the agency to figure out what we need to do to make it happen – and then we can do our best to achieve those things. We don't need permission to launch a new product, and when we work hard we directly see the benefits of those rewards."
Thank you so much WDW Magazine! You have exemplified the magic of finding a niche and bringing a valuable contribution to everyone who becomes a member. We feel inspired just thinking about all of the joy, wonder and connection that your offering brings to the world. Thank you for sharing the gems of your journey with us!
(Not to mention that WDW Magazine and MemberMouse both honor the mouse! It all makes so much sense. 🐭✨)
If you enjoyed this article, we have a feeling you'll like some of our other customer success stories.
You can discover more of them here:
Start Your Membership Site Small & Simple
How A Team Of 10 Serves Over 10,000 Members Per Year
How To Design A Membership Site For Long-Term Success
Why Briana Borten Built A Permanent Home For Her Content & Community
How Harmony Created A Life-Changing Membership Site Around Her Passion For Astrology
---
Melissa McConnell
Melissa McConnell works on our Customer Relationships team here at MemberMouse. She's a visionary artist and mother from the Pacific Northwest who loves to inspire others to live their joy and share their truest offering with the world.
Related content
---