Meet the American Swimming Coaches Association: How a Team of 10 Serves over 10,000 Members per Year
One of the beautiful things about membership and subscription sites is that they can be perfectly designed and tailored to match the needs, wants, and capabilities of the person or team who will ultimately operate the site.
We touched on this topic recently in our podcast episode with Ryan Murray. He refers to this process as, "building a business you can and actually want to operate."
If you're a solopreneur or small business owner, building a membership site could be as simple as protecting a few pages on your website that house exclusive content like a video course or private community forum.
But for some businesses and organizations, their needs are much larger and more complex. Instead of creating one membership level that gives access to some exclusive content, a big organization might need a dozen – all with unique access rights and member privileges.
Now say that a large organization like this needs to sell more than just memberships, things like standalone training courses, year-round event and conference tickets, books, apparel, and more. Unless you have smart and strategic plans and systems in place, things could get tangled up and messy fast.
Well, that was the exact situation that the American Swim Coaches Association (ASCA) faced less than a year ago. They're a big, international organization with many different offerings. After years of running their entire membership organization through their website, their processes got messy, tedious, and time consuming.
We sat down with their Digital Director Kyle Mills and discovered how they completely revolutionized the way their membership organization operates by leveraging powerful tools and creating smart systems at each stage of their members' journey.
Stick with us and learn:
How a team of 10 serves over 10,000 members from around the world each year
How they went from a "duct taped" solution to a fine-tuned system
How to sell memberships and courses on the same website
Tips on integrating MemberMouse with WooCommerce
Their top tips and tricks for running a big membership site
And more!
Ready to dive in? (no pun intended… 😉)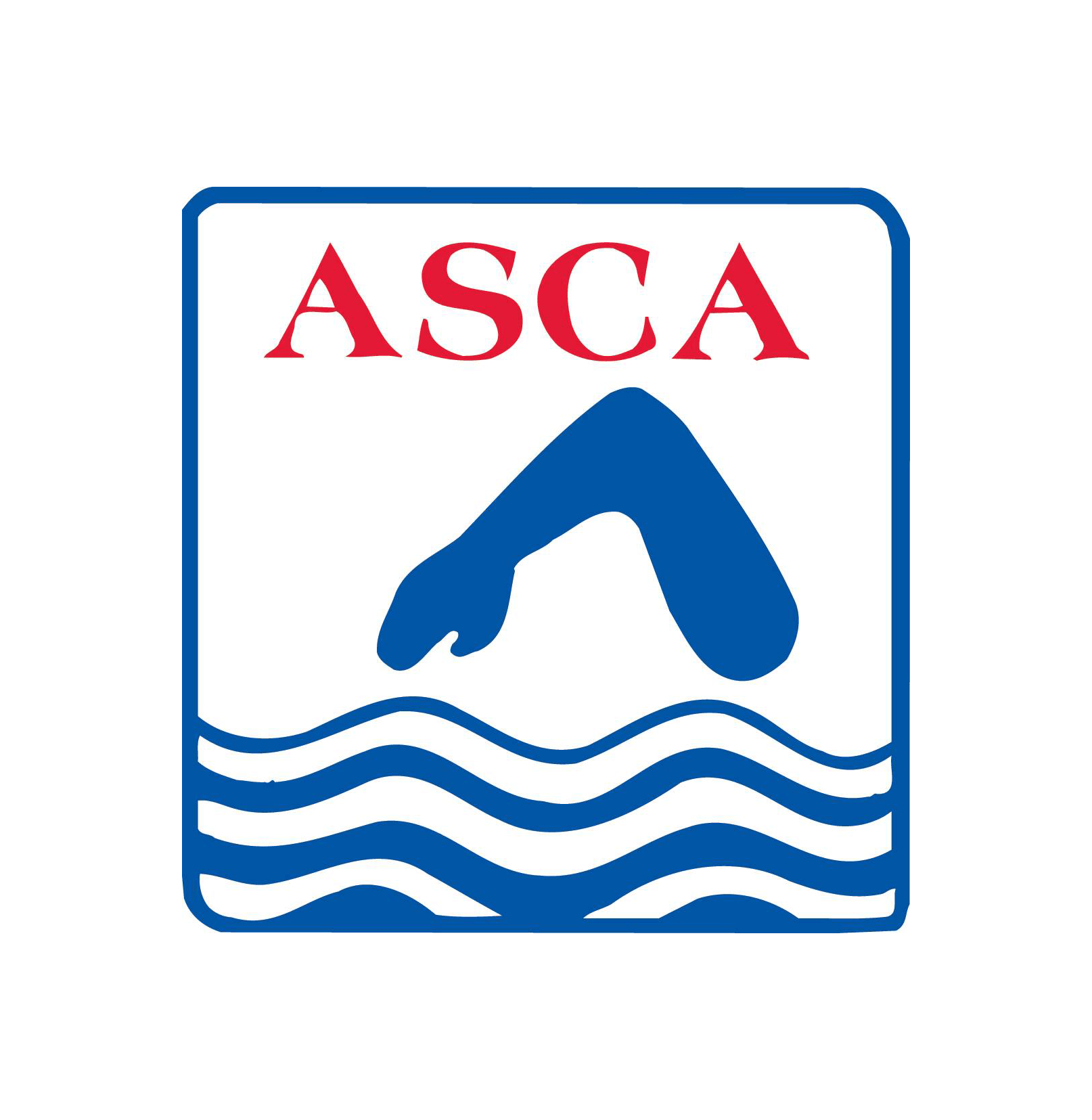 American Swimming Coaches Association
Meet the American Swimming Coaches Association
If you've ever taken swimming lessons, been on a swim team, or even stepped foot inside a pool or aquatic center, chances are you've come across an ASCA certified swim coach. The American Swimming Coaches Association was founded in 1956 and has successfully certified world-class swim coaches for over 60 years. They are leaders in the international swimming community and provide the "gold standard" of education, training, and certification to swim coaches around the world.
Each year, the ASCA serves over 10,000 members. Their membership includes exclusive access to 18 annual publications including the monthly ASCA newsletter, bi-monthly ASCA magazine, the peer-reviewed Journal of Swimming Research, and SwimAmerica.
Members of the ASCA get access to the highest level of training and certification centered around topics like swim form and technique, physiology training, leadership, and swim business administration. Once someone becomes an ASCA certified swim instructor, they can go on to teach classes at pools and aquatic centers and even start their own swim school.
Apart from their certification programs and publications, the ASCA also runs year-round swim clinics on every continent of the world (minus Antarctica…) and hosts a week-long world swim clinic with over 50 speakers, hundreds of exhibitors, and thousands of coaches once per year.
How the ASCA Membership Site is Configured
The ASCA runs their entire membership program – from signup to certification – through their website. They offer eight different membership levels, including annual and lifetime memberships. They have 4 membership levels for US based coaches and 4 levels for international swim coaches.
Each one of these membership levels is priced differently and has its own unique benefits and attributes. Their site is set up so its members can easily find the membership level that best fits their needs, get the training and certifications they need.
Here's a quick look at the way they have their membership site configured:
Sign Up Page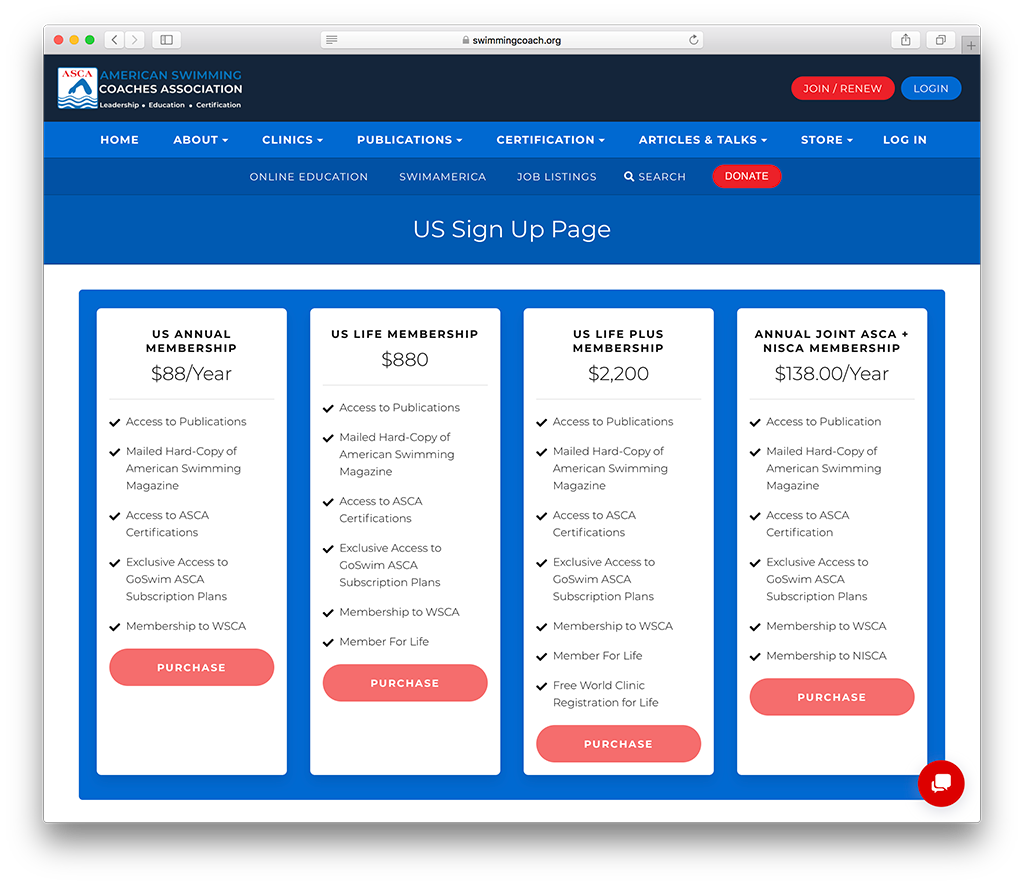 Login Page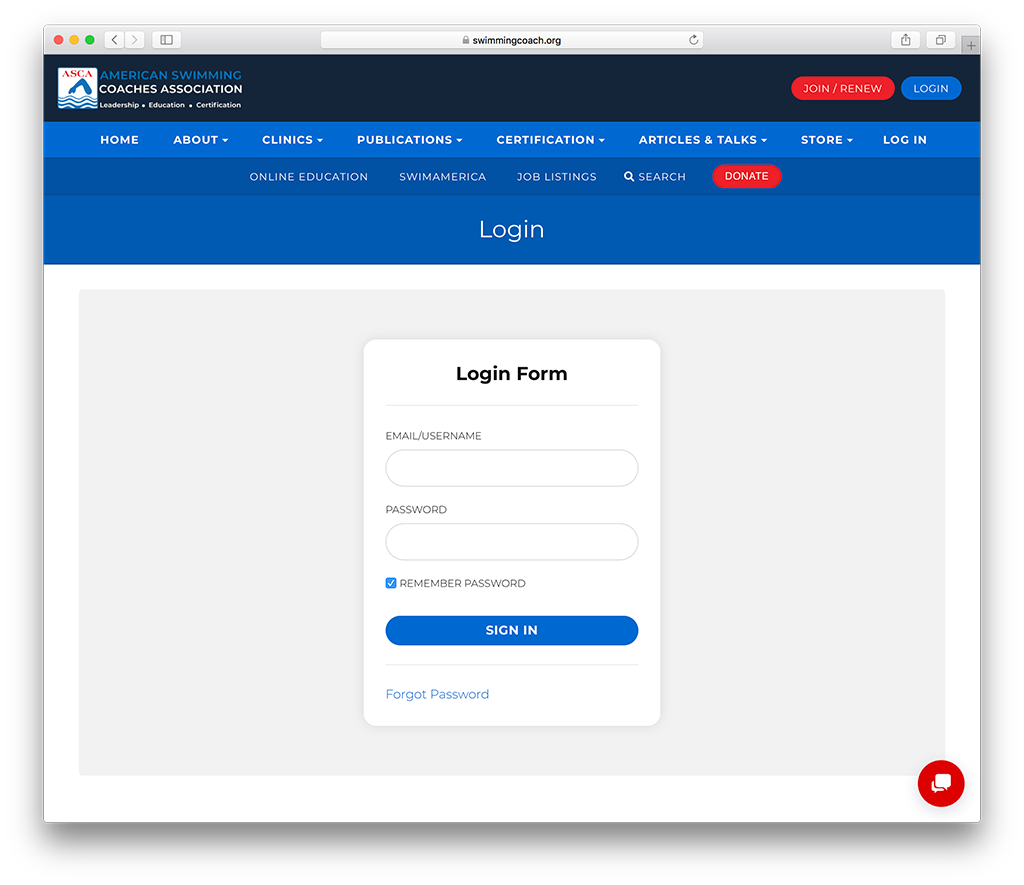 Once a member signs up, they then get access to all of the exclusive content that's associated with their membership level.
Here's what's behind the paywall:
Member Homepage: members get immediate access to the ASCA publications
My Account Page: members can see the levels of certification they've completed and manage their accounts
Certification Courses are only accessible to members and can be started immediately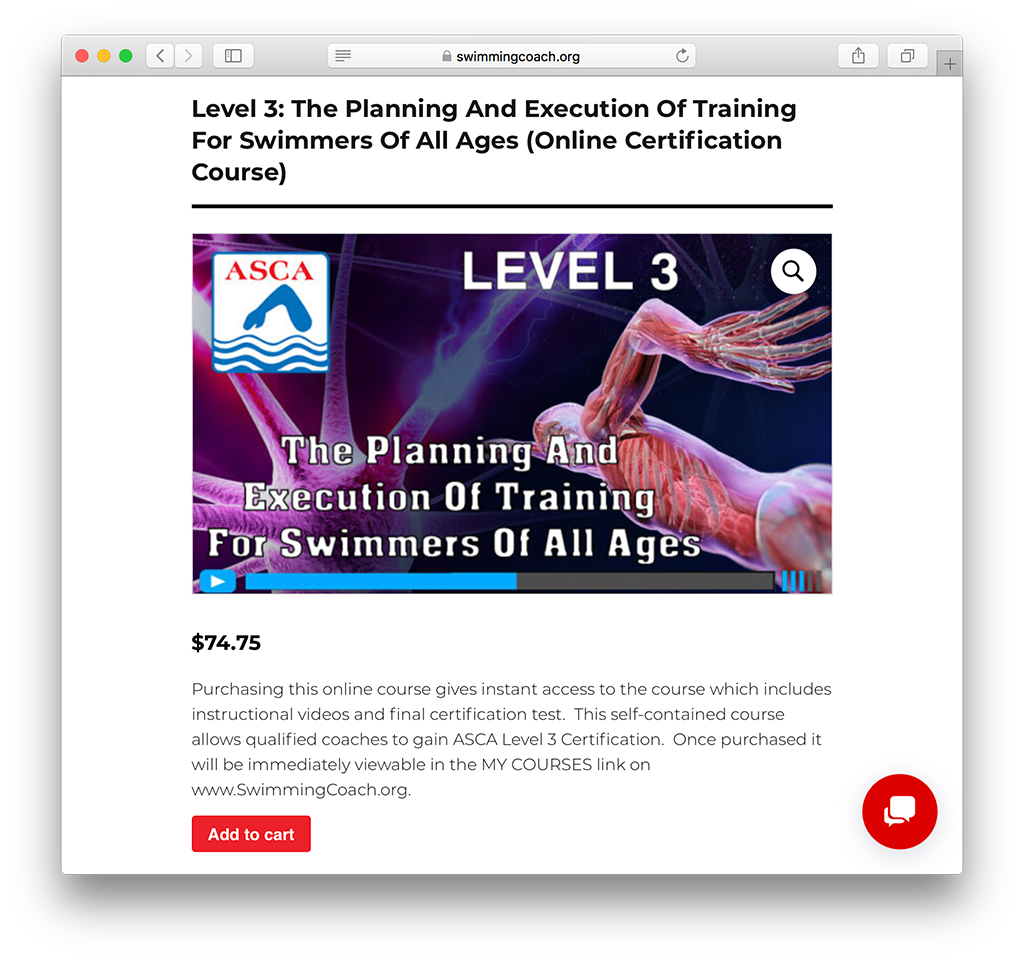 Once someone signs up and becomes a member, they can immediately begin the process of getting certified an ASCA swim coach. All in all, there are 5 different levels of certification a coach can complete.
In addition to the eight different annual and lifetime memberships that the ASCA offers, they also sell their swim coach certification courses using a learning management system (LMS) and a wide variety of standalone items in their online shop with an e-commerce tool for WordPress.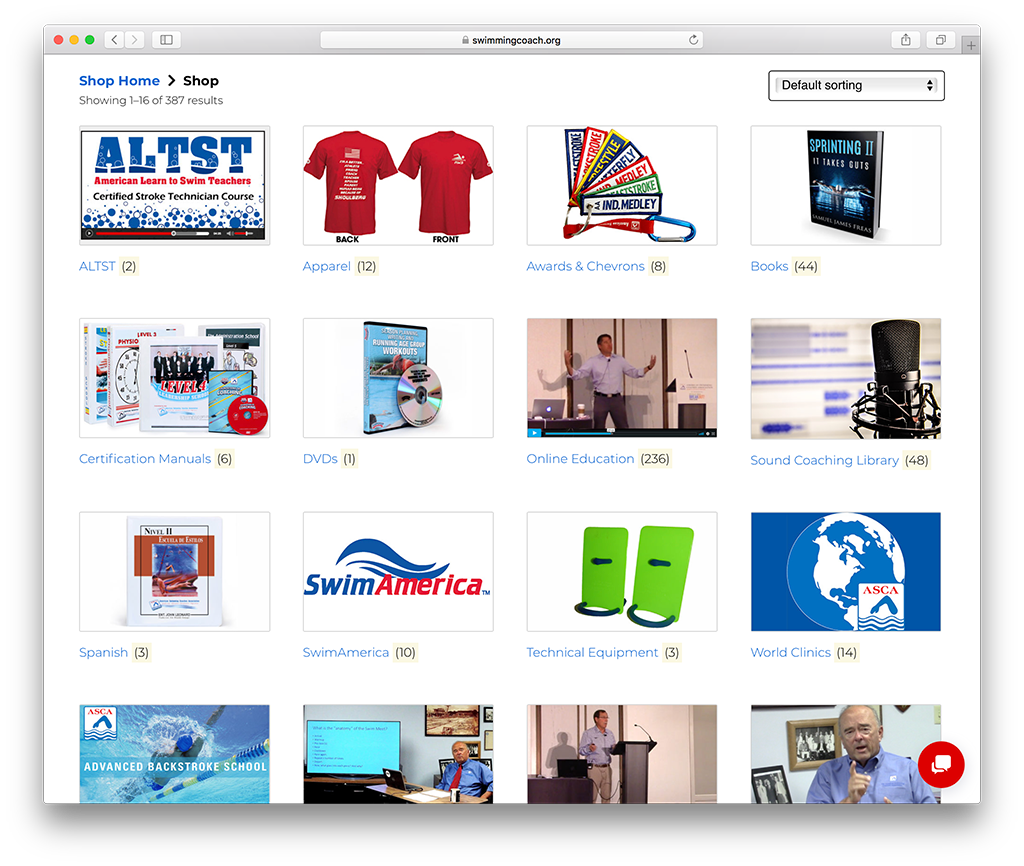 We'll cover the specifics of how they do this (including practical tips and tricks you can apply to your own site) later in the post.
But first, we need to rewind the tape a bit. Everything you just saw above is the "after photo" of the ASCA's membership site. Let's take a look at what life looked like for the ASCA before they upgraded their membership site.
The Challenge: Manual Systems & "Duct Taped" Processes
As you can see, the American Swimming Coaches Association is a complex organization with a lot of moving pieces. Membership is at the heart of what they do on a day-to-day basis and meeting the needs of over 10,000 different people each year is no easy feat.
The challenge they faced before they found MemberMouse was that all of their membership applications and registrations had to be manually entered and managed by someone on their membership team.
Even though a new, prospective member could go to their website, sign up, and purchase an ASCA membership using a standard WordPress form, it meant that an ASCA employee on the other end would have to personally take care of everything. They'd receive an email, review the application, verify payment, and then manually enter the new member into a customized database.
This was a tedious and time-consuming process.
One of the main issues that consistently came up for the ASCA is that the old, manual way of doing things prevented members from joining quickly. For example, if someone needed fast access to training and certification and submitted their membership application on a Friday, chances are their application wouldn't be reviewed and approved until mid-day on Monday.
When we talked with the ASCA team, they told us a story about how during their annual world swim conference, they used to have to suspend all new member signups because all staff members were out of the office attending the event. They put a dropdown banner on the top of the website announcing this. Obviously, this isn't ideal for a member-based business for many reasons. Unless you have a strategic reason for closing your membership, you always want to keep the doors open to let new people in.
But this was all before the ASCA discovered a better way to manage the moving pieces of their membership organization. Let's take a look at how they fixed things.
The Solution: Smart Membership Systems
This slow, labor-intensive member management process is what ultimately sent the ASCA searching for a better way to operate their membership.
They had already built their website using WordPress and didn't want to move away from the platform. So, they began looking for a tool that could help them manage the membership of over 10,000 swim coaches from around the world.
They needed a platform that could provide a wide variety of things like:
Annual membership billing
Content protection for certification courses
Exclusive access to their publications
A customizable members' area
Business metrics and reporting
And wouldn't break under the weight of over 10,000 members
Their search for a tool that could handle the needs of their organization is ultimately what led them to MemberMouse. It ticked all the boxes for them and would help automate many of the time consuming, repetitive tasks that stole the valuable time of their staff. From there, the ASCA team signed up for MemberMouse, got it installed and configured on their site, and started setting up their protected pages and content for their members.
The Results: A Seamless Member Experience
Now, everything membership related happens automatically through MemberMouse. The signup and login pages we showed you above are all configured with MemberMouse. Swim coaches from around the world can sign up for a membership, complete payment, and begin their coaching certification process in minutes, rather than days.
The ASCA has successfully automated numerous processes and repetitive items (we'll cover them later in this post) that used to be manual tasks for someone in the membership department. This has freed up a lot of time for their team and allowed them to focus their efforts on more important and impactful work.
And best of all, their members love the new membership experience they can now have on the ASCA website. They no longer need to create dropdown banners letting prospective members know they're out of the office. New member signups automatically continue even when everyone is away!
Using MemberMouse with a Learning Management System
Remember how we talked about how the ASCA sells both memberships and courses on their site? They do this by combining the power of MemberMouse's content protection capability with the specific functionality of a learning management system. They use a learning management tool called Sensei to manage all of the different certification courses they offer.
MemberMouse controls the access permissions for each of the course pages and Sensei handles the videos and testing required for each level of certification. These course pages are only accessible to active members who have purchased them when they are logged in to their membership account.
Here's what their product page for level one of their certification program looks like: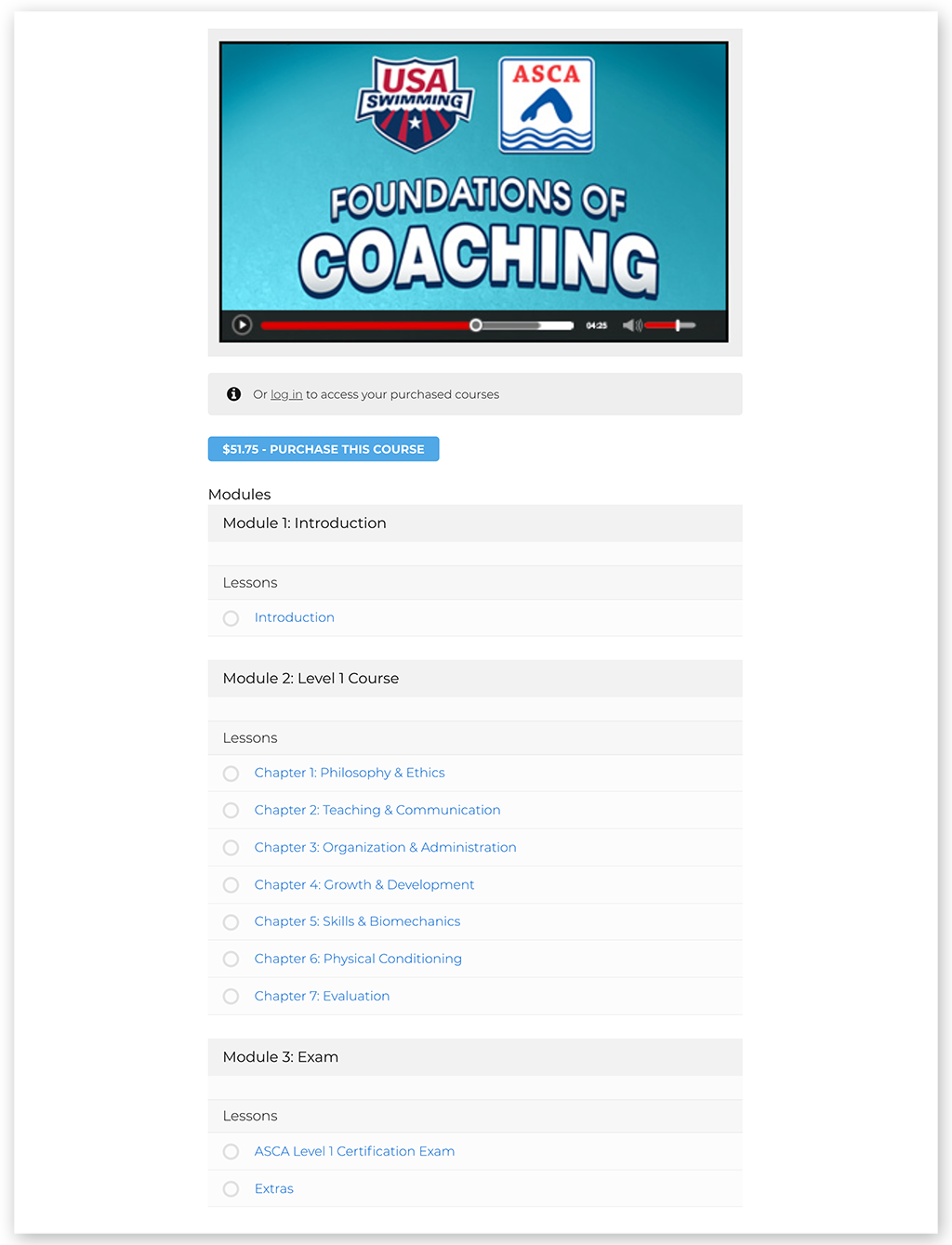 This is a fantastic example of how you can use a membership platform and learning management system to sell recurring memberships and standalone courses. If you are thinking of selling both memberships and courses on your own membership site, MemberMouse and learning management tools are perfect partners for a "relay race."
Synchronized Swimming: MemberMouse & WooCommerce
Apart from membership and certification courses, the ASCA also sells dozens of standalone products including apparel, awards, books, DVD's, equipment, and more. While MemberMouse handles all of the content access and page protection for their members, they use WooCommerce to sell all of the different standalone items they offer.
One of the benefits associated with ASCA membership is an across-the-board discount on all the products in the ASCA store. Kyle generously shared the way to accomplish this (or something similar) on your own membership site.
If you want to extend a special discount on standalone purchases for your members, you can achieve this using the power of WordPress user roles. Here's how it looks on the ASCA website:
When a new member signs up for the ASCA membership, they have a system in place that assigns members a subscriber user status in WordPress.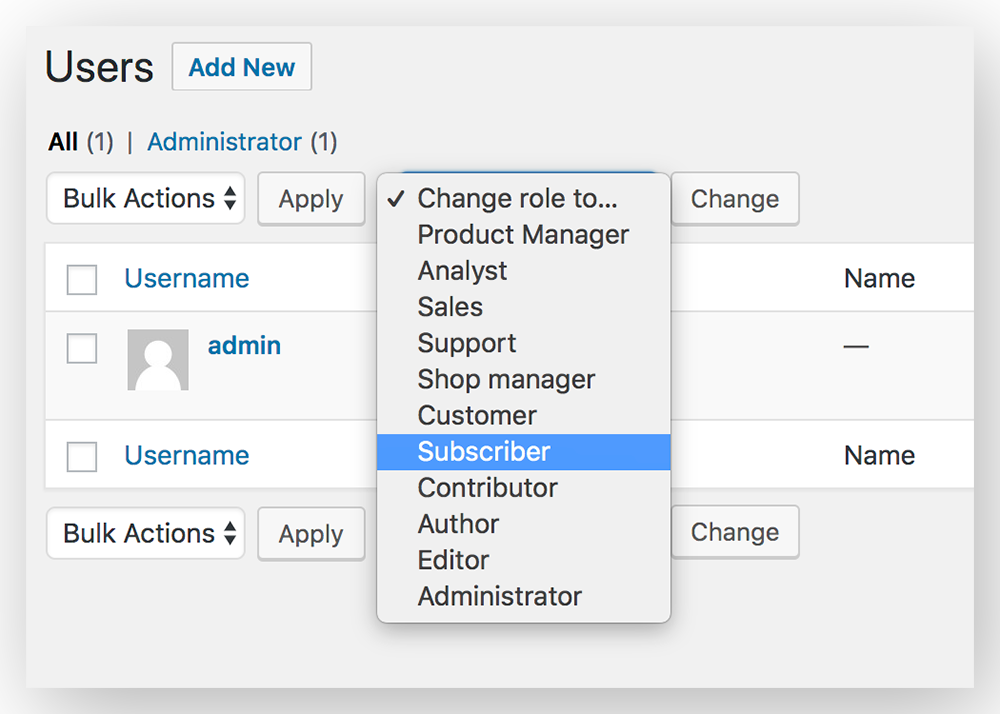 They then have a rule set up in WooCommerce that applies a standard discount to all of the products in their store to subscribers only. So, when an ASCA members goes to buy a standalone product in the website's store the discount gets applied since they are categorized as a subscriber.
This discount doesn't apply to people who are non-members because they don't have the subscriber user status set as their WordPress user role. This is a huge perk for members and the automations they now have set up with MemberMouse and WooCommerce makes it easy to accomplish automatically. Dare we say that MemberMouse and WooCommerce would make the ultimate synchronized swimming team?
Tips & Tricks for Running a Complex Membership Site
Since the ASCA serves so many members, we asked Kyle to share some of the best practices they have in place for keeping things running smoothly on their membership site. Here are four areas that have made a big impact on day-to-day operations for the ASCA's membership site:
Reporting Suite
The Average Monthly Revenue report is one of the most helpful tools the ASCA now has access to. Since they primarily sell annual memberships, the Average Monthly Revenue Report helps them understand how many rebills they can expect each month, what their churn & retention rates will be, and helps them accurately predict their revenue throughout the year.
Push Notifications
The ASCA makes use of MemberMouse's powerful Push Notification system. They use push notifications to send their members re-bill payment reminders, payment received emails, and welcome messages based on their 8 different membership levels.
Email Marketing
MemberMouse's integration with Mailchimp has made all of their email marketing efforts a lot easier. The ASCA has their Mailchimp account synced with MemberMouse. Now, every time a new member signs up they are automatically added to the correct mailing list inside Mailchimp.
This is another example of a task that used to be a manual process for the ASCA. Once a month, someone from the membership department would go and add all of the new members from the previous to their mailing list. Now, all new members get automatically added to those lists automatically and in real-time by MemberMouse.
Custom Fields
Something that was repeatedly requested by ASCA members was the ability to see the different levels of certification they have achieved on their "My Account" pages. Kyle and the team at the ASCA use Custom Fields to accomplish this. They populate a table on the members' "My Account" page that dynamically displays the different certifications its members have achieved. Now, each time a coach logs in to their account, they are able to see what levels of certification that have finished, and which levels they still have to complete.
Wrapping Up
That about wraps things up for this Customer Success Story. We hope you have enjoyed this article, found it to be both inspirational and educational, and didn't mind the cheesy swimming jokes we made throughout the post (we couldn't help ourselves…). We love seeing all of the different applications people, businesses, and organizations find for MemberMouse.
If you've found success creating a streamlined membership site with MemberMouse, we'd love to hear your story! Chime in down below in the comments section and tell us all about it.
Until next time, stay tuned to the MemberMouse Blog for helpful resources on building powerful and profitable membership and subscription sites. And if you haven't checked out the podcast we launched last year, you can see all the episodes we've recorded here.
---
Matt Brown
Matt is our enthusiastic Content Manager here at MemberMouse. Originally from Chicago, Matt now resides in the Pacific Northwest with his wife and cat. He loves reading, writing and getting outdoors.
Related content
---