If you offer trial products you may want to ensure that customers can only purchase trial products once. In order to do this you'll first create a product and then in the Trial section you'll check the box next to Only allow one trial per member.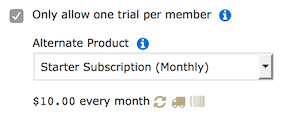 Checking this option instructs MemberMouse to only allow each member to purchase the trial once. If this is checked, an Alternate Product drop down will be displayed. This is the product that members will be instructed to purchase following an attempt to purchase this trial product more than once. The second time a member attempts to purchase this product they will be redirected to the checkout page and instructed to purchase the alternate product.
Note that customers will only be redirected to the checkout page for the alternate product on non-1-click purchases. If the purchase is attempted via a 1-click purchase link the member will simply be displayed a message informing them that they cannot purchase the product more than once.