Introducing: The New MemberMouse & MonsterInsights Integration
History is full of great duos, like:
🏀 Michael Jordan and Scottie Pippen from the 90's Bulls dynasty.
🎛️ Electronic music legends Guy-Manuel de Homem-Christo and Thomas Bangalter of Daft Punk fame.
😂 Tina Fey and Amy Poehler, the comedic geniuses who brought us Mean Girls and countless hilarious SNL skits.
And today, we're beyond excited to announce the latest pair who we think have the potential to join these legends on the Mt. Rushmore of dynamic duos (though admittedly, we're a bit biased).
So without further ado, allow us to introduce you to the groundbreaking new integration of MemberMouse and MonsterInsights!

Here's what you can now do with the combination of these two tools:
Track your membership website analytics right from your WordPress dashboard
Automatically enable eCommerce tracking that gives you vital business metrics
Identify your top conversion sources
And much more!
In this article, we'll share everything you need to know about the integration of MemberMouse and MonsterInsights.
What Is MonsterInsights?
If you've spent any amount of time in the WordPress ecosystem, you've probably heard of MonsterInsights. But in case you haven't, here's a quick refresher:
MonsterInsights is a powerful WordPress plugin that connects Google Analytics to your WordPress website. On top of that, it makes tracking the meaningful metrics of your business easier than ever. This gives you more time to focus on your business, instead of tinkering around inside your Google Analytics dashboard.
As of 2023, MonsterInsights has over 3,000,000 users, making it one of the most popular WordPress plugins out there.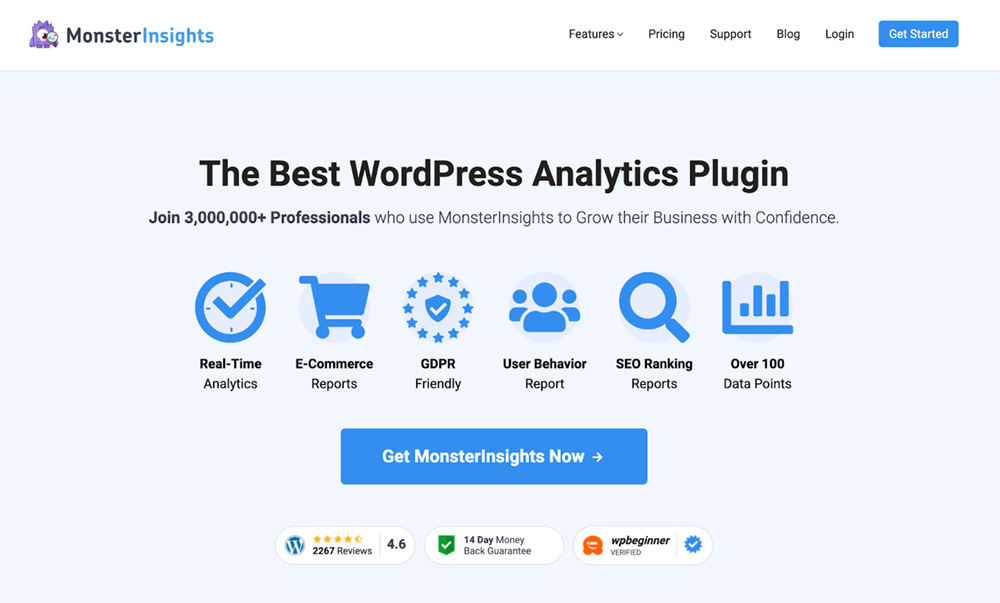 On top of this, MonsterInsights offers enhanced eCommerce tracking. This gives you data that's vital to growing your business, like your:
Conversion Rate
Transactions
Revenue
Average Order Value
What Does This New Integration Mean For You?
Now you can combine the power of MemberMouse and MonsterInsights to master your business analytics. It's so good that the other people in your mastermind will think you went back to school for a data science degree!
The best part is that MonsterInsights automatically sets all of this up. It'll handle adding the Google Analytics tracking pixel throughout your site.
And now, with our new integration, MonsterInsights will automatically detect the presence of MemberMouse and configure your eCommerce tracking accordingly.
It's like magic!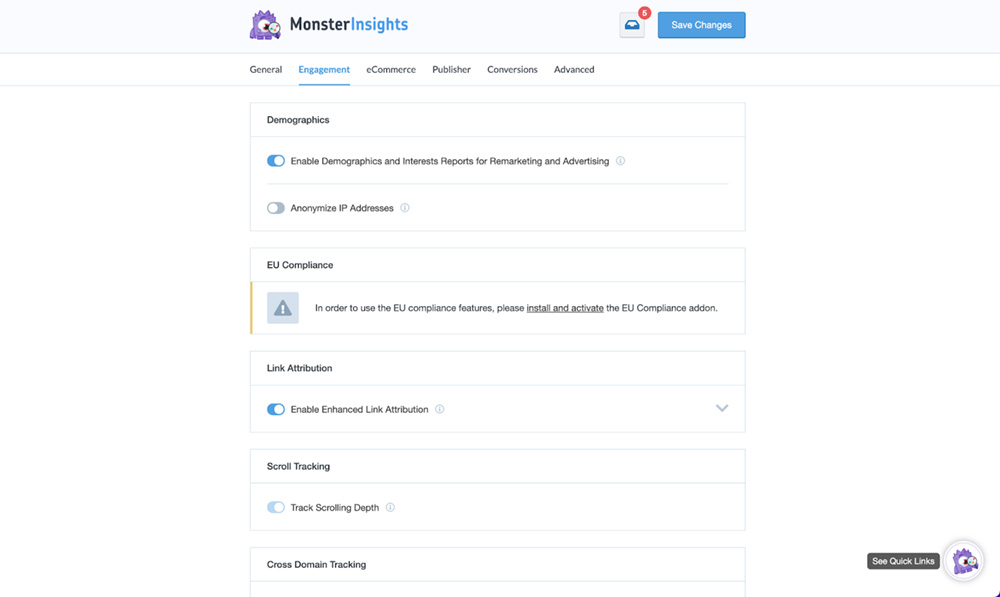 What's also great is that you can now track the most important metrics for your business right inside of WordPress. If you've struggled to wrap your head around Google Analytics (to say nothing of GA4 😅), using MonsterInsights will be a breath of fresh air.
How To Configure MemberMouse & MonsterInsights
It's very straightforward to get MemberMouse and MonsterInsights set up and working together.
To get started, make sure you have:
An active MemberMouse license
An active MonsterInsights license
The MonsterInsights eCommerce Add-on
A Google Analytics account
Once you install and activate MonsterInsights and the eCommerce add-on, all you need to do is connect your Google Analytics account. From there, MonsterInsights sets up everything auto-magically in the background.
MemberMouse & MonsterInsights: eCommerce Tracking 101
From there, you can start using your new eCommerce tracking features right away. That said, it might take a few days for you to collect enough data to provide you with meaningful insights.
You can access and view MonsterInsights using the Insights menu item, which is displayed in both the left column, and top bar in the WordPress admin panel.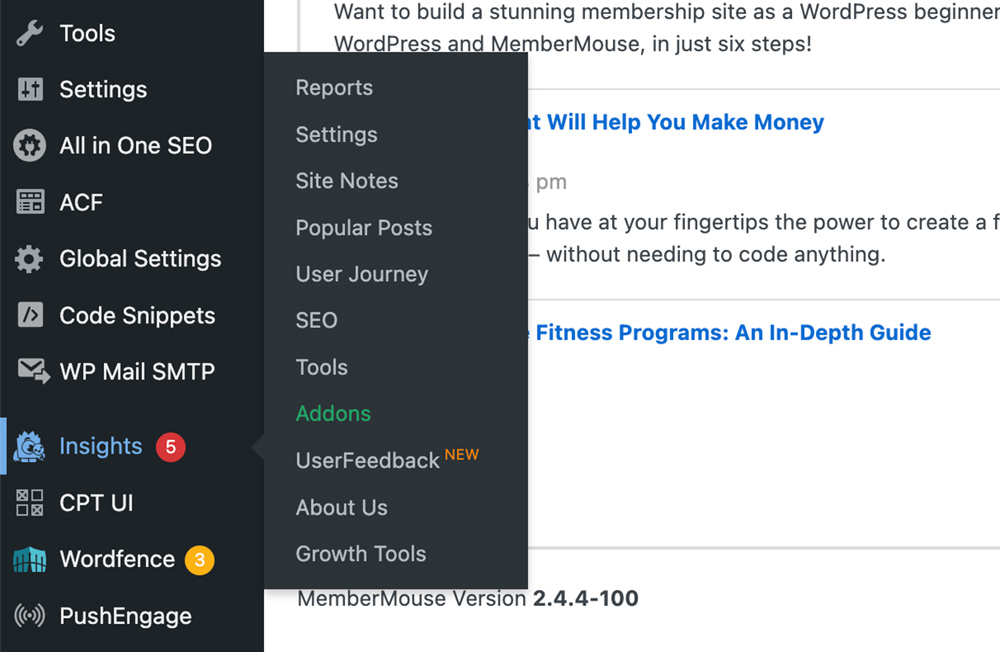 From here, simply click on the eCommerce tab:

Here's an example of how eCommerce Tracking looks when actively tracking your sales: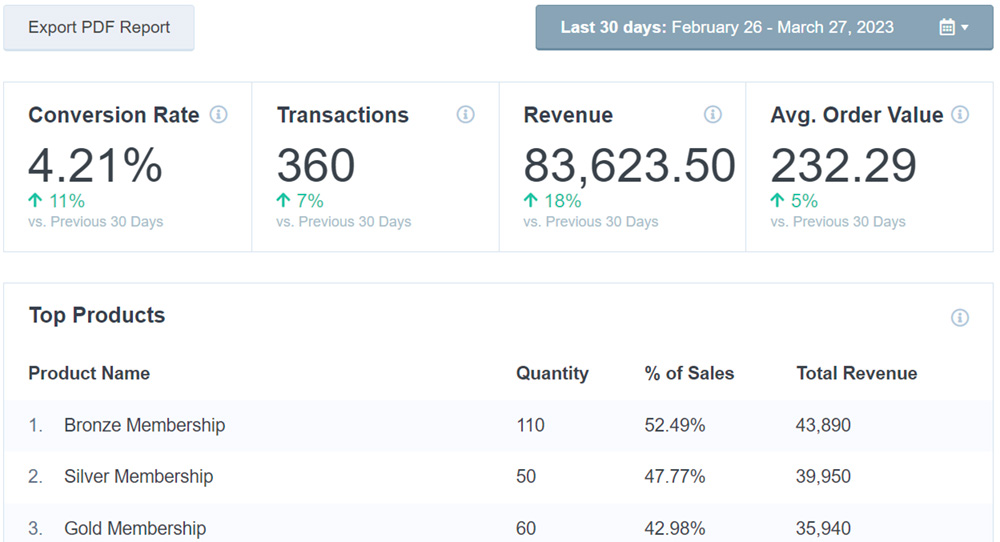 MonsterInsights data and analytics features work as a terrific companion to the MemberMouse Reporting suite. With these two tools in hand, you'll have a steady grip on all the info you need to make data-driven decisions.
That said, because MonsterInsights integrates with Google Analytics, it gives you next-level visibility into your conversion rate. This is such an important metric for you to have in hand. With it, you can find your top performing pages, understand the effectiveness of your sales page, and check to see if lots of people drop off during checkout.
You also get awesome information about your traffic sources and top referrers inside the MonsterInsights dashboard:

Plus, if you ever want to see any of your full, detailed reports inside Google Analytics, you can simply click a button inside MonsterInsights and go directly to the right area inside Google Analytics. No more scratching your head as you try to remember your way around the GA dashboard.
Wrapping Up
So what do you think?
Will MemberMouse and MonsterInsights take their place alongside Sam and Frodo, Lorelai and Rory, R2D2 and C-3PO, and other amazing dynamic duos?
We sure hope so!
And we also hope you're excited about this new integration as we are. Getting MonsterInsights up and running on your MemberMouse site is about as easy as it gets. So we hope you'll give it a shot and get next-level visibility into the metrics of your business.
For all the nitty-gritty details about how to get this up and running on your site, you can review the full documentation from our support center here.
Plus, the kind folks over at MonsterInsights also published this helpful article that goes into detail about their end of things.
If you have any questions, comments, or concerns, please feel free to leave us a comment below. We'd love to hear from you!
---
Matt Brown
Matt is our enthusiastic Content Manager here at MemberMouse. Originally from Chicago, Matt now resides in the Pacific Northwest with his wife and cat. He loves reading, writing and getting outdoors.
Related content
---