The SaaS Tools That Power MemberMouse (and those we've left behind)
If you're building an online business, we're sure you understand the joys and frustrations that come with selecting and working with online tools. Whether you're looking for an email service provider, social media scheduler, or a video conferencing tool, finding the right solution for your business and personality can be a challenge.
We use and depend on so many different types of tools and software products to run our businesses that they really start to become part of the team. We develop relationships with them, get to know their strengths, weaknesses, and quirks. We discover the things we love about them… and the things that frustrate us. We'll admit, sometimes we even find ourselves talking to our tools (as if they were R2D2 or C3PO).
Be honest with us for a second, have you ever yelled at your video conferencing tool when it suddenly quit in the middle of a webinar? Or sung the praises of your autoresponder when everything worked exactly as expected? It's funny, but the tools we use to work on our businesses really begin to take on a life of their own. I'm sure we all remember this Slack costume from last Halloween:
1 new message pic.twitter.com/H09WcuYYoJ

— Alex Engelberg (@aengelbro) October 31, 2018
So in this post, we thought it would be fun to take you behind the scenes a bit and introduce you to the tools on our team. We'll show you all the different SaaS products we use to run our day-to-day operations here at MemberMouse, tell you a bit about how we use them and why we like them. At the end, we'll also point out a few of the tools that got cut from the team.
---

Drip
Here at MemberMouse, we use Drip as our primary means to communicate with our customers and prospects via email. Whether we're sending out our monthly newsletter, an onboarding campaign, or a content upgrade, Drip helps us automate, schedule, and send our messages. What we love about Drip is how tight their integration with MemberMouse is. Workflows, tags, and campaigns can be triggered by almost any change logged by MemberMouse. Plus, Drip's detailed metrics and analytics make it easy to see and track key stages of the customer journey, email engagement stats, and more.
Another bonus of Drip is their powerful form feature. We can easily create opt-in forms in Drip and put them in place on our website.
---

BeePro
BeePro is where we design the majority of the emails we send out, like our onboarding series, newsletters, etc. When we first started using Drip, it didn't have the built-in visual builder that it does now. Since we didn't want to spend too much time fiddling around with html, we needed something that allowed us to quickly create emails without coding and then export the html.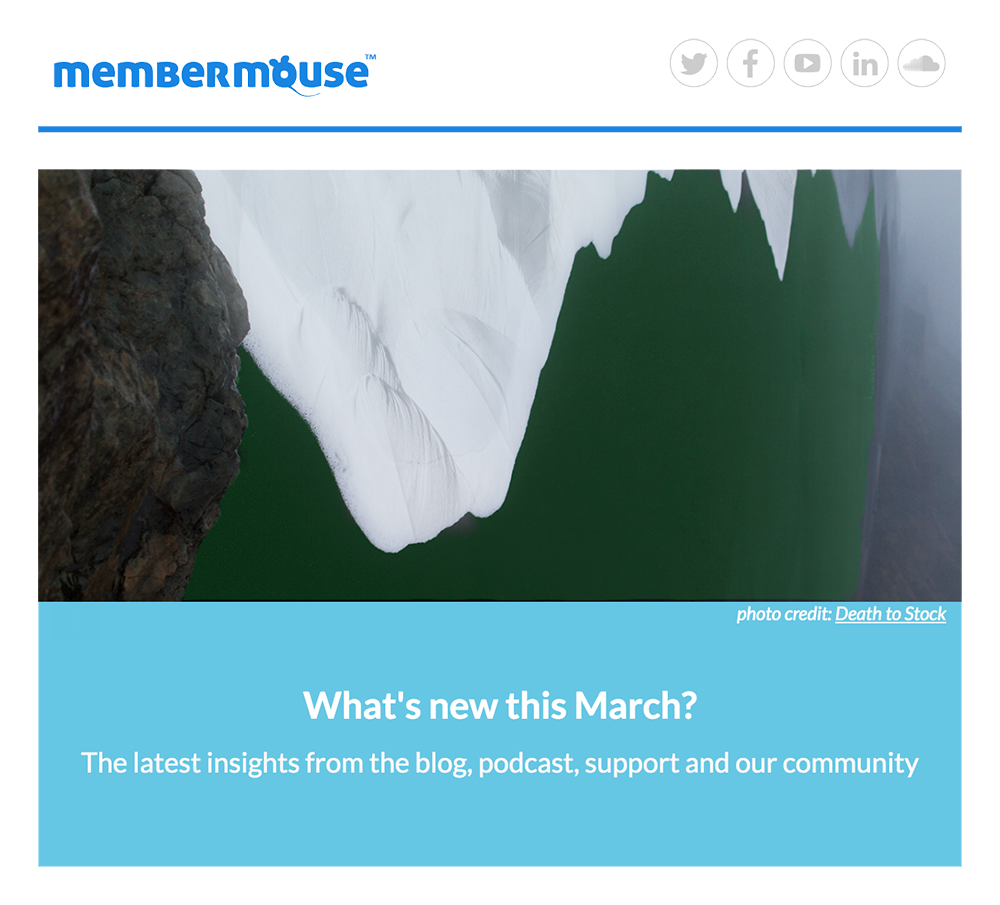 BeePro has an easy learning curve and a simple user interface. It was a life saver. And even though Drip now has a terrific visual builder we still use BeePro (because if it ain't broke, don't fix it).
---

Slack
We're a virtual company, so effective communication is essential. Enter Slack.
For us, Slack is so much more than a replacement for email. It's our virtual communication center and hangout zone. While everyone on the MemberMouse team lives in the United States, we're spread out across just about every time zone. Slack helps us talk in real-time, notify team members of important information, and congratulate each other on a job well done.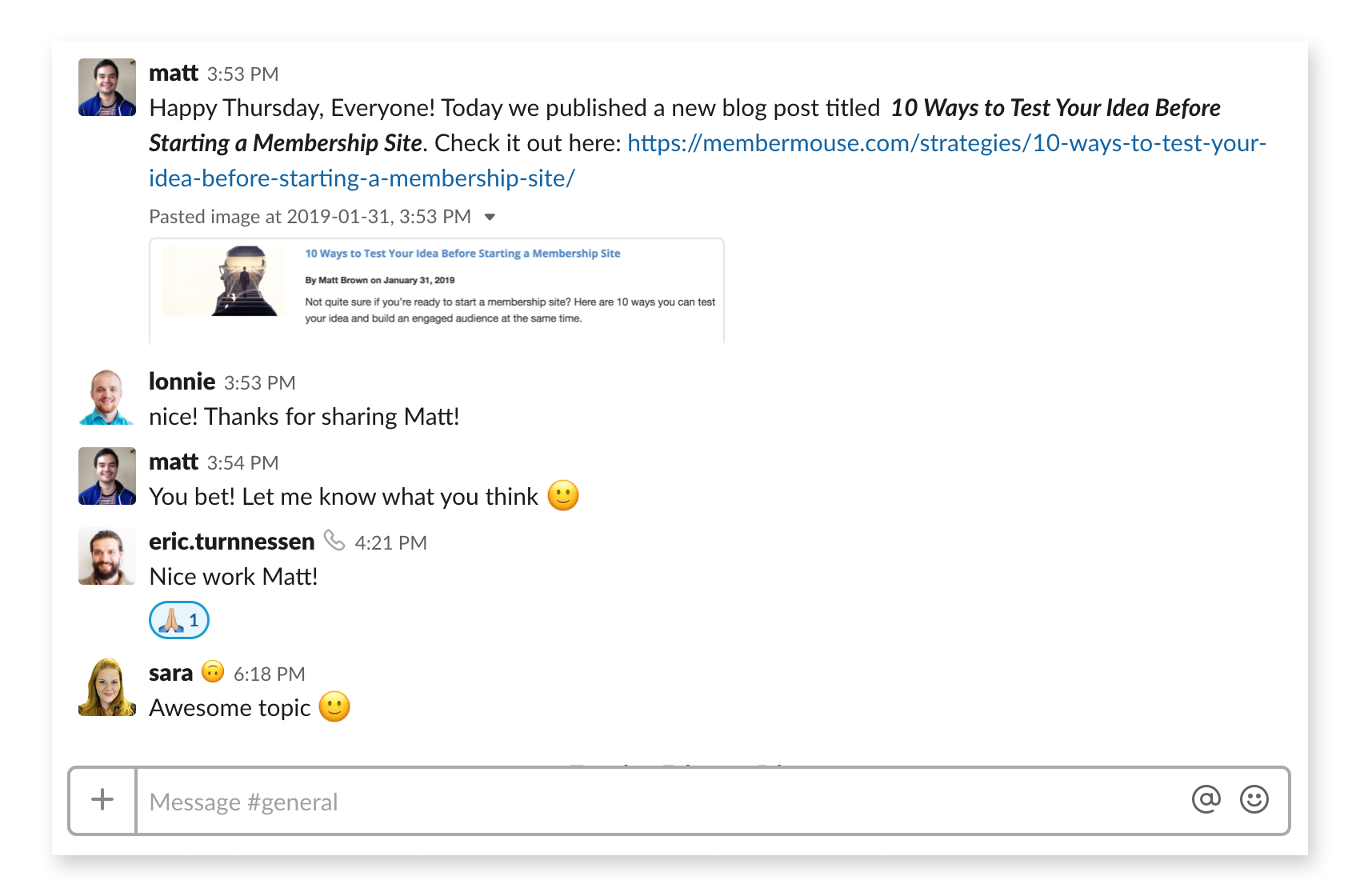 We have different channels set up for each core group of our team: Customer Success, Development, and Marketing. But, we also have a General channel where we all keep in touch, share what we're working on, and sometimes post funny GIFs like this one…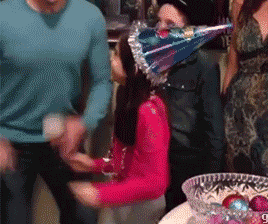 What's great is that we have Slack hooked up to many of the other SaaS tools we use. So, we can easily track our progress on projects through Monday, drop in a blog post or support article draft from Google Drive, or hop on a video conferencing call through Zoom. Plus, Slack's awesome mobile app makes it easy to check and respond to notifications when we're on the go.
---

Calendly
Ahh… Calendly. We love you.
This simple and elegant tool makes scheduling calls and meetings with people outside of our organization so much easier. What's so great about this tool is that you can create meeting times of different lengths, and let the person you're communicating with choose which one is best for them. Plus, it syncs up with our Google Calendars so we never run the risk of double booking ourselves.
Whether we're setting up a time to chat with a potential guest on our podcast or to speak with someone who has questions about our Advanced Plan features, Calendly takes all of the hassle out of the old "back and forth" email volley.
When works for you?
How about Tuesday?
Tuesday is no good, what about Wednesday?
Wednesday is totally booked… why don't you send over some dates that are good for you…
After a while, this starts to feel like we're living in a Monty Python sketch!
With Calendly, all we have to do is send over our link, and the person we're coordinating with can simply pick the best time for them. The appointment is then added to our calendars.
---

Zoom
Zoom is a great video conferencing tool. It's especially handy because it makes sharing both video and screens so easy. Zoom is the tool we use for in-depth calls with our customers and team meetings where screens or video are required. Something we love about Zoom is the ability to poll attendees to our office hours. Zoom makes it simple to just throw up a simple poll and gauge what people are most interested in hearing about.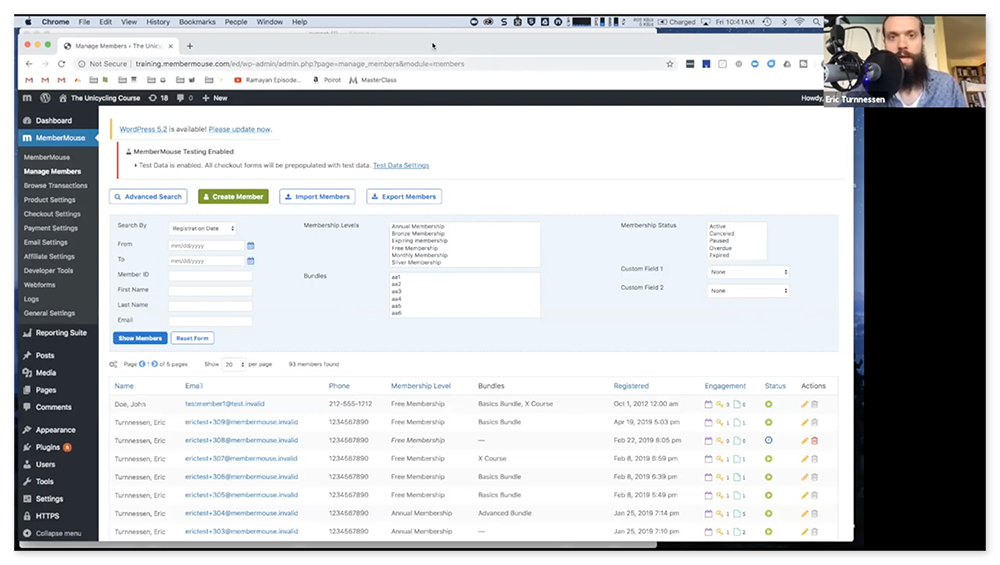 Plus, we can unmute guests if they are interested in having one-on-one discussions about their specific situations. Zoom also makes recording our meetings easy, so we can upload videos to YouTube later and send them to the folks who weren't able to attend live.
---

Buffer
Buffer is our handy-dandy social media scheduling tool. You did know we post on social media, right? If not, go follow our Twitter account and like our page on Facebook!
Buffer makes scheduling and batching our social media content a breeze. It's so nice to just sit down and schedule an entire week's worth of posts across our main platforms. This helps save our team time, energy, and effort. Buffer's engagement analytics are also helpful in showing us the content our audience likes the most.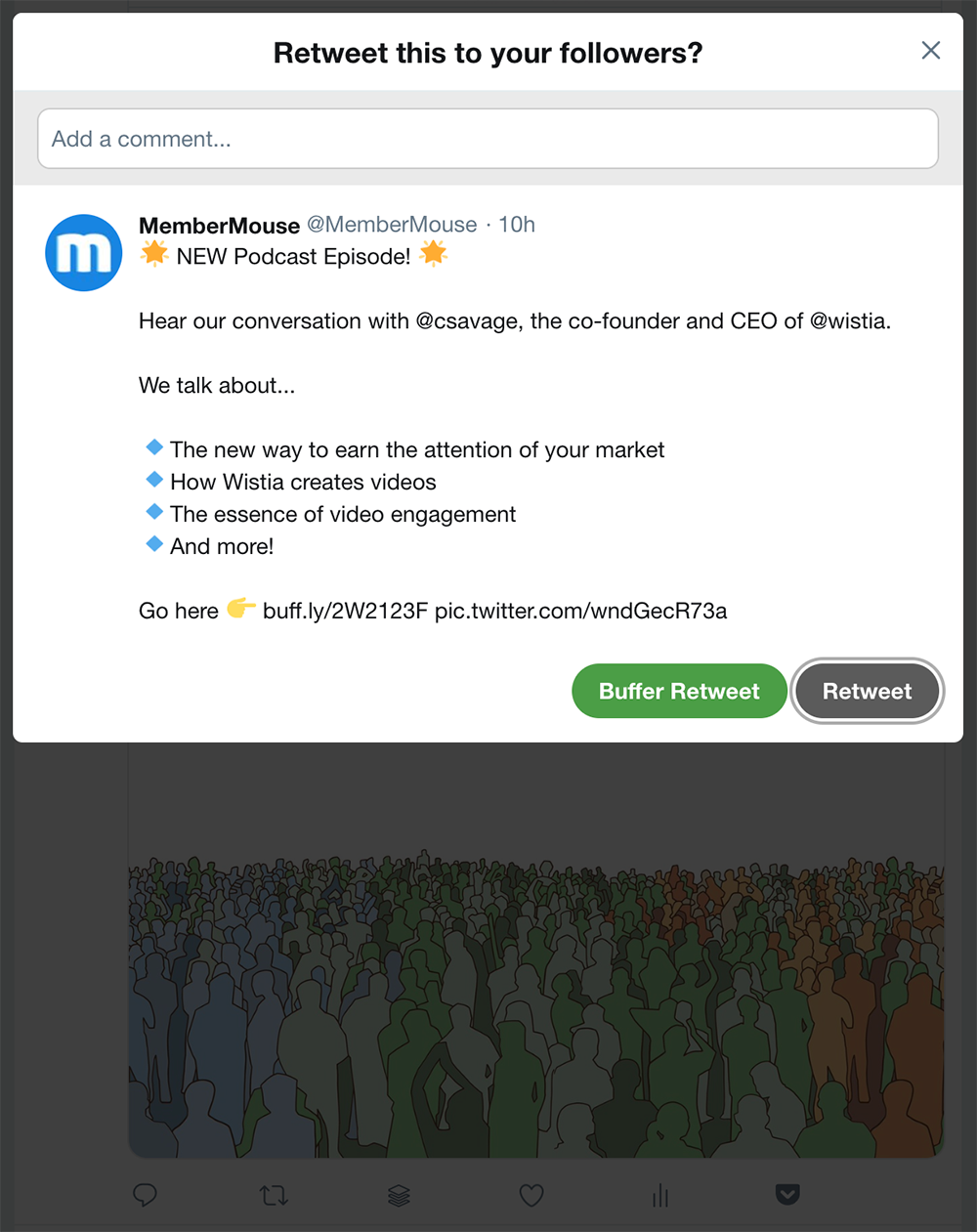 Pro tip: Did you know that with Buffer is that you can schedule retweets? We love this feature because you can ensure you share something you like without spamming your feed.
---

UberConference
If this list of tools we're talking about here all represent a club in a set of golf clubs, UberConference is definitely our sand wedge. We might not use this tool every day, but when we're in a bind and find ourselves in a sand trap (ok… the golf analogy ends here), we're sure glad UberConference is around.
You see, despite having so many different communication options… Zoom, ZenCastr, Skype, Phone, etc… there are just times when these tools don't work for everyone involved. This is where UberConference comes into play.
UberConference is a digital conferencing tool that lets you have your own channel or "room" to have and record calls. What we love about this tool is that not only can you join it from your computer, but you can also call in and join by telephone. Yep, that's right!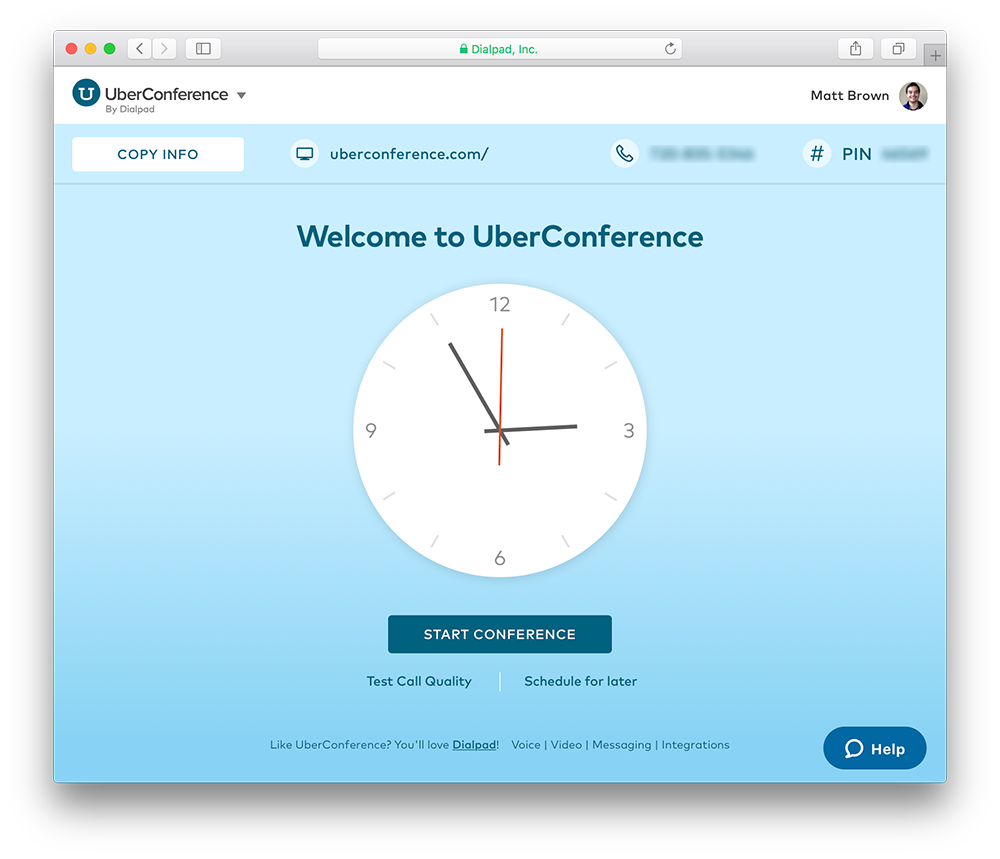 Here's how we use it:
Let's say that we're doing a pre-interview with a potential podcast guest. We typically do these calls in our ZenCastr channel, since that's the tool we actually use to record our podcasts. But, if our guest is having a problem on their end, their computer crashes, or some other technological voodoo is occurring, we can always fall back on our UberConference channel. It's easy to just send them the phone number, have them join, and record. After the call (if you choose to record) UberConference sends you a nice email with a link to download the audio from the call. So nice and easy!
Something that cracks us up about UberConference is the selection of music you can use for your hold music. Our favorite? That one goes to Rick Astley's 1987 classic, "Never Gonna Give You Up." Yep. It's really an option.


---

Asana
Asana is our bread-and-butter project management tool. Not only is it great for managing tasks and assignments across teams, it's also perfect for self-management. With the type of work we do here at MemberMouse and the level of detail involved in our projects, it's so nice to be able to break down our tasks into bite-sized chunks.
While we might not be as obsessive about this as our recent podcast guest, Matt Giovanisci, a glance at our Asana projects would reveal nicely sliced up tasks like…

Asana helps keep us all on task, communicate with each other about our projects in an organized way, and get that nice dopamine hit when we hit the green checkmark.
---

Monday
But… we also use Monday for project management as well. I know. Why do we need two project management tools?
Well, the thing is that earlier this year we decided to give Monday a shot. It seems perfectly designed and structured for some of the projects that might get a bit tangled up in Asana.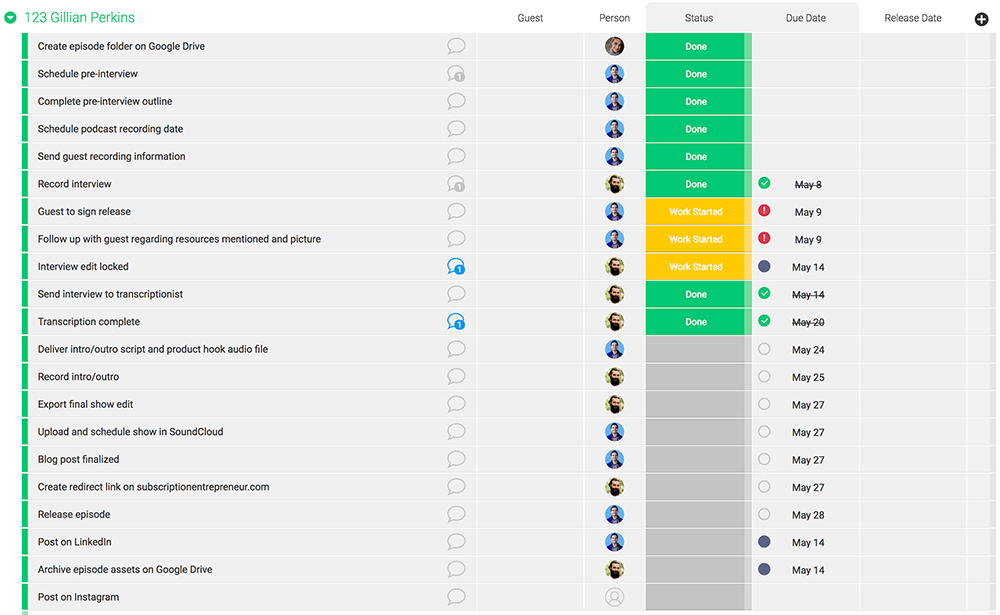 So far, we are really liking this tool and it does make tracking the progress of a project really easy. We love the nice visuals of the tool. With one glance at a project board, we can see grey, red, yellow, or green. Immediately, we know where we are with the project and what the next steps are.
We might even move everything over to Monday by the end of the year. I guess you'll have to come back to this post later on and find out what we did!
---

Zencastr
If you have a podcast, are thinking about starting a podcast, or just want to record high-quality audio interviews between people in separate locations, Zencastr is the answer to your prayers!
Here's a little context before we get into what we love about Zencastr:
Last year, we started a podcast. It's called The Subscription Entrepreneur Podcast. This was a brand-new venture for us here at MemberMouse, something we've never tried before. And the thing about starting new projects, is that you don't know what you don't know.
Our very first episodes were recorded with UberConference. That makes sense, right? The only problem was the audio quality of the recording was very sub-optimal. UberConference is great for recording a call for note-taking purposes… but the audio quality of the recording just sounded unprofessional. To get into the nitty-gritty details here a bit, the main problem was that UberConference condenses all recordings into one .mp3 file. And, it does this thing where it automatically fades people's voices in and out when two people are talking at the same time. This is great for conference calls, but horrible for podcasters.
Plus, everyone on the podcast team is a bit of an audio nerd… so these low-quality recordings just weren't cutting it. Once we knew what the problem was, we went looking for a solution. This is where Zencastr comes it.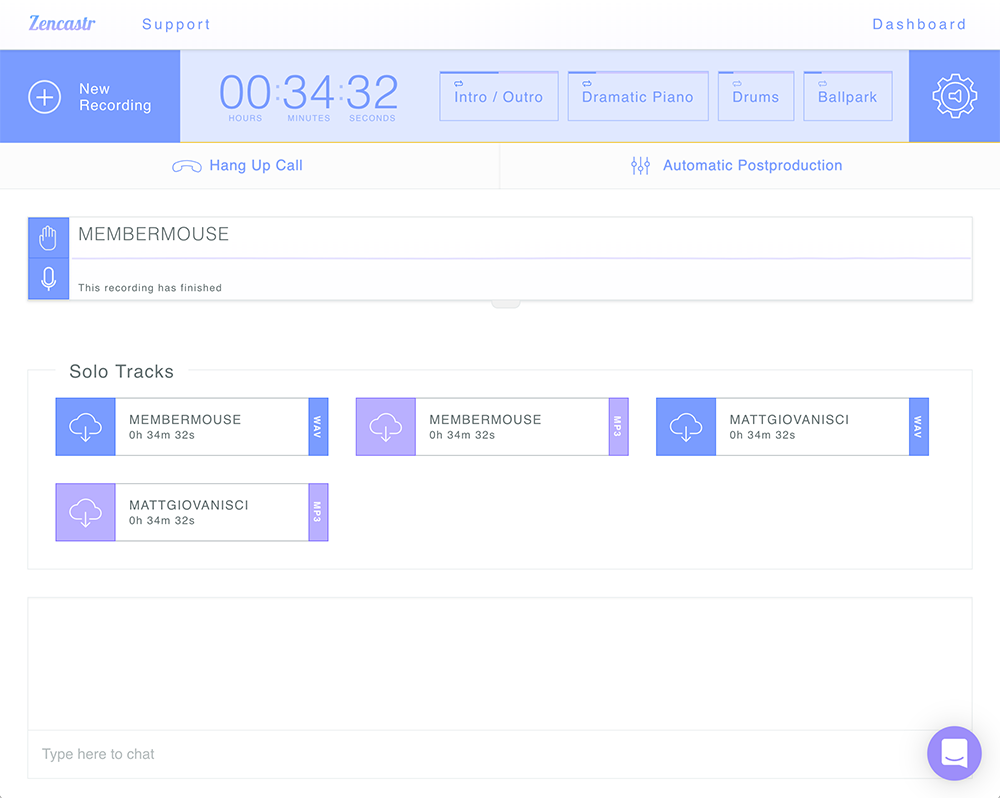 What is amazing about Zencastr is that each participant on the call gets their own individual audio recording. That means that each participant has their audio recorded locally through whatever microphone they are using. At the end of the recording, that individual audio track is then uploaded to Zencastr where we can download and edit it. It truly is a podcaster's dream!
---

Adobe Creative Suite
What can we say about Adobe that hasn't already been said? It's the gold standard for photo, graphics, and illustration editing. We use photoshop to edit the photos we use on the blog, graphics for our website, and videos for our YouTube channel. It's an invaluable tool and we love that they have switched to the monthly subscription model. Instead of shelling out hundreds or thousands of dollars up front for a piece of software that will eventually need to be updated, we're able to pay a fraction of that as a monthly subscription to the software.
---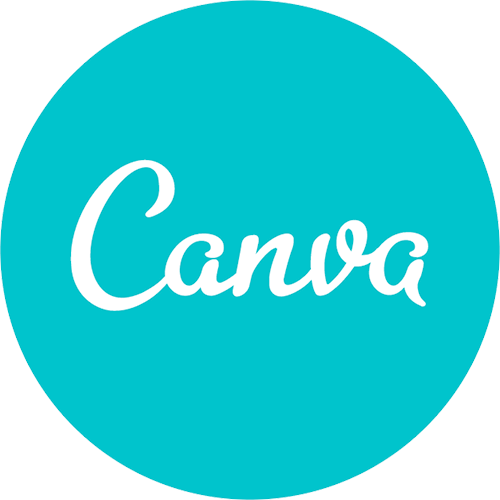 Canva
Canva is sort of our "Photoshop Light." It makes designing social media graphics and other images really fast and easy. Plus, they have a great library of graphics that we can easily add into our projects.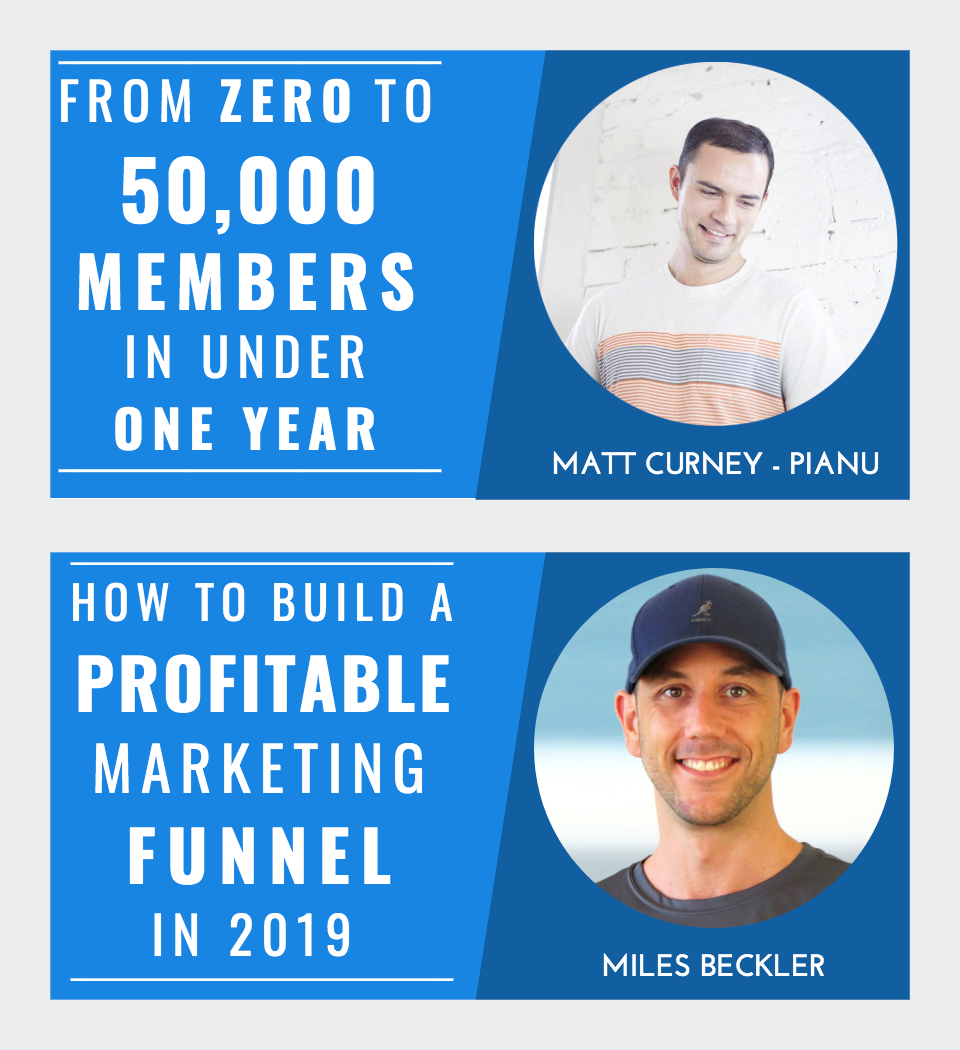 One of our favorite features of Canva is the ability to create and work with templates. We create a lot of images that are essentially the same. And, Canva helps us save time and work smarter by not duplicating work.
---

Wistia
If you've ever visited our support center, you've probably seen at least one of the dozens of support videos we have. These videos show our customers how to do everything with MemberMouse from setting up membership levels, using SmartTags, and explaining our advanced features.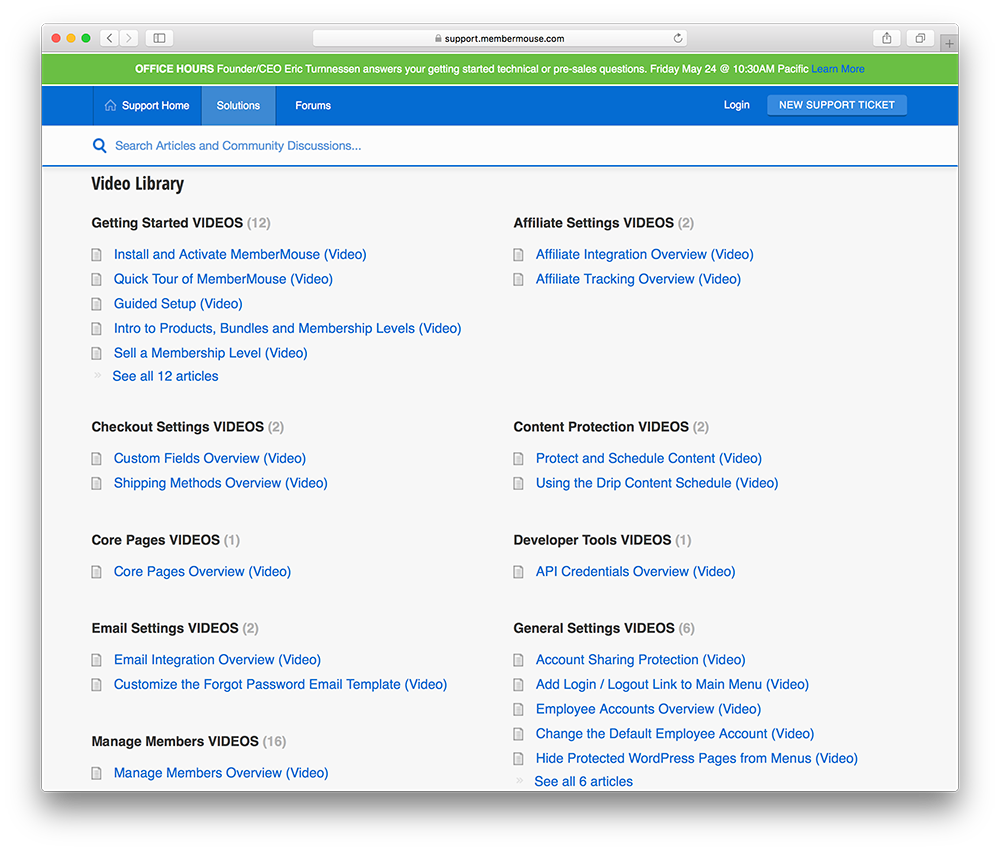 All of these videos are hosted on Wistia. Not only does Wistia provide us with high-quality and reliable video hosting, their platform also gives us important metrics and tracking statistics about our videos.
---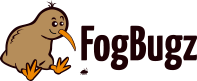 Fogbugz
Fogbugz is the tool our development team uses to track issues and (you guessed it) bugs that pop up in the MemberMouse platform.
Any time an issue comes up inside of MemberMouse, we track everything related to it with Fogbugz. We also use to plan upcoming platform updates and new version releases. Once a bug is identified and a fix is implemented, we commit it to the code repository. Fogbugz tracks it from here and helps our team keep a close eye on it. This is great because we have records of all the original issues and what we did to fix it. Our development team likes using Fogbugz because all of these things would be tricky to do otherwise.
---

Deputy
Since we're a virtual company, we don't have an actual "time clock" where our team can punch in and punch out. This is where Deputy comes in. Deputy makes tracking our hours, managing time-off requests, and approving pay-periods a breeze. Whether we're clocking in or out on our laptops or phones, Deputy is there to keep us all on track.
---
Gusto
Gusto is basically our virtual HR department. This tool is amazing. It makes handling both payroll and taxes easy and simple. We love that you can manage payroll history, contractors and staff, direct deposits, and tax documents all in one place.
---

FreshWorks
We're big fans of the FreshWorks suite here at MemberMouse. We primarily use two of their tools (FreshDesk and FreshSales) to help us communicate with our customers and prospects in the most efficient way possible. If you've ever contacted our friendly and helpful support team, a ticket was opened up for you.
You see, we run our entire support ticketing system through FreshDesk. It helps us quickly answer your questions and find solutions to any issues you may encounter when building your membership site. What's great about all of this is that these two tools link up with FreshSales so we can track, manage, and follow up with our leads and prospective customers.
---

HelloBar
Have you opted-in for our newsletter? If so, thank you! If not… what's stopping you? 😉
The dropdown bar at the top of the page (look up… you can probably see it) makes it easy for our visitors to opt-in for our mailing list. HelloBar is hooked up to our Drip account, so from there things are handled through Drip's powerful automation features. We also use HelloBar for special offers and sales. It's a helpful tool that's great for saying "Hi!" to our website visitors and letting them about what's happening at MemberMouse.
---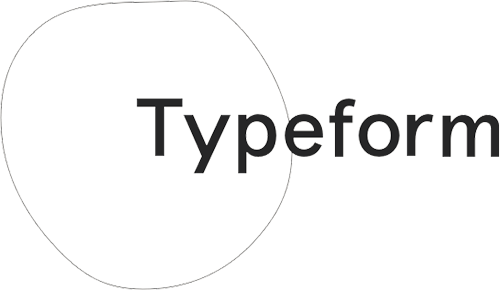 TypeForm
TypeForm is our primary surveying tool. It helps us get essential feedback from our customers so we can continually improve our platform and focus on the things that are important to you. Plus it integrates with Drip so we can create tags and triggers from answers we receive. With TypeForm, it's easy to share our survey results across our entire team. This way, everyone is on the same page.
---

Stripe & Paypal
Stripe and Paypal are the two payment processors that we use here at MemberMouse to collect payments from our customers. While the majority of our payments go through Stripe, we love having Paypal for our customers who prefer to use their platform. Paypal is great because it is so easy to use, it's essentially a virtual wallet for people online. Plus, you're able to pay directly from a checking account with PayPal, which isn't an option with Stripe.
Through Stripe's powerful reporting and analytic features, we get key insights into the financial health of our business. And PayPal's reporting, well…. not so much.
---

iDevAffiliate
iDevAffiliate is the tool we use to manage our network of affiliates. This tool helps us understand who are affiliates are and how they are performing. It manages tracking, payouts, and integrates perfectly with MemberMouse. That means that we're able to track the lifetime customer values of the members who come to us through different affiliates. This is crucial in helping us understand who are best customers are and where they are coming from. And, it leads us to our next and final tool…
---

MemberMouse
Last but certainly not least is MemberMouse.
Wait… what?
Yep! We use MemberMouse to run and manage MemberMouse!
Like our customers, MemberMouse is a subscription, member-based business. For us, MemberMouse manages everything from product licensing, membership management, payment processing, sending email notifications like receipts, affiliate tracking, and advanced reporting. If you've ever wanted to see an example of MemberMouse in action, you're looking at it!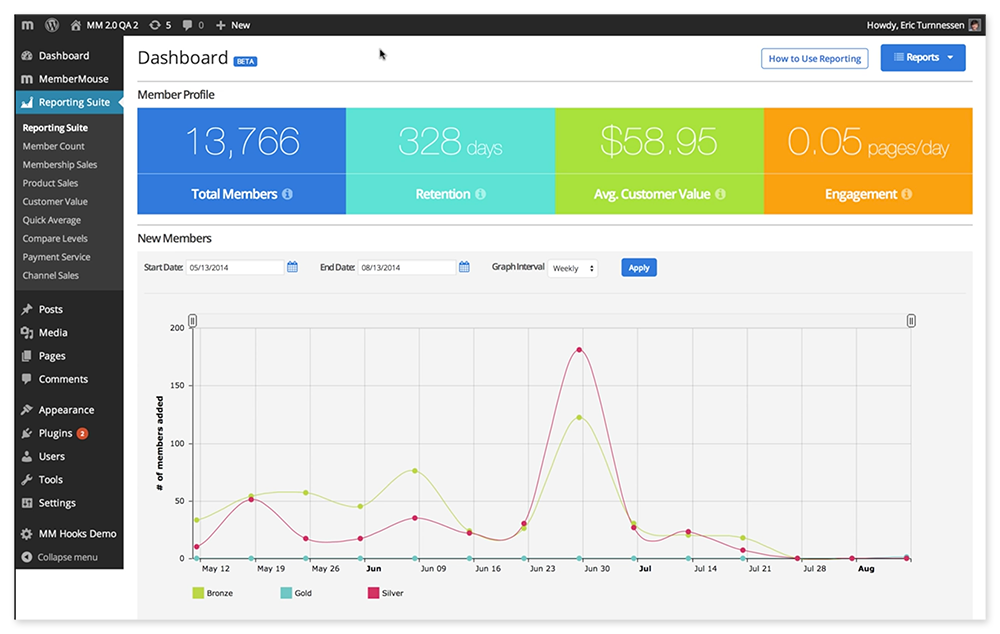 What's great is that we're able to put the power of our own advanced features into action as well. For example, MemberMouse tracks lifetime customer value, total member count, membership sales, product and channel sales, and so much more. We're able to use the very features we created for our customers to run our own membership business. Pretty neat, huh?
---
The Tools We Left Behind…
Sumo
There's only so many popups people can handle…
Dropbox
The transition to Dropbox Business drove us nuts! And when we tried to switch back to the regular plan, you started deleting our files! So we had to say "Forget you!" Google Drive has been serving us well since then!
Hotjar
Oh HotJar… You felt like an online dating site. Sure, it was fun to login once in awhile and see who's out there… but after a few sessions we started to feel a bit voyeuristic.
FullStory
Holy information overload, Batman! FullStory, we love you but you do truly live up to your elevator pitch… like Google Analytics on steroids. If we're going to watch movies, I think we'll be turning to Netflix from here on out. Google Analytics is doing a fine job for us.
FreshChat
FreshChat was great at first… but we just couldn't turn you off! Everyone here at MemberMouse does need to sleep occasionally… and leaving up an email address in chat was just annoying for our customers.
SurveyGizmo
We actually have no complaints with you, SurveyGizmo. You served us well!
MailChimp
Sorry MailChimp… but Drip has got you beat when it comes to features, functionalities, automations, and workflows. It was fun while it lasted…
---
Wrapping Up
So there you have it! We hope you've enjoyed meeting our "software colleagues," so to speak.
All of these tools and services help us keep our day-to-day operations running smoothly, communicate effectively with our community, and ultimately provide the best possible membership and subscription software and service to our customers.
We love hearing from our customers, community of developers, and podcast guests about the different tools and products they're using to build, grow, and optimize their businesses. And, we'd love to hear from you about your favorite tools and software products.
What tools do you use to build, grow, and optimize your online business?
Join our discussion and leave us a comment below!
---
Matt Brown
Matt is our enthusiastic Content Manager here at MemberMouse. Originally from Chicago, Matt now resides in the Pacific Northwest with his wife and cat. He loves reading, writing and getting outdoors.
Related content
---