8 Email Templates You Can Use to Welcome New Members
First impressions count. When someone signs up for your online course or membership program, you need to make them feel welcome. One of the ways to achieve this is through your email welcome sequence.
This guide will walk you through everything you should know when setting up a welcome email sequence for new members. You'll also gain insights from successful campaigns implemented by other companies you can learn from.
Let's quickly cover the basics before we get too far into this guide on welcome email templates.
What is a welcome email, and why do you need one?
A welcome email follows up on a previous engagement when a customer made contact with your company. A welcome email essentially thanks your new member for choosing your business. It is also a way of developing your relationship with the new member by setting expectations or requesting people to undertake certain tasks – for example, following you on social media.
Welcome emails have high open rates. According to 9clouds, the email open rate for a welcome email is 86% higher than the open rates of other marketing emails. That means most people are going to open your email. It's important, therefore, to make those emails engaging.
Although there's no hard and fast rule for this, the key is always to offer new members something of value. There are many ways to offer value, as we will see in the next section.
Just put your best foot forward. Make your new member feel at home with you. If you manage to show them signing up was one of the best decisions they ever made, you'll be fine.
8 welcome email templates that you can learn from
What do industry giants Headspace, Starbucks, and Medium have in common? These are the companies that have all got their welcome new members' emails spot-on!
This section will look at eight of the best email templates you can use when welcoming new members. These are some of the clearest and informative email templates that catch customers' attention right at the very beginning.
1. Introduce the brand
Every successful relationship begins with a good introduction. So, this email template is your company's self-introduction, so to speak.
The best welcome new members email does not assume your customer's level of knowledge. Rather, it works on reinforcing your unique selling points but not in an aggressive way.
The trick here is not to make this email all about you! It will set the tone for the overall brand experience and should focus on how you can help address the customer's needs.
Introduce yourself but highlight what this relationship means for your customer. Signing up, how will they benefit from this partnership?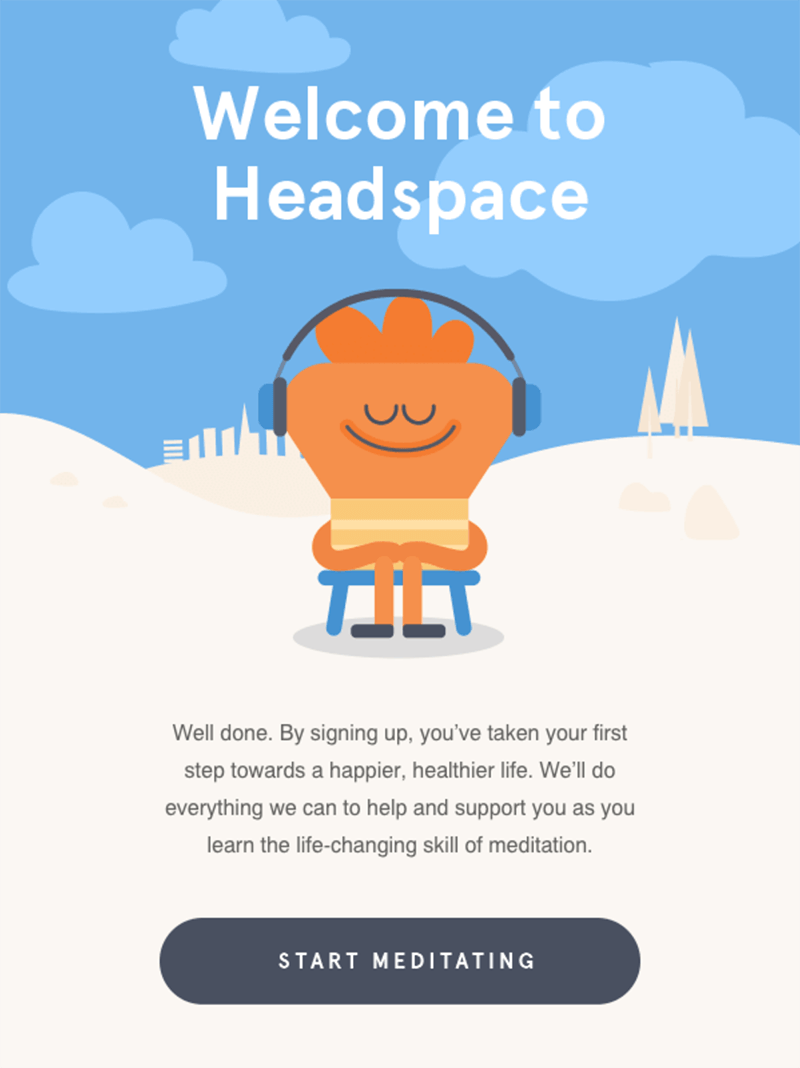 Headspace has created the perfect welcome to the brand email. Sent straight after sign-up, it is clear and unfussy – much like the app and the overall theme of Headspace itself!
Headspace thanks the customer for signing up. They then state their intentions and allow you to get straight into "meditation".
You're setting the stage for future conversations so keep things nice and simple. Try not to bombard new customers with a succession of calls to action. Avoid trying to sell anything to your subscribers as you develop your relationship.
Concentrate on thanking the customer for taking that next step.
2. Special offers and discounts
Everyone loves discounts or the promise of a special offer. So, what better way to reward your new members than to give something back to them?
Special offers and discounts can take many shapes and forms. Highlight these in the subject line of your email. That way, you encourage customers to open the email.
Another tactic here is to make such discounts and special offers timely when you welcome new members. Mention they only have a few days or weeks to access the offer. This will make them more likely to act quickly to get that. Then you can capitalize on their interest.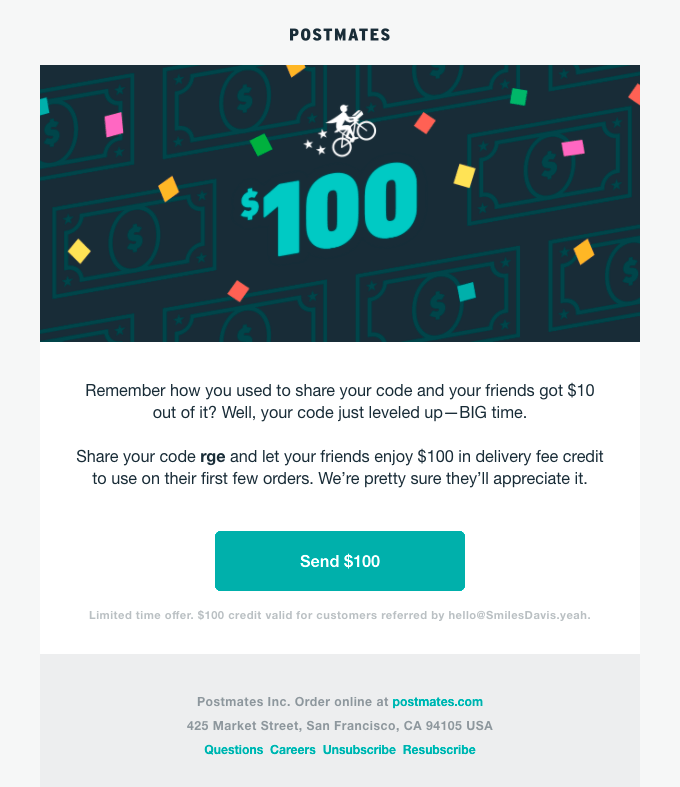 Postmates delivered a hugely successful special offer welcome email with their level-up code. With attention-grabbing graphics and headlines, they offered a huge reward. But that wasn't all. They also used the opportunity to get more leads.
Welcoming new members with codes for your online store encourages ecommerce. But you can also offer codes here to use in-store. This will get people into your premises as well.
Alongside such online codes, you can always offer further details about your brand. That can be basic information or even your store's physical locations. Make it easy for new subscribers to take your desired action.
3. Free trial welcome email
Not many people would turn down a freebie, which includes a free trial! Adding the word free in your email, you instantly get attention!
Free trial emails make customers feel they are getting something for nothing. But, this only works if you approach it correctly. So make the terms clear, and be honest with your free offering.
In a way, these emails and free membership emails have an added agenda.
They do welcome new members and encourage a customer to sign up for a free trial. But brands know the likelihood is subscribers will continue after that trial has ended.
Thus, free trials are ultimately likely to translate to further sales.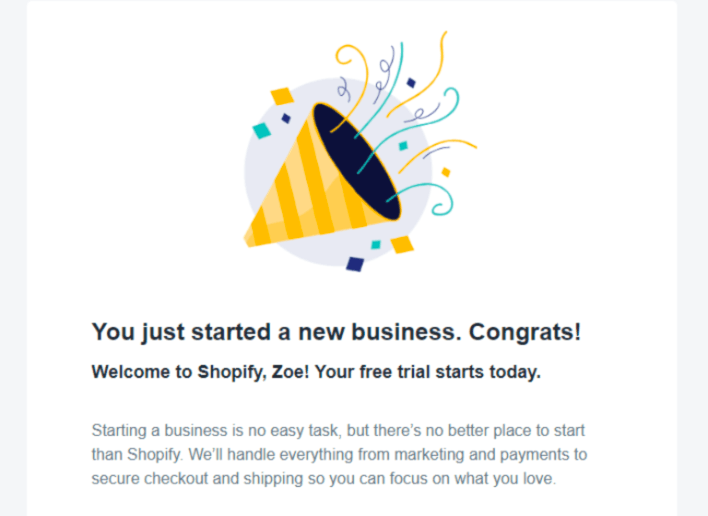 Shopify's free trial welcome email works at keeping it simple but engaging. Users do not feel overwhelmed by the information they get in this trial email. Also, it offers a clear and easy sign-up process to get started with their free trial.
A free trial offers immediate value. It suggests a gift to welcome new members. This is a great way to grab your customer's loyalty from early on.
4. Product showcase
If you want to get your products noticed from the start, a product showcase email will work. Unlike the discount email, this one just relies on the quality of the product to get new subscribers to convert. This email can help you to successfully market your membership in your community as well.
This type of welcoming email works on supporting further browsing. The customer will see the promoted products in their welcome email. Then they will feel encouraged to click through to find out more.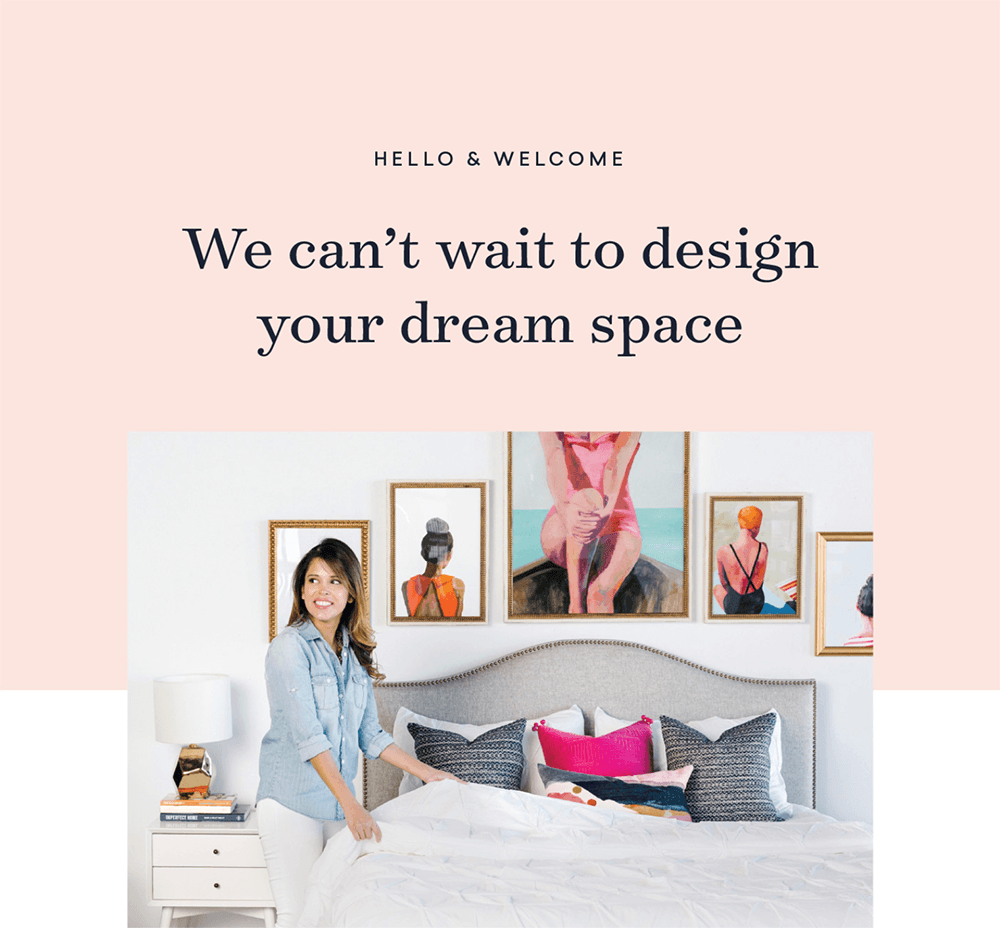 Havenly's product showcase welcome email worked as a gentle introduction for those wanting to find out more about the brand. Using soft colors and gentle graphics highlighted how excited the brand was to welcome its customers.
Havenly allowed the customer to move at their own pace by adding the call to action to book a designer. A successful product showcase takes items you want to highlight or promote and shows them off to their best effect.
5. Get Started Email
A get started email will welcome new members with an introduction and help your products and services. The idea is to help the new member use your product. So, you can offer tutorials and tips. Or just give simple motivation.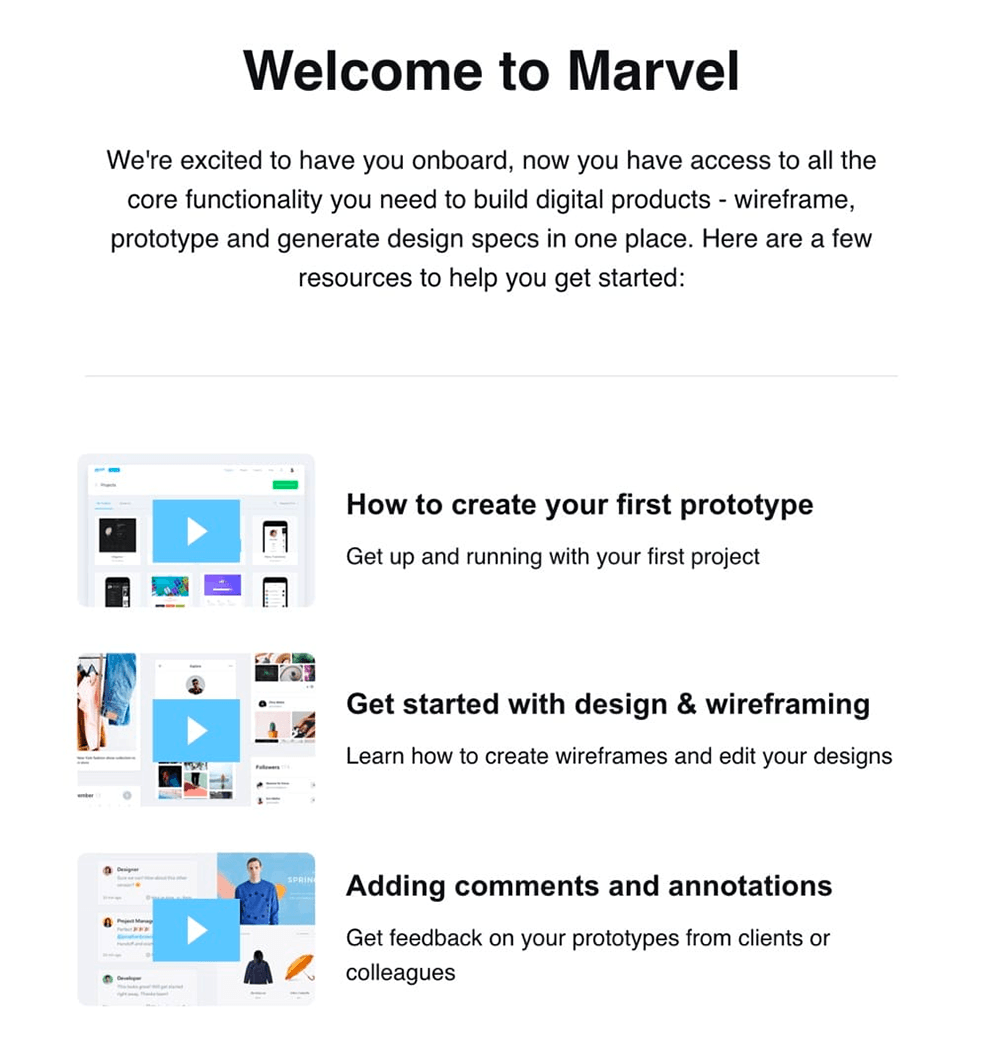 Marvel has mastered the getting saturated welcome email. Their instructions are self-explanatory. But, most importantly, they walk new customers through every process required.
The Marvel email is divided into clear and manageable sections. The nice design is combined with a helpful onboarding sequence. A nice strategy, especially for a membership site, is to provide valuable training resources over 30 days. You can set this up as a learning challenge, for example.
6. Video welcome email
A video email is hugely entertaining. As a welcome email, it does stand out from the competition and helps you make a strong first impression.
By using a video email, a company can show rather than tell. This means a higher engagement rate. It also brings your products, services, and brand to life. That is more so than you could ever do with plain text!
Use a video to present a lot of information about your business in a short time frame. It is more engaging than using a wall of text in your first email.
A video is also a creative license for a business. This is because it can play up to its identity. That means you can put your company across how you like it.
Most importantly, a video leaves a lasting impression on the viewer.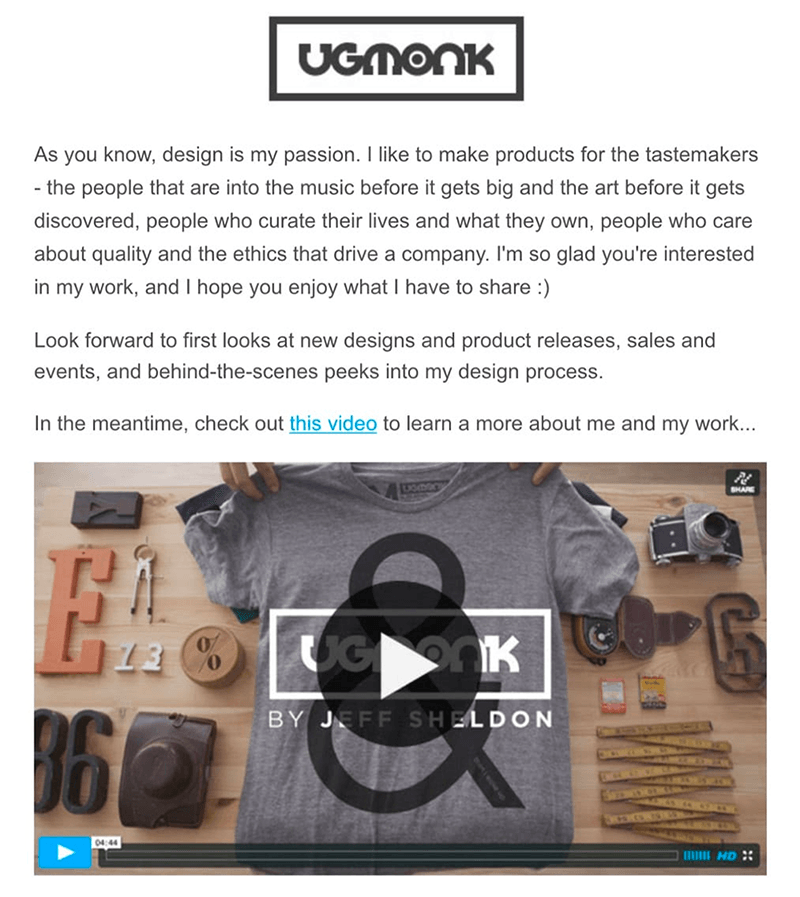 Ugmonk hit the jackpot with their video welcome email. You do believe the CEO of this company is talking to you in this video!
There are many things you can include in your video. You can do what Ugmonk did and give your new members a business backstory. You can even showcase your products and services when you welcome new members.
This type of welcome email is most attractive. Video brings your company alive to the person watching it. Because of this, you can win and retain more members.
7. Personalized welcome email
In this fast-paced world, some businesses can seem daunting and unfriendly. So, a personalized welcome email makes such a difference.
A personalized email says you have made an effort with your customer. It shows that you care about them and see them as people – not profit.
Personalized welcome emails are also valuable in gaining customer trust. That is because you are talking directly to new members.
Starbucks has perfected the perfect welcome new members email. With simple text and graphics, it immediately introduces itself with first-name terms. This is similar to a customer ordering a coffee in-store and having their name written on the cup. It's consistent with Starbucks' brand identity!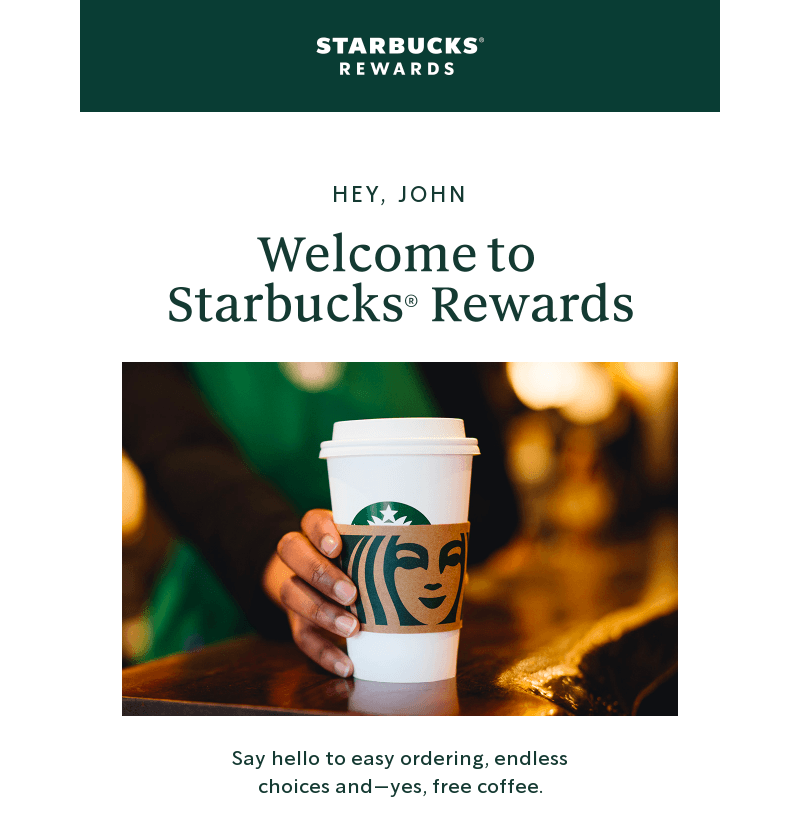 Starbucks also cut to the chase in their introduction email. They know what their customers want—coffee. So, their welcome email tells the customer this is what they will be getting from their future emails.
You can add the customer's name to the body of the email. Or, you can place their name in the subject line to further draw their attention. Or do both. Don't worry. You don't need to write each email for each new member manually. You can create a template, then let your email marketing software do the rest.
In this email, you can also ask your customer to provide you with initial details of their preferences. That way, you can work on utilizing such criteria in their content.
Adding a name to an email may seem such a trivial thing. But, this small act goes a long way in engaging and connecting with your customers. That shows a level of respect in your conversation.
8. Email that includes social proof
Why not welcome new members by introducing them to current members? This loyal customer base should blow your business trumpet for you!
Introducing new members to current members is a way of promoting customer approval of your brand.
New customers want to know that they have made the right decision. So, adding social proof to your welcome email can confirm their choices. It offers them the self-confidence of getting involved with your company.
Using social proof in a welcome email is a simple process. It can take the shape of displaying the community members you have. Or it can mean highlighting glowing five-star reviews. It can even be promoting various customer endorsements.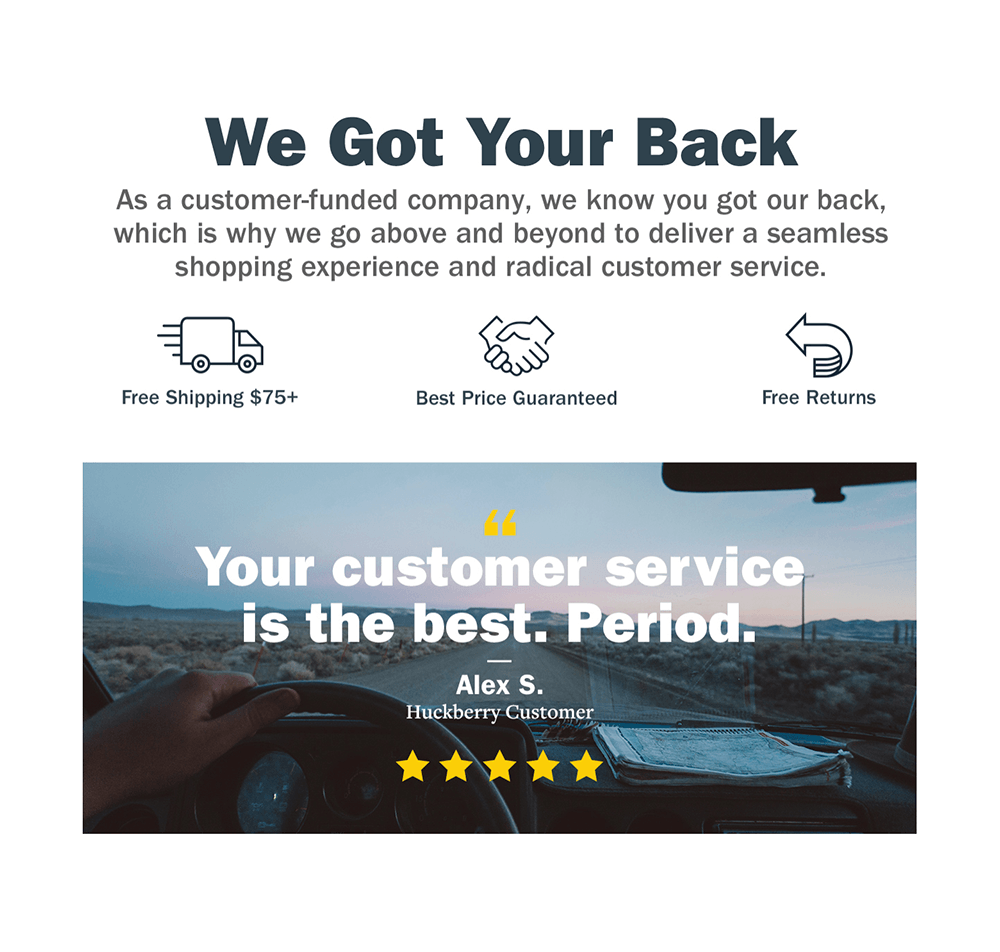 Huckberry's welcome email shows how simple it is to add in social proof. By highlighting some of their glowing feedback, they boost their claims of 5-star customer service.
New customers want to know that your brand will make them happy and who better to tell them than your existing customers? So, they will enjoy reading about customers just like them. This will make them more inclined to engage with you further.
Bottom Line
Welcome email templates are critical to your email marketing strategy. The welcome email is the first email you send to your new members. If you do it the wrong way, your new members might decide to cut ties with your brand then and there. If you do it the right way, you may well be on your way to building a long-lasting relationship with a customer. You might even turn them into your loyal customers or, better yet, brand ambassadors!
This article shared eight welcome email templates you can use. Be inspired by those to create your own.
---
Allie Decker
Allie is the Head of Content at Omniscient, a marketing agency for SaaS brands. She's worked with the folks at HubSpot, Entrepreneur, Hotjar, and Foundr. Her words are bookmarked by entrepreneurs, small business owners, and digital marketers worldwide.
Related content
---