How to Save Time & Maximize Efficiency by Creating a Content Calendar
Want to enhance your content strategy, drive engagement, and streamline your marketing process? The key is creating a content calendar with intention. Read on for the tips, tools and best practices.
Say hello to the dynamic universe of content marketing, where due dates race towards you faster than a caffeinated greyhound.
Now, think about maneuvering this high-speed scenario without a roadmap, sense of direction, or even a faint notion of your destination. Overwhelming, isn't it?
This is precisely what it feels like to curate and manage content without a content calendar.
A content calendar is a visible timetable specifying what you're going to post, where it's going to be posted, and the exact timeline for its release.
But it's more than just a fancy planner. It's the pulse of your content strategy, ensuring your marketing goals stay on track and your audience remains captivated.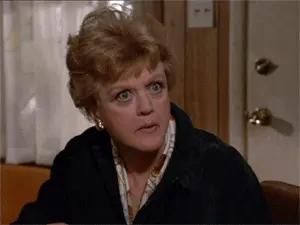 Stick around as we share our best practices, and how to create a content calendar that's useful for everyone involved.
Content Calendar Advantages
Here are some reasons why you should plan ahead with a structured calendar:
Simplify Your Creative Process
A content calendar consolidates all important information for your creative team and any outsourced contributors.
It outlines what needs to be accomplished, the deadlines, and the individual accountable for each task.
This transparency can drastically reduce confusion, last-minute scrambles, and crossed wires.
Everyone understands their role and can focus on delivering their best work. Now, that's a perfect recipe for efficiency!
Schedule Content in Advance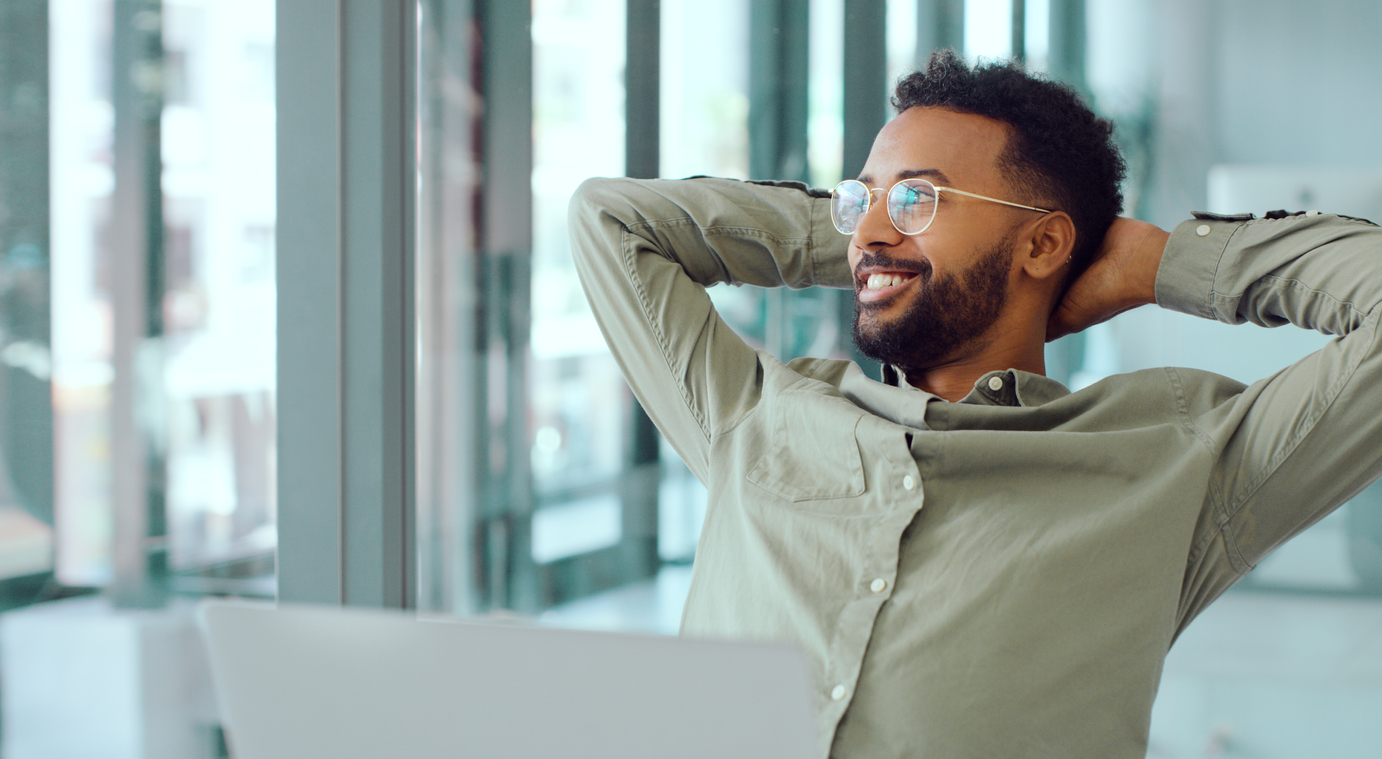 We've all been there – you're burning the midnight oil, the deadline is imminent, and you're desperately trying to pull together a blog post or think of a witty one-liner for your social media post.
With a content calendar, these stress-inducing scenarios can be avoided.
You can plan your content weeks or even months ahead, giving plenty of time to gather resources, conduct research, and create more engaging content.
Additionally, it lets you coordinate content around significant dates or events relevant to your business or industry.
Strategically-Planned Content
With a content calendar, you're not just tossing content into the open and hoping for the best. Every content piece serves a purpose and contributes to your broader content strategy.
It ensures that your content progresses logically, adheres to themes, and tells a consistent brand narrative. You can also confirm that each content type and topic gets its fair share of attention, ensuring nothing gets sidelined.
Diversify Your Content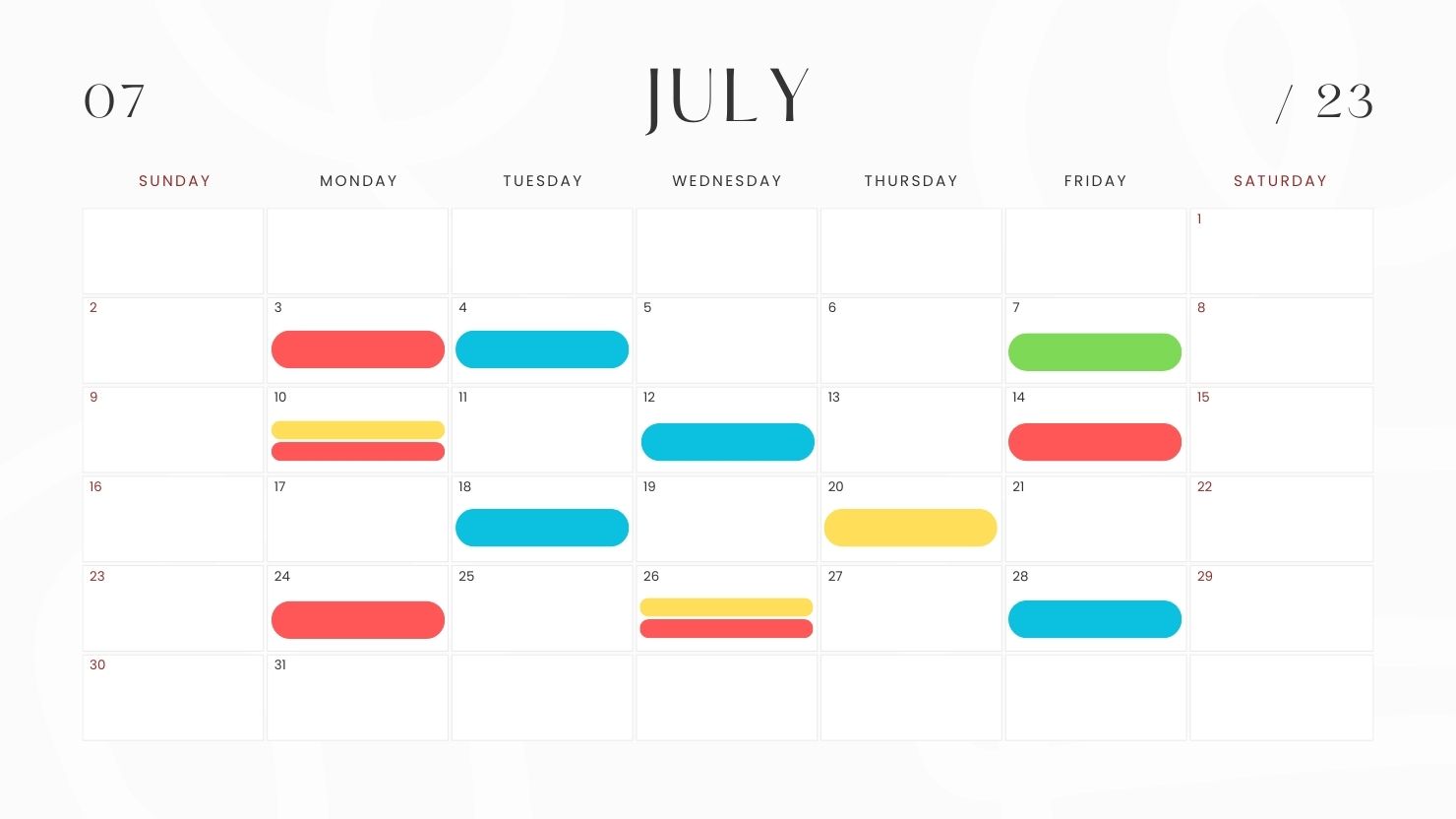 A content calendar provides a comprehensive overview of your content ecosystem.
With a quick glance, you can check if you're maintaining a good mix of different content types, be it blog posts, social media updates, podcasts, or videos.
This ensures your content stays varied and engaging, so your audience doesn't become bored with repetitive content.
Those are just a few of the benefits of taking the time to schedule your content in advance.
Crafting an Effective Content Calendar
Let's break down a step-by-step guide to help you skyrocket your strategy to success.
Step 1: Understand Your Content Marketing Goals
There's no sense in creating content just for the heck of it. If you genuinely want to maximize your content's potential, you need to identify your objectives and the direction you're headed.
Identify Your "Why"
What's the reason behind your content creation?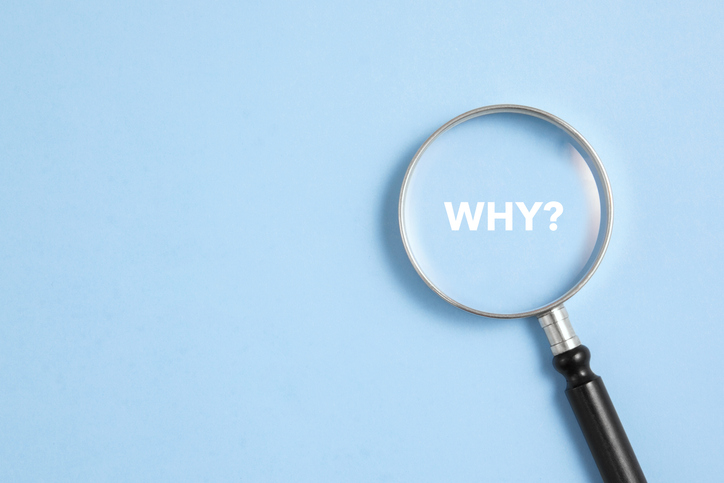 Are you trying to drive more traffic to your website? Maybe you're focusing on enhancing brand awareness or forging a stronger bond with your audience. Or perhaps you're primarily about promoting product sales or generating leads.
Identify Your "Who"
Once your goals are clear, it's time to get intimately familiar with another crucial player in your content game – your target audience.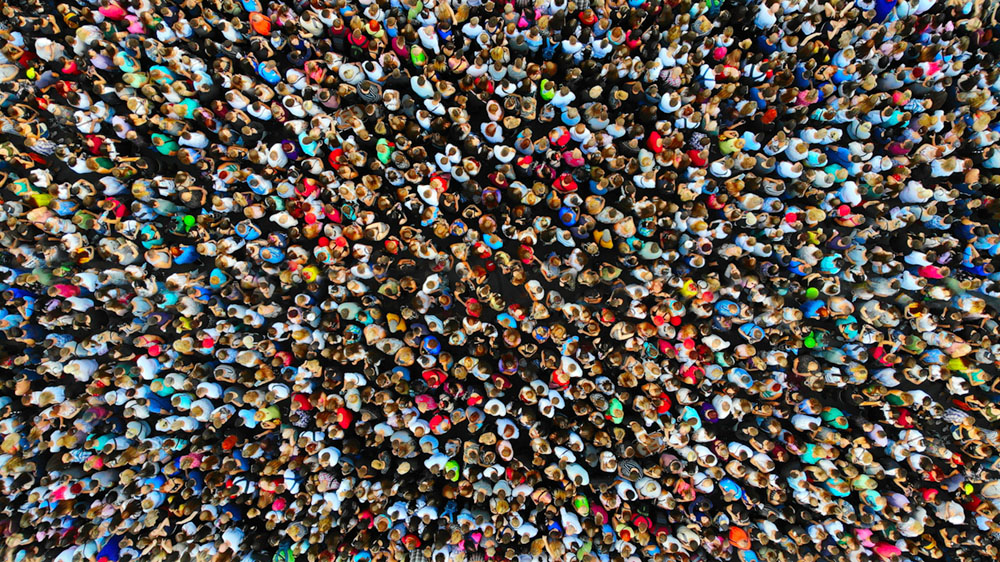 These are the individuals you're aiming to connect with through your content. The more you comprehend their needs, interests, and challenges, the better your chances of creating content that genuinely resonates.
Apply This to Every Piece of Content You Create
Your content marketing goals and your understanding of your audience should be top of mind each time you conceive or create new content.
These elements will dictate the kind of content, the topics you'll address, and even the channels you'll use to distribute that content.
Step 2: Planning Your Content Strategy
Now that we've nailed down the foundations with your objectives and target audience, let's dive into the fun part: planning your content strategy.
This is where strategy and creativity combine, and where your content calendar begins to materialize. So, grab your preferred beverage, don your creative hat, and let's get started!
Idea Generation for Content
The first order of business is to brainstorm content ideas. And when we say content, we mean all sorts of content.
Blog posts
Social media posts
Newsletters
Targeted emails
Podcasts
Webinars
Videos
Infographics
Inspirational quotes
Customer testimonials
Demos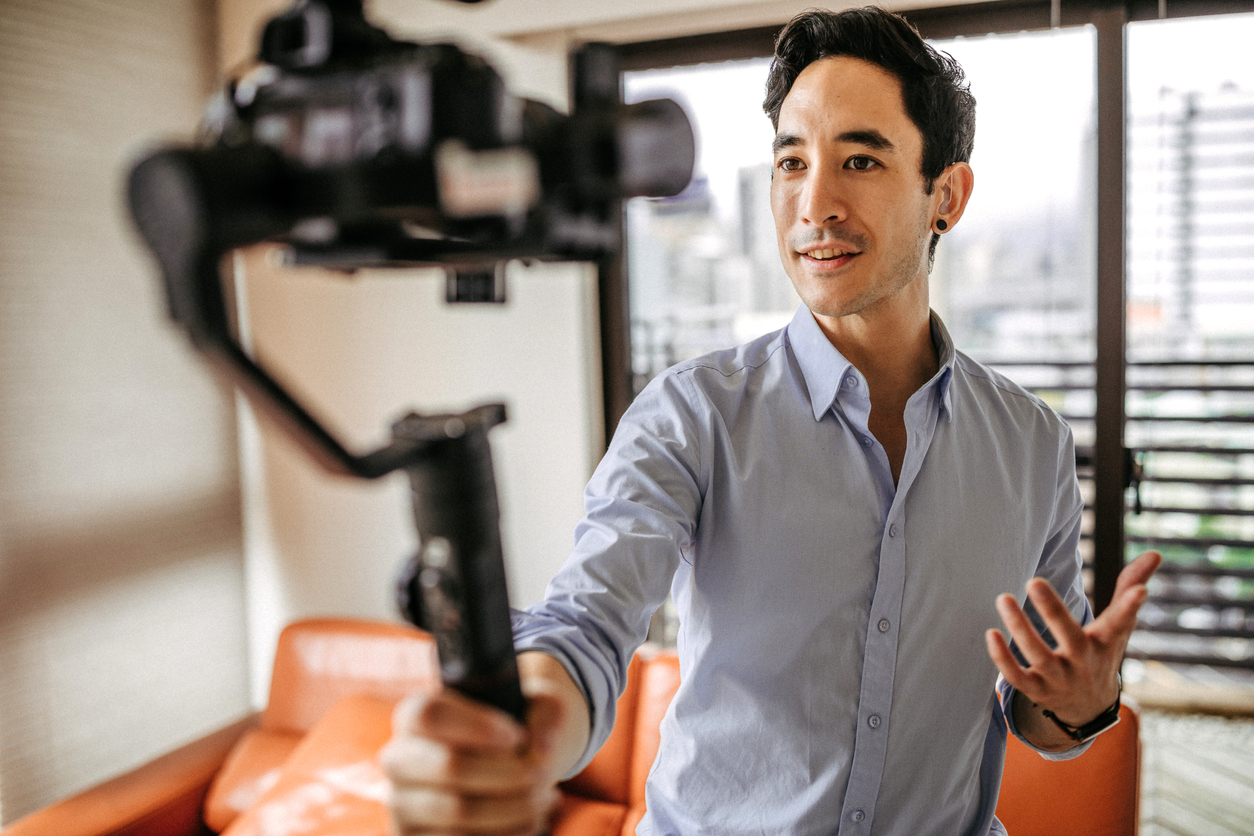 Don't hold back! Think about every media type your customers consume, and what motivates them to purchase.
For example, imagine you're an online learning platform targeting professionals looking for career advancement and your goal might be to empower them with new skills and knowledge despite their busy schedules.
Your content calendar could include quick tutorial videos, easy-to-follow learning guides, and inspiring success stories. These can be shared on platforms where career-focused individuals are most likely to engage, like LinkedIn and Twitter
Using ChatGPT for Content Ideas
Harnessing the power of ChatGPT can be a game-changer for content generation, especially for brainstorming ideas. As an AI language model, it's proficient in providing diverse and creative suggestions.
Start by outlining the content goals and target audience (as you did in step 1), then engage with ChatGPT as if in a conversation.
Here's an example of what that might look like:
"Generate a list of blog post topics for an e-commerce company selling eco-friendly products. The target audience is environmentally conscious consumers aged 25-45. The goal is to drive website traffic, increase product awareness, and ultimately boost sales."
Here's what GPT-4 generated: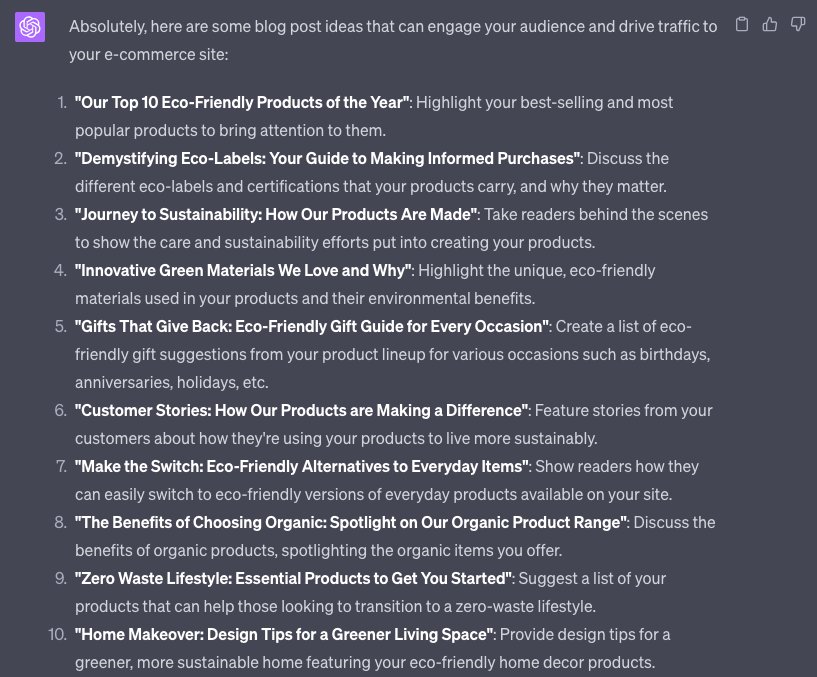 You can also utilize ChatGPT to find different perspectives on a topic, helping to shape a more comprehensive piece. An example could be asking "What are the pros and cons of going zero waste?"
Use it to generate titles, introductions, or even whole articles. Additionally, it can provide ideas for related content, such as social media posts, enhancing your overall content strategy.
The key is interaction – the more specific your prompts, the more focused and useful the responses.
Finding Keywords for Search Engine Optimization (SEO)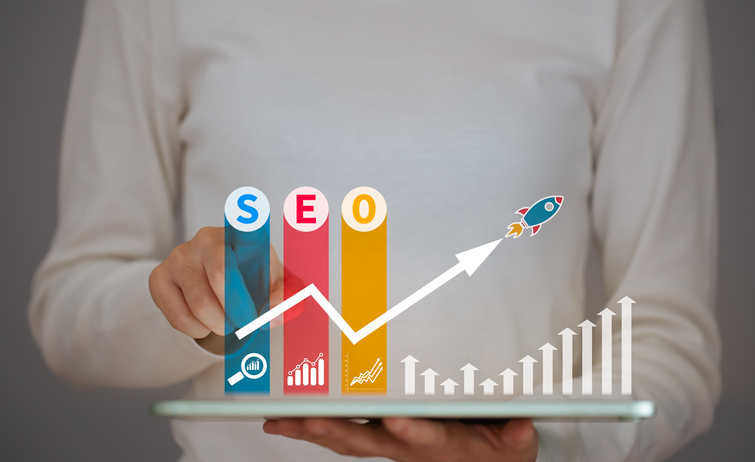 Keywords are the actual key to SEO for online content. Including powerful keywords is the difference between getting lost in a flood of online content and landing in the search results of your desired customers.
It's also a neat insight into how your audience searches for products like yours online. With the help of keyword research you have the power to create content that addresses their queries or meets their desires.
SEMrush or Google Keyword Planner are great tools for unearthing these invaluable gems. Embed these keywords into your content to elevate your SEO and push your pages further up the search engine results ladder.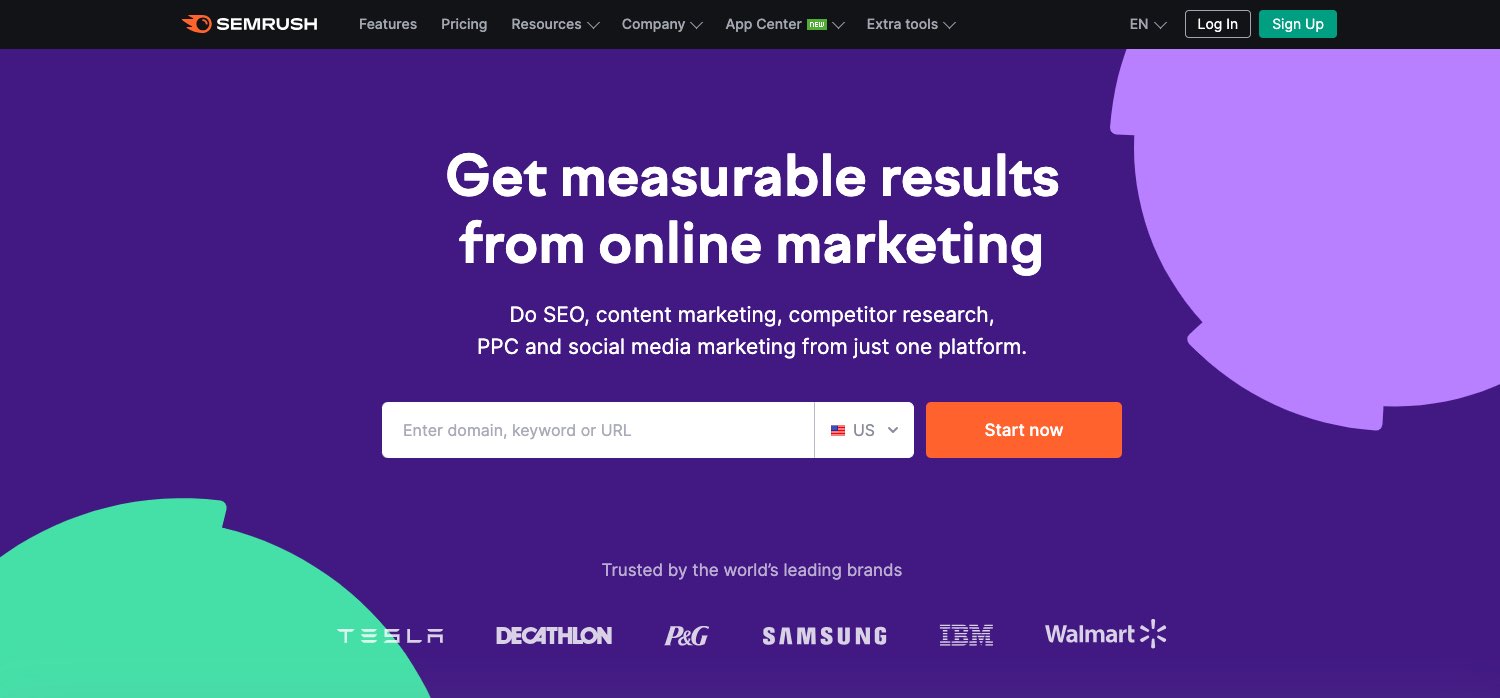 Step 3: Choose Your Tool
There's nothing at all wrong about using Google Sheets and Excel to build out your content calendar.
If you're a stationery-loving solopreneur, a physical wall-calendr can even o the trick.
However, in the interest of smooth collaboration with a team, there's a plethora of digital project management tools out there that can make your content calendar more user-friendly and simply more efficient. Let's review some choices.
#1 Trello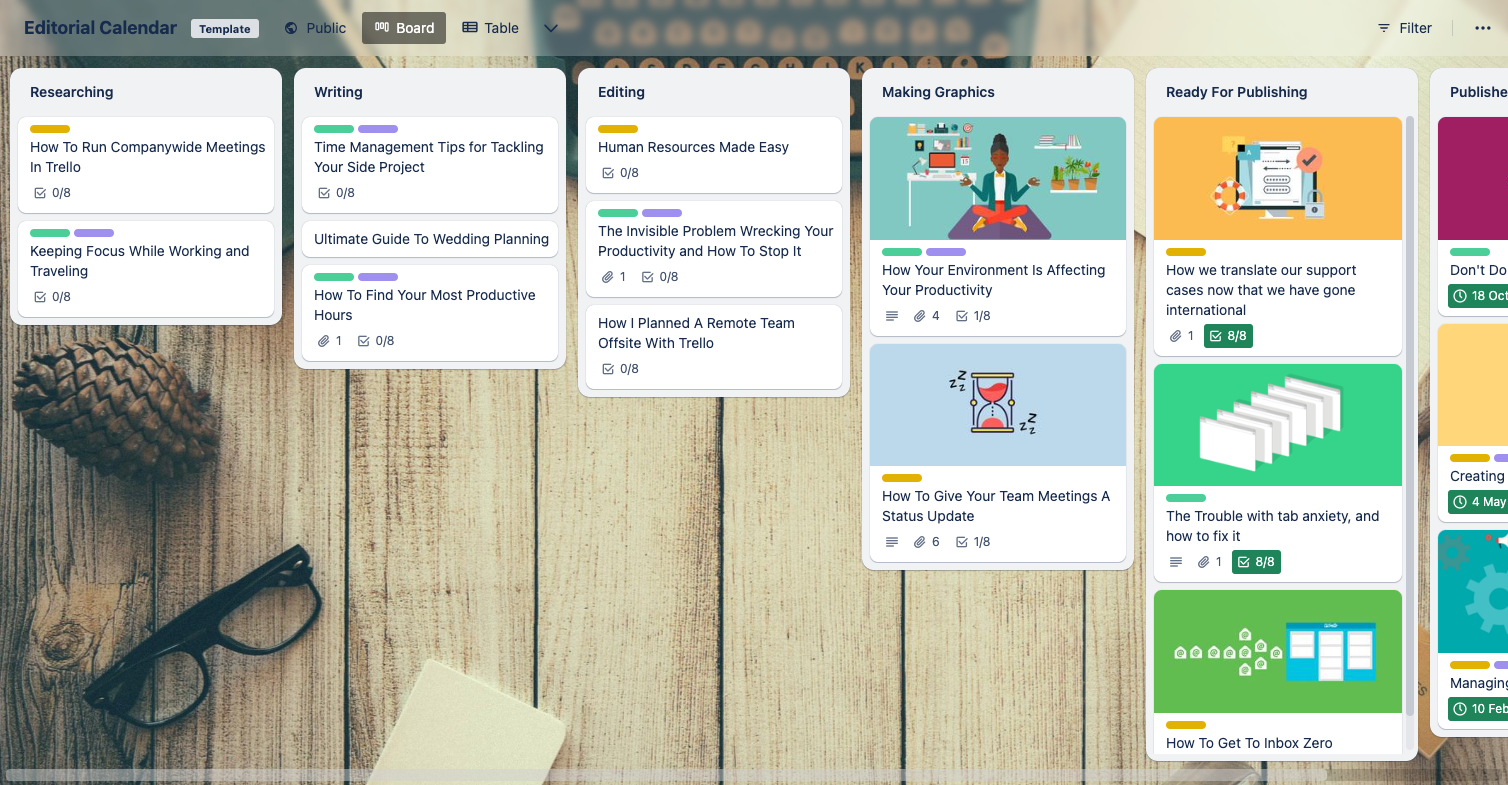 If the joy of moving tasks out of your to-do list, and into the "done" pile gives you a kick, Trello's card-based method might be the perfect match.
You can set up a card for each piece of content, add particulars, attachments, checklists, and more, and shift it from one list to another as it evolves from conception to publication.
#2 Asana
Asana is a behemoth in the project management realm, and it is equally great as a content calendar tool.
Set up tasks for each content piece, assign them to team members, fix deadlines, and append notes and attachments. You can arrange tasks in multiple views such as list, board, or calendar view.
#3 ClickUp
In the same vein as Asana, ClickUp is another comprehensive project management platform that can function as a powerful content calendar.
They even offer a dedicated content calendar template to help you hit the ground running. And with personalized statuses, you can monitor the journey of each content piece from inception to publication.
Step 4: Create a Content Calendar (Our Pick: Asana)
Asana's versatile features make it an exceptional tool for organizing and tracking content production. Here's a step-by-step guide to setting up your content calendar in Asana:
Create a New Project
Open Asana and click on New Project. Choose the content calendar template or, if you prefer, start from scratch. And name your project something like "Content Calendar" to keep things simple.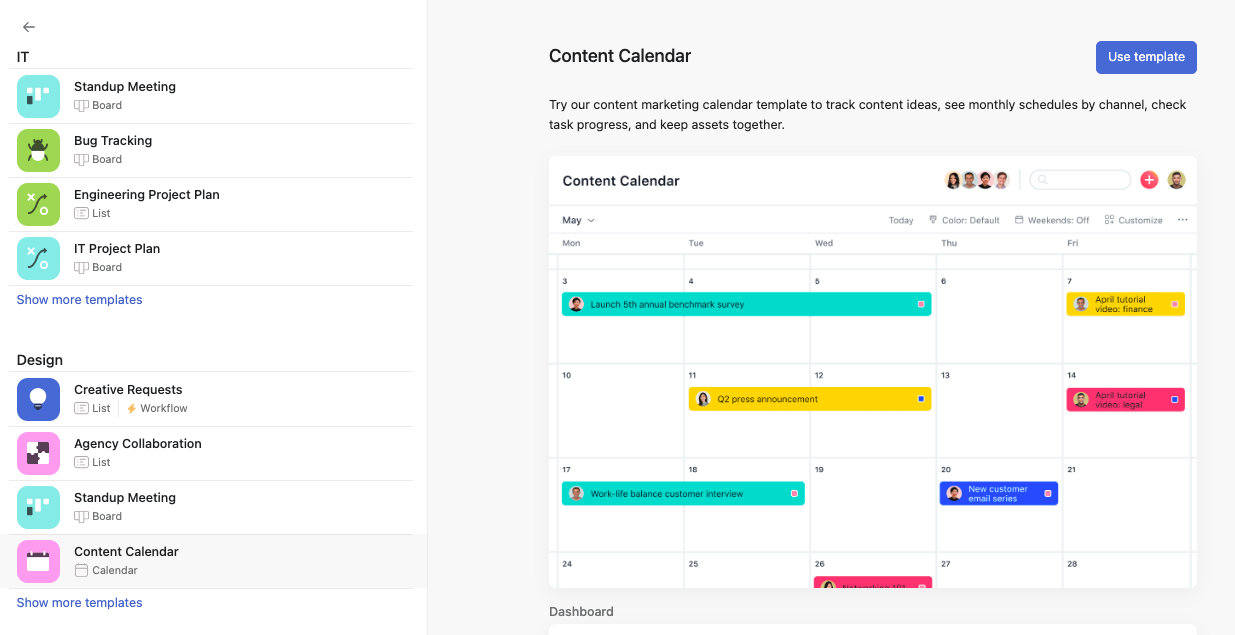 Create Tasks for Each Piece of Content
For each piece of content, create a new task. Name the task as per the title or topic of your content.
Add Details to Each Task
Within each task, you can add sub-tasks, set deadlines, attach files, and write notes. This is where you can keep track of the content creation process, from ideation to publication.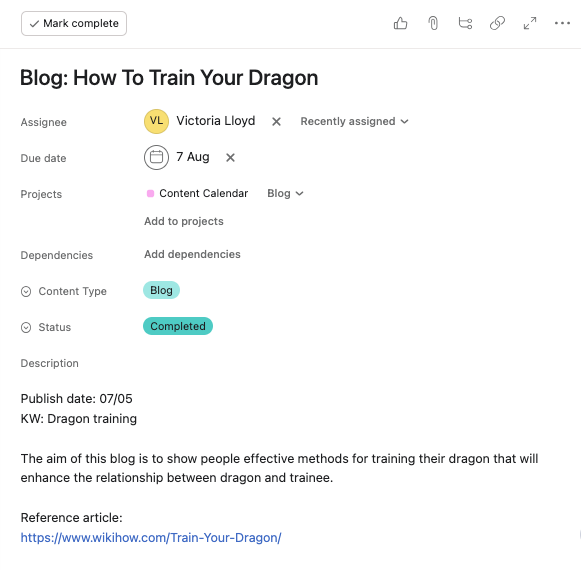 Assign Tasks
If you're working with a team, you can assign each task to a team member. This way, everyone knows who's responsible for what.
Use Asana's Calendar View
Switch to Asana's Calendar View to see your content schedule in a calendar format. You can easily move tasks around by dragging and dropping them to new dates.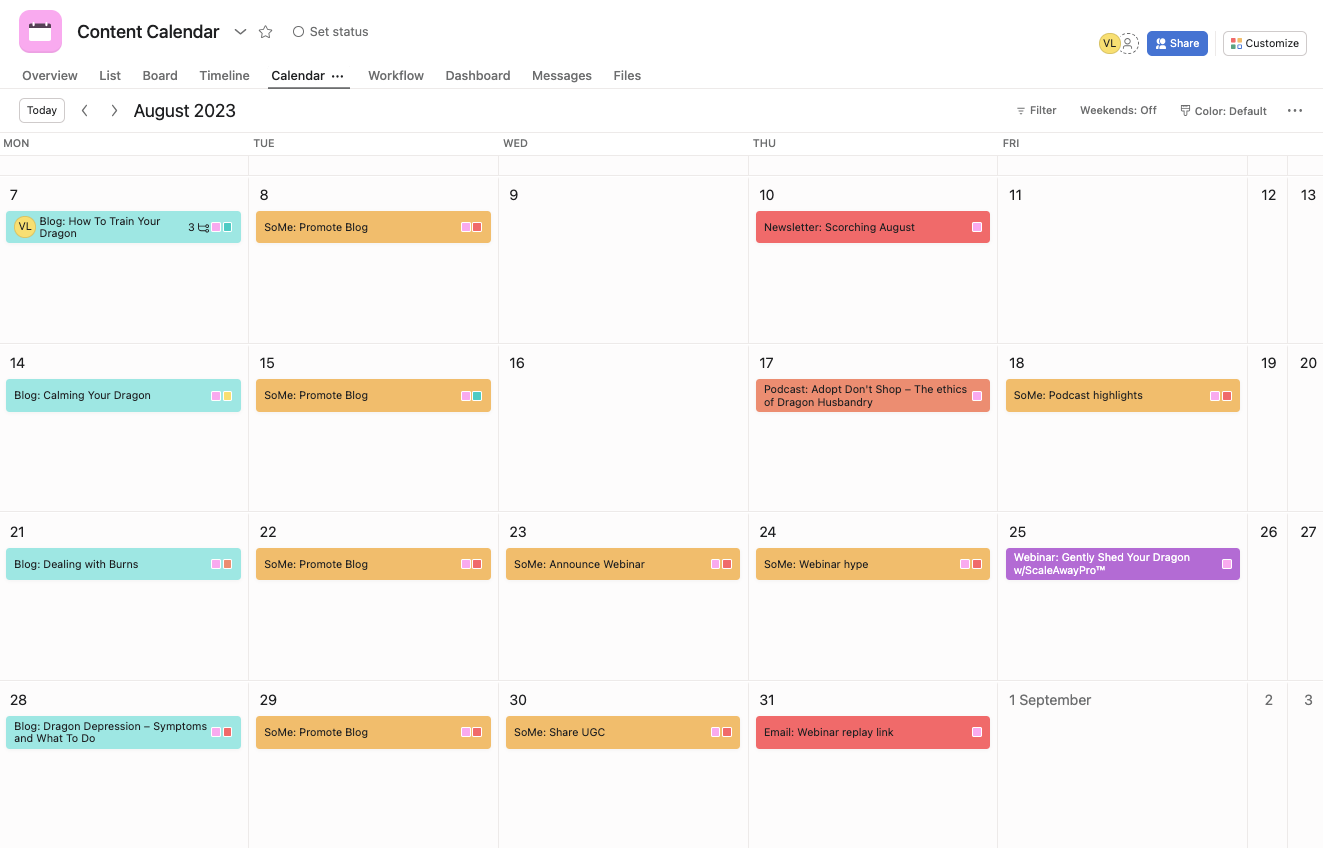 Review and Adjust Your Calendar
Regularly check your Asana content calendar to keep track of upcoming tasks and deadlines, and adjust as necessary.
Summary: Leverage the Power of a Well-Planned Content Calendar
In the fast-paced world of content marketing, a well-structured content calendar can help you:
Simplify your creative process,
Ensure strategic content distribution,
Plan goal-oriented content that's useful for your audience
Deliver content on time, at the right time.
Remember, the key lies in understanding your content marketing goals and knowing your target audience intimately. This knowledge should be the foundation of every content piece you craft.
Also, don't shy away from using modern tools and technologies.
AI-powered tools like ChatGPT can give your content generation process a creative edge, while project management platforms like Asana can help keep your content planning organized and efficient.
So now you have all the information you need to get organized, plan your strategy, and start creating focussed, well-planned content that lands with your audience.
Start crafting yours today, and experience the remarkable difference it can make!
Got any tips for creating an effective content calendar you want to share with the MemberMouse community? Leave us a reply in the comment section below.
---
Victoria Lloyd