Introducing Courses for MemberMouse: The New Way To Sell Online Courses With WordPress
Here at MemberMouse, we get dozens of new feature requests each week from our customers.
Some are small, like adding a new color to our default button styles.
Others are major, like creating a Squarespace or Shopify integration (sorry to disappoint you… we're all in on WordPress! 😉).
But out of all the new features you've asked us about, there is ONE that makes it to the top of the list time and time again:
The ability to easily build and sell online courses to your members.
That's why we are so excited to announce the launch of Courses for MemberMouse.
It's a brand-new extension for our platform that allows you to quickly and easily create, design, and sell online courses without the need for a third-party Learning Management System (LMS).
Yep! That means no more duct-taping plugins together and praying to the Zapier gods that your integration holds up.
Now you can combine the functionality and flexibility of MemberMouse's content protection, checkout and upsell features directly with course creation and delivery all in one concise interface.
Courses for MemberMouse comes with all the features you need to create a course your students will love. That includes:
A easy-to-use drag & drop course builder
An elegant LMS theme that automatically styles your course
Quizzes and Certificates that support engagement and completion
Powerful course protection and sales settings
And much more!
In this article, we'll share everything you need to know about this groundbreaking extension.
Let's dive in.
The Explosion of Online Learning
There's no question that online learning has exploded in popularity over the past few years. This is especially true for online entrepreneurs who run membership sites.
In fact, a survey conducted with 2,300 membership site owners in 2022 revealed that almost 70% offered online courses as a core component of their membership.
Until now, you would've required a third-party LMS or some custom coding to offer courses inside your membership site. While there is nothing wrong with using a third-party LMS, it can often add an extra layer of complexity to your tech stack (read: more chances for things to break 😅)
But now, with Courses for MemberMouse, you can do all of this with the membership plugin you already know and love.
Build Your Courses Visually With A Drag & Drop Designer
One of the best things about Courses for MemberMouse is that you can build your courses visually with a drag and drop builder. The magic happens inside the Curriculum tab where you can create course modules and lessons.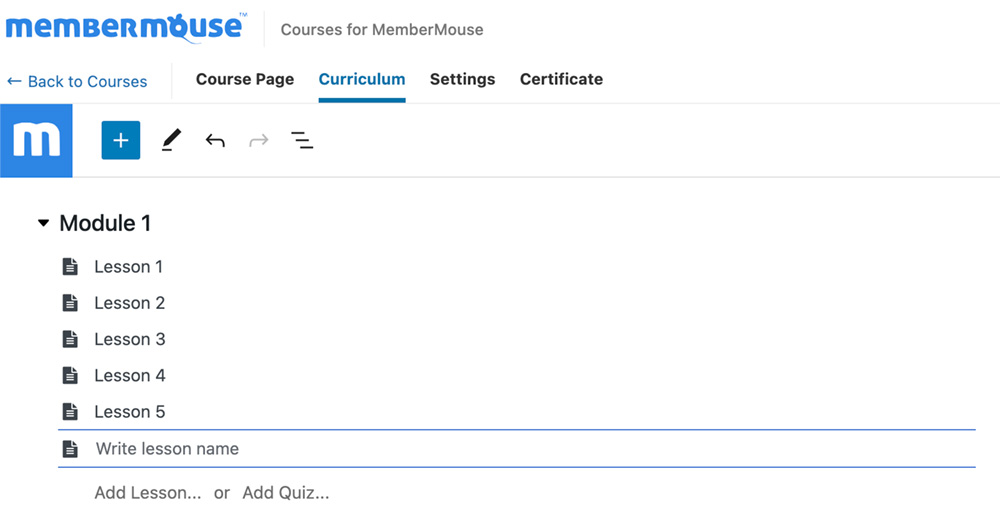 Adding a new module or lesson to your course is as easy as typing Lesson 1 and hitting enter. From there, you can edit your course lesson in the same way you create a blog post.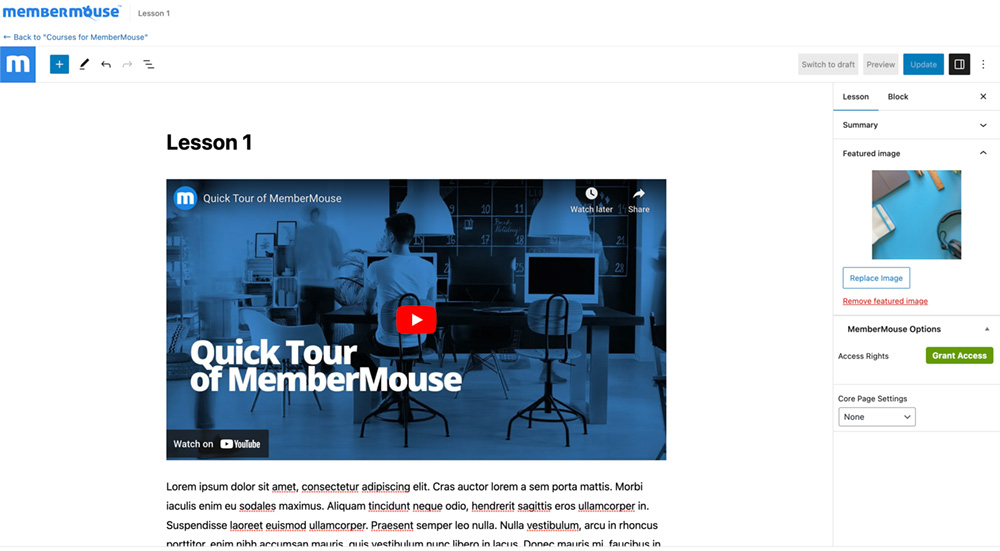 You can add videos, text, images, and downloadable materials, as well as copy lessons and quizzes from other courses. All of this can be done within the Courses menu tab, there is no need to worry about creating or managing pages, subpages and custom post types.
We'll cheers to that! 🥂
On top of that, Courses for MemberMouse comes with a nifty design feature called "Classroom Mode." This is a default styling tool that makes it easier than ever for you to design a visually appealing course area for your members. That means no more fiddling around with page builders, desperately trying to get your lessons and modules to look the way you want.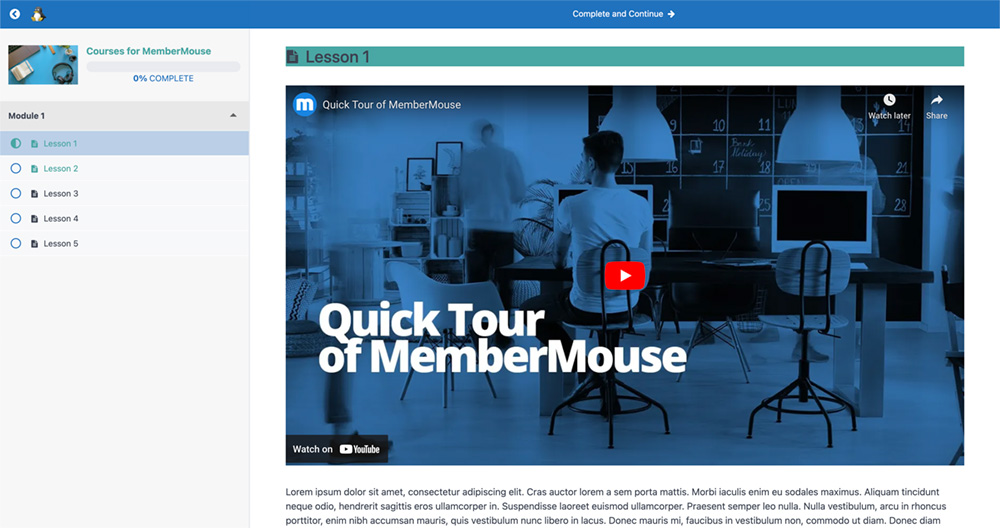 Classroom Mode comes with prompts to go to the next or previous lesson (you can place those at the top or bottom of the page, or both), customize delivery pages where you can set your brand colors, logo and featured images.
Since Classroom Mode is an LMS theme, it'll automatically convert your content into visually appealing lessons that are designed to create a great experience for your members.
That said, if you'd rather take full control of the look and feel of your online course (we applaud your bravery and ambition, you can always turn off Classroom Mode. This will allow your course to be styled by your theme. You'll get all the details about how to do this later in this article.
Back To School! Add Quizzes & Create Certificates
Another exciting element of the Courses for MemberMouse extension is the ability to add quizzes and create certificates. Including quizzes at the end of your lessons is a wonderful way to keep your students engaged and on track.
And by offering a certificate of completion, you give your members something to work towards. Memberships that strategically include elements of gamification are often more successful than those that don't.
For more information about that, check out this podcast we recorded with a membership gamification expert.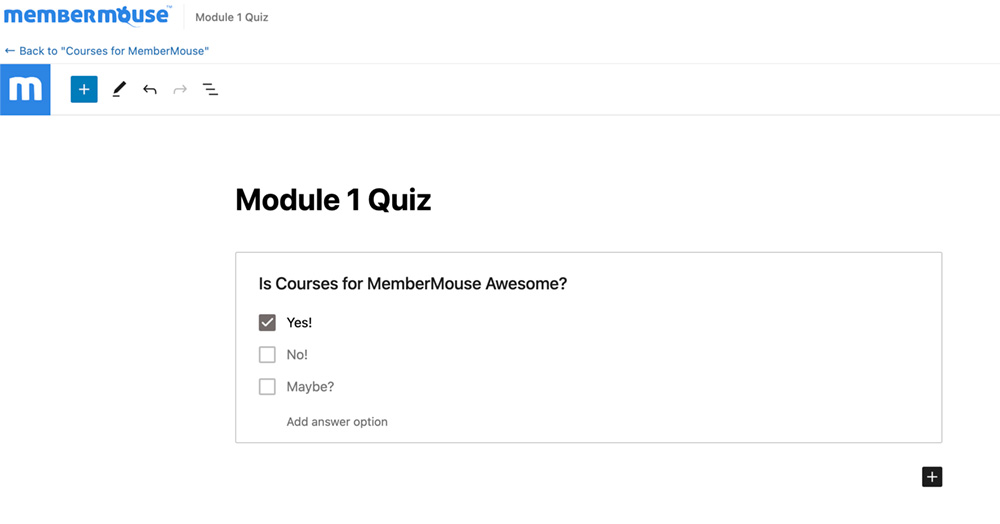 Quizzes and Certificates are available to everyone on the MemberMouse Pro Plan (or above). You can create quizzes with true/false, multiple choice, multiple selection, short answer, or long essay questions.
Points can be assigned to each question, wrong answer corrections can be shown, and you can choose to make the quiz completion mandatory before moving on to the next lesson. It's just a matter of deciding how strict a teacher you want to be 😜.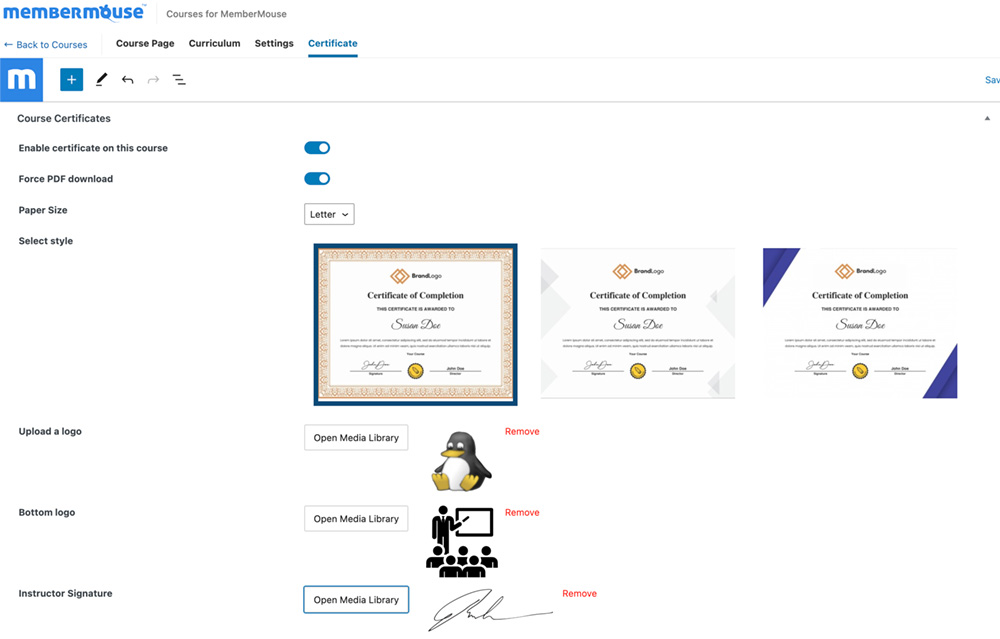 Certificates are just as straightforward to create. There is a separate Certificates menu tab. From there you can choose the certificate style and size, add top and bottom logos, give the certificate a title and footer message, add the instructor's name, title, and signature.
Create Momentum With Built-In Progress Tracking
But wait… there's more!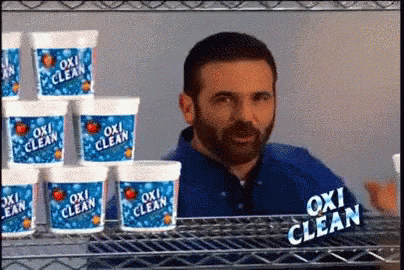 One of our favorite things about Courses for MemberMouse is that it comes with built-in progress tracking features. That means your students can see and track their progress through your courses on the My Account page as well as inside the course sidebar itself.
All of their courses will be listed there as well as the percentage complete. Scores on quizzes that have been taken as well as any certificates earned also display here.
Plus, as an admin, you can track the progress of your students inside the Courses menu by viewing the Participants column or through choosing a specific user from the Users menu.
How To Protect & Sell Your Courses
By now, you're probably wondering how you can protect and sell your online course with this new extension.
Here's the good news:
Protecting your courses with MemberMouse works in exactly the same way you're already used to.
You can:
1. Grant access to courses through the same membership and bundle MemberMouse functionality as other content on your site. MemberMouse's Grant Access interface allows you to protect content with two clicks.
2. Use our Drip Content features with courses, either directly through the Grant Access interface or by using the Drip Content Scheduler. That means you can schedule the release of modules or lessons on specific days. For example, after someone has owned your course for one week, you can unlock Module 2. Whether you want to tease your students with a taste of what's to come, or create a guided, step-by-step learning journey, you can easily schedule the release of your course modules with our Drip Content Scheduler.
3. Create upsells that display courses on the courses page to members who do not yet have access. These will show as locked and when clicked you can specify the landing page, sales page or checkout page that they'll be redirected to. Take advantage of MemberMouse's ability to show gated content on these sales pages to increase interest and up opt-ins.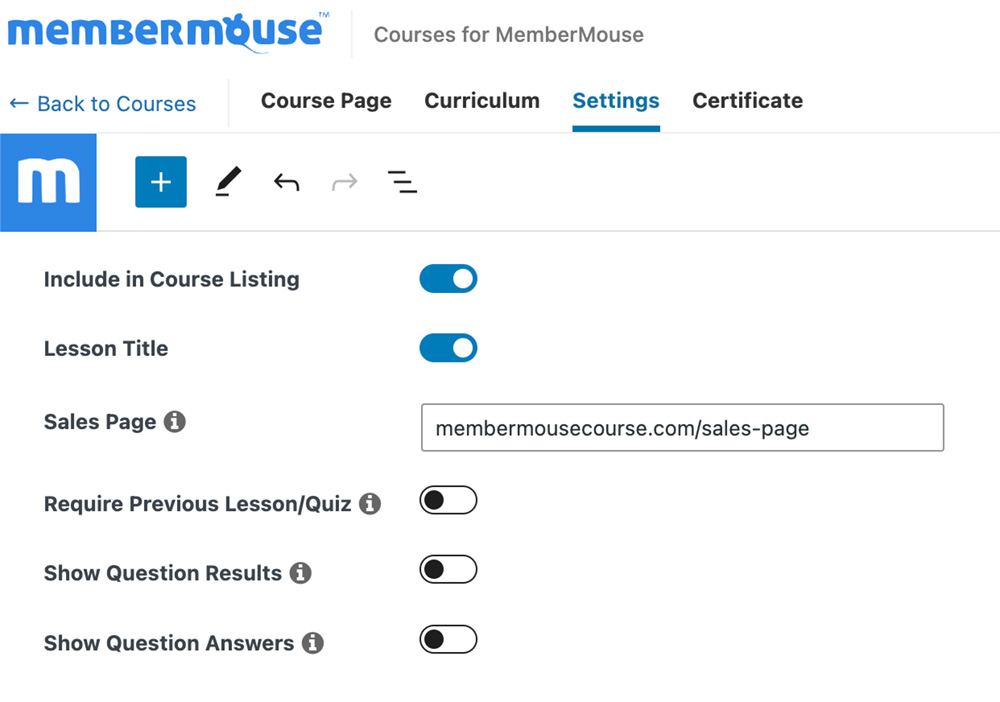 Unleash Your Creativity With Advanced Design Features
So you want to get fancy, eh? We like your style.
By default, the courses you create with MemberMouse will be styled by Classroom Mode (like we discussed above).
That said, we never want to limit your genius or imagination. If you want to fully customize the look and feel of your courses, all you need to do is disable Classroom Mode.
Here's how to do that:
Go to your Courses dashboard
Click Settings
Uncheck the Enable Classroom Mode box
Save your settings
…and voila! You now have full control over the styling of your course area.
Final Thoughts
We hope you are as excited as we are about Courses for MemberMouse. This new extension for our platform makes it easier than ever for you to create and sell courses inside your membership. Building a successful membership business is hard enough. So we hope the addition of this course extension simplifies your life and lightens up your tech stack.
In this article, we've covered the high-level aspects of our new course extension. For all the nuts and bolts about how to set this up on your site, we encourage you to read and review this in-depth article from our support center.
More than that, we hope you'll jump inside Courses for MemberMouse and start playing around with it! We find that it's very intuitive to use. And if you run into any trouble or issues, we're here to support you.
---
Matt Brown
Matt is our enthusiastic Content Manager here at MemberMouse. Originally from Chicago, Matt now resides in the Pacific Northwest with his wife and cat. He loves reading, writing and getting outdoors.
Related content
---