The following article will help you get MemberMouse installed if you have received an error stating:
"This site is not authorized to use the MemberMouse plugin"
What this error means
This error can occur for one of four main reasons :
You have not yet registered your URL with MemberMouse; or

The URL you've registered with MemberMouse does not exactly match the WordPress URL of your site; or

You are attempting to install MemberMouse on a secondary staging site and have not requested a staging license from us; or

There is something blocking communication between the MemberMouse plugin on your site and our licensing server.

How to fix it
For Issues #1, #2, and #3 regarding registering your URL with MemberMouse and requesting a staging license, please follow the links provided above to find the next steps in all of those processes.
If you have confirmed that your URL is properly registered with us, then the next step would be to check whether your server is blocking outgoing requests to our server. This is essential for MemberMouse to verify your license and allow for activation to occur.
The simplest way to assess whether this is the problem for you is to install and use a plugin we created – MemberMouse cURL Test – specifically for the purpose of verifying that outgoing communication is occurring.
If there is outgoing communication, the plugin diagnostic will return a page full of multiple lines of queries and data that has been passed. It would look something like this: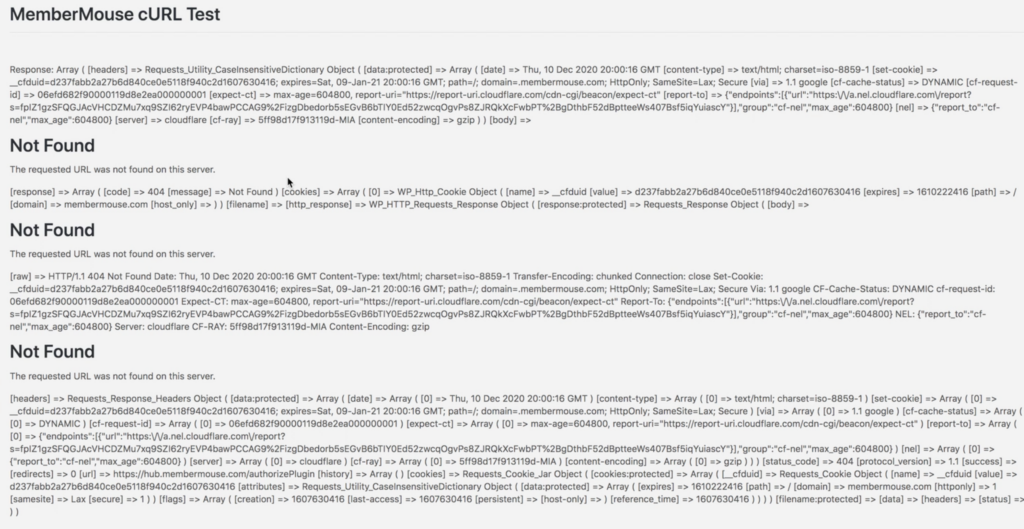 If there is something blocking outgoing communication, the plugin diagnostic will return a single line stating that there is a block. The error message may be something different but it would look something like this:

If you receive this result, then you would need to make sure that your server is cleared to send outgoing requests to https://hub.membermouse.com . This may involve working with your hosting provider to review your settings in the wp-config.php file or reviewing any security plugins that you have installed on your site.
Important: Please be sure to deactivate and uninstall the diagnostics plugin when complete.
Still Having Problems?
If after properly registering your URL and verifying the outgoing communication from your server to our server, you are unable to resolve the issue, please submit a support ticket and provide us with the following:
A description of the issue you're experiencing.

Steps to take to recreate the issue.

The website URL where MemberMouse is installed.

WordPress administrator credentials. You can do this easily by creating an employee account for our support team.