A learning management system (LMS) is a type of software that handles the management, documentation, tracking, reporting, and delivery of electronic educational technology. This includes e-learning courses and training programs.
Courses for MemberMouse extension
While some LMS plugins will work with MemberMouse, as of version 2.4.3, MemberMouse now comes with its own LMS called the Courses for MemberMouse extension. It is a simple yet powerful tool that adds functionality to MemberMouse so you can allow your members to access free or paid courses. The Plus Plan comes with all the bells and whistles, including quizzes and PDF certificates for the successful completion of a course.
Learn more about the Courses for MemberMouse extension here.
PRO TIP – Many websites powered by LMS enable customers to purchase courses individually rather than as a package deal. As a result, it's important to become familiar with how to use MemberMouse bundles, which differ from membership levels. Bundles enable customers to purchase multiple distinct courses and keep them active simultaneously.
Besides the few listed below, there are other LMS's available to use. As long as the LMS you want uses a custom post type (which most do), using MemberMouse alongside your LMS of choice should not be an issue. Here is more info on protecting custom post types.
Popular Learning Management Systems that customers have used alongside MemberMouse successfully:
LearnDash
Though LearnDash and MemberMouse have not worked on an integration, they are both built using WordPress best practices, and therefore work together straight out-of-the-box!
In order to protect courses in LearnDash, you simply click on the Course you would like to protect, and then use the same "Grant Access" feature you would see on any other WordPress Page or Post when using MemberMouse.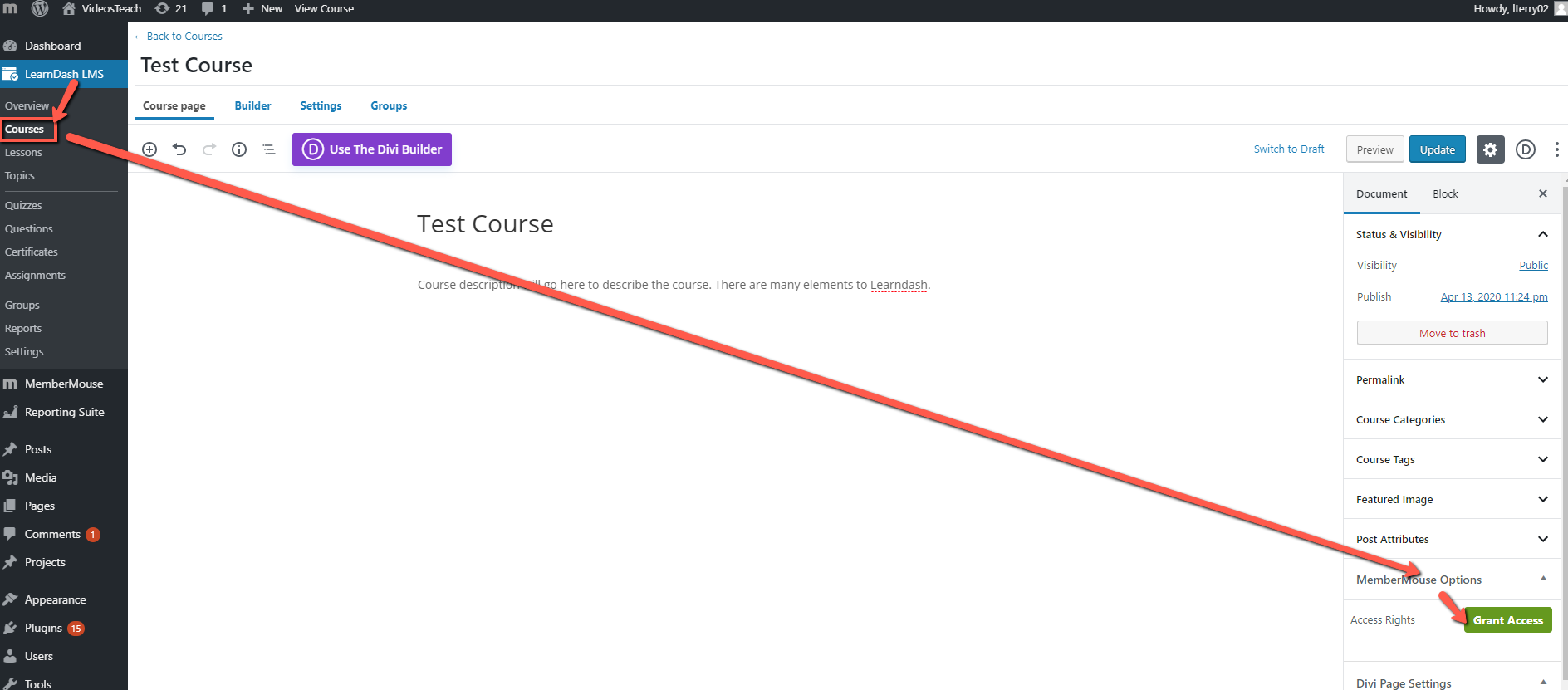 You can read more about how to use this MemberMouse functionality here: Protect and Schedule Content With MemberMouse.
WP Courseware
https://flyplugins.com/wp-courseware/
WP Courseware has developed a plugin that integrates their software with MemberMouse. You can download their plugin here: https://wordpress.org/plugins/membermouse-addon-for-wp-courseware/
And this article goes into detail on how to integrate MemberMouse and WP Courseware.
Thrive Apprentice
https://thrivethemes.com/apprentice/
Thrive Apprentice also has a direct integration with MemberMouse. Here is an article on Using Apprentice with MemberMouse