MM Version 2.4.0+:  By default, MemberMouse now comes out of the box with this option disabled. While the Preview Settings bar is set to hidden, the admin will be able to view protected content on all pages without the need to choose a membership level or bundle. You can enable and disable the Preview Settings Bar by navigating to General Settings > Other Settings > Preview Settings Bar Options. Learn more about enabling, or disabling the Preview Settings Bar here.
Once you have enabled the Preview Settings Bar, when you're logged in as an administrator and go to view your site, you'll notice an MM Preview Settings bar at the bottom of the screen. The preview settings bar allows you to easily view your site as if you were a member with different access rights and at different places in a drip content schedule.



All membership levels and bundles that you've created in your system, and that are currently being used to protect at least one piece of content, will be available here. Membership levels and bundles that protect posts by category are also included.
Just select the membership level you want from the drop down, any bundles you want to be applied, select the day of the drip content schedule you want to be at, and click the Save button to apply the changes. As you navigate your site, access will be granted, and content will be displayed to you as if you were a member with those access rights.
PRO TIP: Sometimes, it can also be useful to preview your site with a test account either in a different branded browser (Firefox, Chrome, etc.) or in a Private/Incognito browser window. Most newer browser versions have these options, and it will allow you to see exactly what your customer sees or what a non-member sees without exiting your admin dashboard.
Choose a Membership Level
Select a membership level from the membership level drop down to indicate which membership level you want to preview the site as, and click the Save button. Selecting the Non-Members option will allow you to preview your site as a visitor who's not logged in.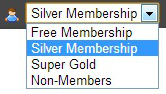 Selecting Non-Members will display the page as if it were being viewed by a non-logged-in visitor. SmartTags™ that would be displayed to non-logged-in visitors will be displayed, for example, MM_Member_Decision isMember='false' will display the content within the SmartTags™ when Non-Members is selected here.
Apply Bundles
If you have created a bundle in your system and you've used that bundle to protect content then you'll be able to apply it in your preview settings.

Click the Bundles icon to display a list of available bundles.


Choose the bundle in the drop down. You can select multiple bundles on a PC by holding down the ctrl key or on a Mac by holding down the (Command) key and clicking on individual bundles.


Click the Save button to apply the changes.


Change the Position in the Drip Content Schedule
To preview how your site will look at different points during a drip content schedule, you can specify the day in the schedule you want to preview the site on.

Next to the 'calendar' icon, just select a day from the drop down. The numbers in the drop down will only include those days in a schedule when available content changes for a member. For example, if a member gets access to something on day 0 and then doesn't get additional access until day 7, the drop down will only contain the numbers 0 and 7.
Have Problems With the Preview Settings Bar?
If you are seeing your error page while visiting your pages and your Preview Settings Bar is active, please see this article to help resolve that: When Logged in as an Administrator I'm Seeing an Error Page
In cases where Advanced Content Protection methods are being used, then MemberMouse will choose to show one view of the page.
In some cases, we have found that some themes can interfere with the display or functionality of the Preview Settings Bar. If you find unexpected behavior while trying to use the Preview Settings Bar, please contact support so we can diagnose the issue for you at [email protected].