How To Build Quizzes That Engage & Educate Your Students
As an educator, you want to do whatever you can to help your students remember the information you've taught them. Quizzes can help you do this.
Adding a quiz to your online course is a fantastic way to create an interactive and exciting learning environment. On top of that, quizzes are very effective in keeping your students engaged from start to finish, encouraging the completion of your course. Plus, quizzes can help your students actively apply what they've learned from your course and reinforce their understanding.
Quizzes also give you a golden opportunity to review your students' results and assess their learning progress. This can give you valuable insight into all of your students' performance. With this data in hand, you can shift your teaching approach, fill in gaps with new content, or double down on what's working!
These are just a few of the reasons we were thrilled to launch Courses for MemberMouse last month. With its release came a full-featured quiz builder that you can use to boost engagement, measure learning, and evaluate the success of your courses and programs.
In this article, we'll share everything you need to know to create engaging quizzes for your students. And the best part? It's super easy and quick to create these quizzes on your site.
Let's dive in!
How to Build Engaging Quizzes for Your Students & Members
Here's a look at all the specifics of our new quiz features.
You can follow this start-to-finish process to build an engaging quiz for your students.
Create a Quiz in Courses for MemberMouse
The first step in creating an engaging quiz for your online course is to head to the Curriculum tab in your Courses for MemberMouse dashboard. From there, you can create a quiz anywhere within the sections of your course.
What's great is that you can create quizzes after each lesson. Or, you can add a quiz to test your students at the end of a module. At the bottom of each section in your course, you'll see the option to add a quiz. Simply click the Add Quiz link and you're off to the races.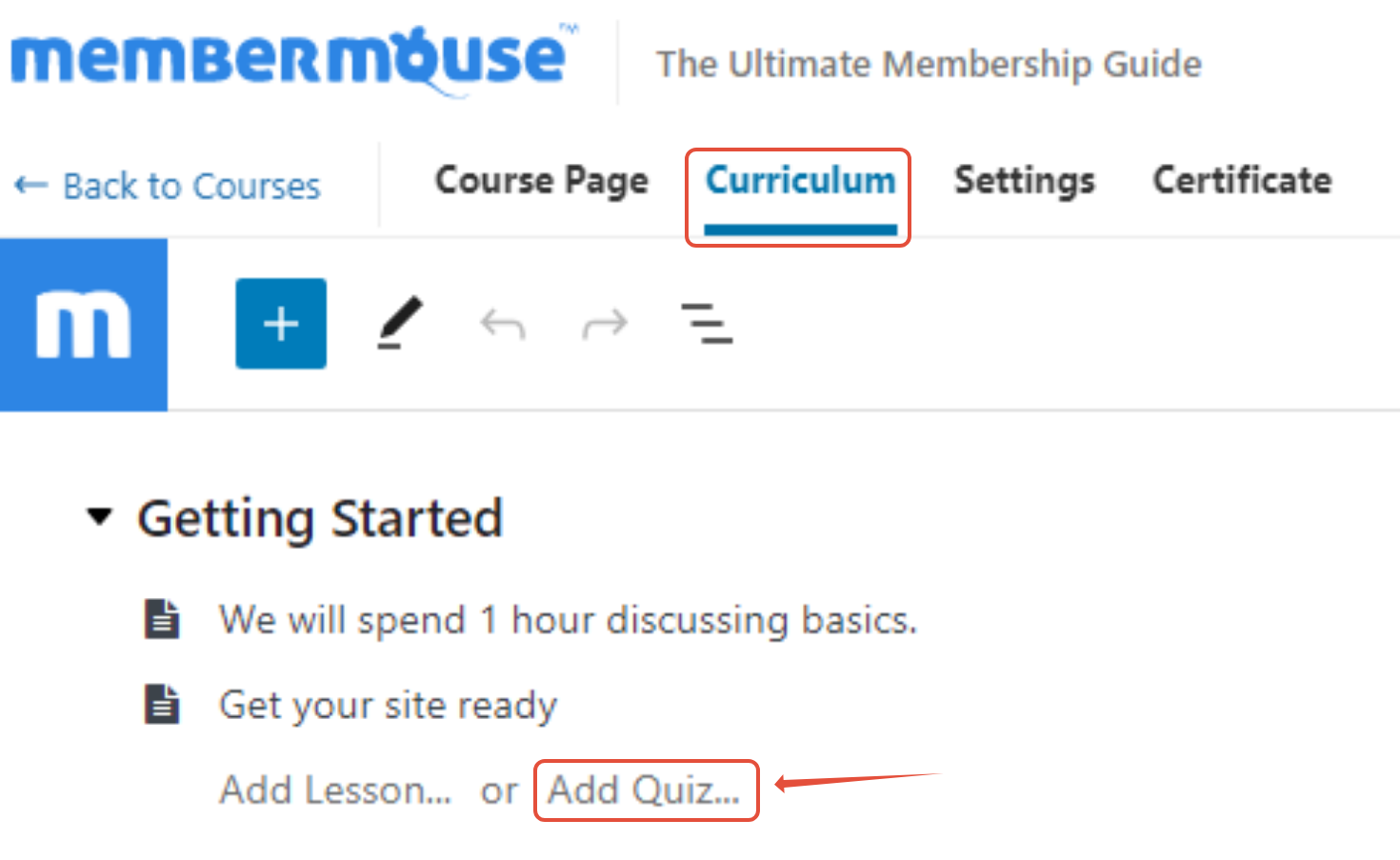 Next, add a name for your quiz. Then, hit the edit icon so that you can start building your quiz. As you start to build and customize your quiz, you'll need to use several types of pre-built blocks within the Quizzes editor.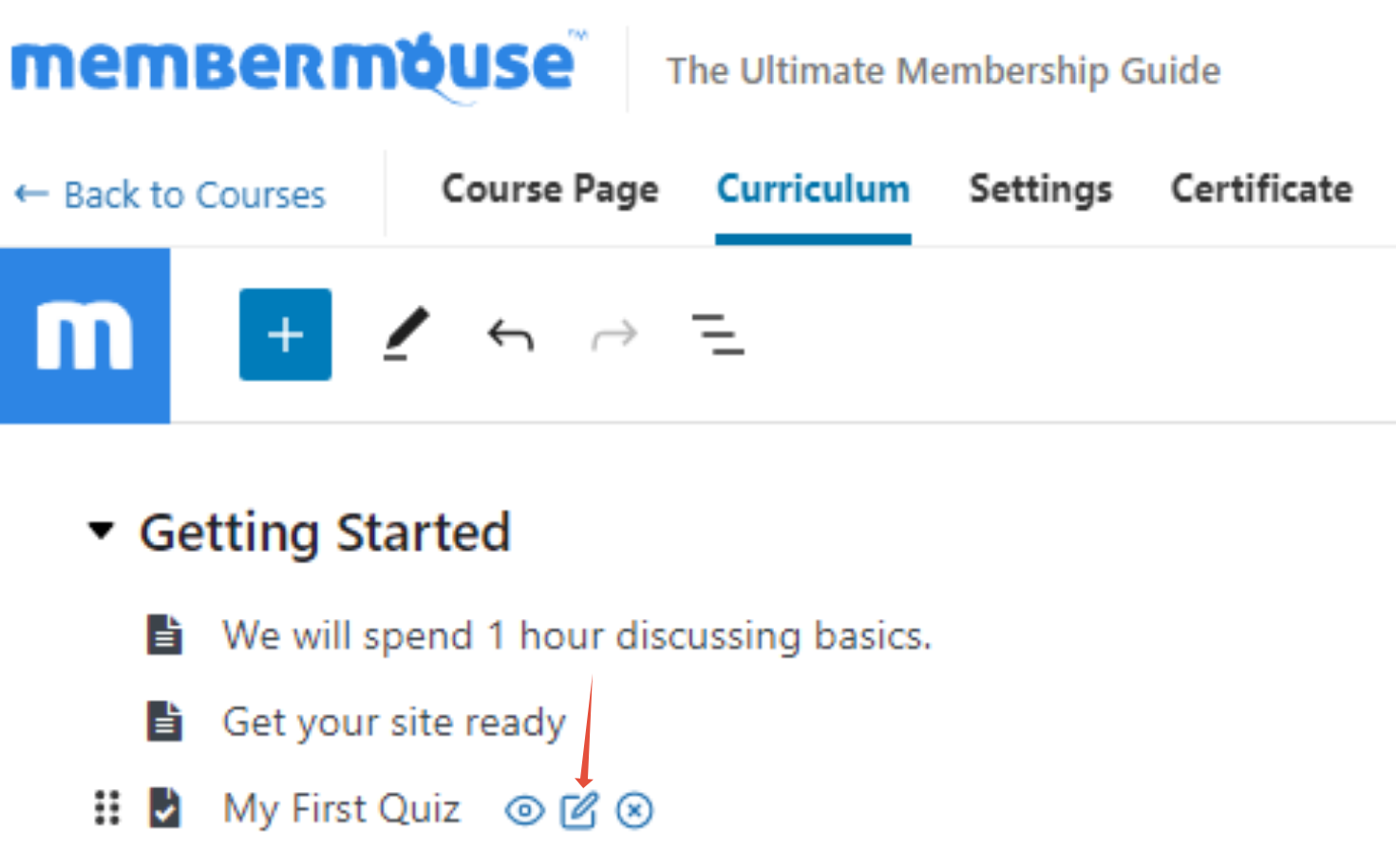 To find these blocks, click on the + icon at the top left of the screen. From here, you have full control over the elements you include in your quiz.
Let's take a look at those now.
Ask Your Questions in 5 Different Ways
With the features you get with Courses for MemberMouse, you can quiz your students in 5 unique ways:
1. Multiple Choice Questions: Where one answer among several is correct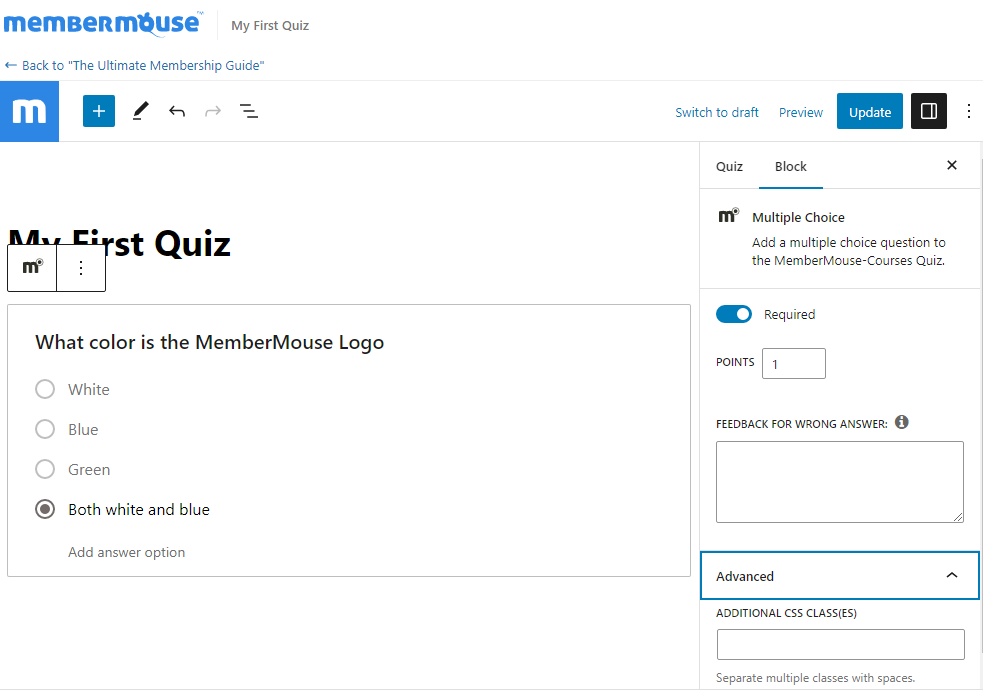 With the multiple choice option, you can write a question, add as many answers as you like, and define a single correct response.
2. Multiple Answer Questions: Where a student can choose multiple answers

This option is perfect for when you want to ask your students a question that has multiple correct answers.
3. True or False Questions: We think this one is basically self-explanatory 😉

This question block is pretty straightforward. With this option, you can create true or false questions. As in the options above, you'll need to indicate whether the "true" or "false" response is correct.
These questions are great for keeping your students on their toes!
4. Short Answer Questions: Let your students write a short response

What if you want to go beyond multiple choice and true/false questions? We've got good news for you: these next two question formats are designed to get in-depth responses from you students.
With the short answer block, you can write a question or prompt. From there, your student is given a field where they can provide a short written response. This option is ideal for questions that might require a response in the form of a few words or sentences.
If you want your students to give an even more detailed response, our final question block might be the best choice for you.
5. Essay Questions: Where students can submit long form responses

With this question block, you can also write a question or prompt for your students. From there, you can indicate a minimum and maximum word count for the response.
This block works in a similar way to the short answer block. Your student is given a field where they can type out their response. If your student skimps on their word count (or gets a little too long winded), an alert will display for them.
Choose to Weight Questions Based on Their Complexity
One of our favorite quiz features is the ability to weigh questions based on their complexity. For example, a correct answer to a short answer or essay question can be worth more points than a response to a multiple choice or true/false question.
To do this, all you need to do is customize the points field in the quiz question block: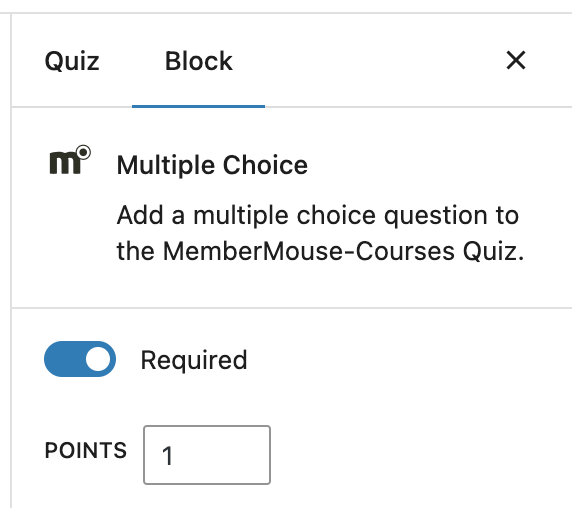 You can also decide if a question is required or not by clicking the toggle above the points field.
Reveal Correct Answers & Feedback Instantly
As you create the questions for your quiz, you'll need to define the correct answer for each specific question. It's super easy to accomplish this, all you need to do is check the box of the correct answer.
For multiple choice questions, there can only be one correct answer.
For multiple answer questions, you can define as many correct answers as you like.
And for true/false questions, it'll either be true or false!
Important note:
Defining a correct answer only works for the above three question types.
For short answer and essay questions, you or someone on your team will need to manual review your students' responses.
One more thing:
Not only can you define a correct answer, but you can also choose to provide feedback on incorrect responses. To do this, simple add feedback into the Feedback for Wrong Answer field: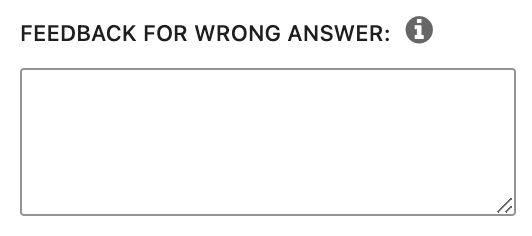 If you add information here, it'll display to your students if they answer a question incorrectly.
Help students stay on track with frequent, shorter quizzes
As we mentioned earlier, including quizzes with your courses is a great way to keep your students engaged, cement learning, and encourage the completion of your material. For more information about the power of quizzes and gamification, check out this podcast interview with membership site gamification expert Esai Arasi.
One strategy you can employ to boost engagement is to include a number of shorter quizzes at the end of each lesson. You can choose to make each quiz mandatory so that a student must complete it before moving onto the next module. Or, you can choose to give extra credit to students who complete all the quizzes. How you choose to incentivize the completion of these extra credit quizzes is up to you!
Wrapping Up
If you can't tell, we're very excited about these new quiz features. After reading this article, we hope you are as well!
All of these quiz features are part of Courses for MemberMouse and available to all of our customers on the Plus Plan or above.
If you want to explore all the nitty-gritty details about how Quizzes and Courses for MemberMouse work, you can get the full documentation here on our support center.
Now all that's left for you to do is build out a quiz for your students!
If you have any questions or comments for us, feel free to drop us a line below. We'd love to hear from you.
---
Matt Brown
Matt is our enthusiastic Content Manager here at MemberMouse. Originally from Chicago, Matt now resides in the Pacific Northwest with his wife and cat. He loves reading, writing and getting outdoors.
Related content
---