Note: All new plan customers have basic access to Courses for MemberMouse.
– Quizzes and Course Completion Certificates are available to customers on the PLUS plan and higher.
– Legacy plan customers will not have access to courses, quizzes, or certificates unless on a PREMIUM or higher plan.
Getting started
Once you've installed and activated the Courses for MemberMouse extension, you will be able to create Quizzes in any of your existing Courses. Quizzes allow you to enhance your courses and test student comprehension. Not only will this gauge your teaching skills, but also it allows the student to learn about their strengths and weaknesses.
Note: Quizzes are a part of the Courses for MemberMouse extension. If you have not installed the Courses extension yet, please learn how to activate and set it up here first: Getting Started with Courses for MemberMouse
Creating your first quiz
Creating a quiz in an existing lesson is easy! To get started, navigate in the MemberMouse menu to Courses and open the Course that you want to add a Quiz to. Select the Curriculum tab, and there, you should see a list of the Sections you have created while setting up your Course. Within any Section you have created, the option to add a Quiz or Lesson will display there.
Click Add Quiz, then give your Quiz a name in the new field that will appear. Save the page to register the new Quiz.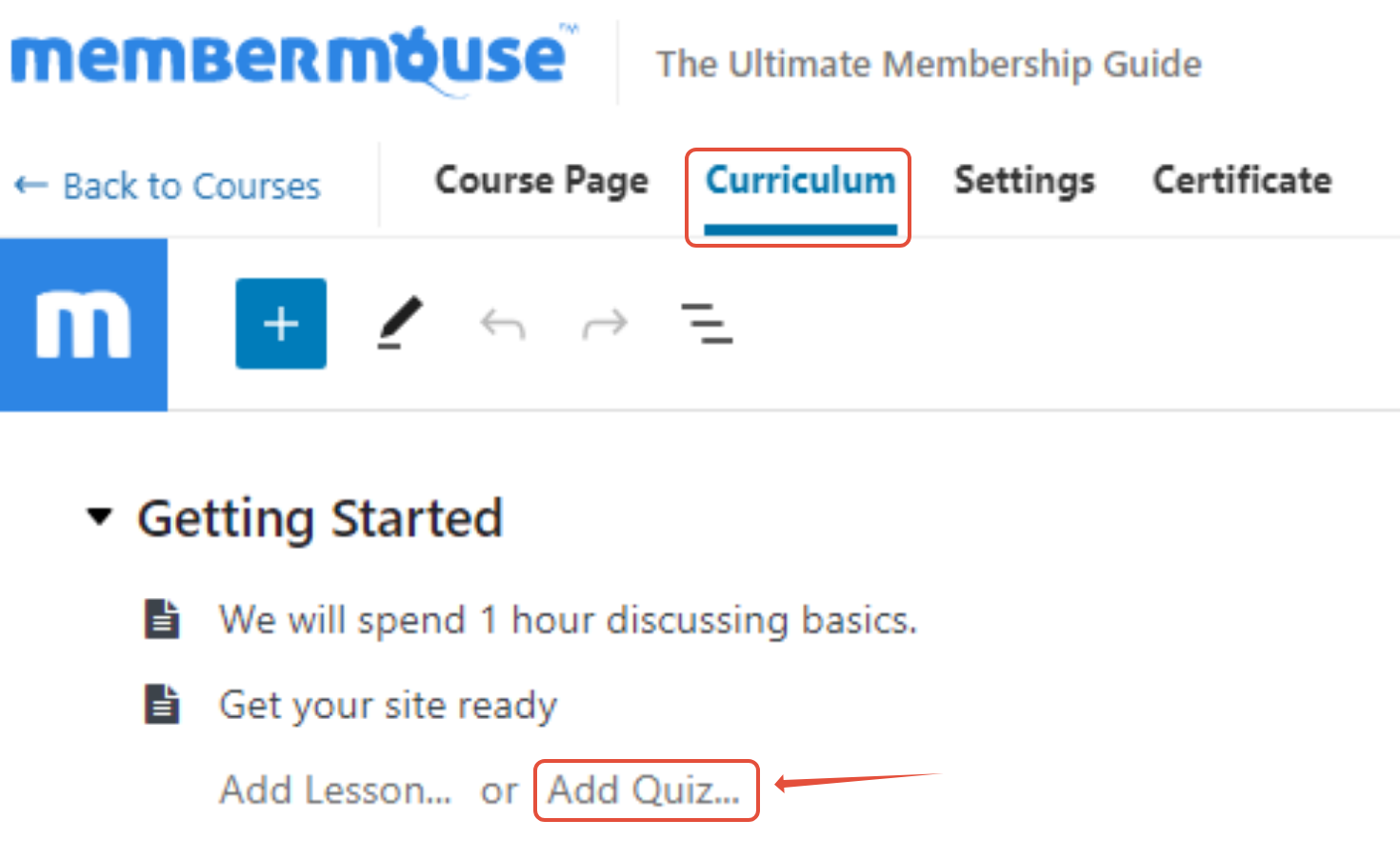 Now that a Quiz has been generated, it can now be edited or viewed, similarly to a WordPress post. Hover your mouse over the Quiz name, and you will see the options to edit and view. Click the Edit icon to begin building your quiz.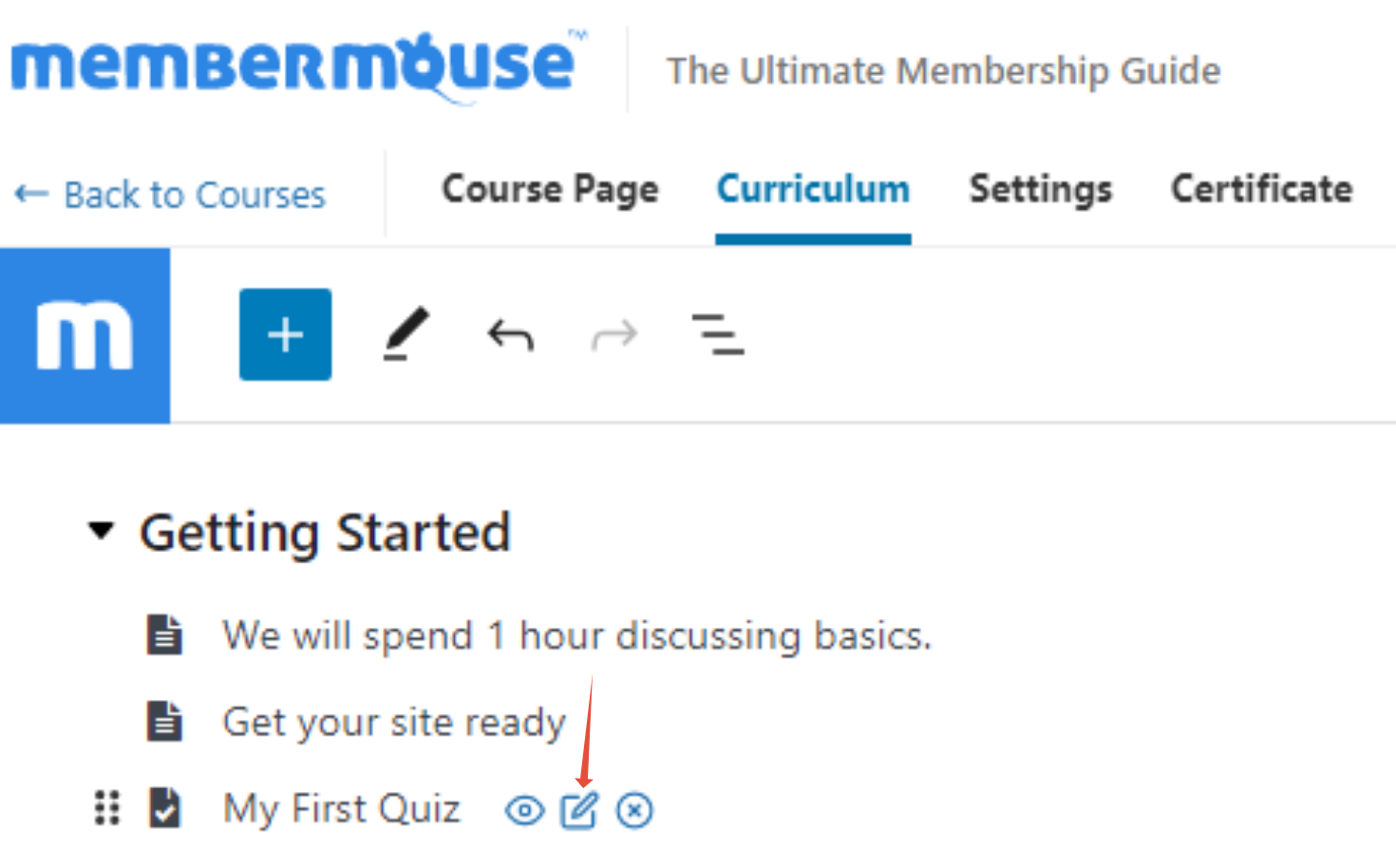 As you build and customize your quiz, you'll use several types of pre-built blocks within the Quizzes editor. To find these blocks, click on the + icon at the top left of the screen.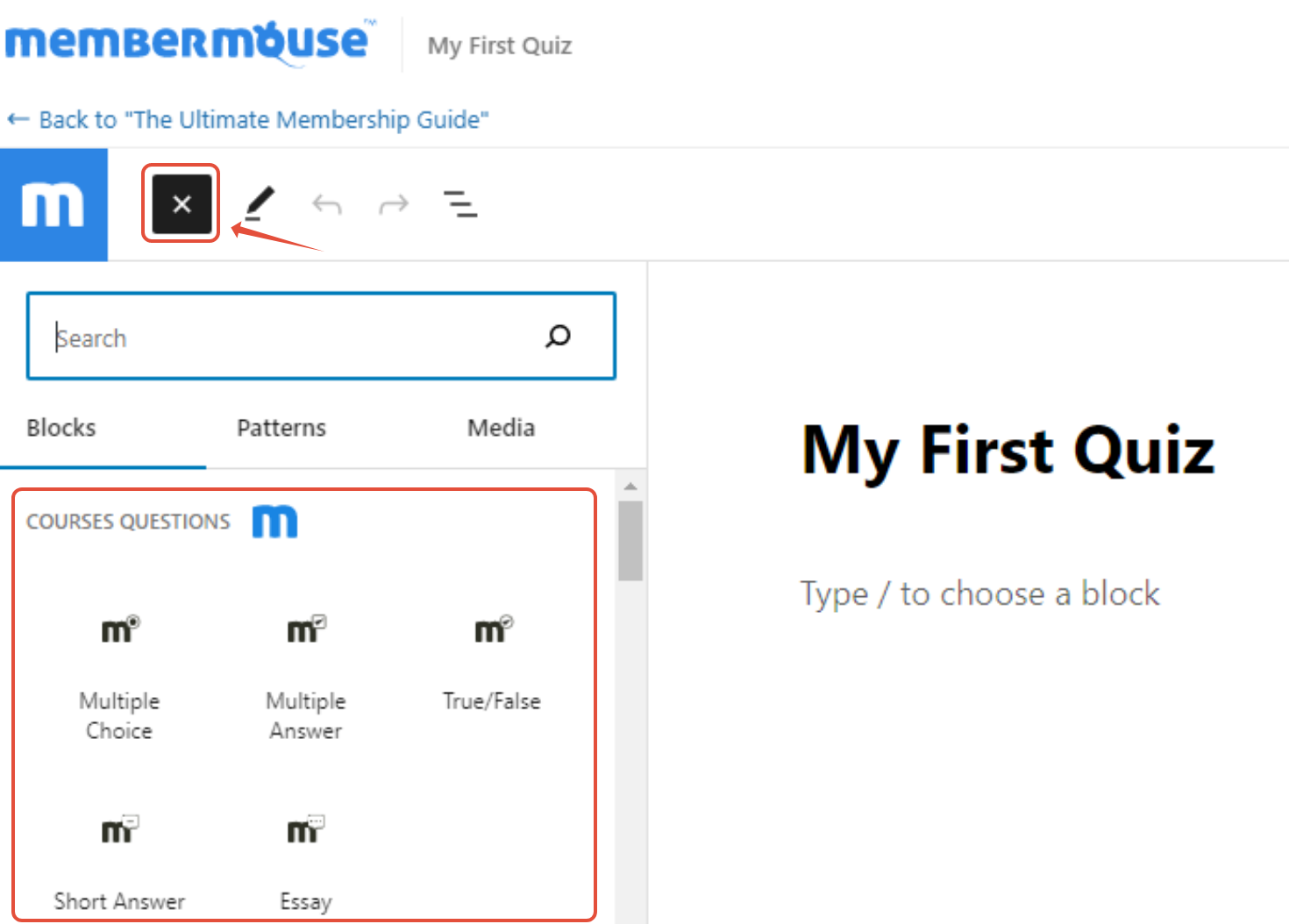 Select a block, and that quiz box will appear in the Quizzes editor. From there, you can edit and customize your quiz questions. Below are details about each block option and how to set them.
Multiple Choice Block
Here, you can write a question, add multiple answer choices, and indicate a single correct answer.
On the right, you'll see where you can label the question as "required", adjust the quiz point count, and add feedback that your students will see if they choose an incorrect answer.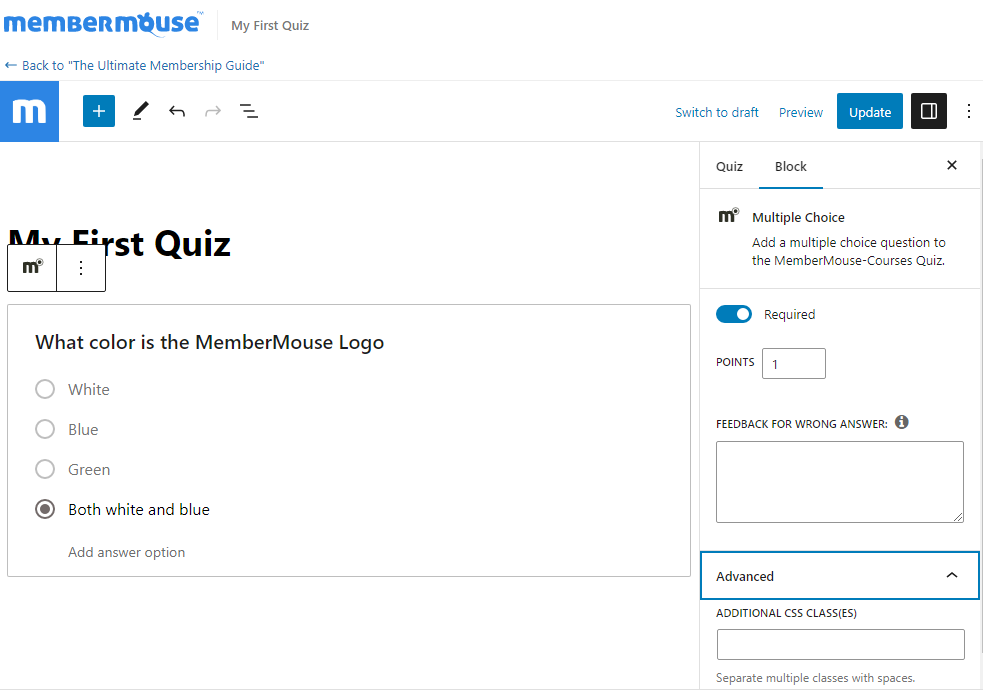 Multiple Answer Question Block
This block allows you to write a question, add multiple answers, and mark multiple correct answers.



True/False Question Block
This block is as straightforward. Write a phrase, then indicate whether "true" or "false" is the correct response.



Short Answer Block
Using the short answer block, you write a question or prompt, and your student is given a field where they can provide a short written answer.



Essay Block
With this block, you write a question or prompt and indicate the minimum/maximum number of characters required. As with the short answer block, your student is shown a field where they can type a response. The student sees an alert if the response is not within the indicated number of characters.



Quiz Completion Rules
In the Quizzes editor, you can set rules for quiz completion. If you set a question as "required" and the student doesn't answer that question, the student will be shown a message informing them that they must answer that question to submit the quiz.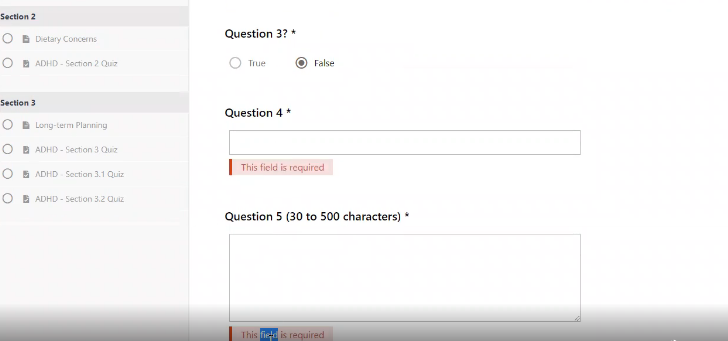 The Required feature, the Points feature, and the Wrong Answer Feedback feature are all available in the Block panel after selecting the block in question.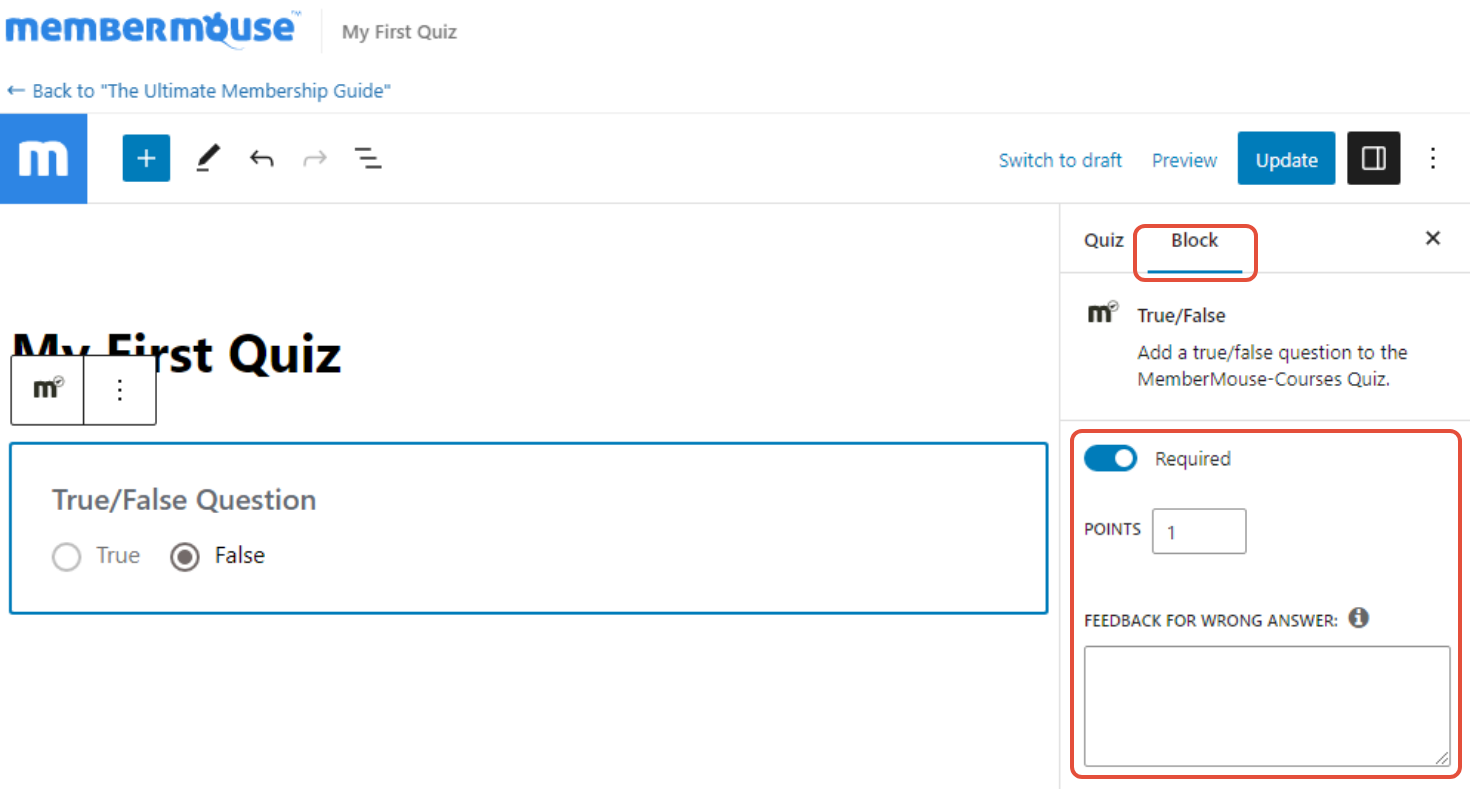 I Can't Edit This Quiz
Once a quiz has been taken at least once, you will no longer be able to edit it without deleting all the student records of those who completed the quiz, which is not advisable in most cases.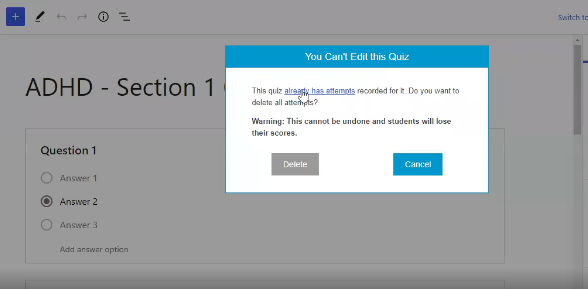 View Quiz Attempts
You can view a student's attempts directly from your quiz. Just hover over the quiz, and check the View Attempts link.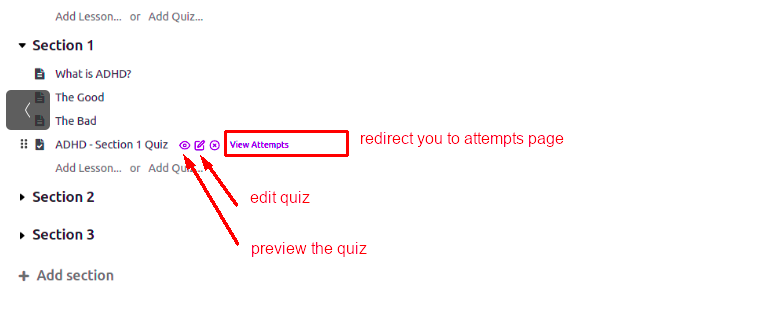 On the View Attempts page, you have options to delete a student's attempts so they can retake the Quiz.



Quizzes settings
You'll find all the settings for Quizzes under the Courses Settings tab. Go to your WordPress dashboard > MemberMouse > Courses. Click on the course where you'd like the quiz to be, and click Settings. You'll see the Quizzes options there: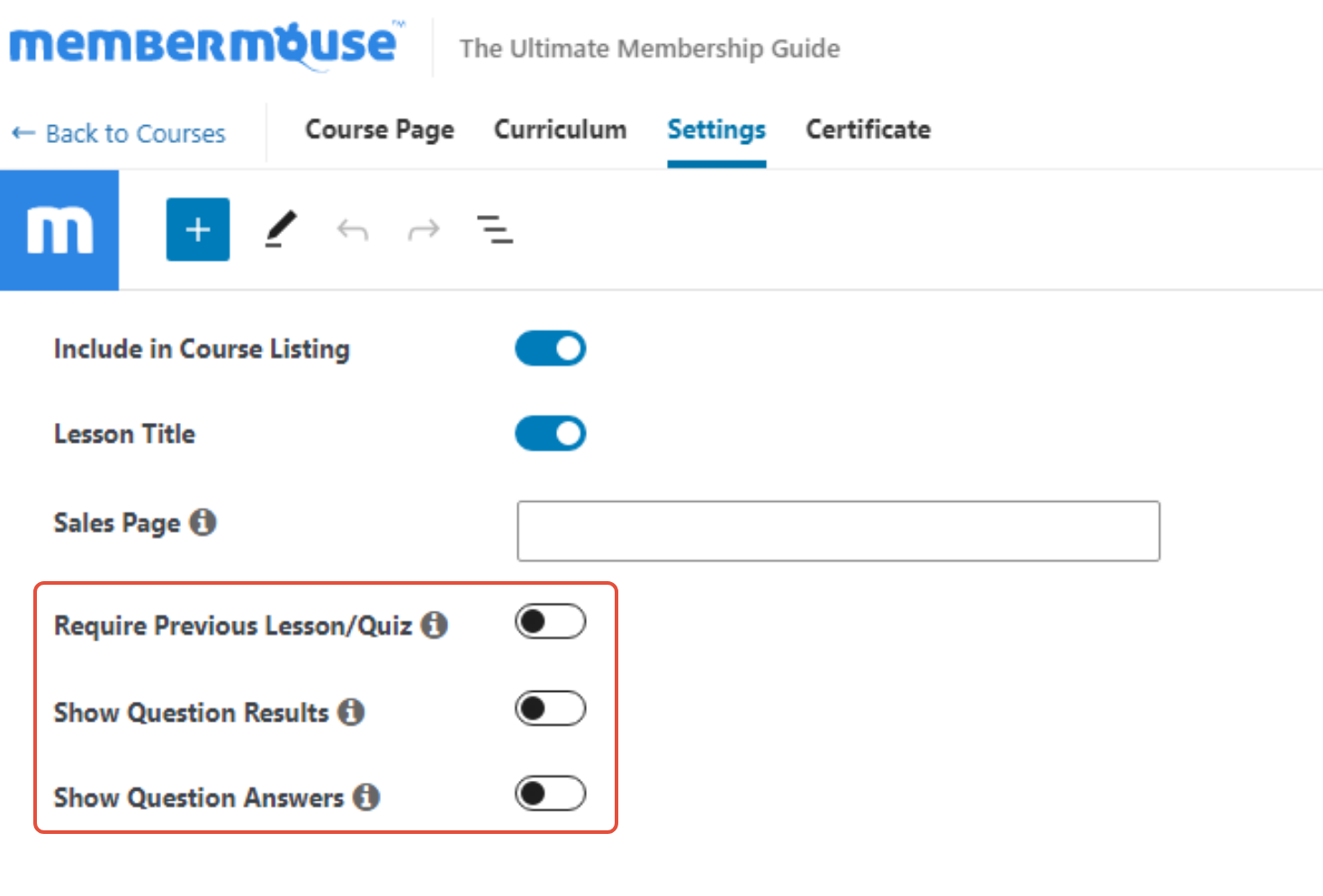 Lesson/Quiz Title
This option controls whether the Lesson and Quiz titles are to be displayed. Titles will be enabled by default. On the other hand, you can hide these titles on all your lessons and quizzes by disabling this option.
Require Previous Lesson/Quiz
Enable this option if you want to require students to complete a previous lesson/quiz before they can gain access to the next lesson/quiz.
Note: The first lesson of a section will require completion of the last lesson/quiz of the previous section.
Show Question Results
Selecting this option will allow students to see whether an answer is correct or incorrect. Disable this option if you don't want students to know which questions they answered correctly.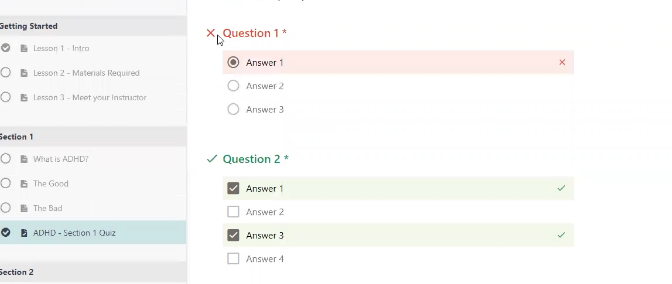 Show Question Answers
Select this option if you want to show students the correct answers after they complete the quiz.