MemberMouse has teamed up with Help Desk Software UserVoice to create a help desk gadget.  Using the MemberMouse gadget allows you to see useful information about your members right from within UserVoice. Just click on any support case within UserVoice and as long as the email address is associated with the a member on your MemberMouse site, their member information will display: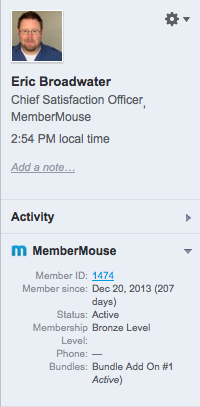 You will likely want to couple this gadget with the MemberMouse/UserVoice Single Sign On Extension, which you can learn about in this article.
To learn more about UserVoice gadgets, visit this page.
Follow the steps below to use the MemberMouse gadget:
Login to your UserVoice admin area


In the upper left is the Settings link. Click that, and then click Integrations.


Once on the Integrations tab of the settings page, click Gadgets:




At the bottom of the screen, click on Add Custom Gadget:




You will need to give your gadget a name, and add your WP site URL (the same URL you use for you MemberMouse license) along with your MemberMouse API credentials (find out how to get those here):




Click Save.

Your MemberMouse gadget should now show up in the right hand window of your UserVoice dashboard.