3 Powerful Features That Help You Save Time & Increase Profit
On a frigid morning back in February, I was asked an interesting question towards the end of my Friday Office Hours session.
After I saw the question pop up in the Zoom Q&A, I sat back in my chair for a brief moment of contemplation.
It got me thinking and helped me reflect on a few points I'd like to share with you today.
Here's the question:
"What is your favorite feature of MemberMouse?"
My favorite features in MemberMouse have always been the ones that help to automate things. It's usually the things that people don't see or even know the value of.
For example, the automated overdue payment processing feature.
The reason I love this feature so much is because I've always been a process person. In my career as a software engineer and architect, I focused a lot on process efficiency. I was usually passionate about working on products that helped to improve processes and make them more efficient. And so, the reason I like all the automation features is because that's exactly what they do.
Here's the thing: a lot of people don't even know about these processes that are going on in the background of MemberMouse. Each one of these automation features was added to the platform for a very specific and strategic reason.
These features either came out of an experience that we had directly (because we use MemberMouse on MemberMouse.com). Or, one of our larger, high-volume clients had a real need for it. The benefit of working with these high-volume clients is that we get a real-world stress test of the system. From there, we can see where things are and aren't working.
And that's not to say that the feature itself wasn't working. It's not that something was broken.
I'm approaching this from a business context. If you're looking to increase the profitability of your business, you have two main options. You can either increase your revenue or decrease your support costs. Many of the automation features built into the core of MemberMouse do both.
Protect Your Time & Collect More Payments
For example, imagine a situation where you have thousands of members using your site. One of the things that is a part of your business is that a percentage of your members' credit cards get declined on recurring subscriptions.
Now, imagine that you had to call each one of your members every time their cards failed. Well, now you'll probably have to find someone, hire someone whose job it is do this. Of course, you'll have to pay the person to do this.
This is all going to increase the amount of time and money you're spending on support. Thus, decreasing your profits. Plus, when you actually call people to update their credit cards on your site, you're essentially chasing someone down to pay you money. This isn't the most fun thing to do and people will usually avoid doing this as much as possible.
This is why the automated overdue payment processing feature is so valuable.
Having this entire process automated in the system can save you untold amounts of time and money. You'll not only capture revenue that may not have been captured otherwise, you'll also significantly reduce the amount of time on your books to actually have to manually go through that process and take care of it.

See payment activity in the transaction log
Here's a closer look at how the automatic overdue payment handling feature works:
When a rebill payment fails, MemberMouse is notified. When this happens, MemberMouse will put the member's access rights into overdue status. This means that they will not be able to access any of the content that's protected by their membership level or bundle.
Whether they have access to pages with your videos or a private community forum, the member won't be able to see any of those things until a successful payment goes through. If you don't want your members to lose access as soon as their accounts go into overdue status, you can even create specific configurations that allow them access even when overdue.
From there, the member will automatically be sent an overdue payment notification. A default notification email is set up when MemberMouse is installed, but it's completely customizable and can be modified to suit your needs. An important component of this email is informing the member that they can update their billing information right from their My Account page. Yes, this means you don't have to manually do it yourself!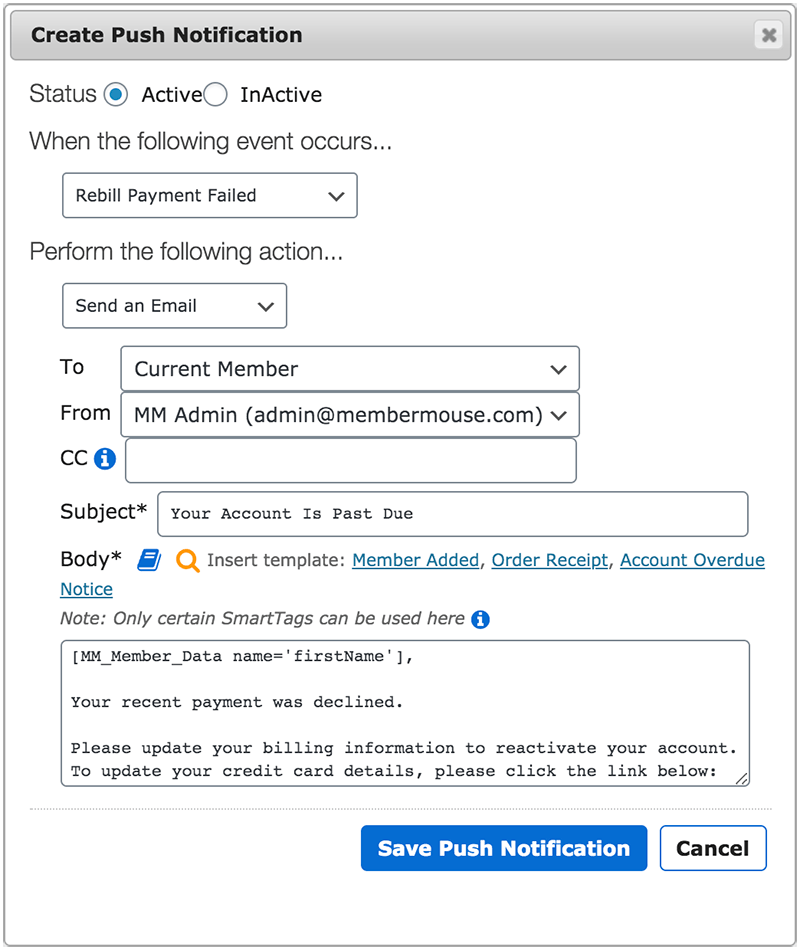 Automatically send an overdue payment reminder
After the member has updated their billing information and been billed for the missed payment, their access rights will automatically be reactivated. As a result, they'll be able to see all of their protected content again.
Depending on the payment method you've integrated with, MemberMouse will automatically attempt to rebill the customer a total of 3 times while in overdue status. The first attempt will occur 2 days after the initial attempt. The second attempt will occur 5 days after the initial attempt. The third attempt will occur 7 days after the initial attempt. If the final rebill attempt fails, MemberMouse will automatically cancel the member's access rights, and they will have to purchase the subscription option again in order to regain access.
If you'd like more detailed information about how this works, you can check out this in-depth article about automated overdue payment handling.
Keep Track Of Everything For Your Members
There are a lot of other features like this — our activity log, for example. The member specific tracking that the activity log makes possible is a really useful tool. It helps you see exactly what somebody has done when they're logged in on your site.
For instance, if one of your customers messages you with questions about something, you can easily look back and see what pages they have accessed, when they logged in, when they were billed, what emails were sent out to them, when those emails were sent, etc.
Having the ability to view these things can be especially helpful in chargeback scenarios. If somebody issues a chargeback for a purchase they made on your site and claim that they never accessed your site, viewed your content, or something like that, you can easily build a report that disproves this.
Again, back to our high-volume clients, they love this feature specifically because chargebacks are one of those things in business that you really have to keep an eye on. If your chargeback rate ticks up when you have more customers, you'll need to have a strategy in place for how you're going to handle those and recapture some of those chargebacks. This is just one reason why the activity log is such a valuable feature.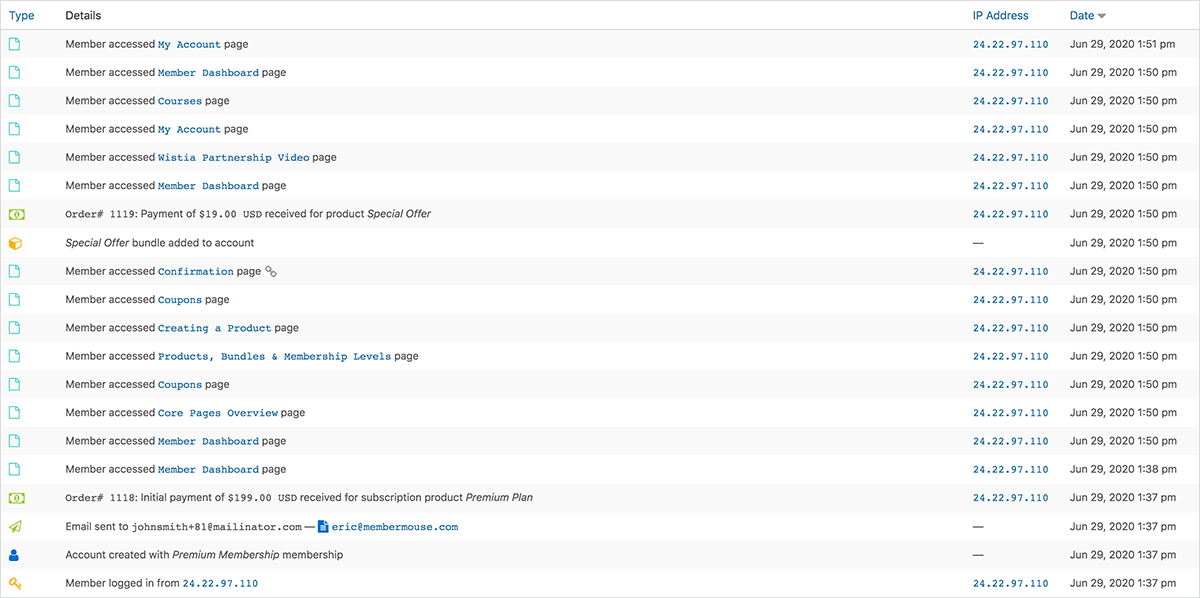 An example of what you'll see in the member activity log
Here's a quick synopsis of how the activity log works:
All of the member related activity that takes place on your site will fall into one of six event types:
Access Rights: these events occurs whenever someone creates an account, cancels their account, or the status of their account changes (paused, pending activation, locked, etc.)
Affiliate Tracking: this event includes any information pertaining to any commission requests, like initial commissions, rebill commissions, or terminated commissions.
Billing: this event type shows you whether a member of yours was successfully or unsuccessfully billed.
Email: these events include all emails that are triggered by MemberMouse, such as welcome emails, push notification emails, and more.
Login: login events are recorded each time a member logs into your site. The email, specific IP, and date are all recorded when a member logs in.
Page Access: each time one of your members accesses a page on your site, the following gets logged: the user email, the page they accessed and any affiliate ID's tied to the link, the IP used to access the page, and the date it was accessed.
All of these different event types help you review your members' activity history and learn more about how they use your site. You can learn more about the activity log here when you're ready.
Here's another thing I love about the activity log: not only can you see it on the individual member level, but you can see it for your entire site as a whole. In the Logs menu, you can see a record of everything that has happened on your site in real time.

An example of what the site-wide activity log looks like
You also have the ability to sort this activity based on the six event types we've defined above. Did you just launch a new module for your course? Check the logs and see who first engaged with that page. What's great is that this information can even be organized and shown to you based on specific date ranges as well. Want to see who logged into your site over the weekend? Check the logs.
If you want to see a record of all the pages accessed by your members on a specific day, week, or month, you can do that. The same goes for login, billing, and all the other event types as well. It can be super helpful and informative to see all of this information displayed in one place.
Implement Your Best Ideas With SmartTags™
SmartTags™ are another one of my favorite features.
If you're not familiar with SmartTags™, here's a quick overview of how they work:
Essentially, SmartTags™ allow you to have dynamic conversations with your customers based on actions they've taken (or haven't taken) on your site. This means you can identify segments of your members and choose to display (or hide) content to them. What's more, this is all possible for you without having to program or code anything. As you can imagine, this becomes very powerful.
What I love about SmartTags™ is that they make it easy for you to have personalized conversations with your members. The result of being able to do this is not only a much more human experience for your members, but also higher conversion rates, longer retention, and ultimately greater lifetime customer value.

Examples of how SmartTags™ will display on your site
Here's an example of what this looks like:
You can use the Member Data SmartTag to strategically greet your members by their name. Or, you could choose to display the amount of time they've been an active member on your site. If you're helping people achieve a particular goal with your membership, it can be encouraging to see how long you've stuck with something.
And that's just the tip of the iceberg. Seriously.
For example, the Member Decision SmartTag lets you show specific content to your members based on the specific attributes of their membership. This allows you to show new offers to people who have or haven't bought certain products in the past, have been with you for a certain amount of time, or has even paused or canceled their membership.
The topic of SmartTags™ deserves its entire blog post. And that's exactly why we wrote one for you! If you'd like to learn more about how you can put the power of SmartTags™ to work, this blog post gives you an in-depth overview of how you can use them on your site.
Stress Tested: Proven Reliability Under Pressure
More than all of these individual features, I think one of the things I like most about MemberMouse is just the engine. The overall performance. A lot has been done under the hood that people will never see. One of the things that MemberMouse is known for is its reliability. More specifically, reliability under stress. This means on sites with a high volume of transactions and a large number of members.
I guess this is now speaking to a higher-level picture. The thing I really like about MemberMouse is the fact that you can start using it for just 20 members and it will grow with you. You don't have to switch to a different solution to get to 100,000 active members.
At each stage of your business — where you're going to need more features or functionality — you may not even be aware that you're going to need that before you get to the point. But as soon as you know you do need it, MemberMouse has an answer for you built in.
Anyways, I could go on and on because there are many other things that I like. But, I think that's enough for now. If you have any questions at all about the features we talked about today, please leave me a comment below.
---
Eric Turnnessen
Eric Turnnessen is the founder of MemberMouse. His absolute dedication to quality and insistence on perfection have made MemberMouse the premier WordPress membership plugin on the market today. His attention to detail and commitment to continual improvement make MemberMouse the #1 choice for business owners looking for a reliable and scalable membership solution.
Related content
---