How To Sell Online Fitness Programs: An In-Depth Guide
Are you thinking about starting an online business where you sell your fitness programs online?
If so, we think this is a great idea!
In fact, if we were starting our own online business, the online fitness niche would definitely be one we'd consider.
Why?
Well, according to this recent study, the online fitness market is projected to grow over 1,500% in the next ten years. In 2022, the total value of the online fitness market was $14.9 billion. And in 2032, it's projected to grow to a value of $250.7 billion. Not only that, but the demand for recorded, on-demand online fitness content is growing faster than ever.
This is where you come in!
If you're a fitness teacher or expert of any kind, there's never been a better time for you to create an online fitness business. And in this article, we'll show you how you can start selling your fitness content online right away.
Let's dive in.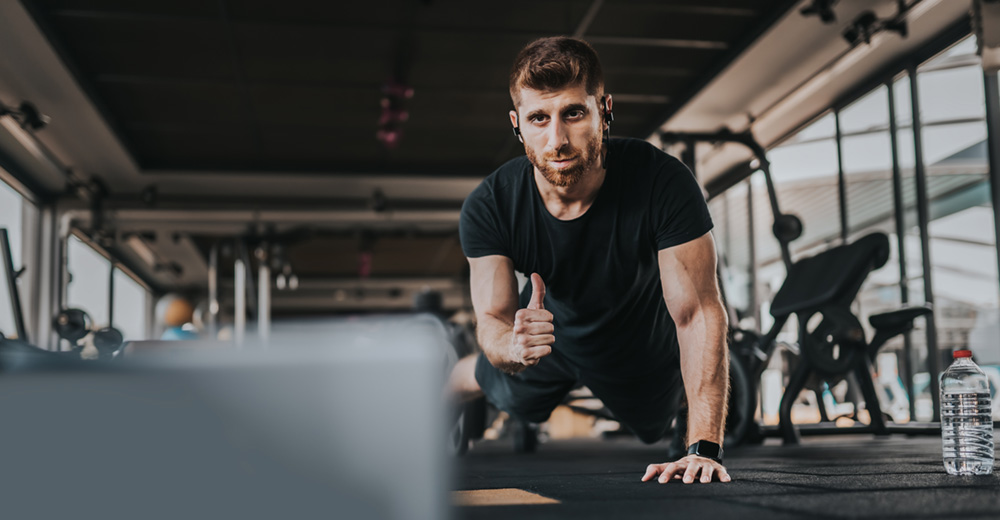 Step 1: Choose Your Business Model & Monetization Strategy
The first step in selling your online fitness programs is to choose the right model for your business.
There are four main models you can use to sell your fitness content:
1. The Membership Model
With this business model, you'd package your fitness content into a membership or subscription. Your members would pay a recurring fee for access to your content. If someone were to cancel their membership, they'd lose access to your online fitness programs. As the business owner, you could choose to create one membership level or multiple membership levels. This would allow you to offer different products at different price points.
Let's look at a quick example that'll help illustrate this model.
Imagine that you're a yoga instructor who wants to build an online business. You've decided upon the membership model and want to bundle all of your content into one monthly membership. You could create an All Access Yoga membership for $97 per month.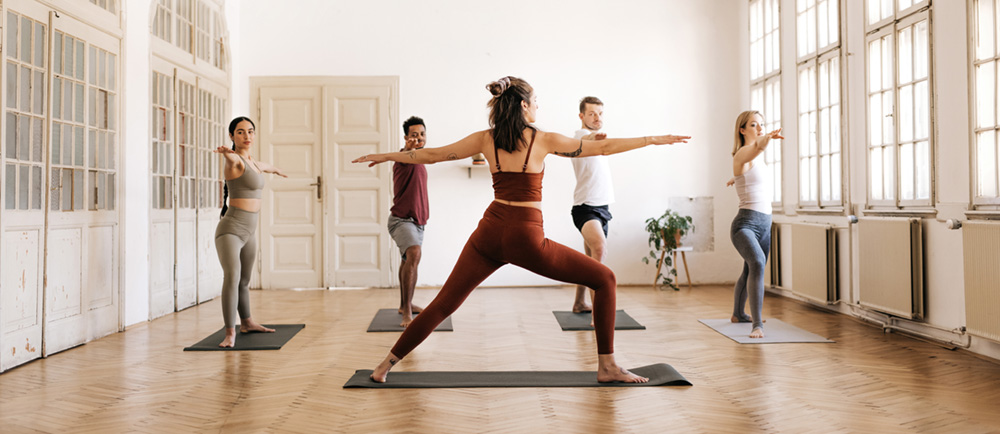 When someone signs up for your membership, they get access to all of your existing and future content. Every class you've ever recorded could live in a content library for your students to watch. Once a week, you lead a live class for your members. This class gets recorded and added to your ever expanding library of content.
However, with this model, you could also create multiple membership levels to better meet the needs of your students. For example, you could create Beginner, Intermediate, and Advanced membership levels.
The Beginner membership could cost $25 per month. The Intermediate membership could cost $49 per month. And the Advanced membership could cost $97 per month. The content associated with each membership level would be designed to meet the skill level of those members.
Once a beginner was confident with their downward facing dogs and warrior ones, they could move up to the Intermediate membership, and so on.
The key thing to remember about the membership model is that access to your content is directly connected to an active payment. When someone cancels their membership, they lose access to the content inside your membership.
2. The Online Course Model
The next way you can sell your online fitness programs is with the online course model. With this model, you package up your classes into a standalone online course that's sold as a one-time purchase. With this model, once someone buys your online fitness program, they'll own it for life. This model is ideal for online fitness programs that require step-by-step instructions.
Here's an example of this:
Let's say that you're a kettlebell instructor. You've worked with clients individually for years. And now you want to package up all your knowledge into a fitness program you can sell online. In this instance, the online course model would be perfect for you. You could create a Kettlebell Mastery program that walks someone through all of the fundamental principles of kettlebell strength training.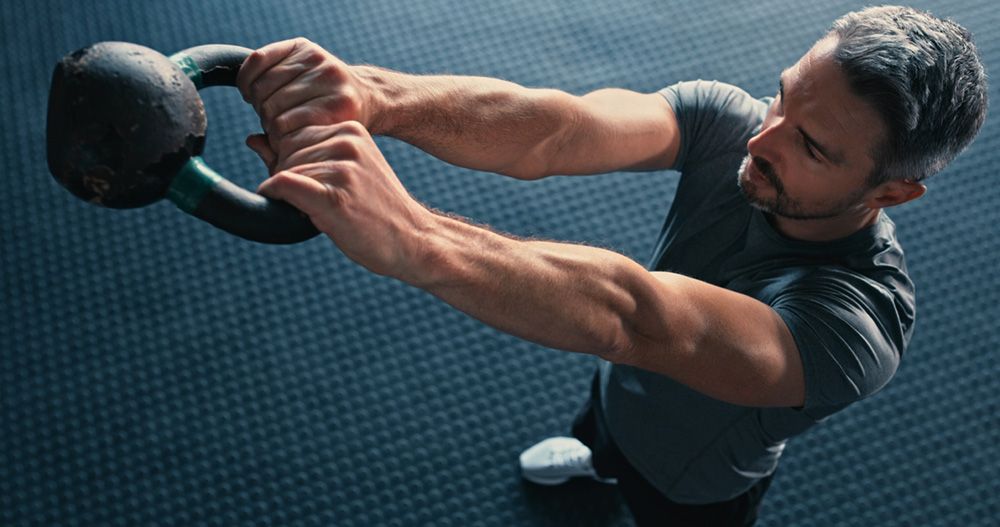 Each one of your lessons could teach a different technique. Once someone had gone through your entire course, they'd have a solid foundation for their own strength training routine. Plus, your students could revisit the modules in your course whenever they needed a refresher or reminder.
The thing to consider about the online course model is that your students will expect to own your product forever after they purchase it.
3. The Personal Training Model
Another way you could sell your online fitness programs is through the personal training model. This model is less scalable, but creates the possibility for you to charge premium rates for your services. With this model, you'd sell individual or group training that was delivered live via video.
You could also provide your clients with access to you via a community forum, private Slack channel, or a tool like Voxer. This model is ideal for people who want a deeper level of support. It's also great if you offer really technical instruction. For example, something like dance or tai chi.
Let's look at a quick example of how you could use this model to sell personal training online.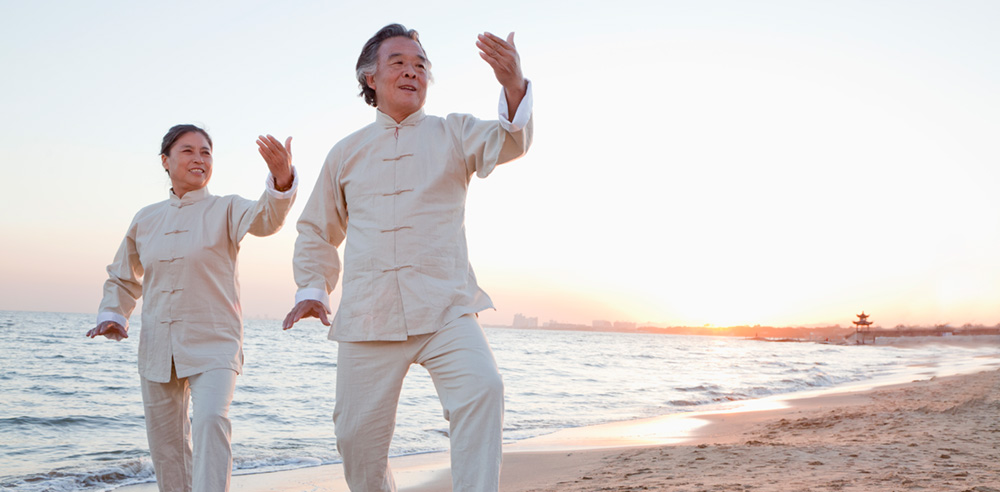 Imagine that you're an expert in the Yang style of tai chi. You've mastered the 24 movements of the form, and now want to help other people accomplish this. Because this form is so intricate and detailed, it's really hard to deliver helpful instruction through pre-recorded videos.
So, you've decided to offer virtual personal training. You could create either a personal training package that bills on a monthly basis. Or, you could create a package that included a set number of sessions with you. When someone signs up for your personal training, you could create a private Zoom link for them that gets displayed in their members area.
Even though this model is less scalable than the other models, it does create the opportunity for you to charge premium rates for your services. While someone might be willing to pay $197 for a course about tai chi, they might also be willing to invest $997 for detailed, personalized instruction from you. Whether or not you choose this model really depends on your bandwidth and what type of business you want to build.
4. The Hybrid Model
But what if you're a big thinker? What if you don't want to commit to any one of these models. What if you like elements of all of them, and want to mash them together into a masterpiece of online business?
First of all, we like your style and applaud your ambition.
Second of all, you can definitely do that with the hybrid model!
The fact is that all of these business models for online fitness programs are extremely flexible and complimentary. You can create and sell both memberships and online courses. And for the most eager students, you can create personal training offers so they can dive deeper into their fitness journey with you.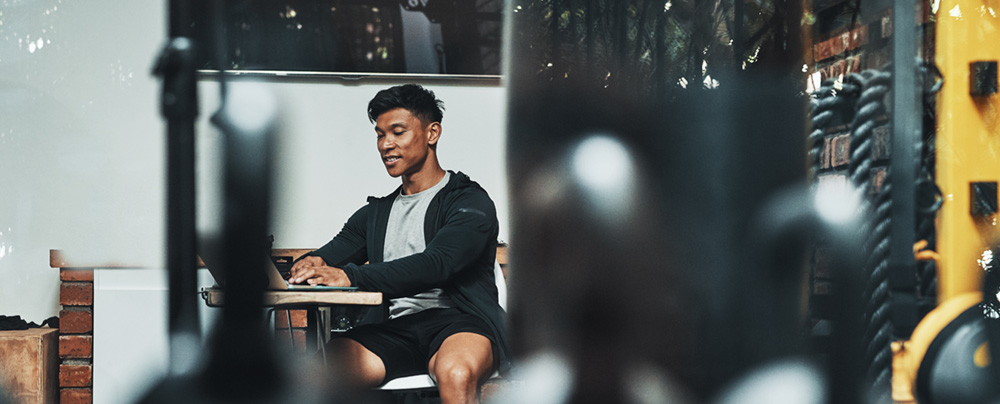 Our only recommendation would be to start with the business model that sounds most appealing to you right now. From there, you can grow and evolve your online fitness business to meet the needs of your market. If you start with too many things, it can be overwhelming and cause you to lose traction. But once you have an effective marketing strategy and solid group of customers, the sky is truly the limit for what you can create.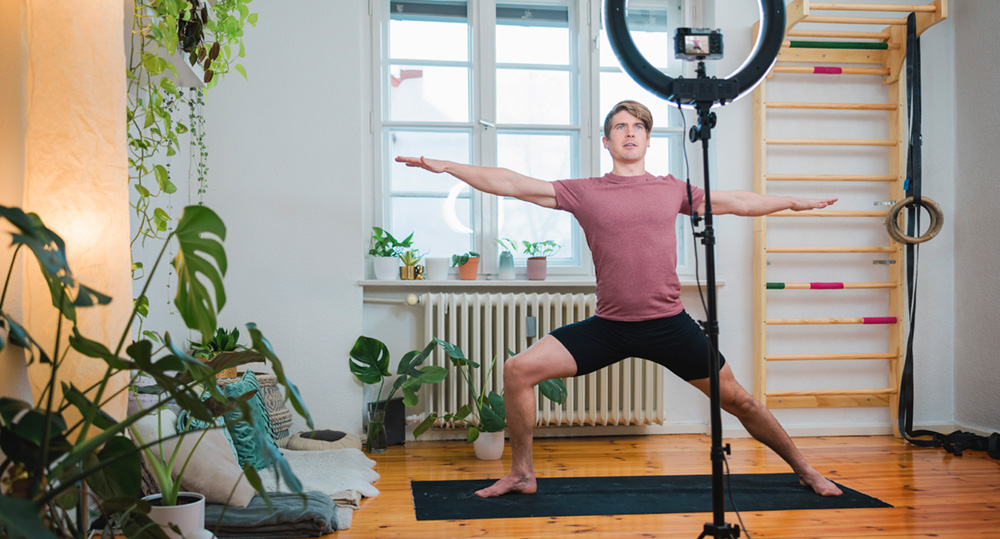 Step 2: Decide What Type of Content You'll Offer
Another important thing to consider as you plan to sell your online fitness programs is what type of content you'll offer.
There are so many different types of content you can offer your customers. It's just a matter of figuring out what you like creating and what your audience likes consuming.
For example, you can create and offer:
Recorded Videos: These could be standalone videos demonstrating an exercise technique or full fitness classes.
Live Videos: Maybe your customers love live content. You could stream your workouts live each day and have your members join you.
Audio Content: What if your students don't want to bring their iPad to the gym? Creating audio workouts for them to pump into their headphones could be ideal!
Personal or Group Coaching: Some people need accountability and personalized instruction to follow through with their fitness goals. Offering private coaching might be perfect for these folks.
Community & Communication: Another thing to consider is whether you'll offer a way for your students to connect. This could be through an online forum or even a private Facebook group.
PDFs & Downloads: People love checklists, meal plans, and other resources to help them stay on track. Consider bundling these into your online fitness program.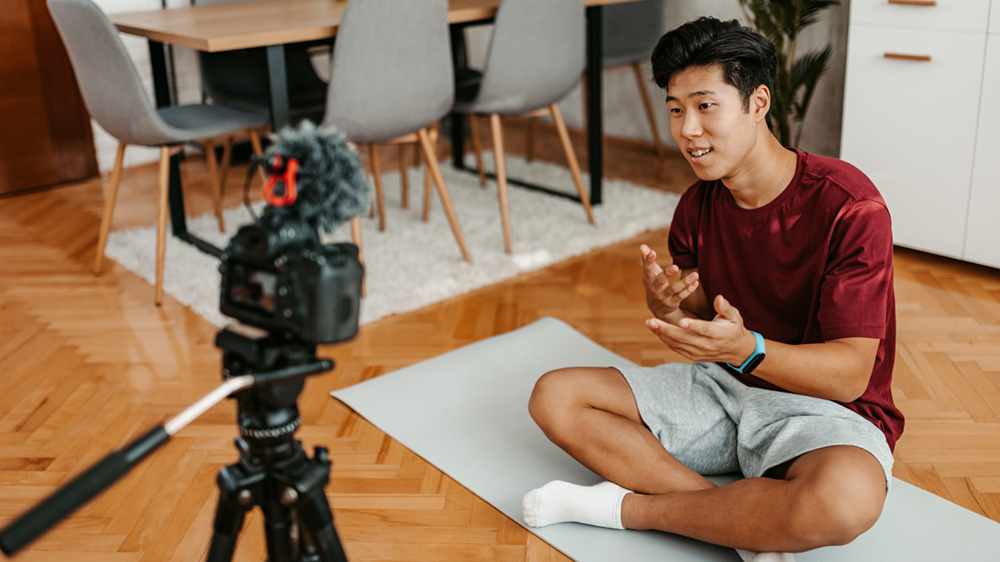 Step 3: Develop a Marketing Strategy
While it's probably super exciting to think about all of the amazing programs you'll create and all the students you'll help, we can't forget to mention how important it is to develop a marketing strategy to attract those students into your programs.
You can have the best content, the best website, and the best prices… but if you don't have a way to share your message and show people you can help them meet their fitness goals, your members' area is going to be a pretty lonely place.
Because fitness instruction is highly visual, certain platforms are ideal for promoting your online programs. You could create a YouTube channel where you post shorter, free workouts. And, you could create clips from those free workouts to post on Instagram and TikTok.
Creating a marketing strategy for your online fitness programs probably deserves its own blog post. In the meantime, we highly recommend you check out these podcast episodes we recorded with handstand instructor Kyle Weiger, online pilates instructor Emma Jory, and rock climbing coach Neely Quinn:
The Nuts & Bolts of How to Sell Your Fitness Program Online
Now that we've covered the high-level aspects of selling fitness programs online, let's dive into the practical steps of how to do this.
1. Choose Your Content Platform
If you're going to sell your fitness programs online, you'll need a platform to help you do this. There are hundreds (if not thousands) of different tools out there you can use to sell your fitness programs. We recommend WordPress because it is extremely flexible and customizable.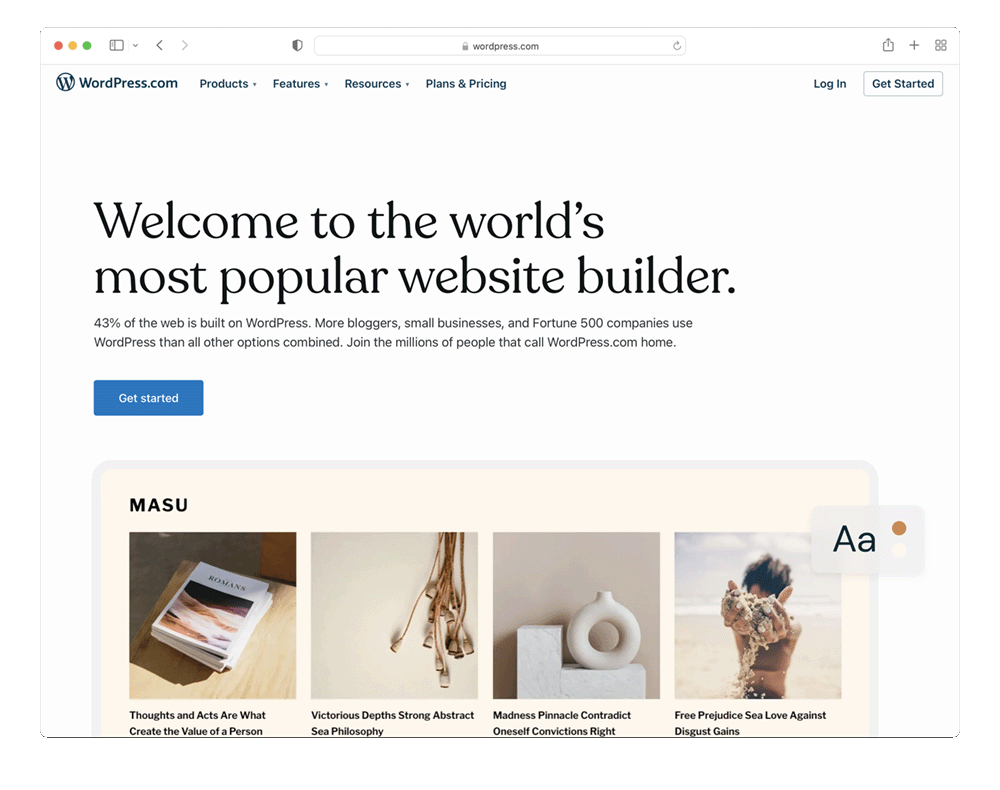 No matter your vision for your online fitness business, you can build it with WordPress. Plus, when you use WordPress, you have full control over your business. And a robust ecosystem of plugins you can use to create your online fitness business and sell your content.
2. Pick a Membership Plugin
The next thing you'll need after choosing WordPress is a membership plugin. A membership plugin allows you to protect content, collect payments, manage your business, and more.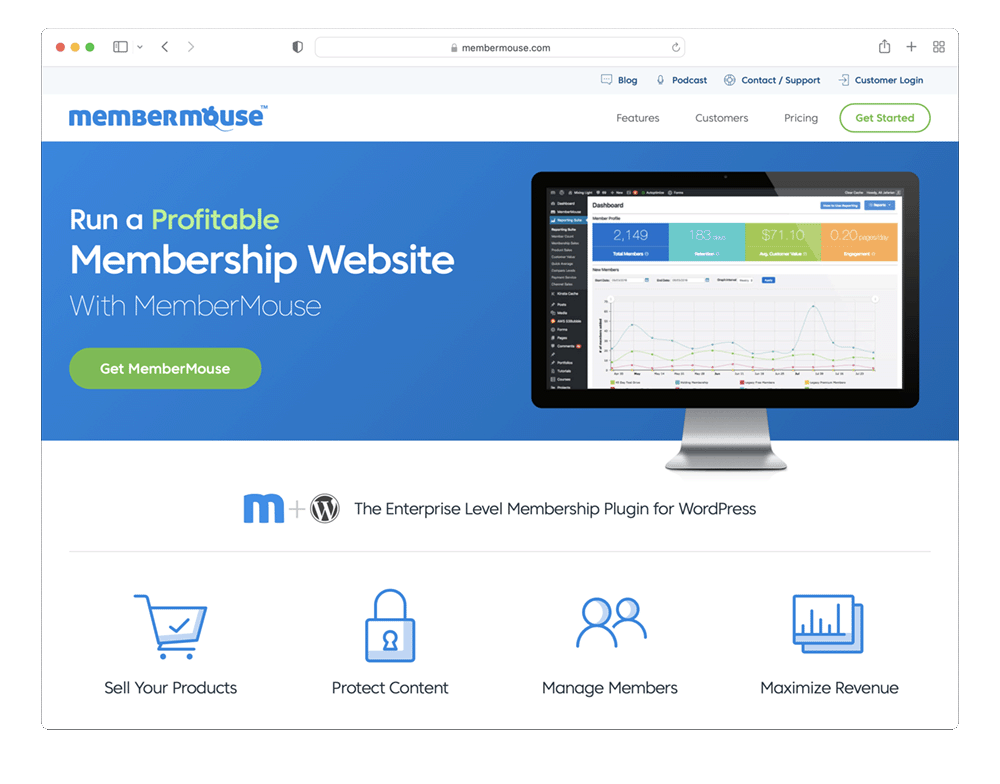 Again, there are a ton of great membership plugins out there. But in this example, we'll be showing you how to sell your online fitness programs with MemberMouse. What's great is that MemberMouse comes with a built-in learning management system (LMS), so you can easily create online courses and memberships for your customers.
3. Install & Activate MemberMouse
After you sign up for MemberMouse, all you need to do is install and activate the plugin on your WordPress site. Be sure to grab your license key from your member's area as well so that you can get up and running with MemberMouse.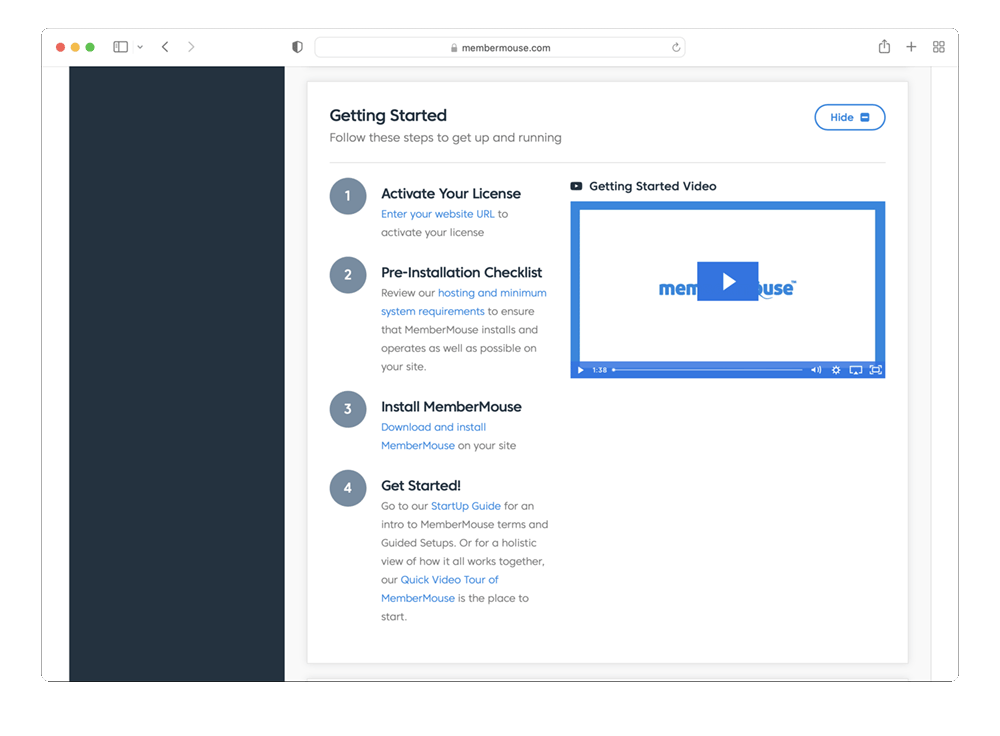 4. Integrate Your Payment Methods
Next, you'll want to integrate your payment gateways with MemberMouse. This step is crucial because it's how you get paid!
Two of the most popular payment gateways are Stripe and PayPal. These will allow you to securely collect payment for your online fitness programs.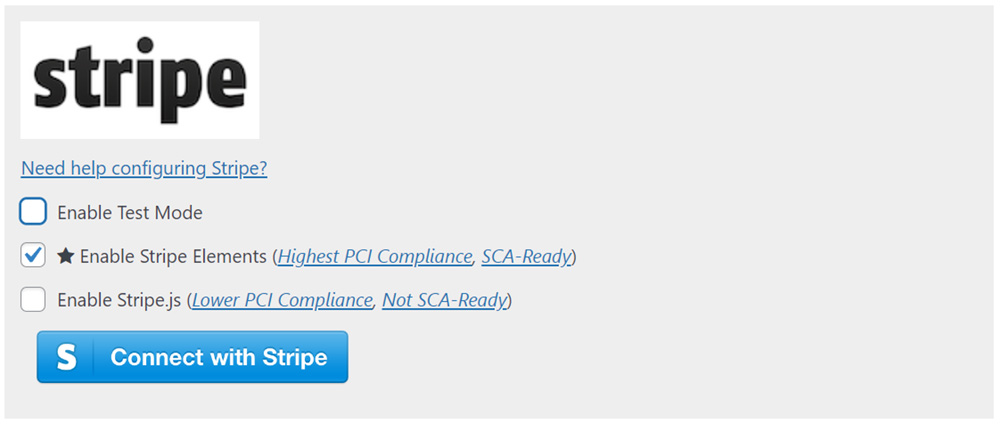 MemberMouse also has a great feature called Stripe connect that makes it quick, easy, and secure to complete this process. For all the details about how to connect payment gateways to MemberMouse, check out this detailed article from our support center.
5. Create Your Products & Set Your Prices
Remember how we talked about choosing a business model earlier? Go back to your notes now because we're going to create your products and set the prices for your online fitness programs.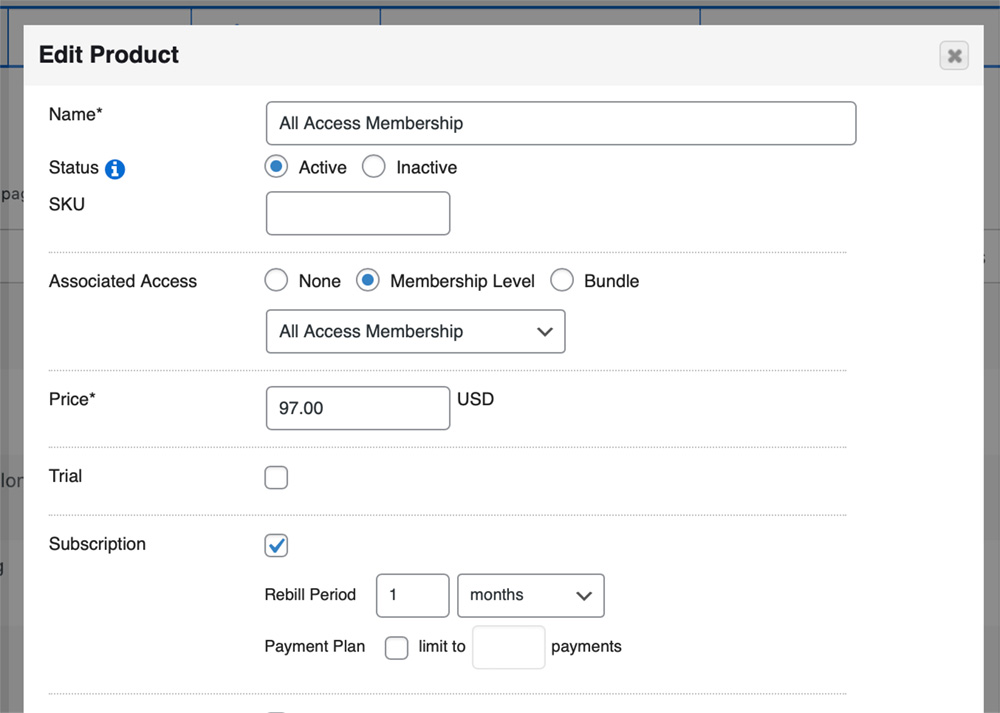 With MemberMouse, you can create both membership levels and bundles. These are different ways to grant access to your content and offer your products to your customers. For more details about all the ways you can protect content with MemberMouse, check out this helpful article from our support center.
In this example, we're going to create a membership level that gives someone access to all of your video content.
1. Create a product for $97/mo
2. Create a membership level to define access
3. Connect the membership level and product
4. Get your purchase link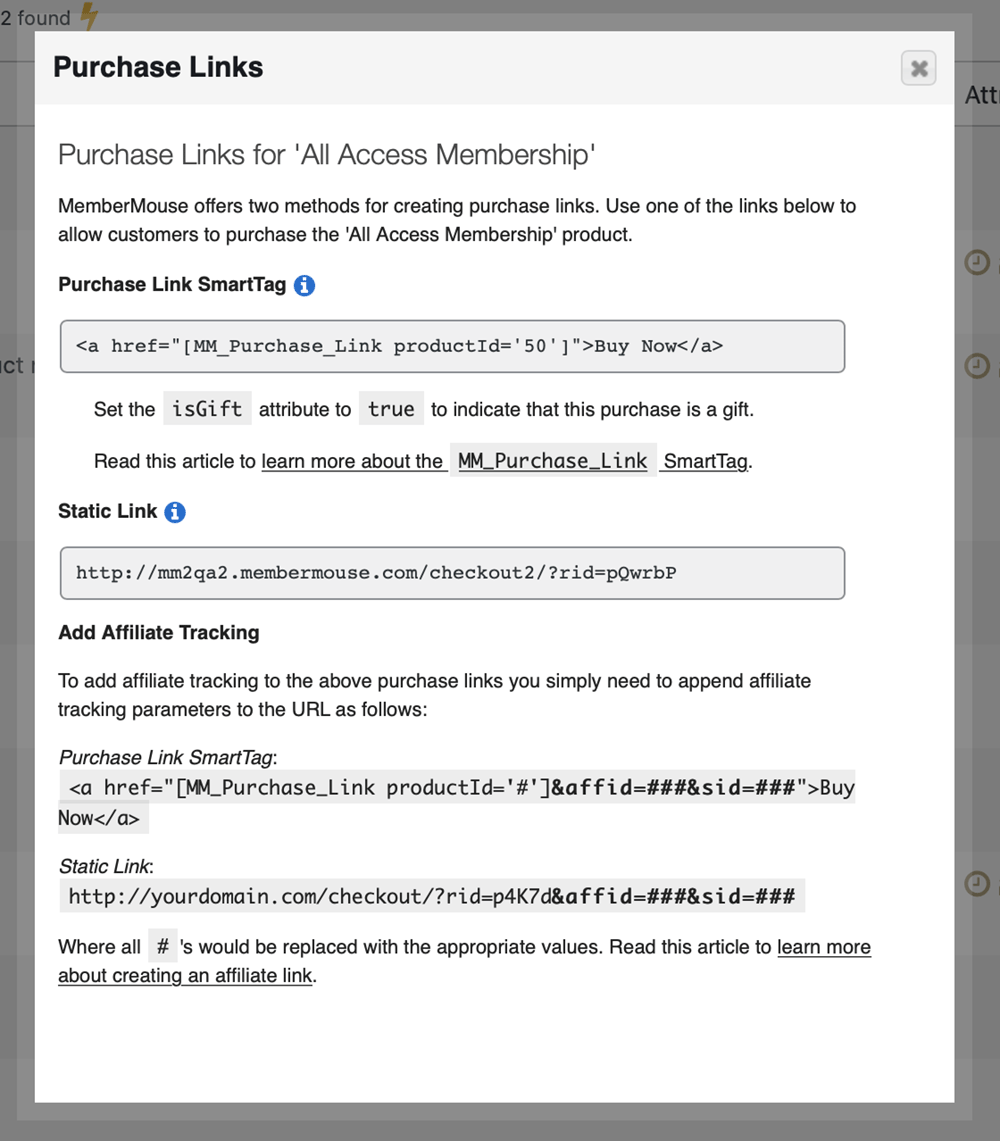 6. Define Your Access Rules
Now that we have your product and membership level created, we can define the access rules for your membership. This is where you'll protect your pages and content so that only your active members can see it.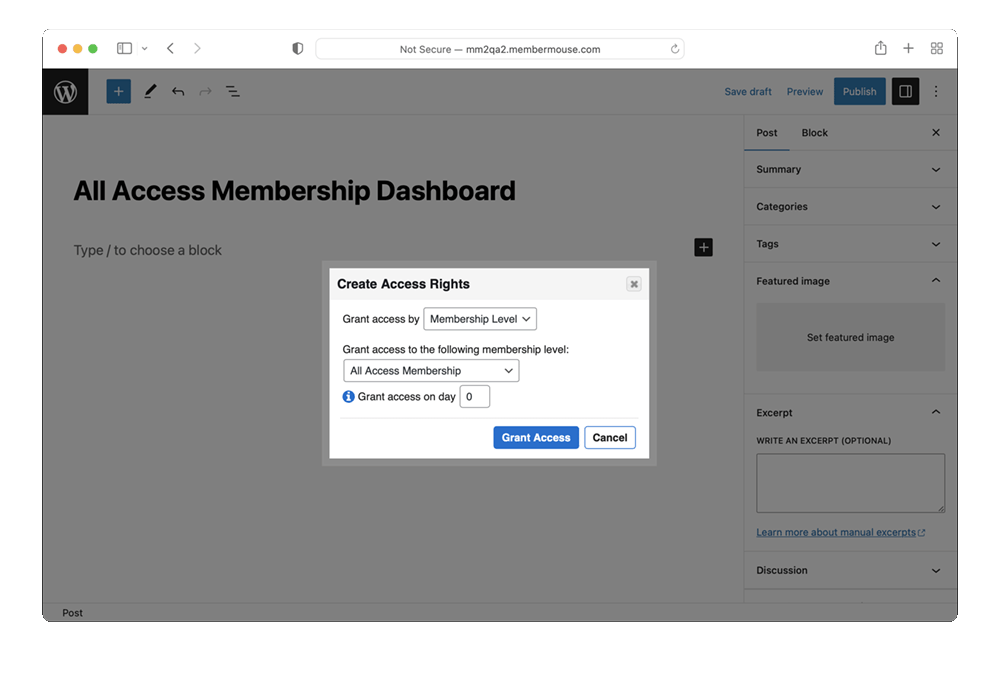 7. Build a Sales Page
Once all of that is set up, it's time to build your sales page!
This process doesn't have much to do with MemberMouse. All you'll do is create a new page where you can promote your membership. This can be done with a page builder like Elementor or Divi. In your call-to-action buttons, be sure to include the link to your membership product so that people can buy it and get access.
For a step-by-step tutorial on how to create a sales page with MemberMouse and Elementor, check out this helpful video we recorded for you.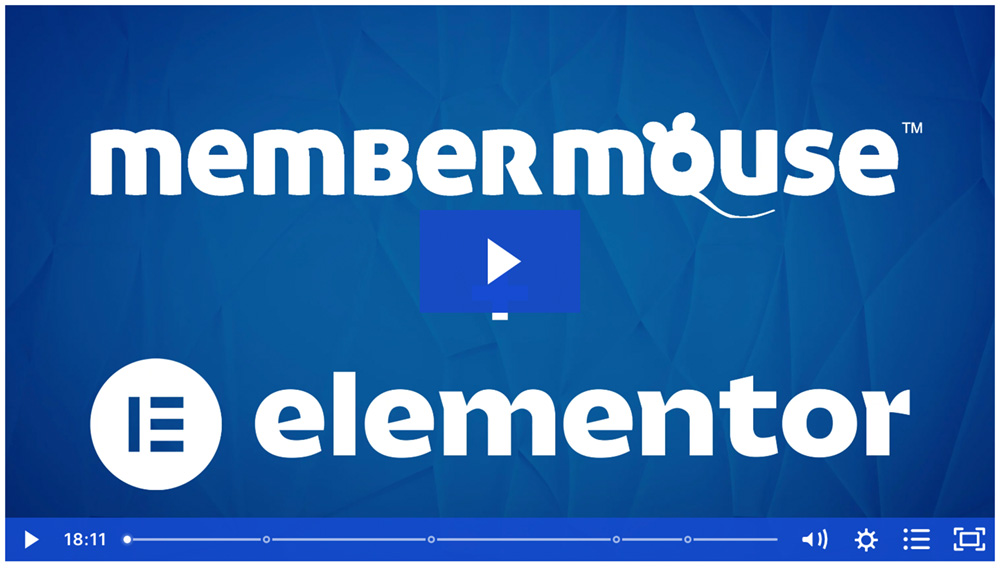 Pro Tip: We recommend writing and editing the copy for your sales page in a separate document (like a Google Doc), then transfer it over to your WordPress sales page.
8. Promote Your Online Fitness Program
Last but certainly not least, it's time to spread the word about your awesome online fitness program!
Time to put that marketing strategy into effect and drive interested traffic to your sales page.
From there, people who want to sign up for your fitness programs can buy your membership and get started with your content right away.
Wrapping Up
If you're thinking about selling your fitness programs online, we hope this guide has been helpful for you.
We covered a lot of high-level strategy as well as practical tips in this article.
As a reminder, to get started selling your online fitness programs, you'll want to:
Choose the right business model
Decide what type of content you want to offer
& Develop a marketing strategy to get the word out about your programs
From there, it all comes down to building a platform where you can host, protect, and sell your fitness programs.
Over the years, we've helped thousands of entrepreneurs build powerful and profitable membership sites. In fact, many of our most successful customers are in the fitness niche.
If you need any help at all building your online fitness business, or have questions about anything we detailed here, please join our discussion and leave us a comment below. We'd love to hear from you!
---
Matt Brown
Matt is our enthusiastic Content Manager here at MemberMouse. Originally from Chicago, Matt now resides in the Pacific Northwest with his wife and cat. He loves reading, writing and getting outdoors.
Related content
---